It's time to leave those mansions behind and head to the jungle – if you dare!
Fantasy Flight Games has a new expansion for Mansions of Madness with Path of the Serpent. It's up to the investigators to stop the serpent's curse before the rest of the world spirals into chaos. Are you up for the challenge? If you are, then at least you'll be able to bring some new friends into the Jungle.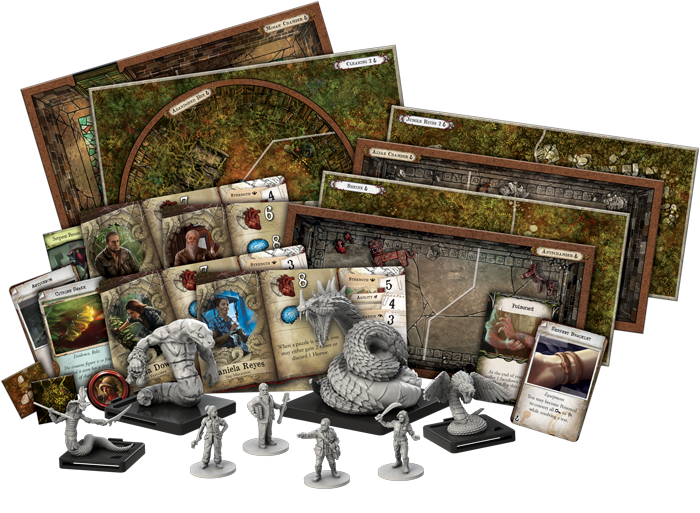 Path of the Serpent features 3 all new digital scenarios with new puzzles, mysteries, and monsters to square off against the investigators. As you travel into the dark jungle, you'll probably want to bring along one of the 4 new investigators with you.
Meet The Crew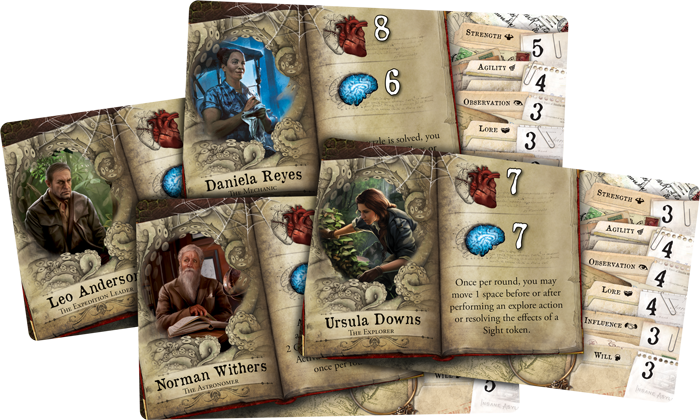 Leo Anderson is no stranger to expeditions. His unique ability will allow you help your allies move through the jungle – mechanically, he allows allies to move one space when he performs a move action. Ursula Downs is no slouch either. She can also move one space before OR after exploring/interacting with a sight token. That's two boosts to your investigator team's movement that will surely come in handy.
Daneila Reyes is an ace mechanic and when ever she or a friend solves a puzzle she can either gain two clues OR heal 1 horror. And finally Norman Withers might seem out of place in the jungles of South America, but whenever there is open sky, Norman really shines. Once per round he can gain a two clues or discard a horror – as long as he is in an outdoor space.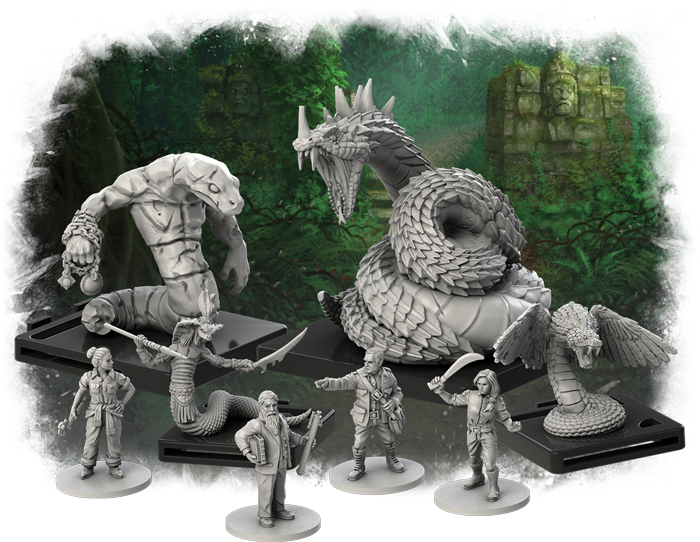 Along with the new missions, puzzles, and investigators – let's not forget this expansion will also come with all the approriate miniatures you'll need for your jungle expedition. Yig's children look none-to-happy that you've intruded into their territory. Will you be able to make your way out of these twisted adventures or will the jungle claim another set of victims?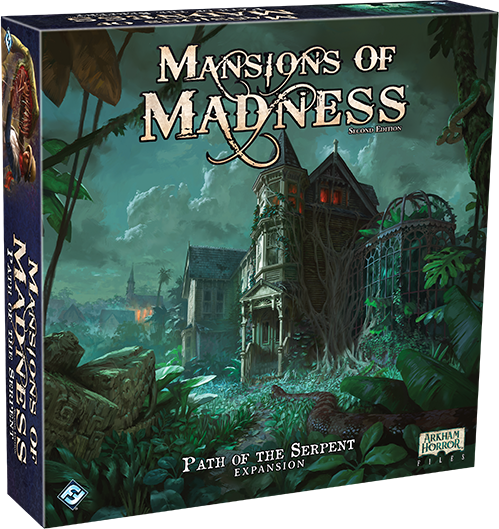 For all its primal beauty, the thick trees and lush greenery of the jungle conceal many perils. Unrelenting heat, limited supplies, and sharp-toothed beasts would be enough to drive any intrepid explorer back to the comforts of civilized society. Those that survive these ordinary dangers are rewarded only with more challenges: cursed idols, trap-filled temples, and long-forgotten gods await any who would dare to uncover them.

Path of the Serpent is an expansion for Mansions of Madness that sends investigators into the unexplored wilderness of the Amazon jungle. Investigators must discover ancient secrets of lost civilizations, stop a serpent's curse, and explore crumbling ruins in three new digital scenarios that introduce new investigators, puzzles, and mysteries to tempt the curious to travel deeper into the jungle. You will need to fight tooth and claw to survive as you battle horrifying serpent creatures, face stone monstrosities that come to life, and face the ever-present danger of becoming lost to the jungle forever. Journey into the forgotten reaches of this world and discover the secrets that await!
Welcome to the jungle. Prepare for fun and games…