Privateer Press: Upcoming Releases For Monsterpocalypse And Riot Quest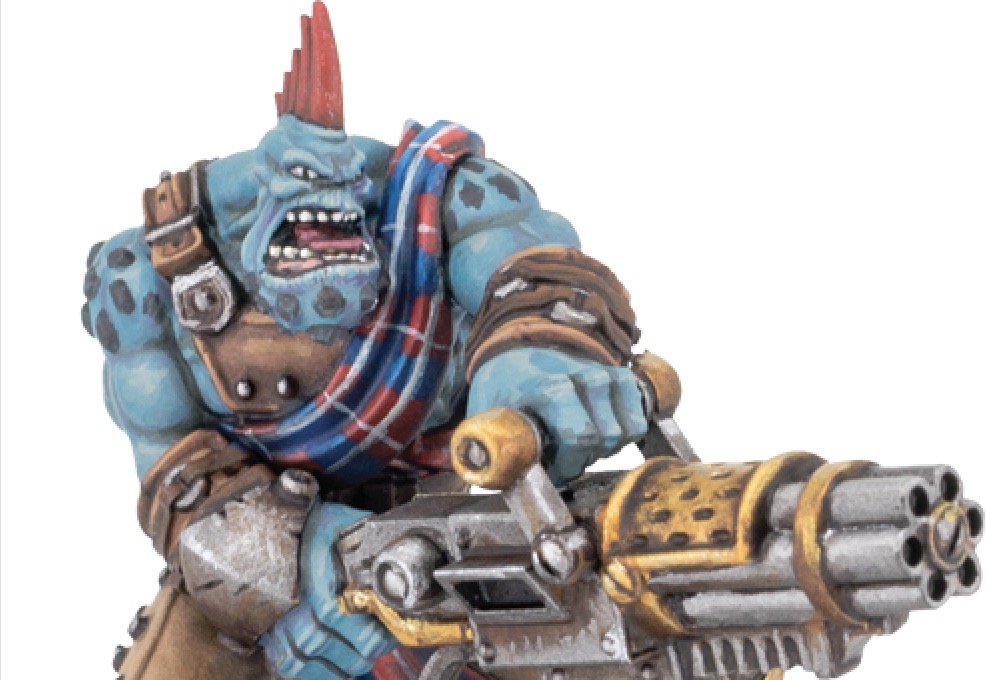 Let's take a look at another wave of September releases for Privateer Press. Here's a preview of what's coming for Monsterpocalypse and Riot Quest.
Big releases are coming for Monsterpocalypse, as well as the release of Riot Quest. Today we're taking a look at both, thanks to a preview from PHD Games.
via Phd Games
Gorghadratron – $29.99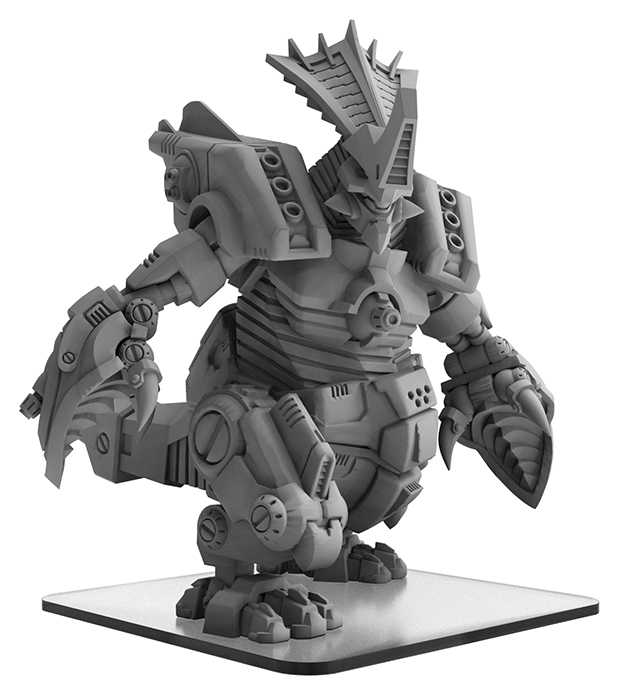 Nothing demonstrates the military manufacturing capabilities of UberCorp International better than its gigantic weaponized hardware platforms, each customized to monstrous configurations. Gorghadratron brings the raw obliterating power of the so-called "Planet Eaters" to anyone with sufficient funds to commit to an exclusive purchaser's license. Built with innovative polymers and alloys derived from recovered xenoexobiological materials, Gorghadratron is as durable as it is lethal, with longevity assured by the recommended 10-year UberCorp maintenance contract, purchased separately. UberCorp cannot be held responsible for any collateral damage incurred by overloading Gorghadratron's reactors.
Gorghadratron adds many things to a Destroyer player's arsenal. Its Flak Field ability is capable of sweeping units off the battlefield with ease but must be used carefully since it does not distinguish between friend and foe. It has Motivator, which speeds allied units across the city, and Power Sink to take advantage of opponents' power usage. When it goes Hyper, Gorghadratron unleashes multiple powerful ranged attacks in a turn, and its reactors put out so much radiation that enemy monsters cannot be healed or rebuilt.
UCI Industries – $17.99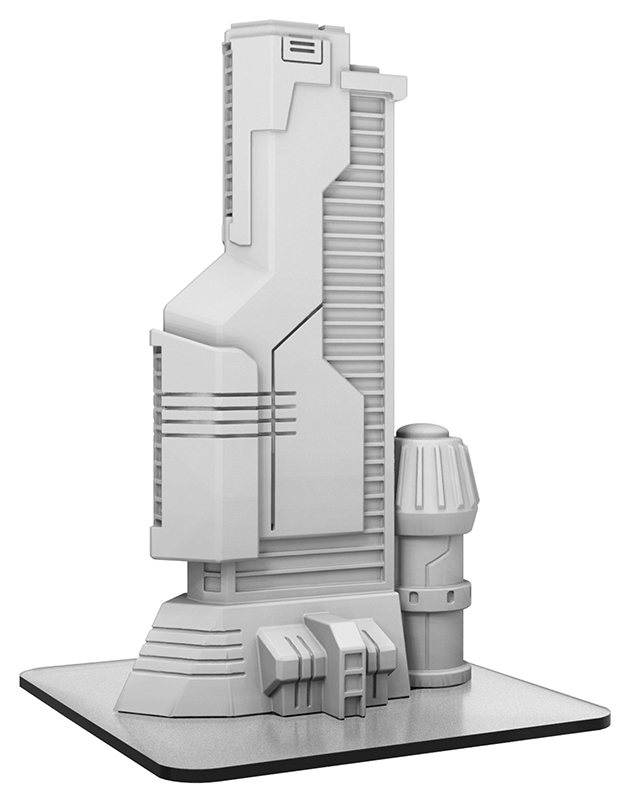 Proving supremacy in stationary strategic structures as well as its more mobile combat platforms, UCI Industries hosts peerless corporate espionage and replicative capabilities. These facilities can analyze the military support systems of your competitors and swiftly adapt its machinery to offer competitive and approximately equivalent functionality, for a fee. UCI also offers the use of its legal department to bypass zoning regulations, which might prohibit the construction of this building.
The UCI Industries building gives you access to numerous actions and helps deploy UberCorp Intl forces. A Destroyer player who secures this building can spawn UberCorp Intl units to the battlefield cheaper, and any player who secures this building can use the action abilities of other buildings in play without needing to secure them.
Isle of Annihilation Play Mat – $29.99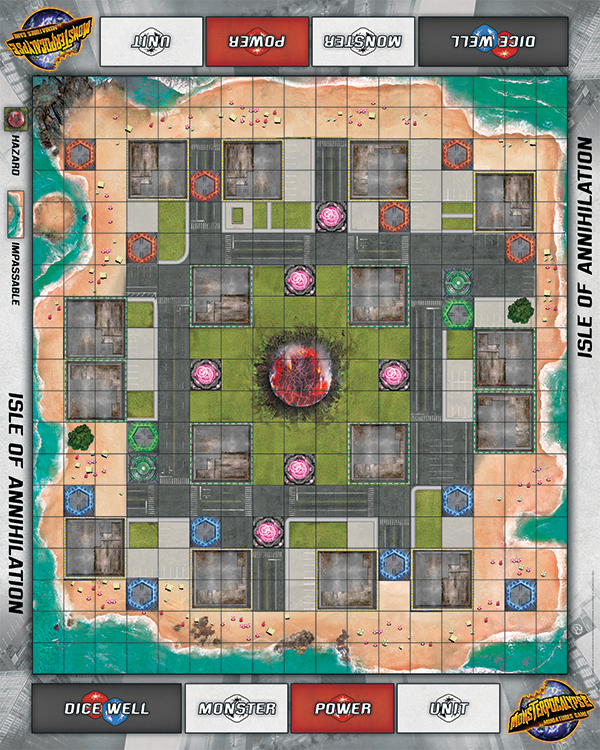 Welcome to the vacation of your dreams. On this tropical island, you'll find numerous 5-star resorts, an active volcano, and giant monsters looking to destroy everyone and everything. Isle of Annihilation is a fan-favorite map, now in neoprene fabric to make it easier to transport and longer lasting!
Each fabric play mat is rolled in an individual tube and measures 27.25″ × 29.75″ when flat.
Subscribe to our newsletter!
Get Tabletop, RPG & Pop Culture news delivered directly to your inbox.
Black Bella, Duchess of Dread – $12.99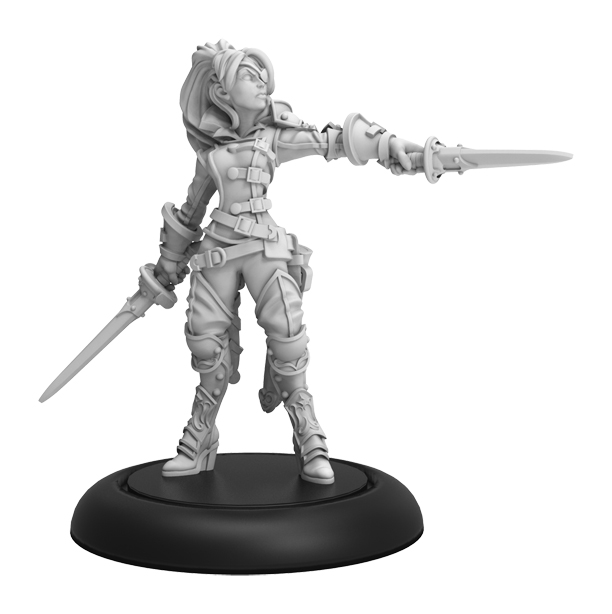 As merciless as she is beautiful as she is merciless as she is… You get the idea. The name Black Bella—a.k.a. the Duchess of Dread—strikes terror into the hearts of those who sail the high seas as well as those who hide from her on land. Woe betides he who gets between this pirate and her booty!
Black Bella is a Fighter-class hero with high defensive stats, great mobility, and strong melee damage. She is a great hero to help a player control the board. Her ability to punish enemy heroes that move away from her, combined with her incredible speed, makes her an excellent addition to any Crew.
Boomhowler, Solo Artist – $17.99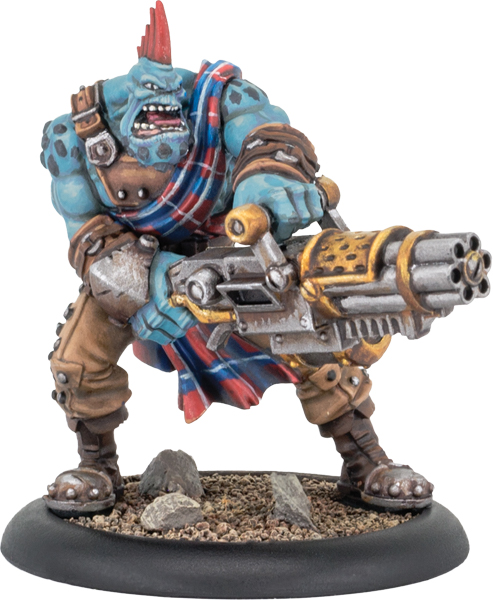 Once the leader of the infamous mercenary band, Boomholwer & Co., Greygore Boomhowler struck out as a solo act—no, like he actually struck out—until he found an instrument that truly spoke to him: a chain gun!
Boomhowler is a Gunner-class hero with great support options and strong ranged damage. In addition to being capable of making two ranged attacks a turn instead of the normal one, Boomhowler also boosts the attack stats of other heroes in your Crew near him.
Harlowe Holdemhigh – $11.99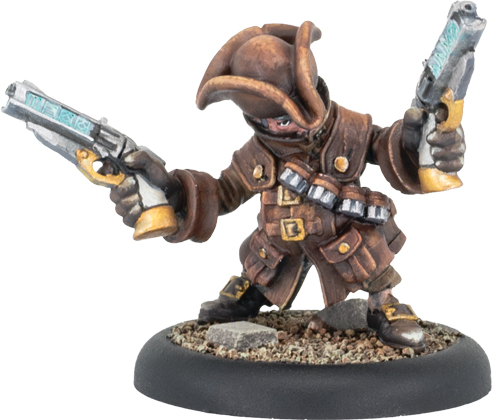 He's small of stature and even lower of character, but Harlowe Holdemhigh always takes the high ground with his highway-harrying exploits! Armed with twin-magelock pistols, he's the most notorious highwayman in the Iron Kingdoms (under 4 feet tall)!
Harlowe is a Scout-class hero that excels at damaging multiple enemies at ranged. Like all Scouts, Harlowe lowers the defensive stats of enemies nearby against ranged attacks. Thanks to his Ambidextrous rule, Harlowe can make one ranged attack but hit two different enemies with it. This means Harlowe is excellent and setting up knockouts for other heroes in your Crew or finishing off small pairs of weakened enemies.
Gorman the Mad – $13.99

A classic case of what happens when someone gets too into their work, Gorman the Mad hasn't just taken things too far—he's taken them beyond the point of getting them back. With his alchemical cannon full of corrosive ooze, no looter's Riot Gear is safe when Gorman goes off the deep end in battle.
Gorman is a Rogue-class hero with strong defensive and disruption abilities. With his Cloak ability, Gorman cannot be targeted by ranged attacks farther than a couple of spaces away from him, which helps him survive unscathed in many situations. His alchemical cannon has the Strip ability, which destroys any Gear cards on the target he hits, a unique and powerful ability that lets Gorman keep his enemies in check.
Widget, Tinker Extraordinaire – $11.99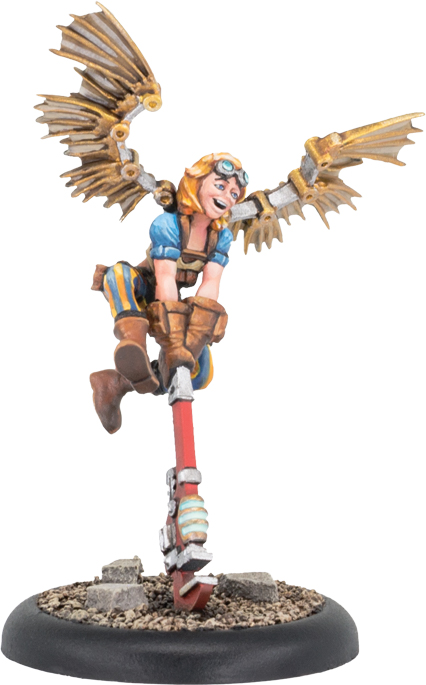 This wiz with a wrench has a place on your bench! As good at fixing things as she is at breaking them—you can see the advantage to that—Widget will leave your opponent asking where this angel got her wings. (Answer: She crafted them out of the sorry scraps of the last scavenger to get in her way.)
Widget is a Specialist-class hero with incredibly strong support abilities. What Widget lacks in damage output or defensive, she makes up by supporting her allies. Like all Specialists, Widget reduces the cost of Gear upgrades for herself and nearby heroes in your Crew. With her Engineer ability, Widget and other friendly heroes can interact with Bounty cards for a greater chance at success, earning more Victory Points faster to win the game.