The Fantastic Minis of Freeblades from DGS Games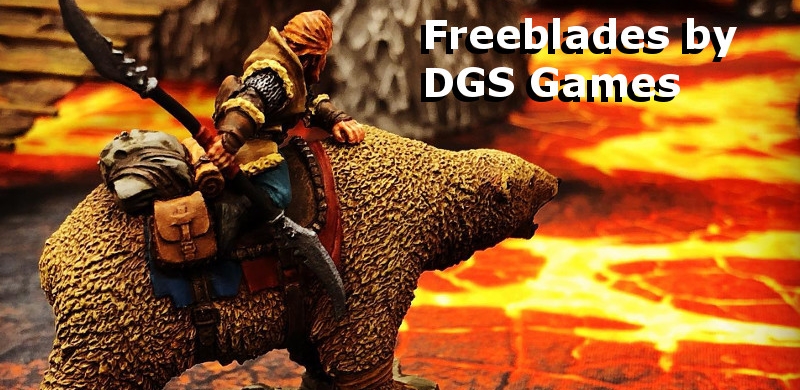 In this post, we take a look at the miniatures by a cool American company called DGS Games and their game Freeblades. The purpose of this post is simply to raise awareness about a company with cool looking miniatures. Now, let's get into it…
If you haven't seen their Facebook page, the quality of images they have been pumping out lately has been fantastic. Whoever their photographer is happens to be very talented. I use those pictures in this post with the permission of DGS Games.

Freeblades is a 32mm miniature skirmish game set in its own fantasy world. Basically you are a treasure hunter in search for treasure and riches. From the DGS Games Website…
The game Freeblades is a fantasy skirmish game set in the vibrant world of Faelon. Freeblades are fortune hunters who operate under a warrant from one of Faelon's many factions. A freeblade warrant permits the holder to operate without restraint outside of the issuing faction's boundaries for a share of any plunder or profit. In return, the freeblades can expect protection once back inside the faction's borders.
They claim that the game is playable in 90 minutes and so far there are 12 factions to the game.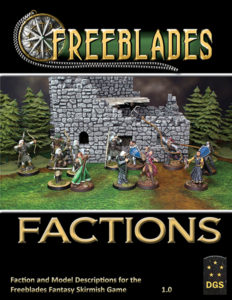 In addition to Freeblades, the company is currently developing a game called BrightSword and has plans for a game called Free Captains. BrightSword is the RPG version of the game while Free Captains is meant for Mass Combat. The rulesets are developed so all three sets will fit together so you can move your charters in and out of one system to another for an immersive play experience.
While they developed their own game system, they are okay with their miniatures being used for other games too. Because I play a lot of miniature agnostic games, this fact happened to catch my eye.
DGS Games is an American company that casts its miniatures right here in America. Some of the sculptors might be from overseas, but the minis are made here. For those overseas, Commandery Games now carries Freeblades too. Overall, they have put together some nice looking minis here.
Eye Candy
Now to the miniatures. They are scaled to 32mm, but should fit in with 28mm and 32mm miniatures. As I mentioned above the pictures coming out of DGS lately have been fantastic.
Subscribe to our newsletter!
Get Tabletop, RPG & Pop Culture news delivered directly to your inbox.
As you can see, these pictures are awesome!!! If you want to see more, check out DGS Games' Facebook Page. Also, come on over to my personal website, Must Contain Minis, to see a post focusing more on the miniatures with plenty more pictures.
Thanks for reading and until next time, Happy Gaming Everyone!!!

Read more about great Indy and Historical games on my site!
Again, aside from writing great gaming related articles, I am also working on compiling a list of all Miniature Gaming Conventions in Ontario (Canada). If you are in Ontario, this list should be of interest to you!