ToyLand: Vehicle Force Voltron Gets its Due with New Fig from Bandai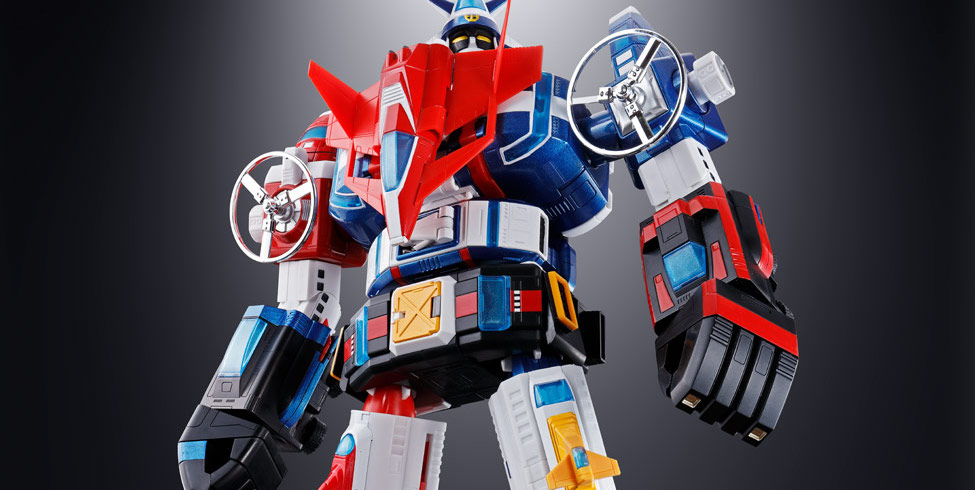 The often forgotten, but always awesome, Vehicle Voltron is the latest to be announced from Bandai. Check back to 1985 with this GX-88 Armored Fleet Dairugger XV multi-part fig.
Vehicle Force Voltron didn't do nearly as well as Lion Force Voltron in the states. The story focused on a team of explorers trying to find a new home fo humanity because the earth became overpopulated. They end up coming into contact and conflict with the Drule Empire, who are also looking for new digs. It's story telling style was very different than what kids were used to in Lion Force Voltron – it's more grown up and almost philosophical. It didn't take hold, and has basically become a footnote of the franchise.
For those that prefer video format…
This new addition to the Soul of Chogokin series from Bandai comes complete with 15 vehicles that combine to create Voltron. It's posable and comes with a variety of weapons seen in the anime. As with other Soul of Chogokin models, a stand and a weapon pedestal are included for easy display. This version of Vehicle Voltron will be out this October.
GX-88 Armored Fleet Dairugger XV – 38,500 ¥ (~$351 USD)
29cm (just under 12″ tall)
Parts made of diecast metal, ABS, and PVC
Multiple configurations
15 vehicles combine to create main model
Includes multiple hands, sword, lance, spin cutters, and other weapons
Weapons pedestal included