Come check out the rules for the two new Chaos units that just showed up this weekend in Traitor Command.
We returned to Blackstone Fortress this weekend, but what many overlook are the 40K side of things. Just as the Ambull got rules, the forces of Chaos got two new units to add to their 40K armies. Let's take a look.

Traitor Commissar
How the mighty have fallen. What has me the most excited about this guy isn't his rules per se, but the fact we now have a cheaper and non-exclusive named Character HQ for the Blackstone Fortress based Chaos "Servants of the Abyss" faction.  I have a feeling this guy is going to start popping up in a lot of lists. The powerfist is nice, and the Refractor will help keep him alive a little longer. Both Enforcer and Forwards! For the Dark Gods! are flavorful and fit.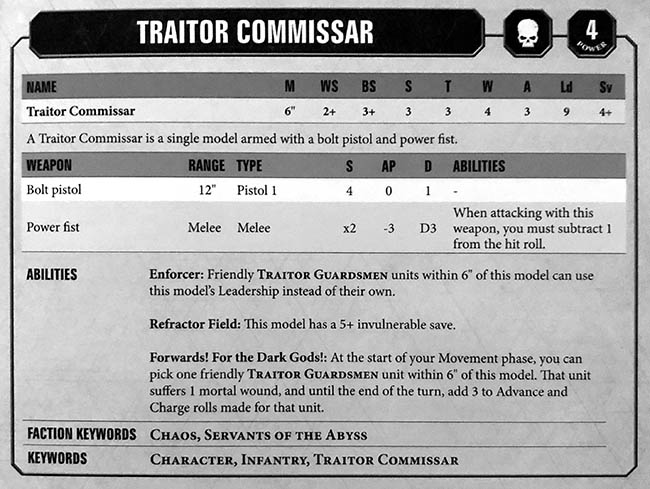 Chaos Ogryn
Here's the bruiser of the two. He may not have a powerfist, but that claw isn't to be messed with. The Claw can hold a bad guy down, while he beats you to pulp with the Maul.  He's got up to 5 attacks doing D2 each, hitting on a 3+. Then he can get wounds back and be a bodyguard. Also he's a non-targetable character.  A really useful toolbox once you get the hang of the lunk.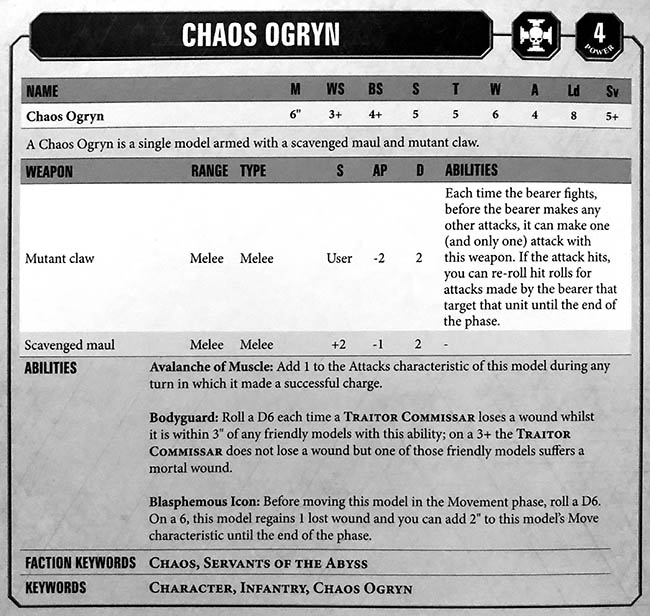 The Cost
Here's what these guys will set you back. Not too bad.  I hear StableAbe is cooking up some tips and tricks for these in his evil chaos lab. More on that later.

~What do you think of the new arrivals?