The followers of Alarielle are getting their hands on a trio of Endless Spells and a new terrain feature – come see what they can do!
With the impending release of the Sylvaneth Battletome just around the corner, we're getting a closer look at the upcoming Endless Spells and the re-vamped Wyldwood terrain feature. Not only are these new features thematically appropriate but they are directly impacting how the Sylvaneth Army will function on the tabletop. Let's start with those Endless Spells.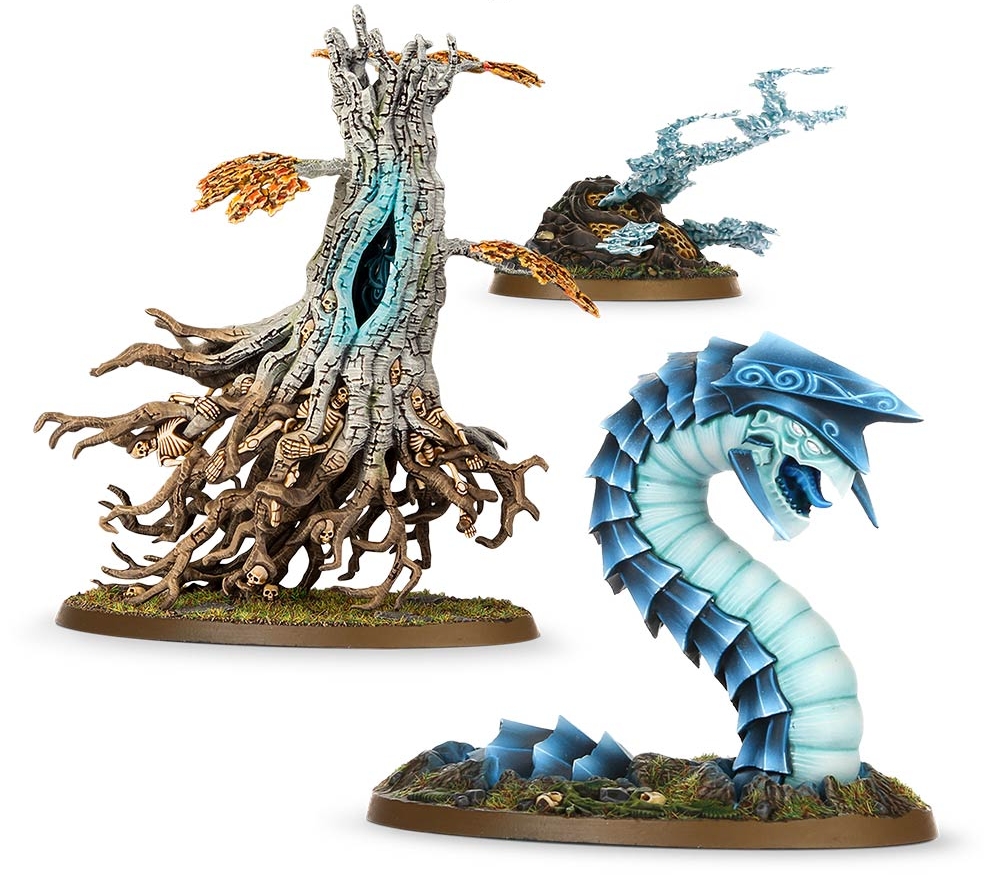 The Vengeful Skullroot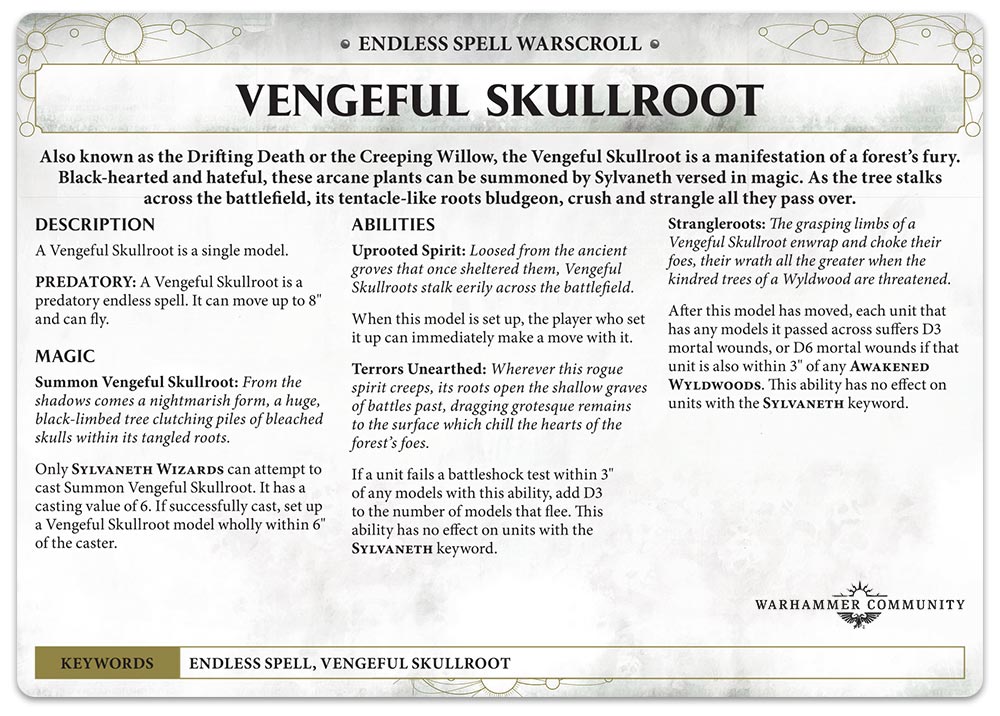 We got an earlier look at this spell already and it looks like nothing has really changed. That said, it's a fairly mean spell especially if you can position it in the right spot. Then again, it IS a Predatory spell with an 8″ move and fly so it can certainly uproot itself and go on trip. Once it's in position (ideally near an Awakened Wyldwood) it can dish out mortal wounds – either D3 or D6. This is great for the Sylvaneth as well because it has no effect on their units. It's one of the few Predatory Spells that can't backfire on the Sylvaneth player! Oh and it totally messes with enemies during their battleshock tests, too.
Spiteswarm Hive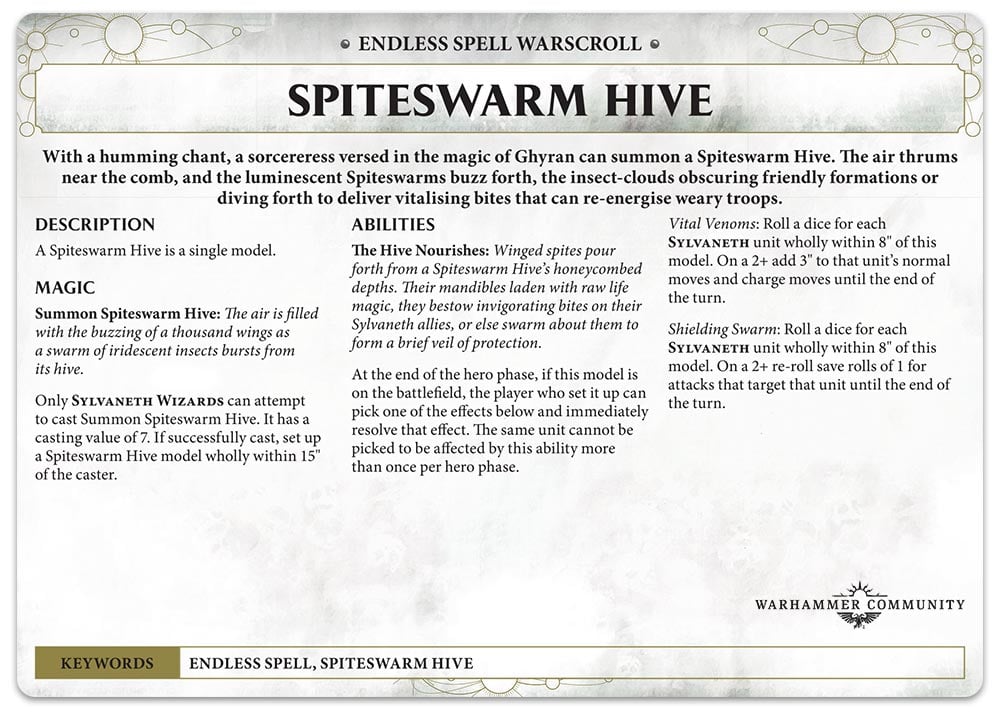 If you are looking for an Endless Spell that can offer you some options the Spiteswarm Hive is where it's at. It has two different buffs it can toss out – one adds 3″ to your move and charge moves until the end of turn and the other lets your re-roll save rolls of 1. The best part is that this spell effects each Sylvaneth unit wholly within 8″ of the spell! Toss this in the right spot and hunker around it to soak up those re-rolls or cast it early to push your units further!
Gladewyrm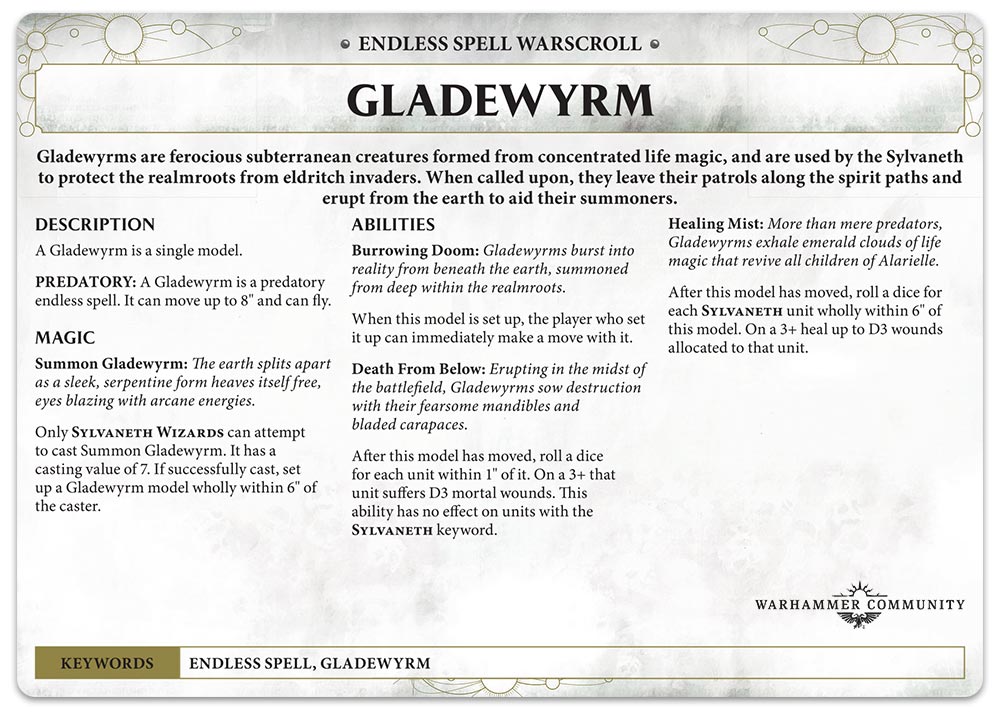 This Endless Spell answers the question of "would you like to heal or do damage?" with an emphatic "YES!" For the Sylvaneth player, there are no downsides to this model – all the bad stuff only hits non-Sylvaneth units while the good stuff only impacts Sylvaneth units. As another Predatory Spell it can also move 8″ and fly. After it moves, each non-Sylvanth unit within 1″ takes D3 mortal wounds on a 3+ while each Sylvaneth unit wholly within 6″ heals D3 wounds on a 3+.
Now on to the new Terrain Feature!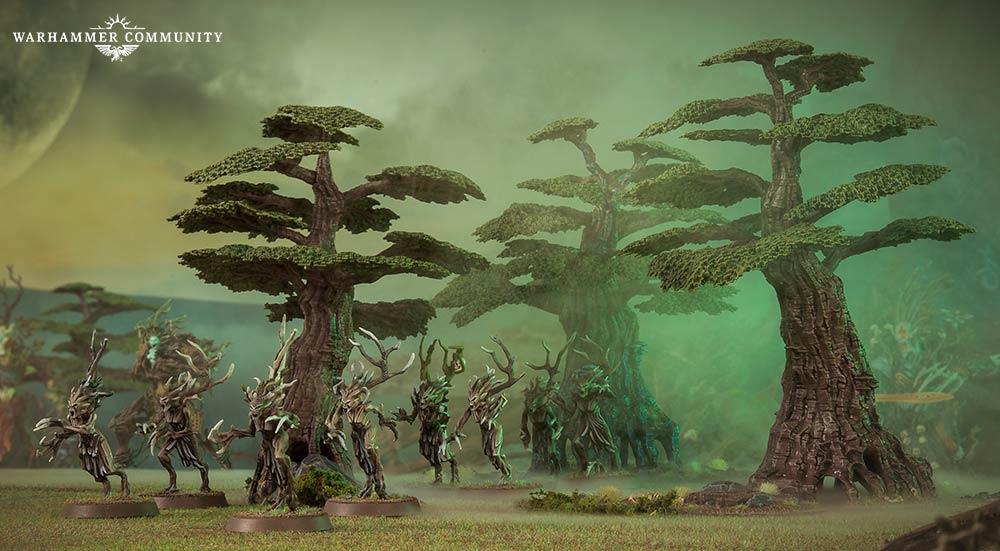 Awakened Wyldwoods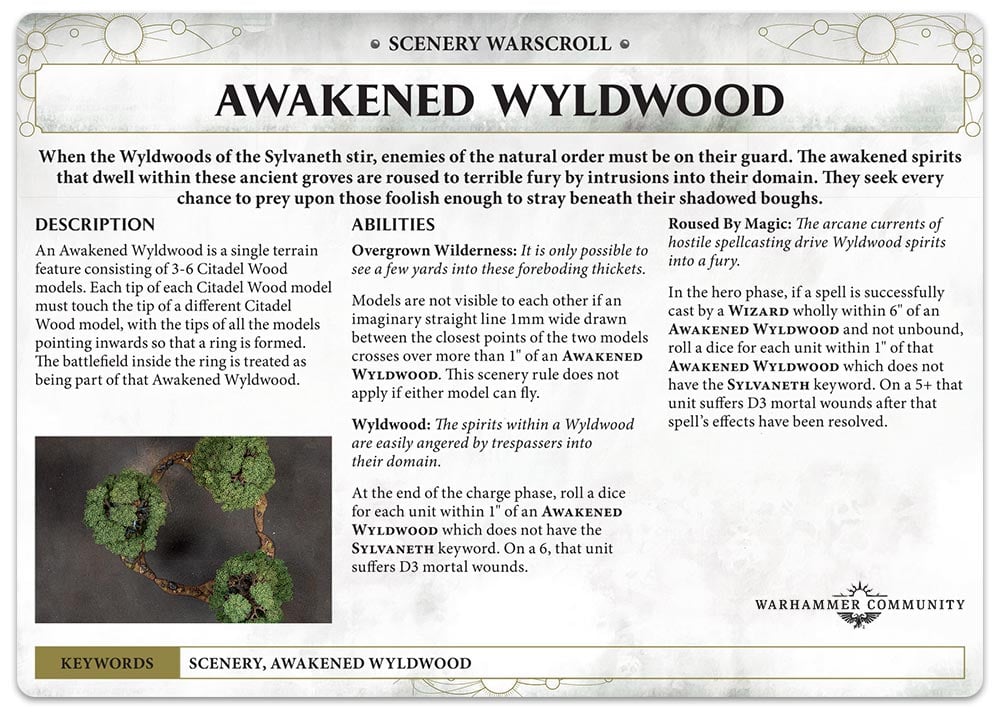 Games Workshop has basically redesigned the entire model kit as well as rules for this new terrain feature. It blocks line-of-sight to non-flyer models for starters. The Awakened Wyldwood has some funky setup rules but basically it just needs to form a circle. It also dishes out D3 mortal wounds on a 6 for non-Sylvaneth units within 1″ of the Awakened Wyldwood. And finally it can punish nearby units if a Wizard successfully casts a spell nearby.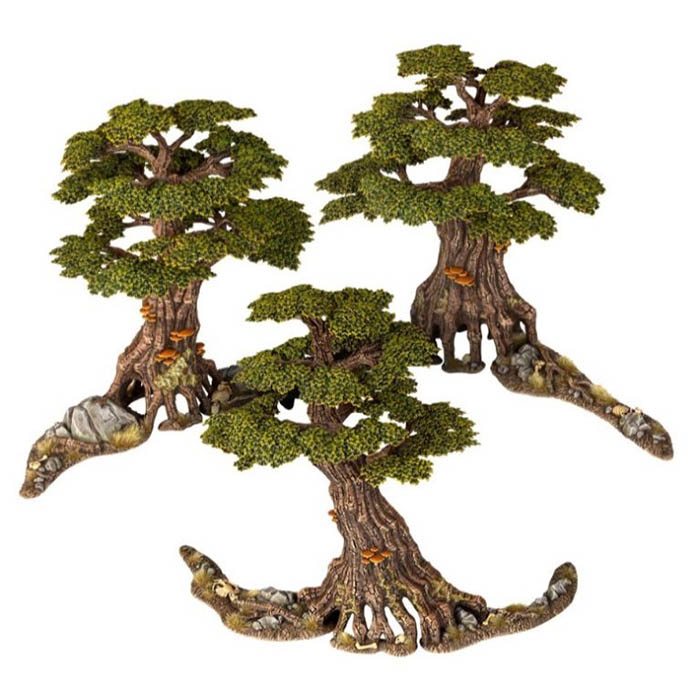 Now, I'm sure some folks are wondering about the old version of the GW woods and if those can be used. Short answer: Yes. Long answer? Here is what GW had to say:
Q: Can I use my old Citadel Wood models as an Awakened Wyldwood?

A: Yes you can. If you have one of the old Citadel Wood models (see image below) this can be used as 1 Awakened Wyldwood terrain feature.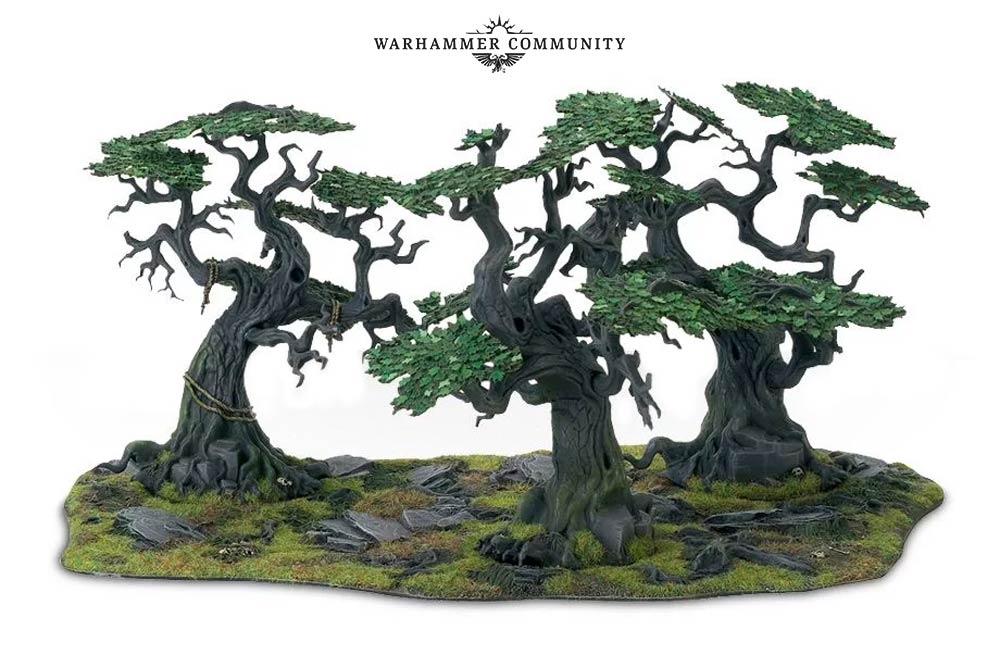 So there you have it! The Woods are alive and they mean business! The Sylvaneth Battletome 2.0 is coming to pre-order this weekend!
…and then the Trees attacked!