These diminutive devils are responsible for many a mortal downfall, either through magical mischief, or more sinister dealings.
As Baldur's Gate: Descent Into Avernus prepares to take us into the Nine Hells and right to the front lines of the Blood War between the tanar'ri and ba'atezu (or demons and devils) we've been going through our own sort of Fiend Folio here. We're taking a look at the devils and demons and finding the places where the lines between the two are understandably blurred. Today we're taking a look at Imps. These fiendish familiars represent the mischevious side of lawful evil–and yet they are responsible for spreading corruption and sedition just as well as any succubus. They just tend to be a little more comical while doing so.
Like most monsters with a mythological origin story, Imps were taken from their folkloric counterparts. Mythological imps were mischievous (and sometimes outright evil) and sometimes were attendants of the devil. But by and large they weren't the tempters, so why do they have such an enduring part of D&D lore? Well for one they represent the lower end of the scale. They're evil creatures players can deal with before hitting the higher levels, so they have to be clever. And for two, their folkloric origins are probably the source of the whole idea of devils being "promoted" through the ranks and changing as they grow in power:
The Legend of the Imp King dates back to the 12th century Scotland and talks about how the devil stole a child and placed an imp in the cradle. The Imp grew up with a hateful grudge against the devil and eventually returned to hell where he started a revolution. He called upon all of the other imps and hell hounds and all other minor beasts to join his fight for revenge. Calling him self the Imp king, he grew a crown of horns and led the largest army of demi-demons into the throne room of hell where he was ultimately victorious in which the other side surrendered and volunteered to be his slaves for life. A mission began to retrieve his stolen siblings and give them pleasant lives in his newly conquered lands; finally being awoken from their long, long slumbers.
That said, let's take a look at how they've shaped up in D&D.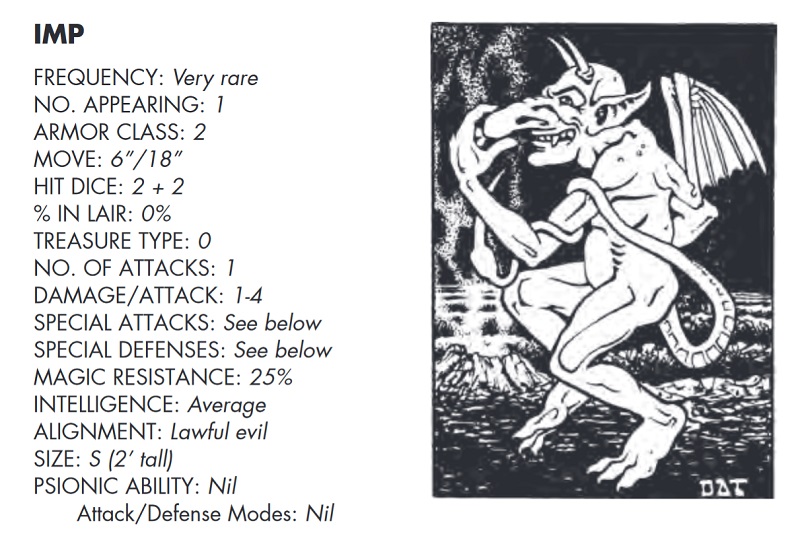 First edition Imps are low-powered indeed. They are created specifically to serve as familiars to a lawful evil magic-user or cleric, and are given access to a special set of powers to help them promote the agenda of the Nine Hells. Able to polymorph into animal form (choosing two from: large spider, raven, giant rat, or goat), an imp is a master of disguise. Though imps are small and frail, they possess some powerful abilities, including what would become a signature impish trait–a tail coated in venom. Though in 1st Edition, this poison was save or die.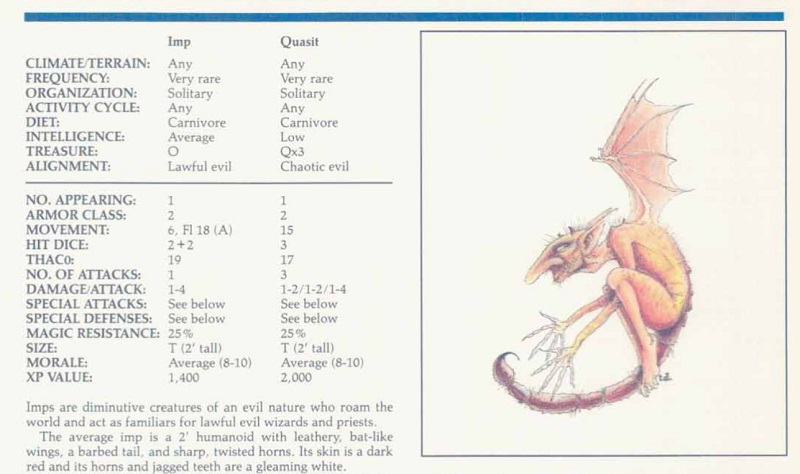 2nd Edition Imps get more of that 2nd Edition flavor. They greatly benefit from Planescape's release, gaining a better place in the cosmos. Imps are once more tasked with spreading evil throughout the cosmos by assisting lawful evil wizards and clerics–only now they are to take more direct control:
Once they have contacted their new "master", imps begin at once to take control of his actions. Although imps maintain the illusion that the summoner is in charge, the actual relationship is closer to that of a workman (the imp) and his tools (the master). They confer some of their own powers–but they do it at a significant cost to their "master," making them more susceptible to the Imp's influence.
This edition also introduces the concept of Mephits. These are imps that are created from elemental substances like fire, ice, lava, mist, smoke, and steam.
3rd Edition Imps are much more firmly devils again, though they lose much of their flavor in this edition. Most of the room goes towards the more powerful devils. Imps lose their save-or-die venom stingers in favor of a poison that just does extra damage.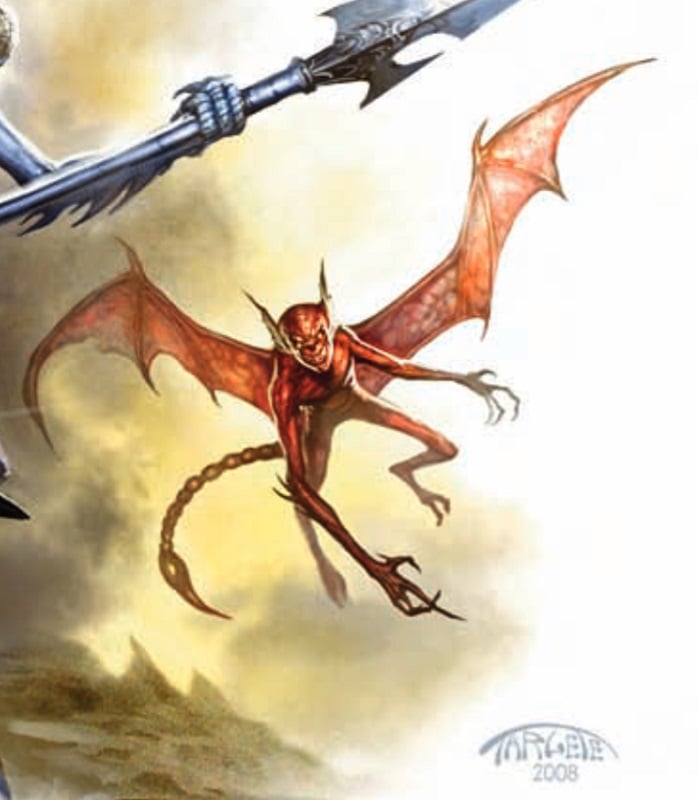 4th Edition Imps are much more interesting. The 4th Edition emphasis on that points-of-light lore in a world that's post-apocalyptic means the devils are a little more needed. They might be evil, but they bring order. And Imps are there to foster a desire for more power that will drive their masters to perform evil acts. They're also devilish databases, essentially, and can be a great resource. Their poison remains their iconic attack here–alongside the ability to become invisible for a round, meaning they can appear where you need them.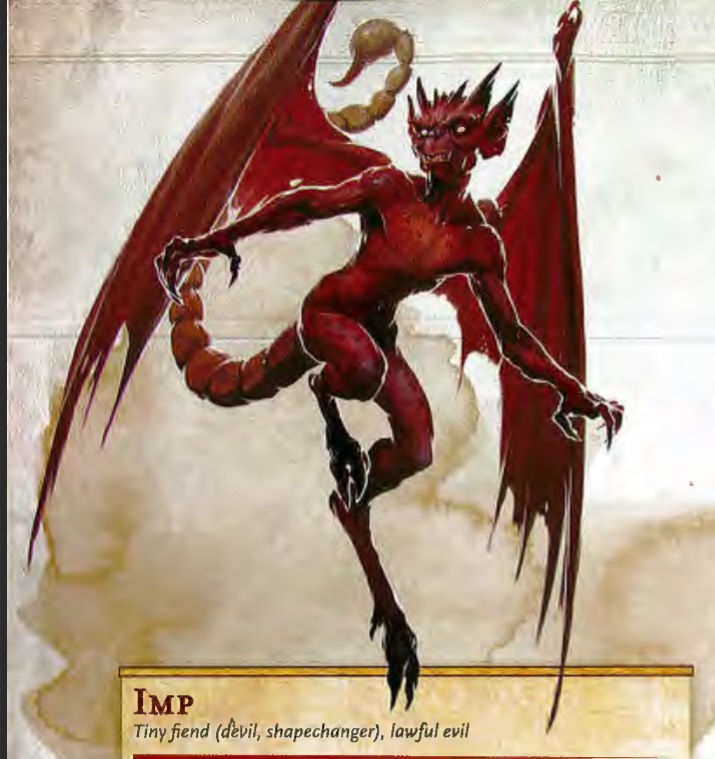 5th Edition Imps are much less reliable. They are essentially the Interns of the devils. They will happily work for whatever evil masters they can, but specifically "can't be relied on to carry out tasks with any speed or efficiency." Their poison is a little more potent–though nowhere near as strong as older editions. These imps are perfect skirmishers though. They can float invisibly and deliver a powerful attack before flying out of range. And their resistances mean they're likely to survive long enough to deliver their attacks.
---
All in all, these devilish deviants are a great way to spice up an encounter with a malevolent mage. Or failing that, they make excellent opponents on their own if given the chance to hit and run against the party. Nothing will wear them down like being preyed on by an invisible creature.
If you can catch them though, Imps will fall pretty quickly.
Happy Adventuring!