Games Workshop checks-in with their biggest year EVER.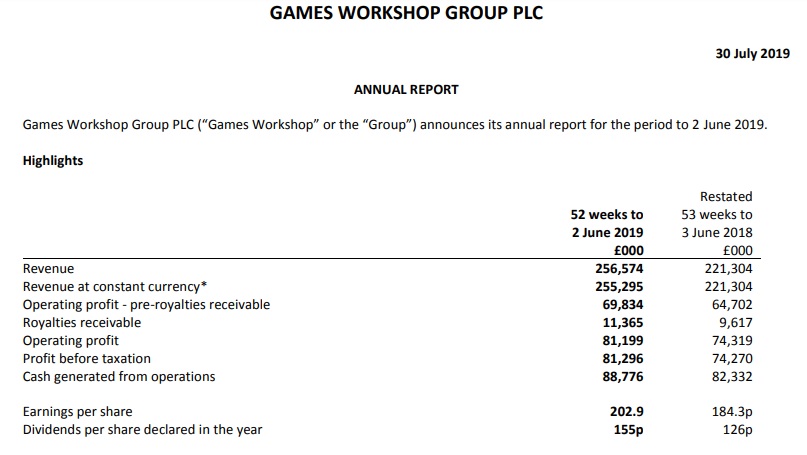 We're keeping this one pretty high level, if you want to do your own number crunching check the links below: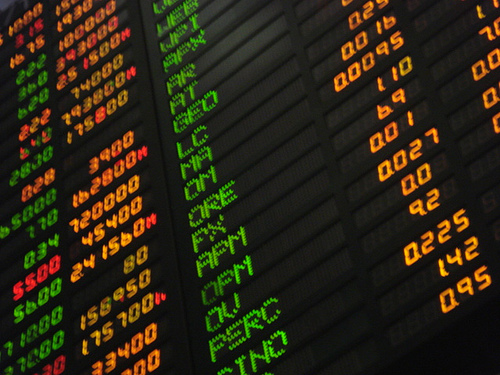 Some top level numbers: (2018 vs 2019)
Revenue: +15.9%
Operating Profit (pre exceptional items & royalties) +7.9%
Operating Profit +9.2%
Earnings per share: +10%
Sales Channel Reports
Percent of Sales Per Channel
Retail: 34%
Trade Sales: 47%
Mail-order (web store): 19%
Growth Percent of Sales Per Segment Constant Currency (2018-2019)
Retail: +6.8%
Trade Sales: +27.7%
Mail-Order: +4.8%
Excerpts from the CEO:
"We believe our IP to be among the best in the world.
The Warhammer settings are incredibly rich and evocative backdrops. They're populated by more than three decades of fantastical characters and comprise of thousands of exciting narratives. We are committed to making it easier than ever for people to discover, engage with and immerse themselves in our IP. Aided by a small, senior team we have already begun to find new partners, and new ways to help us bring the worlds of Warhammer to life like never before. Together, we'll continue to explore animation, live action and more. We'll present the very best aspects of our rich IP, delighting audiences while always ensuring we do no harm to our core miniatures business."
Yearly Review
Core Business
"I am pleased to report a third year of record constant currency sales, profit, cash generation and returns to shareholders. We enjoy setting new records at Games Workshop and beating last year's record beating year with an even better year highlights the progress we are making. I'm sure next year will be just as exciting!
…
Breaking records for three years in a row sets the bar higher and higher and so, to be realistic, I will continue to make no promises that we will continue to grow. That said, I do not see anything significant that will get in the way. We will continue to deliver our operational plan, facing any challenges head on. Our strong culture, built on teamwork and collaboration, continues to give ourselves the best chance of success. Games Workshop is the best fantasy miniatures company in the world and the whole team are very proud of that. We are doing everything we can to ensure we remain the best, forever."
Marketing
"As ever, when we say marketing at Games Workshop, we mean engaging, informing and inspiring our global community.
We continue to be customer focused and our customers have never been more engaged – reading and interacting with more Warhammer content, more often than ever before. Warhammer-community.com, the cornerstone of our online marketing, had over 114 million page views in the period, nearly double that of the previous year. This is from over 6 million users, up 1 million from the same period last year. In the year, we also expanded our social media toolkit, using targeted content to re-engage our audience. Early indicators show a good return on spend, giving us a promising way to deliver great content to lapsed and new customers alike.
As well as supporting Warhammer 40,000 and Warhammer: Age of Sigmar with daily content, the team has focused on providing better support for new customers, developing a series of instructional How To Play videos. These have been a great success, with metrics up over 100% on the previous iterations of such videos. Once again, the team has also made space to innovate and play, experimenting with new, engaging content types, such as a live action trailer for Warcry, and a series of 'movie spoofs' to launch the Citadel Colour Contrast paint  range. As a result, official Warhammer video content was viewed over 50 million times across our channels in the year."
Media and Entertainment
"We have spent a considerable amount of time and money over the last 30 years developing some of the world's best stories and characters set in our Warhammer universes. Over the last few years we have been exploring how we develop this as digital content particularly in animation and TV. This month, July 2019, we took a major step into this industry and announced that we had signed a development agreement with a script writer, show runner and production company to bring one (we have many more) of our famous stories and characters in our Warhammer 40,000 universe to TV. In this case, a story based on one of our most popular Black Library novels, Eisenhorn. With this agreement, Warhammer on screens both large and small is ever closer to being a reality. To say we are excited would be an understatement! And while it's still early days, we think this is a step in the right direction.
In addition to this exciting venture, we have also finished development and begun production on an animated series, Angels of Death. This puts our fan favourites, the Space Marines, front and centre. It's set to be a dark, moody tale that showcases the grimdark of our Warhammer 40,000 IP. We're still exploring distribution methods, and it might well be that Angels of Death launches on our own Warhammer TV.
We are eager to learn about the new 'space', particularly with regards production and distribution. Whilst our short term goal is to understand how the entertainment and media industry works (it appears somewhat complex and expensive), longer term we believe we can closer integrate our media efforts within our business. We are skilled storytellers who understand our IP better than anyone else. To ensure we make the most of that fact, we've formed the Warhammer Story Forge, a group of creatives who are both skilled writers and Warhammer experts. Together they have been and will continue to develop outlines, scripts and stories for media projects. Their creativity and passion will ensure we delight fans, deliver amazing Warhammer content to whole new audiences, and protect the integrity of our IP.
We believe this is just the beginning of what will be exciting times for both our Citadel and Forge World miniatures fans, and fans of Warhammer everywhere."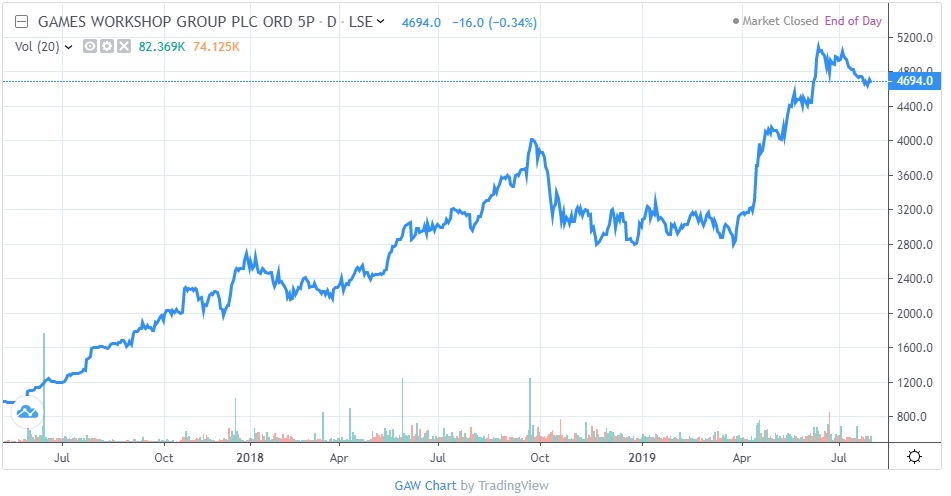 Games Workshop 12 Month Stock Price
It's been a good year for GW – that's three years in a row of growth across the board. What do you think next year will bring?