Goatboy here again and I got something to say – I love me some Robots! Let's take a solid list and make it perfect.
I let a buddy borrow an army for an event this past weekend.  It was a Goatboy list – 3 big robots, 3 Lord Discordant, and a single Herald of Slaanesh.  He went 3-2 with 1 lose coming on a Seize and the other from a good friend who just had a nice base to build off of and smite you to death.  I think Brandon could have won that one by just playing the hold objective mission – but it still was a bit of a sting.  For those wondering what he played – he had the old style Renegade Knights – 2 Double Gatling w/no LOS missile and one 2 Battle Cannon.  He liked the list but of course it changes with the new book updates.  I think it can still be worked on and messed with as it has a lot of potential to be a fast army that can pull more wins than loses.

Tune Up Time
Today I figured I would show how it should change and be updated.  There are a few things we could do – say go towards Thermal Cannons to get more points and maybe find a way to get a casting option for the Lord Discordants.  There is a lot of play here as it is a small enough army with enough simple point changes to get it working in the right direction.  Let's talk about what worked – the Knights themselves did fairly well with the option for 48 bullets being a pretty big deterrent for a lot of armies to deal with.  The Battle Cannons were good as well – as they could shoot from across the field and still be a threat.  I know he said the no LOS missiles were key to helping clear out chaff – so I think getting another one of those is very important.  I think the big option in all of this is to figure out if the Lord Discordants are needed – and if not what we could do with them instead.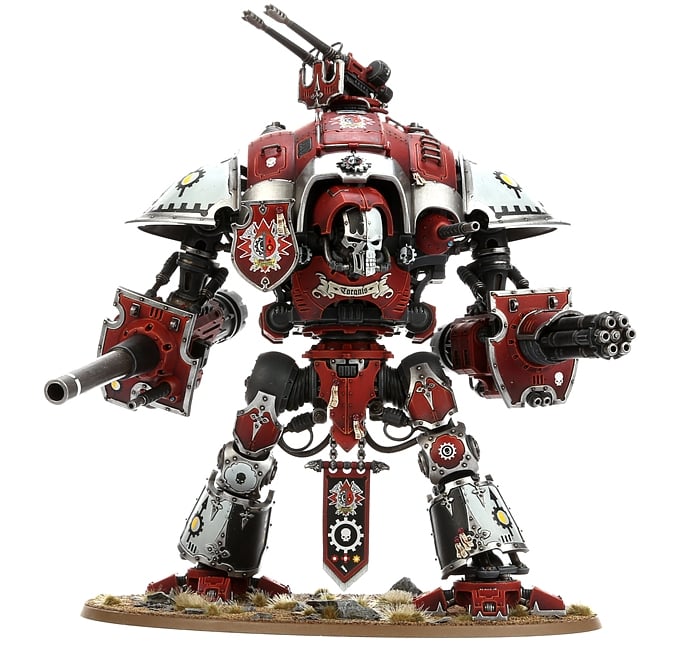 Let's rebuild the shell with the no LOS missiles on top.  Will go Iconoclast as I think getting the extra attack in Close Combat will be important in some match ups.  Plus the VOWs can be very powerful with things like – hey lets shoot some Orks, get up to 10 basic attacks, and steal all their underpants.  I think the Lord Discordants start to get into a weird place as if there is terrain people can hide on they can't do anything – plus they are very easy targets to gather ITC points off of.  I still think they are just good in specific match ups.  Will stick with them – just 2 now and some support. Warptime is just too good as well as good Delightful Agonies.  I added a Warpsmith because I had extra points.  I could have gone with Baleflamers on both Lord Discordants – I just don't think it is worth it.  Knights now do better with Flyer Match ups.
Big Monster Assault!
Super Heavy Detachment – +6CP
Chaos Knights – Iconoclast Household Ambition
-LoW-
Knight Despoiler, Avenger Gatling Cannon X 2, Heavy Flamer X 2, Heavy Chubber X 1, Ironstorm Missile Pod – 501pts
Knight Despoiler, Avenger Gatling Cannon X 2, Heavy Flamer X 2, Heavy Chubber X 1, Ironstorm Missile Pod – 501pts
Knight Despoiler, Rapid Fire Battle Cannon X 2, Heavy Chubber X 3, Ironstorm Missile Pod – 487pts
Chaos Space Marines Supreme Command – +1CP
Legion: Flawless Host
-HQ-
Lord Discordant – Mark of Slaanesh, Autocannon, Warlord – Ultimate Confidence – Relic – Intoxicating Elixir – 160pts
Lord Discordant – Mark of Slaanesh, Autocannon – 160pts
Sorcerer on Steed of Slaanesh – 127pts
Warpsmith, Mark of Slaanesh – 60pts
PTS: 1996 CP: +10 CP

Big Monster Tactics
The CP will drop for sure when you build out the army – all depending on the Relics the Knights need to take.  The other thought would be to get Soulforged Pack for the Lord Discordants to get an extra 2″.  I am not sure if it is worth it to burn 2 CP to get that – but again it depends on what you need for the Knights.  The Sorcerer is on a Steed as it lets him keep up with the Lord Discordants was needed.  Its a bit of a nutty list – but at least it would be fast and mean.  This is something I might tweak around with for the GW tournament if I can fit in two shooty Knights or maybe go one Avenger one Thermal one close combat with the Discordants helping out.  Hopefully Battlescribe will be updated soon so I can truly brew up something nutty for GW.  Or heck – just go all Knights with some War Dogs to help out.  The possibilities.
Enough of that today – I rewrote this list a few times and figured I would go with an update to something that was played thru 5 games.  My buddy had fun with it – hopefully all my goodies arrive in good shape, and I can bring the pain to a game soon.  It has been since May when I played last.  Jonesing to throw some dice at some point.
~Death to the False Emperor!