Goatboy here and you know there is going to be a Chaos Knight army coming for the week – with some Red Corsair little buddies.

I am very excited for the army to finally be here so I want to throw out some kind of army list that isn't the one I threw out for a buddy to play at an event.  I want to utilize the Chaos Knights as the beat sticks so while I love me the Lord Discordants I want to look at using the Knights themselves as the beat stick. Beyond this, I want to try and throw in some Chaos Lord deep strike options.  Let's see if the points work.
I talked about this already – but Red Corsairs are built to power up the Knights.  I think using these guys with some Chaos Space Marines, maybe some Warp Talons and then a Chaos Lord to go find hidden enemies will do some good.  Plus I can build out some Khorne nonsense to with it and make an interesting army.
Corsairs & Friends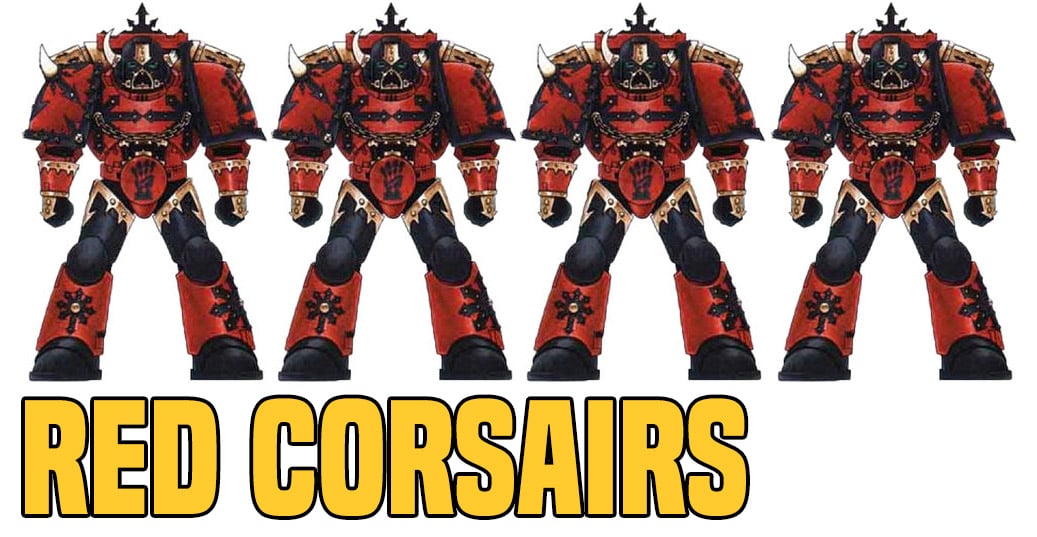 Chaos Space Marines Battalion – +5CP
Legion – Red Corsairs – +3 CP
Specialist Detachment – Raptorial Host – -1CP
Field Commander – -1CP
-HQ-
Chaos Lord with Jump Pack – Mark of Khorne, Lightning Claws X 2 – 105pts
Sorcerer with Jump Pack – 120pts
Warp Smith, Mark of Khorne – 60pts
-Troops-
Chaos Space Marines X 5 – 65pts
Chaos Space Marines X 5 – 65pts
Chaos Space Marines X 5 – 65pts
-FA-
Warp Talons X 10 – 240pts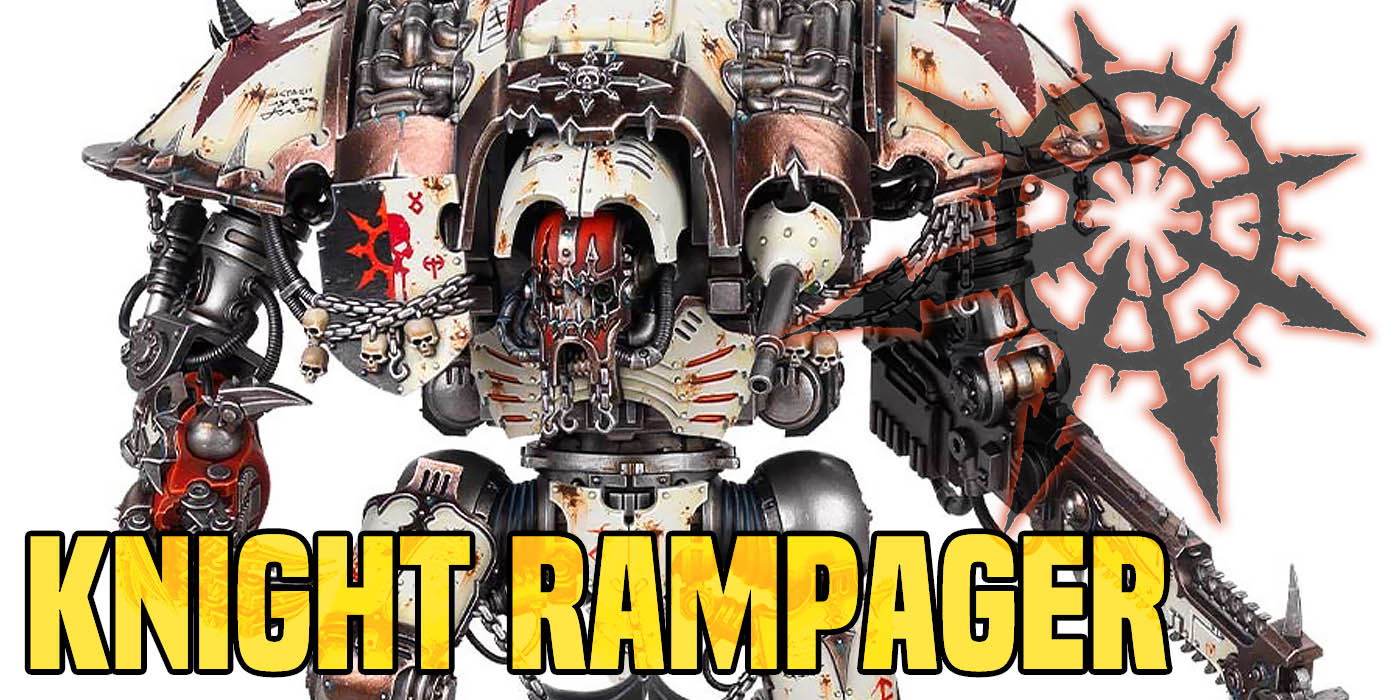 Super Heavy Detachment – +6CP
Chaos Knights
Infernal Household Ambition
Corrupted Heirlooms Stratagem – -3CP
Tyranical Court – -1CP
-LoW-
Knight Despoiler – Avenger Gatling Cannon X 2, Hvy Flamer X 2, Heavy Stubber, Ironstorm Missile Pod – Relic – Helm of Warp-Sight – 501pts
Knight Despoiler – Reaper Chainsword, Thunderstrike Gauntlet, Heavy Stubber – Warlord – Eager for the Kill, Relic – The Quicksilver Throne of Slaanesh – 372pts
Knight Rampager – Reaper Chainsword, Thunderstrike Gauntlet, Heavy Stubber – Relic – Tzeentchian Pyrothrone – Warlord Trait – Warp-Haunted Shell – Dreadblade – 382pts
Pts – 1975 – Command Points – +11pts

Dark Knightly Tactics
The idea here is you have a running bomb with the Rampager, bonuses to move if you want too, and the ability to counter magic as needed.  You have a few extra Command points coming with some Dreadblade setups that gain you a CP each turn, and maybe get some bonuses to other things, and hopefully, you won't roll that Damnation roll versus your 10 leadership.  The double Gatling cannon knight is designed to murder whatever it shoots at with ignore all those modifiers and throwing out a ton of damage.  The other close combat Knight is built to move behind and get involved.  The Warp Talons are thought of as a unit to clean out buildings and other options as needed.  The ability to turn off some Overwatch can be helpful as well as having a ton of attacks that could activate twice if you needed too.  It's probably not valid and I bet another Close combat knight will just do better.  Or heck a ton of bikers to clear out enemies.  This new book gives you a ton of new options for Chaos and I think it adds a nice wrinkle to the current soup that is the followers of the warp.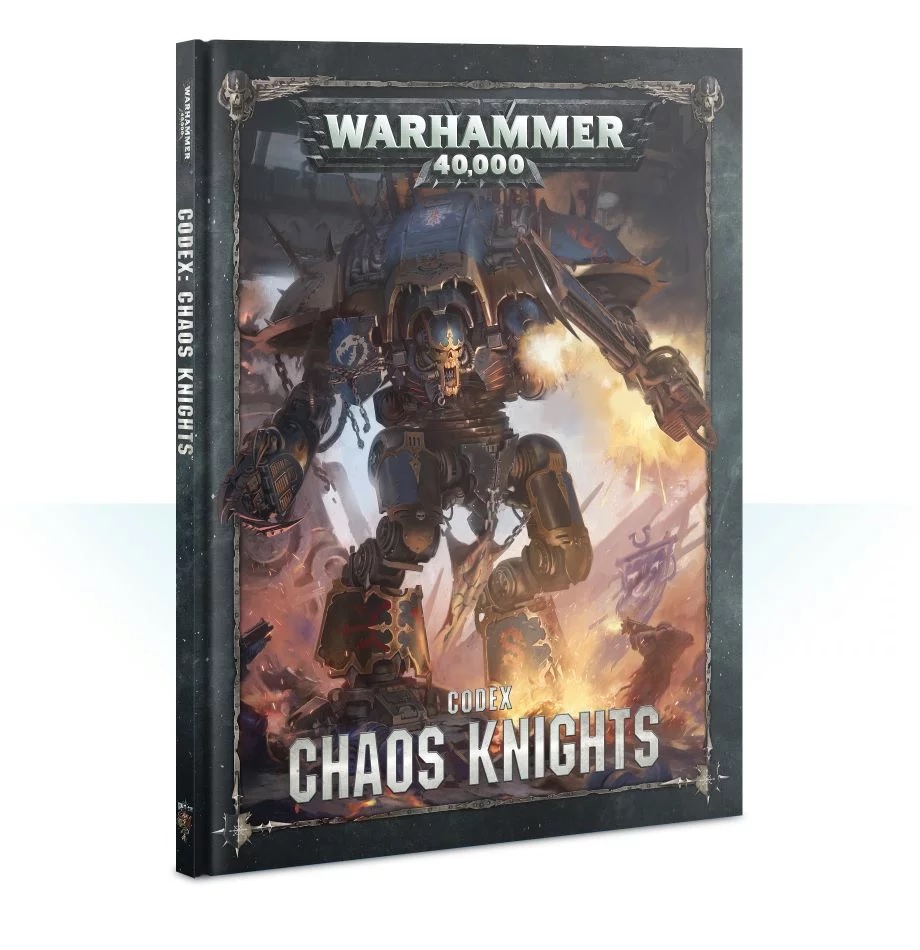 ~Until next time – Death to the False emperor!