Games Workshop's Pre-orders are out now for Sylvaneth, Blood Bowl, and Adeptus Titanicus – check these out!
via Games Workshop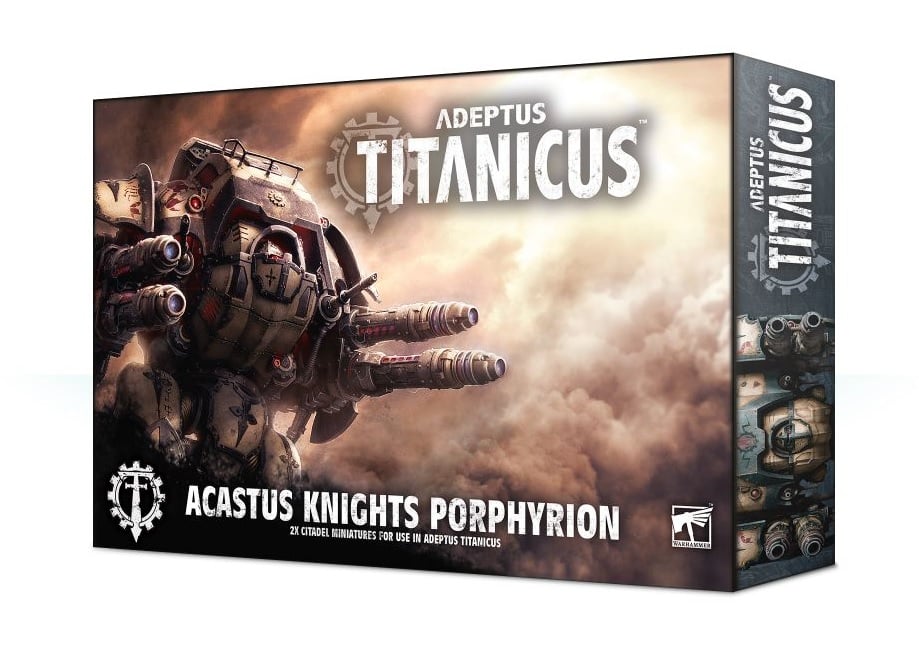 Acastus Knights rival even the Scout Titans of the Collegia Titanica in both size and power. Heavily armed and armoured, they stride across the battlefield unleashing devastating volleys from their paired magna lascannons.
This multipart plastic kit contains the components necessary to assemble 2 Acastus Knights for use in games of Adeptus Titanicus. Each of these machines is armed with a a pair of magna lascannon, and a choice of Ironstorm missile pods and Karacnos mortar batteries. These are highly detailed Adeptus Titanicus-scaled miniatures are every bit as impressive to behold as their larger brethren – details include the ability to have the top canopy open or closed, and a choice of defensive weapons to sit next to the model's head.
This kit comes as 46 plastic components and is supplied with 2 Citadel 60mm Round bases along with an Acastus Knight Porphyrion decal sheet that features heraldry for Houses Makabius, Vyronii, Malinax and Coldshroud.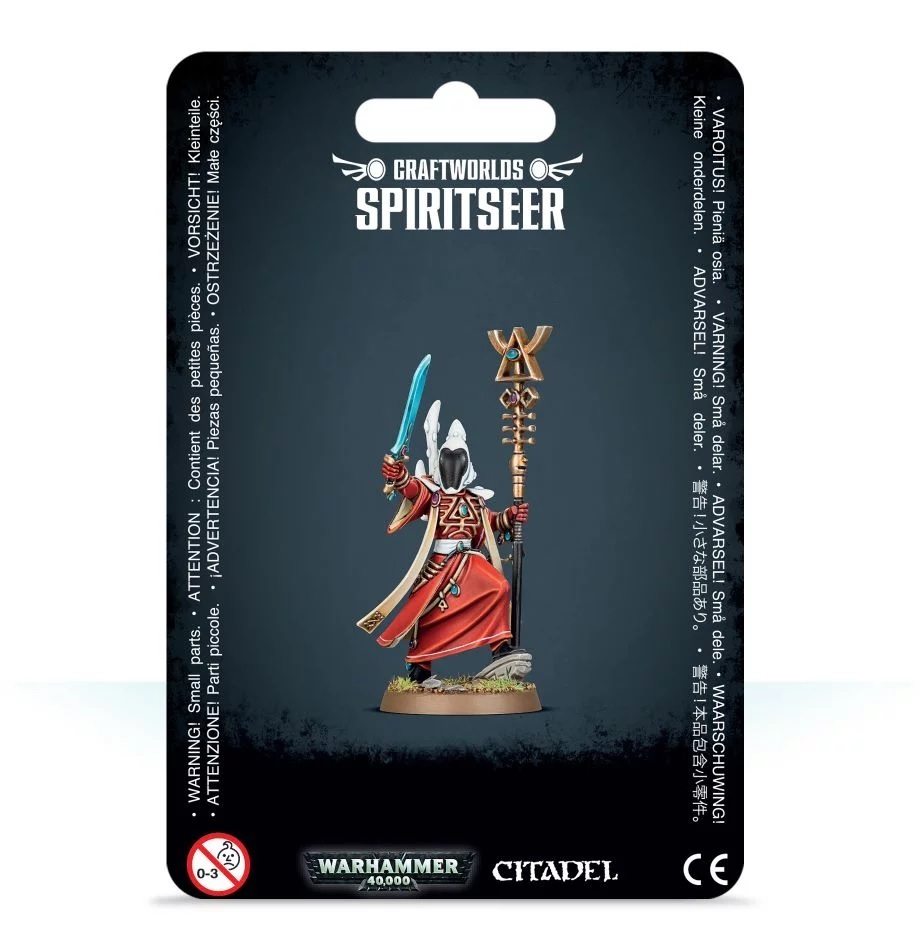 Spiritseers are those upon the Witch Path who are called to commune with the dead – a chilling concept, even amongst the Asuryani. Although their main task is to shepherd wraithbone constructs to battle, a Spiritseer can also use their psychic abilities to aid the greater Asuryani warhost. By their eldritch powers are friendly troops enshrouded in mist, or foes illuminated or struck down with mystic bolts of energy.
A Spiritseer is an HQ choice available to the Craftworld Aeldari – known as the Asuryani – though they can also be called upon to join the Ynnari. Each is a skilled psyker on the battlefield, able to wield powers from the Ruins of Battle discipline. They work especially well alongside Spirit Host units such as Wraithguard and towering Wraithknights, where the Spiritseer's otherworldly Spirit Mark will enhance the accuracy of the mighty ghost warriors.
A Spiritseer stands with one foot planted on a ruined piece of architecture. The miniature carries a witch staff in one hand and an Aeldari blade in the other. A shuriken pistol rests in a holster attached to the Spiritseer's sash.
The multipart plastic miniature comprises 11 components, and comes supplied with a Citadel 25mmm Round Base. The Warhammer 40,000 rules for Spiritseers can be found in Codex: Craftworlds.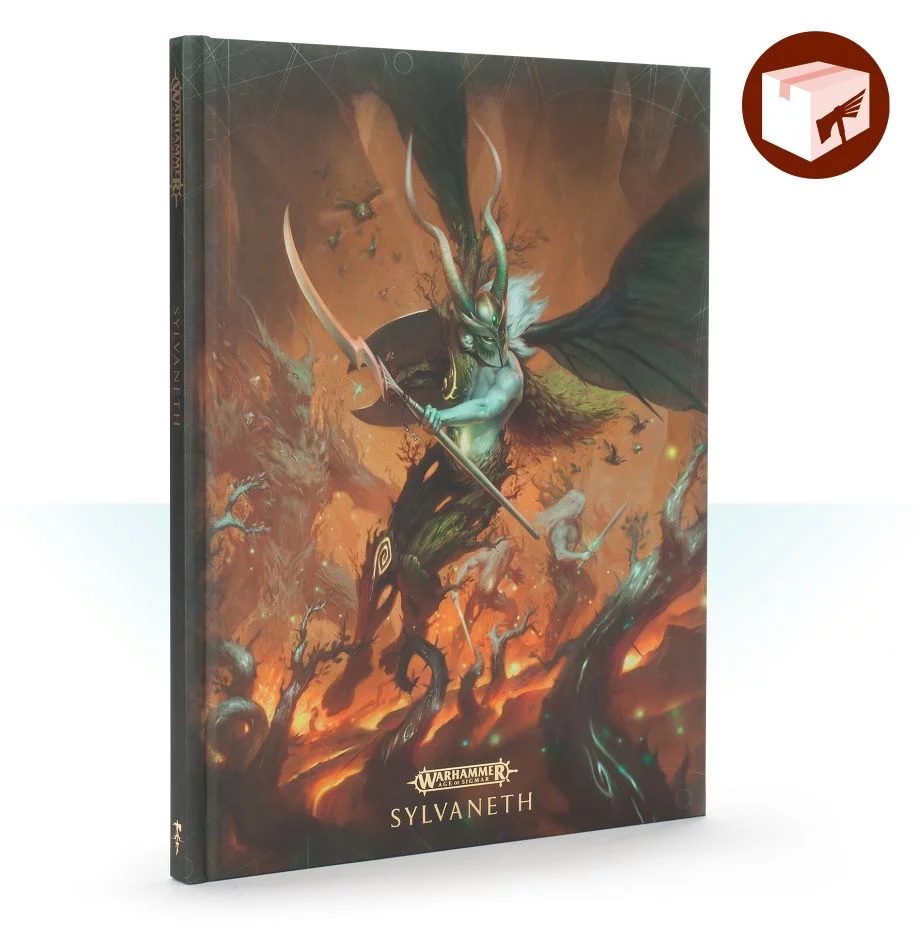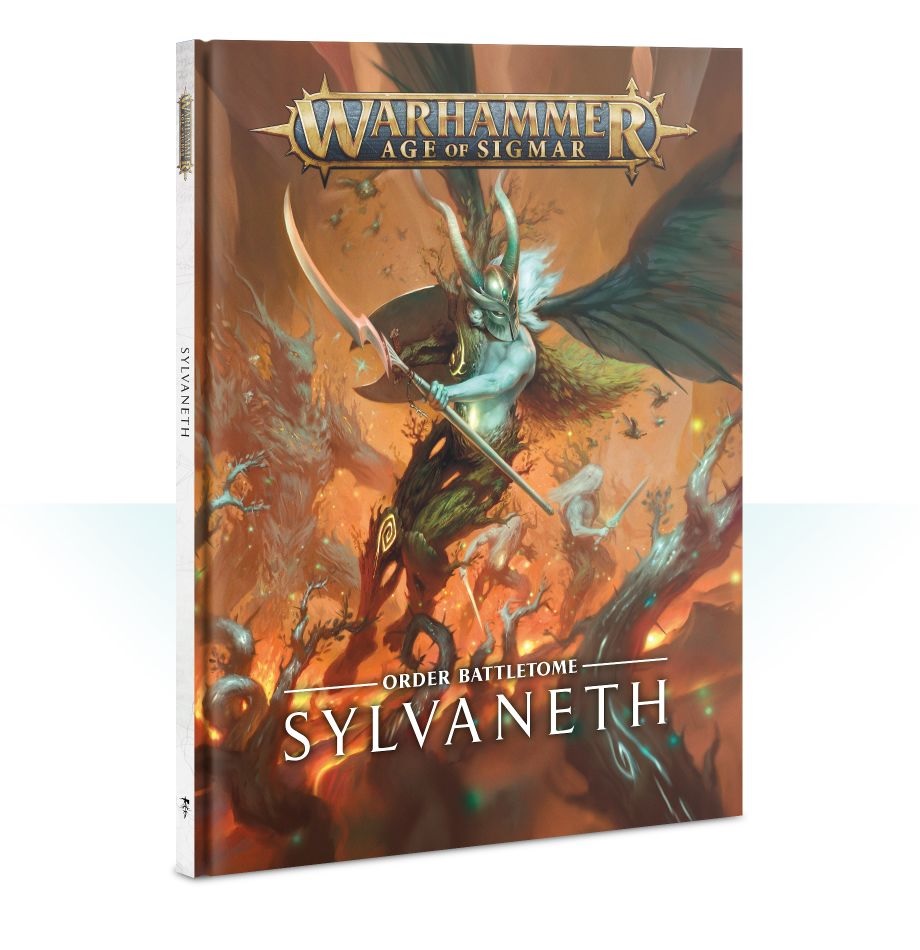 Unleash the verdant might of nature with Battletome: Sylvaneth – your guide to the eternal protectors of nature in the Mortal Realms. Inside this 104-page hardback book, you'll discover the history of the Sylvaneth, forest spirits of terrifying power who would slay any who defile their homes. You'll discover how Alarielle was resurrected, how the great Households of the Sylvaneth are structured, and how they differ from realm to realm.
Meanwhile, a huge selection of rules gives you countless ways to play with your Sylaneth collection. Allegiance abilities reward you for fielding dedicated forces of Sylvaneth, while rules for several legendary factions allow you to tailor your army to suit your playstyle – from elite forces of Kurnoth Hunters to serried ranks of Dryads. Warscroll battalions reward you for fielding specific combinations of models, while Path to Glory warband creation rules and bespoke Sylvaneth missions are perfect for your first few games. This battletome is also a great resource for collectors, featuring tips for painting details like gleaming blades and realistic bark, as well as a showcase of beautifully painted Citadel miniatures to inspire your own collection.
This battletome contains:
– Lore and art that explores the history of the Sylvaneth, and how they battle today
– A showcase of beautifully painted miniatures
– Painting advice including examples of different bark colours, foliage, and weapons for the Oakenbrow, Gnarlroot, Heartwood, Ironbark, Winterleaf, Dreadwood, and Harvestboon glades – also includes skin variants, blade variants, details for painting Alarielle the Everqueen, and more
– Allegiance abilities for Sylvaneth, including a table of battle traits (including rules for deploying hidden units as reserves), two command trait tables, four artefacts of power tables, and the Lore of the Deepwood spell table
– 6 warscroll battalions for fielding different combinations of models
– 16 unit warscrolls, 3 endless spell warscrolls, and a warscroll for the Awakened Wyldwood
– Pitched battle profiles for all units, endless spells, and the Awakened Wyldwood featured in this Battletome, including min/max unit sizes, points values and battlefield roles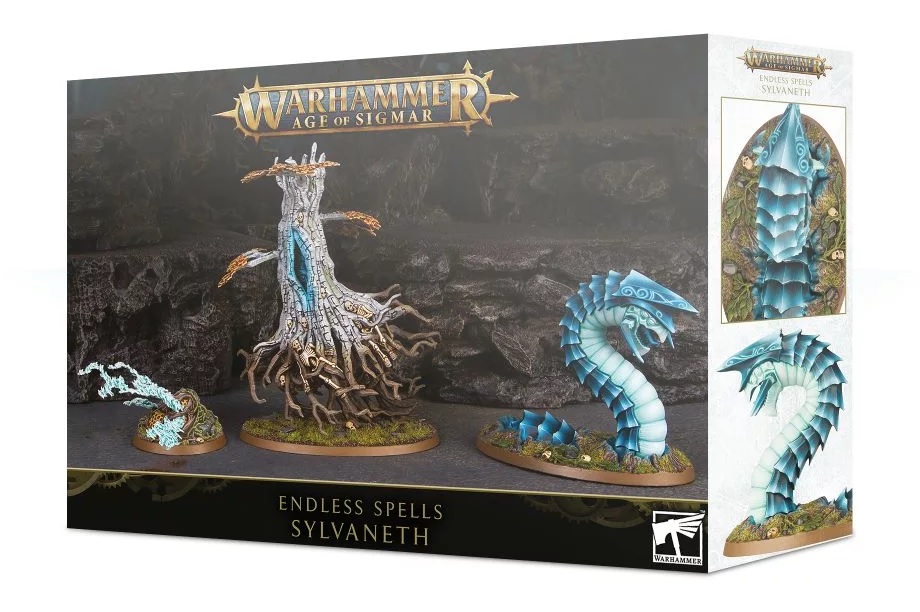 Unleash the verdant life magics of the Sylvaneth with these endless spells! Available only to Sylvaneth Wizards, these powerful summoned sorceries have the potential to turn the direst of battles in your favour with a variety of in-game effects. In this set, you'll find three endless spells, including:
The Gladewyrm – a summoned beast that crushes your foes and heals Sylvaneth units
The Spiteswarm Hive – a colony of magical insects which makes nearby Sylvaneth faster or more durable
The Vengeful Skullroot – a sinister, sentient tree that can slay foes and cause them to run in terror
This set is supplied in 15 plastic components and comes with 1x 50mm round base and 1x 105mm oval base.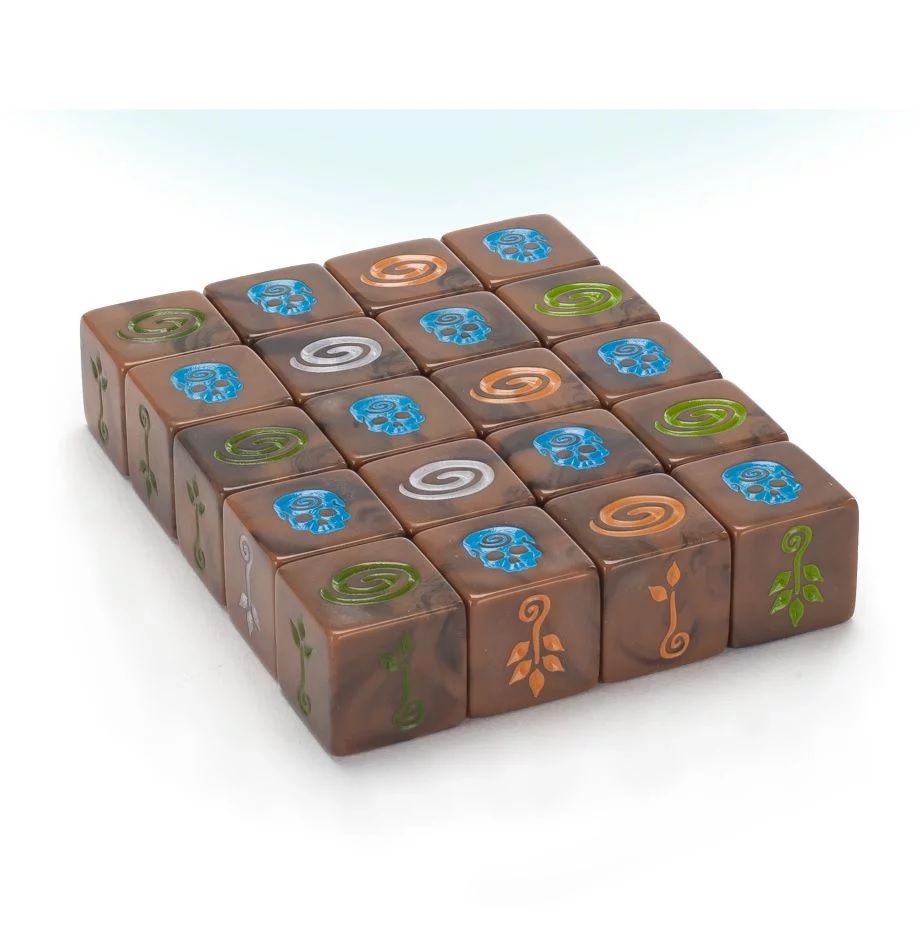 Match your dice to your army with this Sylvaneth-themed set! With 20 dice overall, they're perfect for important rolls or keeping track of wounds or command points. This set inlcudes 20 brown dice divided into four sets of five that each feature pips with one of the colours of the seasons – and special stylings on every face, including skulls for the 1s and Sylvaneth icons for the 6s.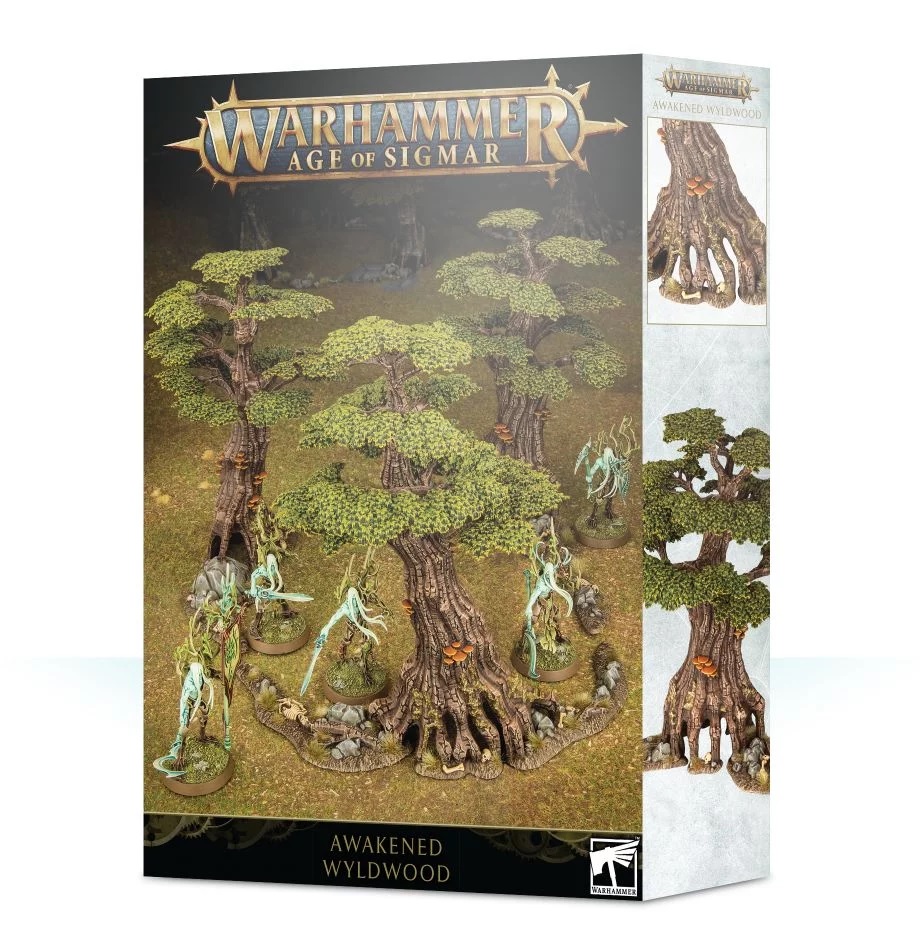 When the Wyldwoods of the Sylvaneth stir, enemies of the natural order must be on their guard. The awakened spirits that dwell within these ancient groves are roused to terrible fury by intrusions into their domain. They seek every chance to prey upon those foolish enough to stray beneath their shadowed boughs.
A deadly piece of faction terrain, Wyldwoods allow the Sylvaneth to transform even the most barren battlefield into a mystical glade. Allowing your units passage through the Realmroots, shielding you from enemy missile fire and even striking down foes, it's a deadly tactical lynchpin that offers your Sylvaneth force even more flexible. Available at no matched play points, it's a natural choice for any general commanding a force of these vengeful protectors of nature.
What's more, the Awakened Wyldwood is perfect for adding interest and thematic depth to your battlefields. Each tree is designed with a special modular base that allows you to use them on their own as scatter terrain, or together as a tactical gaming piece. Care has been taken to ensure that even the densest of Wyldwoods are easy to use in game and won't obstruct play, measurements or errant dice rolls.
This kit is supplied in 42 plastic components and builds one Awakened Wyldwood, consisting of three customisable trees.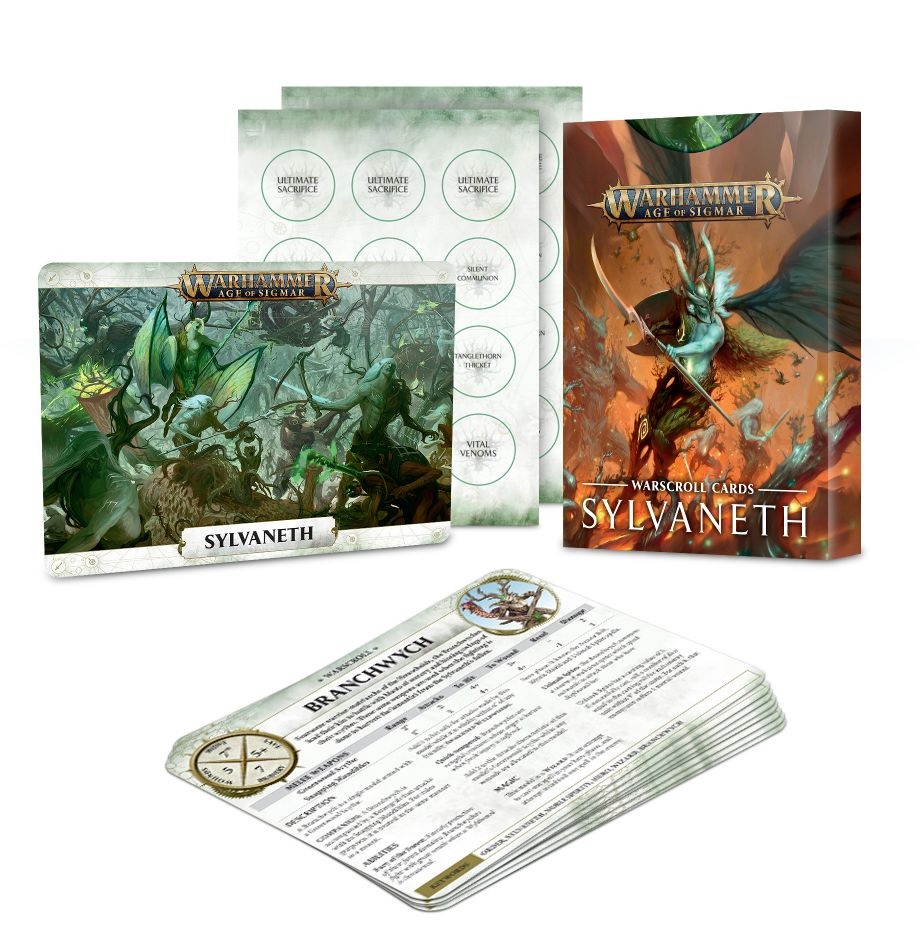 Spend less time leafing through your battletome and more time defending the Mortal Realms from those who would despoil it with these handy Warscroll Cards! This pack of cards contains easy reference versions of each Sylvaneth warscroll, plus a double-sided token sheets for tracking command points, ongoing effects, and more.
This pack contains:
– 16 unit warscroll cards
– 3 Sylvaneth endless spells warscroll cards
– A warscroll for the Awakened Wyldwood scenery piece
– Two sheets of double-sided, push-out card gaming tokens tailored to the unique spells and abilities of the Sylvaneth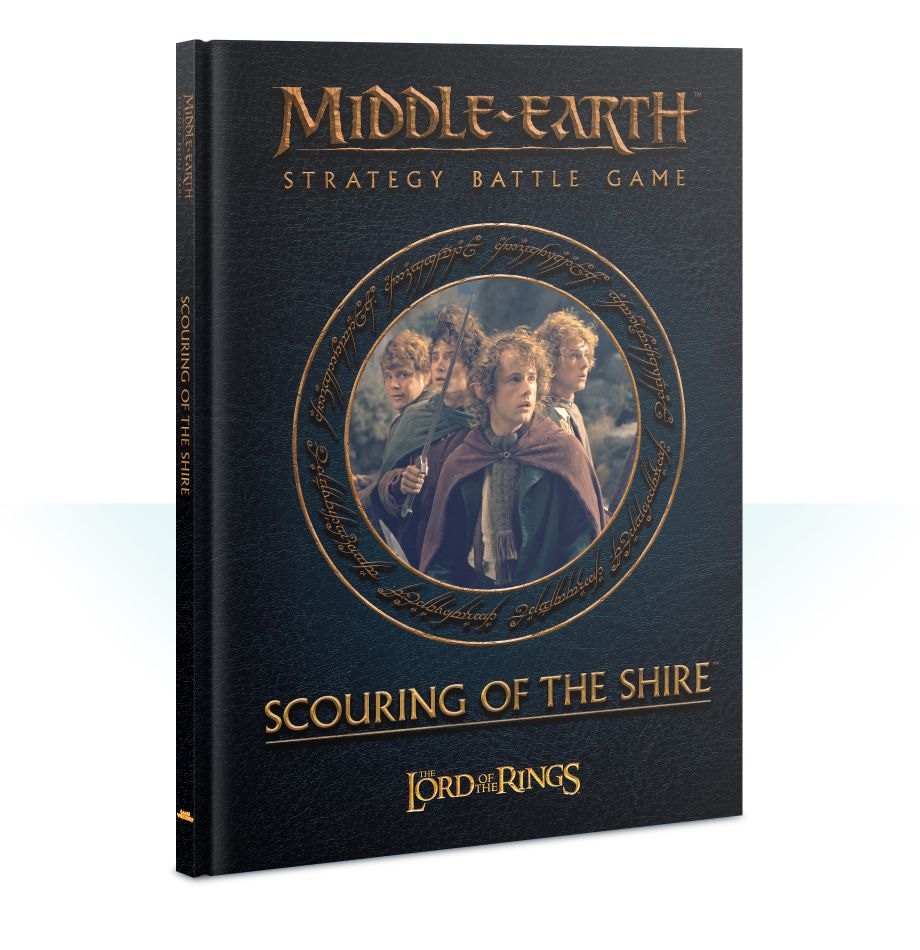 Saruman the White, in his rage, decimated the idyllic lands of the Shire in a cruel campaign against a peaceful people. This war became known as the Scouring of the Shire, and it showed Middle-earth once again that Hobbits rise to the occasion when called to fight for what matters most.
With this expansion for the Middle-earth Strategy Battle Game, you can play through a narrative campaign to represent the battles fought during the Scouring of the Shire. You'll learn about the rich history of the Hobbits, from the founding of the Shire to their deep links with Gandalf the Grey. The book also contains rules and background information to let you field full armies of Hobbits, including two Legendary Legions!
This 80-page hardback book includes:
– A full history of the Shire, including a timeline of major battles and key events
– 16 Narrative Play scenarios, each including background, board layouts, objectives, rules and more
– An in-depth look at Hobbit armies, with tactics and army lists for The Shire and Sharkey's Rogues
– 2 standalone Legendary Legion army lists – Defenders of the Shire and The Chief's Ruffians
– New rules for using Traps in your games
– A handy guide to building a village of Hobbit-holes using the upgrade kit available on the ForgeWorld.com webstore
– Appendix with 3 additional Narrative Play scenarios representing historical battles (including rules for Golfimbul, the Orc Chieftain)
You will need a copy of the Middle-earth Strategy Battle Game Rules Manual to use this expansion.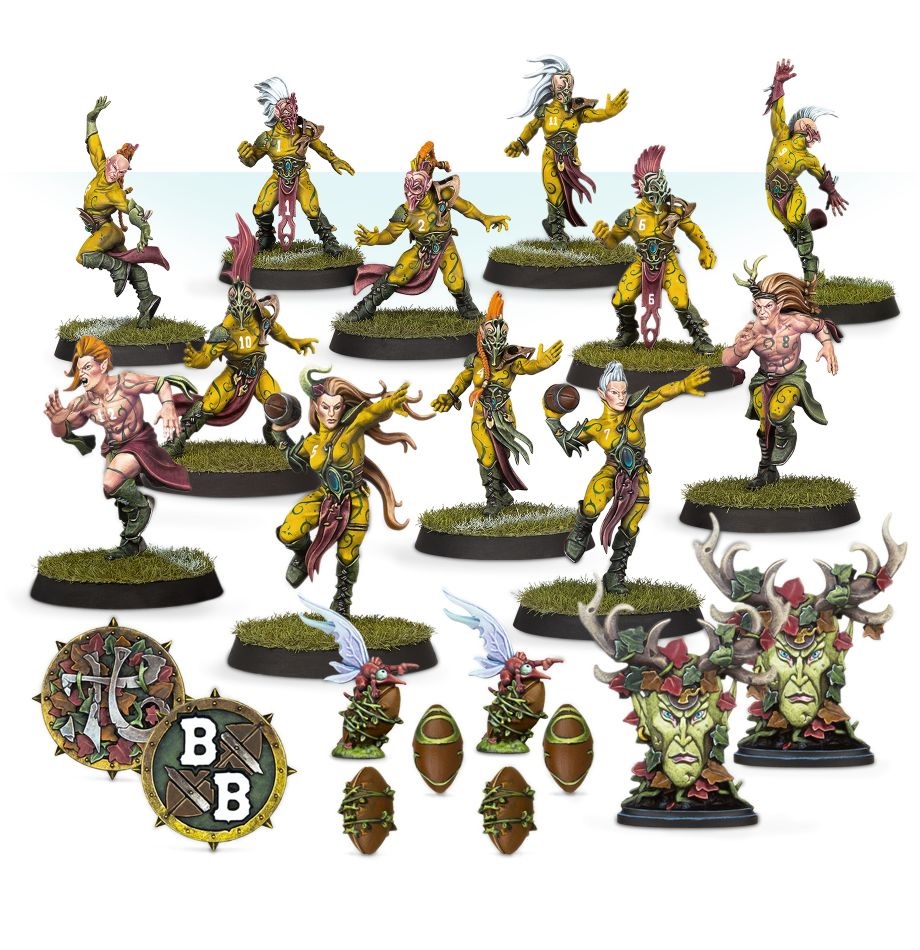 The Athelorn Avengers exemplify everything that makes Wood Elves some of the best teams in Blood Bowl: stunning speed and agility, unexpected savagery and natural talent. Star Players like Jordell Freshbreeze and Gloriel Summerbloom have become household names for Blood Bowl fans everywhere. Wood Elf teams are incredibly popular, as they're known to put on an impressive show – they're just as likely to (literally) dance circles around their rivals as they are to get smashed in (literally) spectacular fashion. They play the game better than just about anyone else, and they look stunning while they're at it.
Wood Elves hit hard and fast, but they're not known for their endurance and resilience, alas. They're the proverbial glass dagger, but in the hands of a skilled coach they can produce impressive results. If you're content to scrape by with minimal effort, this isn't the team for you – it takes finesse and skill to win games, but when you succeed, you know you've earned it. For their part, Wardancers are amongst the most impressive starting players in the game, all your Wood Elf players start with at least 7 Movement, and they have access to one of the wildest collections of Star Players to be found anywhere.
This multipart plastic kit contains all the components you need to assemble the Athelorn Avengers, a Wood Elf team for use in games of Blood Bowl, containing 2 Catchers, 2 Throwers, 2 Wardancers and 6 Line Elves, plus a roster sheet. Also included are a transfer sheet, 2 turn markers featuring a Wood Elf motif, 3 thematic balls, and 14 Citadel 32mm Round bases featuring holes in which to place the ball.
The rules to use Wood Elf teams in your games of Blood Bowl can be found in Spike! Journal 6.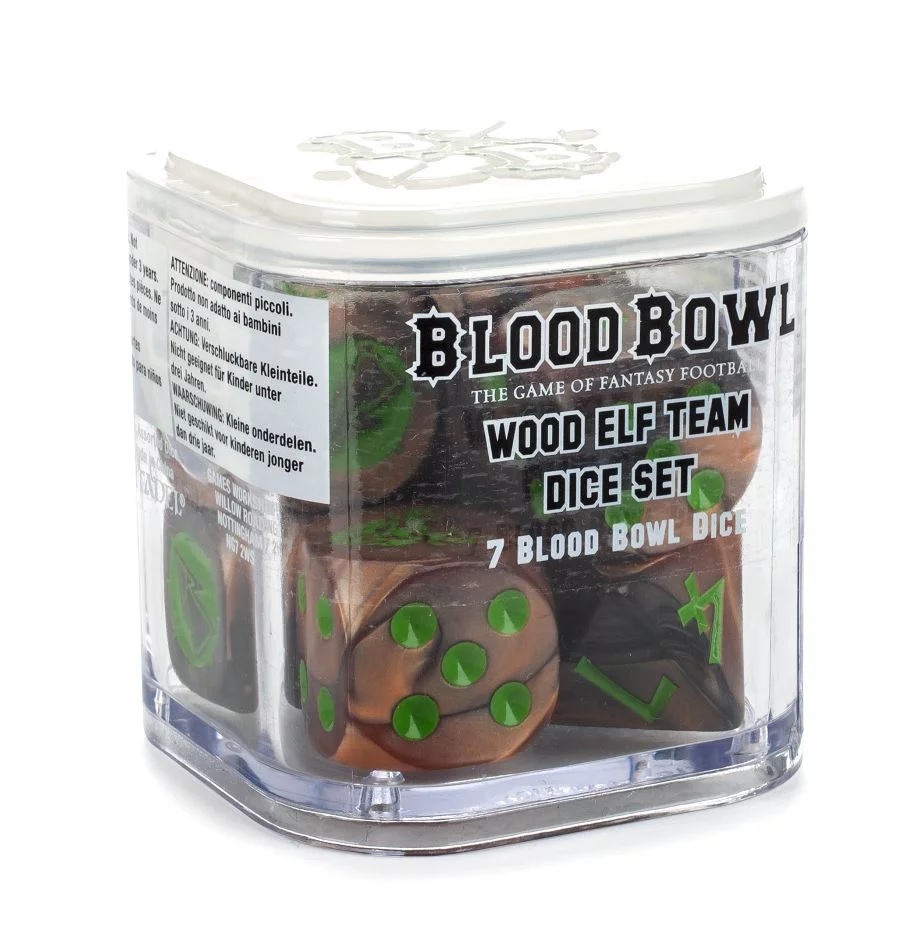 Though the Wood Elves don't care for the finery of the High Elves or the terrifying costumes of their Dark Elf cousins – they still look effortlessly fabulous in their own savage way. These dice will harmoniously blend with and enhance the atavistic allure of your team, accessories, and Wood Elf pitch.
CONTENTS
– 3 Blood Bowl Block dice
– 2 6-sided dice with the Wood Elf team icon on the 6
– 1 8-sided dice
– 1 16-sided dice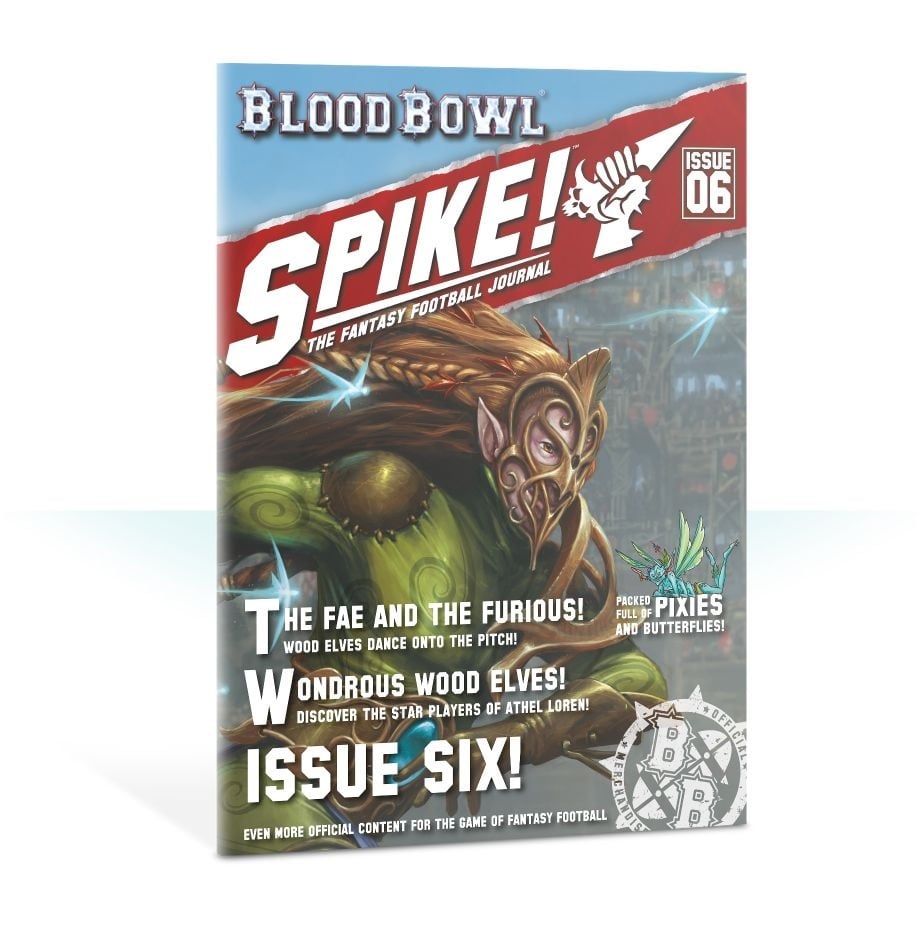 The mysterious and deadly Wood Elves enter the fray in Spike! Journal 6. L. Ron Elfman signs on as Guest Editor (after expressing some misgivings about the amount of wood pulp that went into this print run) to bring you some insider info.
If you want to put on a show, dancing across the pitch, pulling off impressive feats of speed and agility, the Wood Elves are for you. Find an ancient (but sturdy) tree and clamber into its arboreal embrace with this fine volume to spend an afternoon learning about the forest dwellers of Athel Loren.
Read about the rich history of these unlikely Blood Bowl favorites, including insight into the wide variety of strange woodland Spites, Treemen and Dryads that cheer them on (and sometimes join them)! They're the proverbial glass dagger, hitting hard and fast, but crumpling under pressure if they're not handled carefully. Don't worry, we've got tactical tips from the experts to help you along, as well as all the rules you need to field them and their host of bizarre Star Players, plus the usual hilarious columns and the latest instalment of the Mighty Blow! comic strip.
DICE!!!