While the town may be under constant attack from some tentacled monster, that doesn't mean you still can't be the most popular person around.
It's tough exploring a new land and trying to make it in this rough and tumble world of ours. Bitterly cold winters, harsh summers, drought, famine, writhing tentacles…. All manner of natural occurrences can slow down an intrepid band of settlers.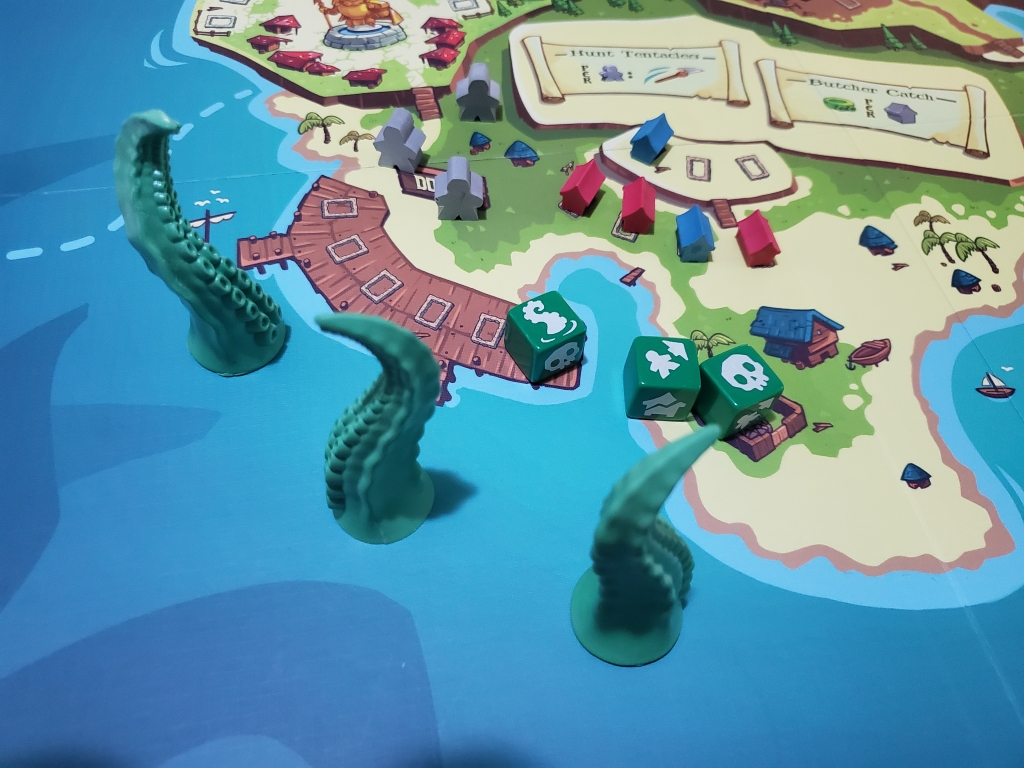 Images shown are from review copy. Components subject to change.
Tentacle Town is a competitive worker placement game with resource management and dice rolling mechanics. The goal of each player is to the be the most popular person in town by the time new migrants stop arriving. Once that occurs, it's time to elect a mayor and you want it to be you! Popularity, or Fame, is gained by performing a verity of tasks around town, as well as defending the town from the tentacle threat and by having built the most buildings around town.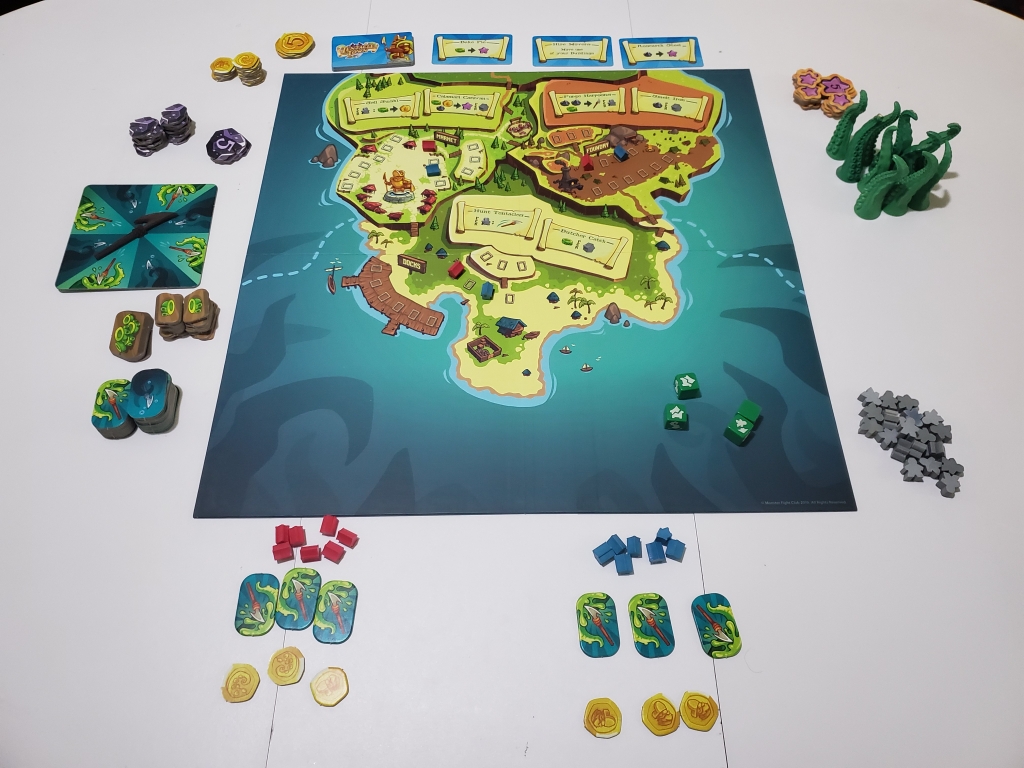 During their turn, each player places a resident in one of the three Districts: Market, Foundry or Docks. They can then either perform a task in that region or build a building. Residents do not belong to any one player, but buildings too. Certain tasks will rely on the number of residents, while other relay on the number of buildings you have in that district, and some don't need either.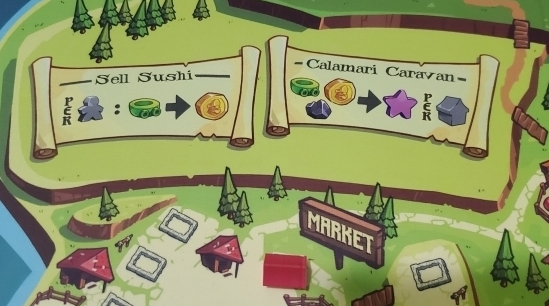 You'll venture into the mines for iron to forge your harpoons which you'll use to hunt and defend against the tentacle threat. Killing tentacles gets you food and fame which leads to fortune!
After each player's turn, an additional tentacle is added to the shoreline and they all attack! The dice determine the results of the attack, but if they do go after the town, it's up to you to defend your new homeland! Each harpoon you forge can be used to drive off the tentacles before they can do any damage.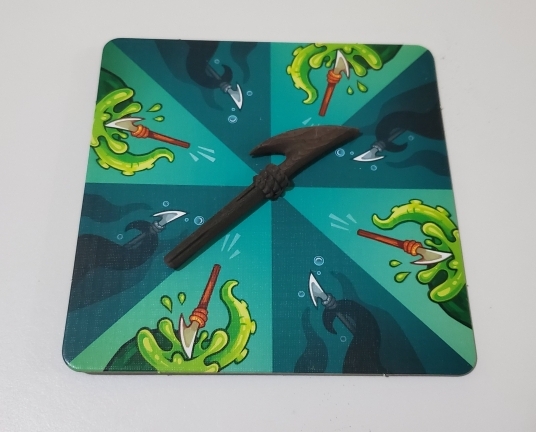 By using the spinner, or by flipping the harpoon tokens like a coin, you've got a 50/50 shot of defeating those nasty wrigglers.
Once all the residents have been placed, the town is fully settled enough to elect a mayor. Whichever player has the most Fame is elected and wins the game!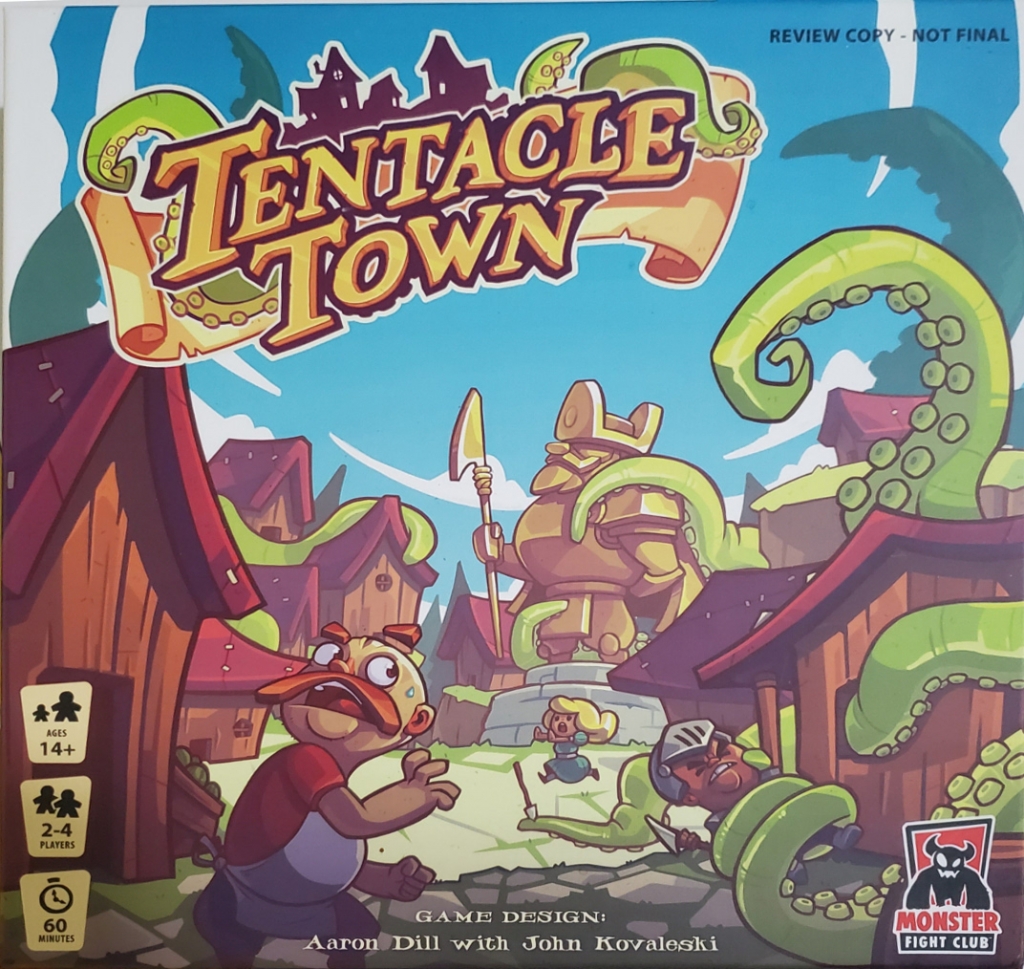 Tentacle Town is launching on Kickstarter on August 21 at 3pm ET (UTC−5). You can find more information on Monster Fight Club's website.

Thanks for reading!