Marvel Studios head Kevin Feige took the stage to talk about all of the upcoming projects – including a slate of Disney+ series that goes through 2022 and more details about the projects that debuted at SDCC.
The Marvel streaming line up has added She-Hulk, Moon Knight, and Ms. Marvel to go along with the shows announced at SDCC. There's a bunch of fans that have been waiting for years for a series or movie that focuses on Marc Spector – hopefully, this will live up to expectations. No casting was announced, but there was a hint that these characters will move from their streaming series into the MCU movies.

Casts for the shows announced at SDCC showed up on stage to share new tidbits.
Falcon and The Winter Soldier – Emily VanCamp (Sharon Carter), Wyatt Russell (John Walker aka US Agent), and Daniel Brühl (Baron Zemo) took to the stage. Looks like we may be getting Walker's turn as Captain America at some point; he took on the mantle before becoming the sanctioned hero U.S. Agent.
WandaVison –  The information released plays into the fan theory that the show will play out in Wanda's head as she deals with the death of Vision. Feige mentioned that they found inspiration in The Dick Van Dyke Show. This is going to get weird.
What if…? – A clip that included Peggy Carter, clad in the Union, Jack fighting Hydra during WWII, Marvel zombies, and T'Challa taking the place of  Star Lord was shown. Hopefully, that clip becomes public soon.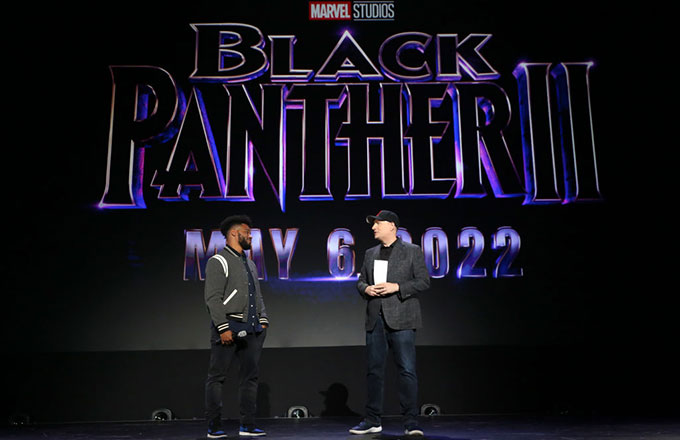 On to the big screen releases. No news on Captain Marvel 2 was released at the panel, but hey announced the release date for the second Black Panther movie. Here's the lineup so far:
Black Widow – May 1, 2020
The Eternals – November 6, 2020
Shang Chi – February 12, 2021
Doctor Strange in the Multiverse of Madness – May 7, 2021
Thor: Love and Thunder – November 5, 2021
Black Panther II – May 6, 2022
The Eternals cast – Salma Hayek, Angelina Jolie, Richard Madden, Brian Tyree Henry, Lia McHugh, Kumail Nanjiani, Lauren Ridloff, and Don Lee – appeared on stage with concept art of their characters. Marvel Studios head Kevin Feige introduced some new cast members during the presentation. Barry Keoghan will play Druig, Gemma Chan as Sersi, and GoT alumni Kit Harrington will be playing Black Knight.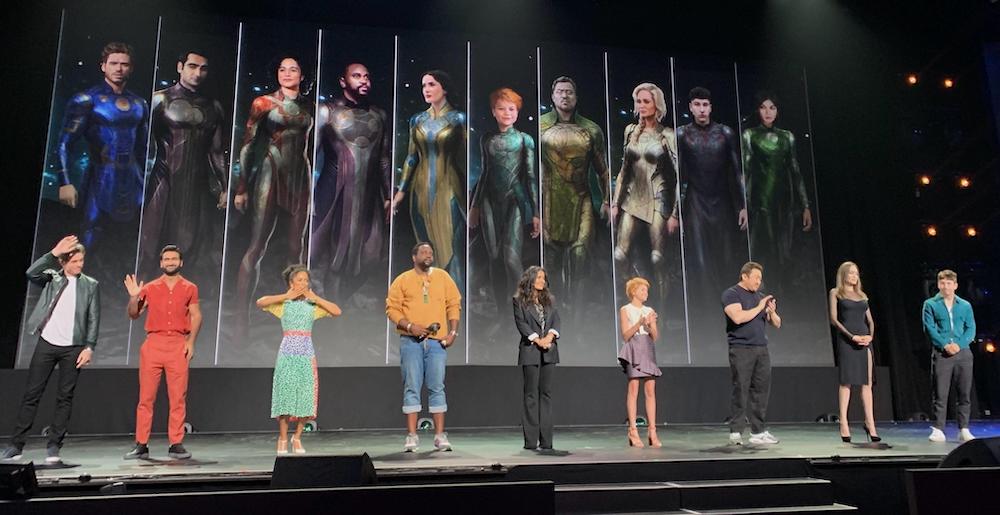 Attendees got to see new footage from Black Widow, which hasn't been released on the net so the rest of us pleebs can see it. We did, however, get a new poster that features David Harobour's Alexei Shostakov (a Soviet equivalent of Captain America) and other cast members.
BLACK WIDOW!!! Official D23 poster I had the honor of painting. She's very near & dear to me since it's the gazillionth time I've concept designed/painted her. What a cast & crew! #BlackWidow @MarvelStudios #ScarlettJohansson @Florence_Pugh @DavidKHarbour #RachelWeisz @DisneyD23 pic.twitter.com/fxMOI4fJ5R

— Andy Park (@andyparkart) August 25, 2019
The elephant in the room all weekend was the end of the Sony/Marvel deal. Fans have expressed their frustration on the net since the news broke. Fiege and Tom Holland didn't talk about it on stage, but they did an interview with EW over the weekend.
From Holland:
"Basically, we've made five great movies. It's been five amazing years. I've had the time of my life. Who knows what the future holds? But all I know is that I'm going to continue playing Spider-Man and having the time of my life. It's going to be so fun, however we choose to do it. The future for Spider-Man will be different, but it will be equally as awesome and amazing, and we'll find new ways to make it even cooler."
From Feige:
"I'm feeling about Spider-Man gratitude and joy. We got to make five films within the MCU with Spider-Man: two standalone films and three with the Avengers. It was a dream that I never thought would happen. It was never meant to last forever. We knew there was a finite amount of time that we'd be able to do this, and we told the story we wanted to tell, and I'll always be thankful for that."
Both statements don't really say too much about the split, but I don't think we could expect anything different. We shall see what Sony has planned for live-action Peter Parker in the coming months. The studio is taking full advantage of the IP they have. They already have new projects set for the Spider-Verse, Venom 2 is full steam ahead with Andy Serkis in the director's chair, and Jared Leto's Morbius is currently filming.