Pathfinder 2nd Edition sets out to do what no other RPG possibly could: be more Pathfinder than Pathfinder. Can it pull this off in only 638 pages?
Ten years ago, Pathfinder launched, giving gamers who had fallen in love with the complexity and tactics of D&D 3.x edition a way to keep digging deeper into that ruleset. Where 4th Edition D&D incorporated ideas from Star Wars: Saga Edition and The Book of Nine Swords and took fantasy adventure in a direction defined by Encounter Powers and Paragon Paths, and made everything focused entirely on using a suite of attacks much like a character in an MMO, Pathfinder existed in stark defiance of this trend. It offered the traditional RPG experience that many folks felt was missing from D&D 4th Edition. Pathfinder managed to thread that needle, and as the next ten years wound on, would define itself by two things: the complexity and customizability of its characters, and its adventure paths.
And let's take a moment to talk Adventure Paths, because these are the foundation that Paizo was built upon. Pathfinder grew out of the Adventure Paths that coalesced in Dungeon and Dragon magazine, which were Paizo's stock and trade before they launched their own game. Some of the most beloved adventures are Pathfinder APs: Kingmaker, Curse of the Crimson Throne, Savage Tide, just to name a few. These take you from the lowest of levels to epic, world-saving (or shattering) confrontations with gods or monsters or whatever in between.
And here's where Pathfinder has always shined. Because at its core, Pathfinder is secretly a game about fantasy super heroes. All the classes exist as various vehicles to deliver you into epic, cosmic conflicts–the choices you make, in an ideal world, lead to your having the ability to roll the biggest numbers, do the most damage, and in an over the top blend of sci-fi, fantasy, and anime, confront concepts and daemons and demons and gods and monsters that are larger than life. Pathfinder is over the top power fantasy at its best. And Pathfinder 2 feels like the devs got hold of Anima and took some great notes with some of the epic abilities and combat techniques in the book. If you want epic spells, forget 9th level spells, try 10th level spells that rain down fire and ice and acid and storms.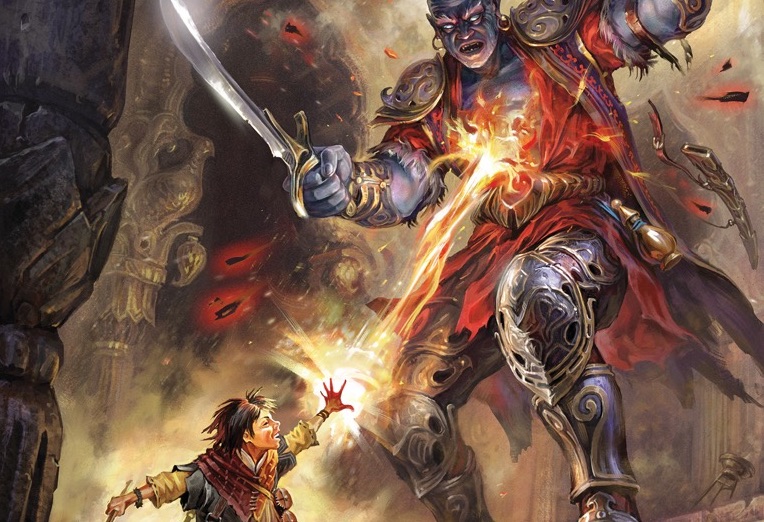 Pathfinder 2nd Edition goes big. At least with scope. It also goes small–which I point out because the other big aspect of Pathfinder is character customization. If you made a Pathfinder character, odds are good you're pulling together a build from at least two different books. After all, this is a game that had a Player's Guide, an Advanced Player's Guide, several Ultimate Guides. All of which have character options in them that you can use to build whatever you want. And that's not all that much of an exaggeration–let me take you to Organized Play in 2012, back before D&D Next would be announced. My best friend and I sat down to play Pathfinder Organized society. We were both playing Bards, obviously, but unless you were looking at the part of the character sheet that said "Bard" you wouldn't know it.
Between Archetypes, feats, and class features you can swap around, you could build a Bard that does basically anything. Same goes for a Rogue or a Fighter or any of the other classes. Granularity, in a nutshell. So the question is not just can Pathfinder 2nd Edition keep that same spirit alive in its massive, 600+ page initial salvo–but can it do it in a way that makes Pathfinder accessible while delivering the experience that its core audience craves?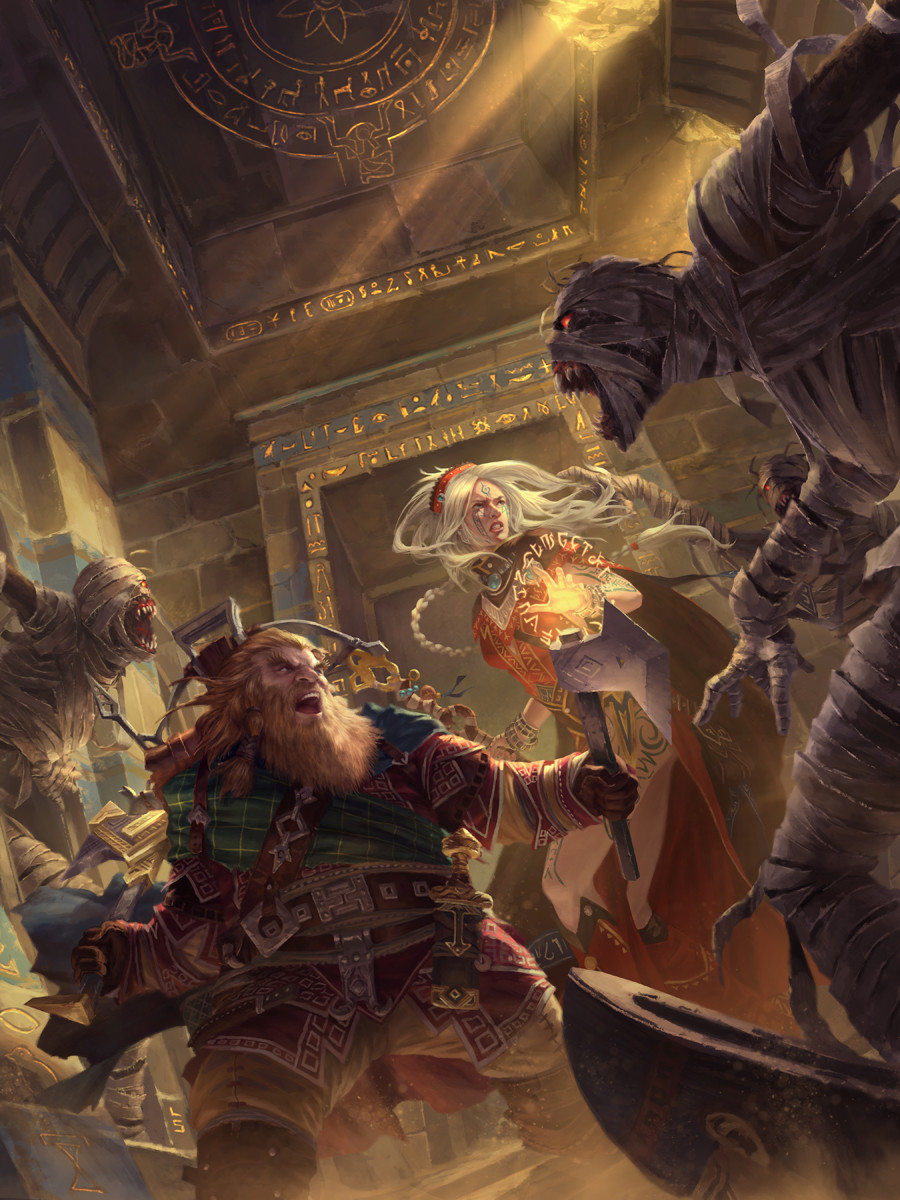 That is a tough needle to thread. And time remains to be seen on how Pathfinder will play with new players. As it stands now–Pathfinder is the Chonkiest of games. If we look at the two things that define Pathfinder: Character Customization and Adventure Paths, we have our guideposts still though. How does Pathfinder 2nd Edition hold up?
Customization-wise, there's more than ever, it feels like. The scaffolding of Pathfinder feels a bit like 4th Edition in that most customization options happen at a single point. Only in Pathfinder 2.0, it's not powers. It's Feats. There are Ancestry Feats (more on Ancestries in a moment), Skill Feats, Crafting Feats, Feats for Multiclassing, Feats for Combat, Feats for everything. It takes the various systems and condenses them into a feat.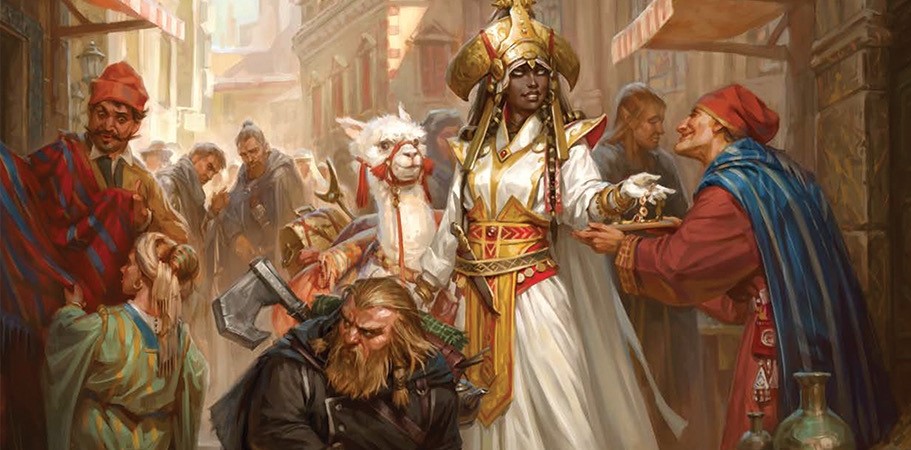 This means a lot of character customization is streamlined. You don't have to worry about whether or not your background and class mix well together, because there are options that work with nearly every possibility. One of the biggest flaws of 1st Edition Pathfinder was that there were several false choices you could make. Feats or spells or class archetypes you could take that sounded cool but didn't actually pay off–or worse, that were just weaker versions of other things out there. I'm looking at you weird two weapon fighting styles.
I don't know if that's the case here. But that's partly because I haven't had much chance to play the game–which is why we're not really reviewing the system here. Just taking you through it. Pathfinder is dense though. When the Character Sheet was revealed earlier this month, people had some very strong opinions about how useful it was, in the same way people have very strong opinions about rebooting a beloved childhood movie. And with 4 pages trying to hold enough information to play the game, the Character Sheet still doesn't feel like it's enough.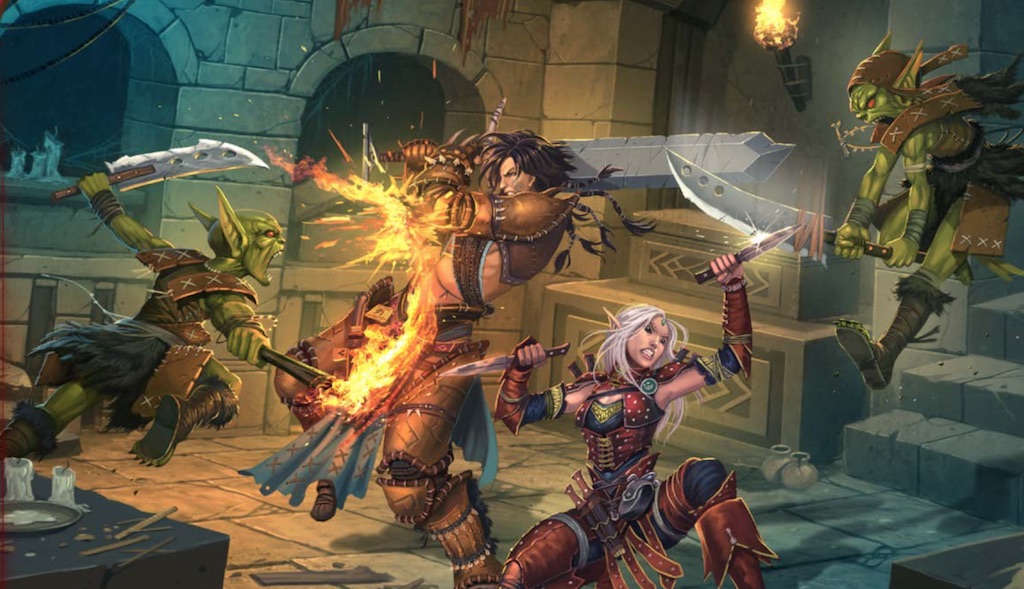 We may be staring at an RPG that plays better with an App. With all the feats you have to choose from, all the different class options you have, you can feel the need for some kind of digital assistant. The game itself feels designed to play well online. Everything has a number of keyword categories separating them into their various categories and making them eminently searchable. This holds true for equipment, armor, weapons, feats, skill actions–all of the relevant rules tags are already categorized. But how well all of these categories will stack up in play remains to be seen.
Pathfinder's breadth of choices though does hammer home the idea that whatever fantasy adventurer you dream up, you can do. Everything has a road to customization on it. Every choice you make about your character isn't ever just "my character has this thing." In Pathfinder having a thing means expressing who your character is, or what they do.
Weapons aren't just dice of damage that you can do to your enemies. There are agile weapons, finesse weapons, parry weapons, deadly weapons, nonlethal weapons–and more. All weapons have a laundry list of traits that define them. So there's a very real difference between a short sword and a dagger, say. Some weapons are better at making multiple attacks; some are better at dealing a powerful blow. Some you can interact with and get a defensive bonus. Some do more damage when you get a crit.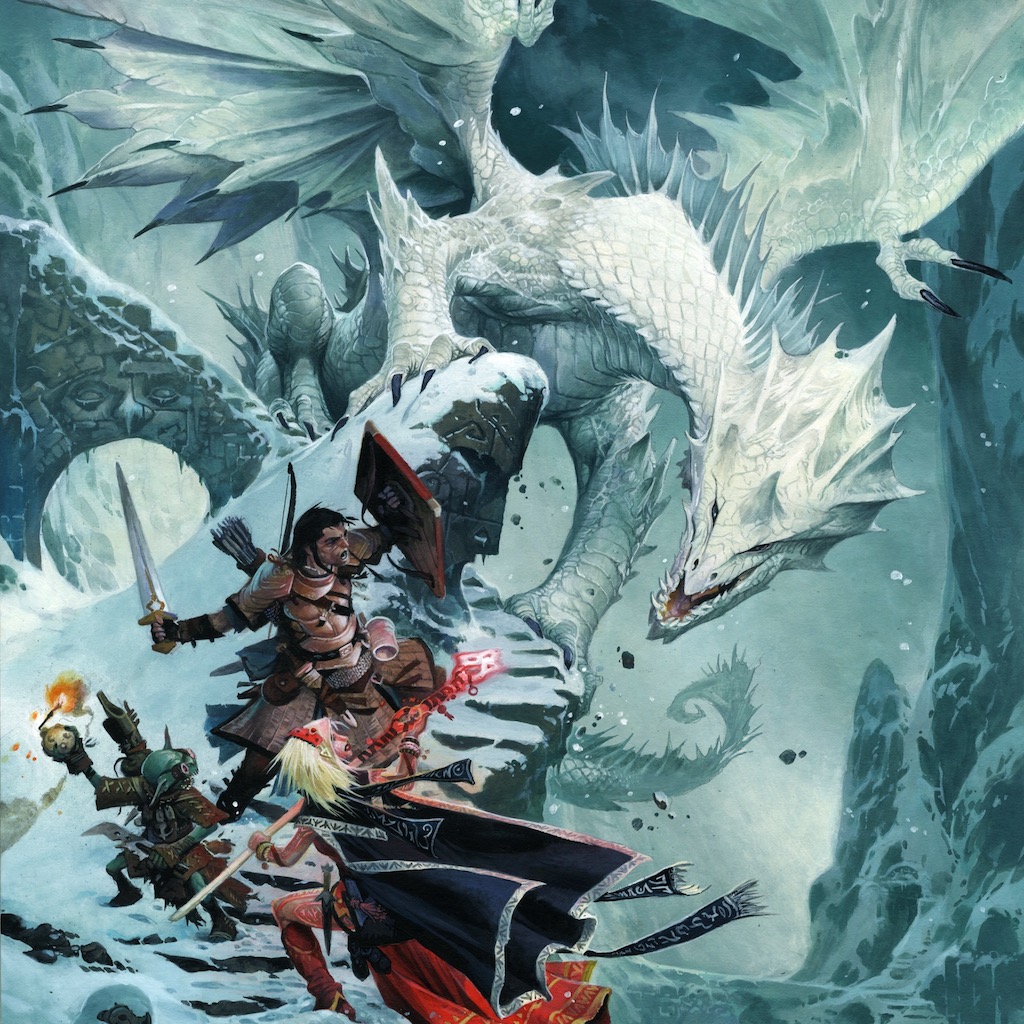 Pathfinder 2nd Edition is full of choices. It can be hard to know which ones are the meaningful ones without a better understanding of the system, and that comes from play. Which is why it feels like this edition has more of a barrier to entry. This is a game aimed at delivering a much more Pathfinder experience than Pathfinder 1.0 and it does that in spades. And once you get past that, you'll find the familiarity of Pathfinder with a new outlook on depth.
Every attack has its own unique spin on things. You're almost never just worried about how much damage you're doing–what are you doing along with it. Are you doing damage and heightening your defenses? Moving around?
Are you making a skill check? It's even more exciting. Every skill comes with Skill Actions which you can try–and these let you do things like wander across a narrow beam or staunch a wound–and then you can add skill feats to that, which mean you can use your skills to do even more. Intimidating Glare lets you intimidate someone with a glance! But it also means that there are very specific rules for intimidating someone with a glance and it's not just 'make an intimidation check.' Whether or not this is good is a matter of personal taste–but that's the level of specificity you get in this game.
Again, I haven't played more than a few playtest sessions and don't feel like I have nearly as much of a grasp on the nuances of the system compared to someone who's been in the playtest for the last year. It feels massive for better and worse. You can see the lessons that Pathfinder has learned from the games before it. And this is where we get to the interesting thing, because there are really three things that define Pathfinder. Customization. Adventure Paths. And D&D.
And it would be hard not to point to the influence that Pathfinder takes from the more recent iterations of D&D. Spellcasters have Cantrips. Characters use proficiency bonuses to help add up their modifiers. The 5th Edition idea that your turn should feel exciting–and the space between your turn should also feel exciting, is in play. Reactions, instant actions, and other things are much more prevalent in this edition. And for all its Complexity, Pathfinder does want your character to be at the heart of your story.
But then we look at how it differs from D&D's most recent edition. The numbers are bigger–higher level creatures have ACs in the 40s and swing with attacks that have monstrous to hit bonuses. The Bounded Accuracy of 5th Edition was huge in how it kept all of the number creep down. Pathfinder has none of that. It's still very much a game where, if you want to sit down and figure out how to squeeze every last drop of a bonus out of your character, you can. You can hit some truly impressive numbers, and deal some truly impressive damage.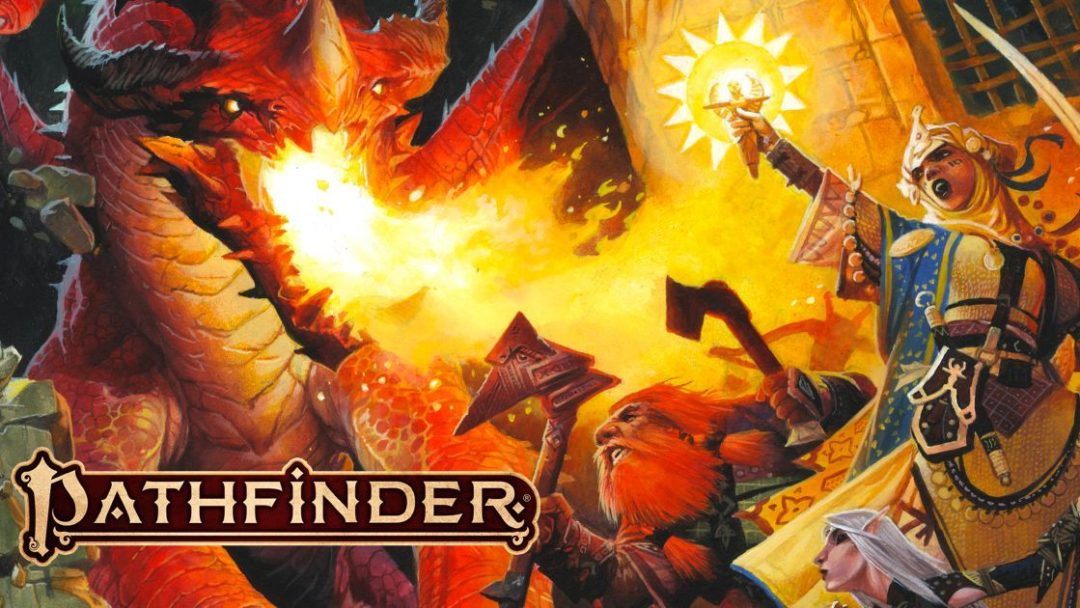 But it's not simple. It's not as light as 5th Edition. And however you feel about that will determine your engagement with the game. If you think, rightly, that D&D 5th Edition is a restrictive edition that limits the class builds and options, and that's why so very many of the players have taken to multiclassing–then you might find a lot to love about the personal, mechanical expression of Pathfinder.
If you think, rightly, that D&D 5th Edition has winnowed away mechanical breadth and instead gives deeper, more satisfying options that are limited in number, and besides a character isn't just defined by the way they fight–then you might find that Pathfinder gets in your way as often as not.
Regardless of what style you prefer, there's no arguing Pathfinder has complexity, breadth, and depth in spades. Whatever character you want to play, you'll find a version of it here. Does it pull it off? Is Pathfinder 2 the most Pathfinder game there is?
We think the answer is pretty clearly yes. But what do you think? Let us know in the comments!