Druma is one of the wealthiest nations in Golarion–and it's also the setting of Pathfinder 1st Edition's last new campaign guide.
Golarion is home to many cultures, creeds, and desires. If you want to see a variety of different dwarves, Druma has you covered in spades. You'll find everything from dwarves who worship gold to the merchants and mercenaries that prop up the system hoping to profit from some of the sweet sweet trickle-down goodness that doesn't actually trickle down. It's a fitting sendoff for 1st Edition, as the last official campaign setting.
Presumably, a new one is around the corner, as the Age of Ashes dawns on the Age of Lost Omens. But until then, come meet the region of Druma, learn about its dwarven origins and its class of money-worshiping aristo-preachers prove what you've always suspected about capitalism: that it's a hotbed of insidious schemes, ancient fey wildernesses, and murder.
via Paizo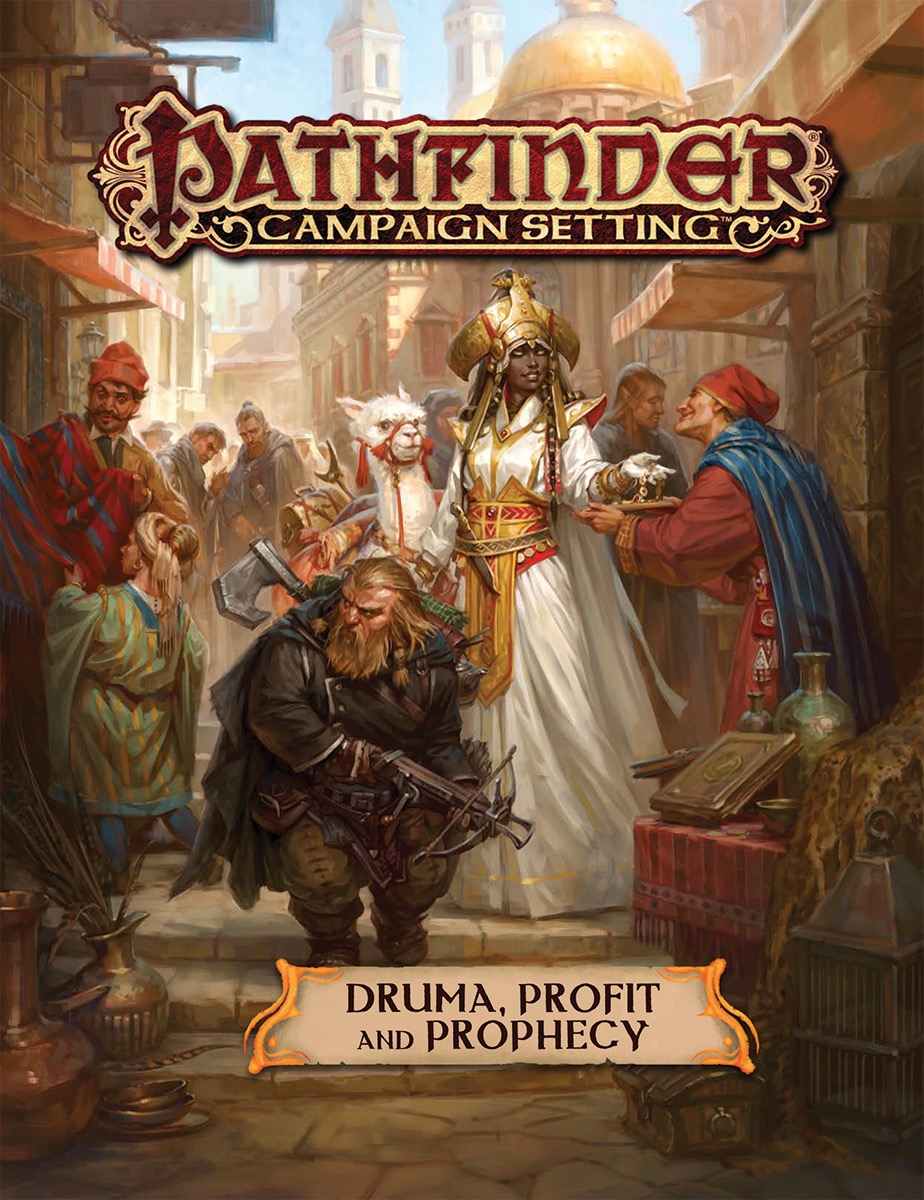 In It for the Money!
After millennia as a dwarven colony, Druma has emerged as one of the richest nations in the known world, where white-robed prophets known as Kalistocrats have built a religion out of wealth. Yet the country's peaceful facade belies the cutthroat competitiveness, hidden ruins, primeval fey forests, ancient grudges, insidious schemes, and opportunities for adventure within. Whether you are an entrepreneur with dreams of commercial domination, an adventurer seeking a wealthy patron, a scholar deciphering the esoteric Prophecies of Kalistrade, or an explorer hoping to uncover the extraordinary history of Avistan and its Kellid people, Pathfinder Campaign Setting: Druma, Profit and Prophecy holds what you seek and more. Explore Druma and discover the following:
Details on the long, storied history of the nation and the enigmatic Kalistocrats who rule it.
An extensive gazetteer of Druma's regions and major settlements.
A bestiary of new monsters found within Druma's borders.
Good luck out there adventurers; Druma is out now in your favorite gaming store or online.