Welcome to this week's BoLS Prime Insider.  Let's talk about what's going on behind the scenes in the studio and what is coming in the week ahead.
Let me welcome you to the first INsider. This will be an ongoing weekly column where you get a behind the scenes look into the BoLS office, what our core team is up to, and working on. Our promise to Prime members was to give you greater insight into what we are up to, excited about, and what we are seeing and hearing out there in the industry.
Remember that Prime members can always hop into the member groups and directly chat any of us up or ask questions. So enjoy and don't be a stranger. On with the show.

Larry
Well, that was an interesting NOVA seminar. Shrike is in the lane for what we expected. We have now seen an upcoming Iron Hands and Raven Guard character, which lines up with last week's rumors of who's next for Marines. I'm a little surprised that the plastic Banshee looks so much like the current one considering what GW can do with plastic in 2019.
The BIG surprise is the scope and promise of Psychic Awakening. This is a big multi-book narrative that is being sold as affecting every faction in the game and compares itself in magnitude to the Great Rift and the Horus Heresy. Those are some big shoes to fill. I would expect this to be 40K's narrative backbone for 2020 (effectively Vigilus on steroids) – and possibly lead into a new edition. Finally, GW's Warhammer Legends finally gives the company something every other big gaming company has had for years – a way to get old out of print units out of their competitive scene. Behind the scenes, many TOs have been asking for something like this for months, so while a vocal minority may howl – this has been coming for some time – and is a good thing for the game's balance.
Looking forward to next week, we are eager to get a look at Aeronautica. I'm a fanatic for all things airplanes (see above picture), so I'm looking forward to getting hands-on time with the models and rules. The elephant in the room, of course, is X-Wing. We will see how it stacks up.
BoLS wise, I'm working out the overall details of the Prime Launch plan, coordinating with the programmers, coming up with the prioritized list of website improvements for the other BoLS Interactive websites and planning a big reveal for you all early next week. I am READY for Labor Day!

Adam
Hey Reader! So we just got the previews from NOVA and we finally got a reveal of the new Ossiarch Bonereapers – which I'm super excited about. I've recently been playing a lot more AoS with my Nighthaunt army and after two tournaments and a handful of non-tourney games, I'm still loving this army. I can't wait to add in the Bonereapers and run some Death Faction stuff. I finally got my hands on some Morghasts, Arkhan the Black and I have a Nagash on the way.
I'm hoping to get some pictures up of my Nighthaunts (eventually) along with the fancy case I picked up. It's been a lot of fun and honestly kind of re-invigorating hobby-wise. It's also nice to have gotten 2000 points worth of stuff painted. I've never really done with an army (is anyone?!) – but getting to one of those milestones is a nice achievement for me personally. On to the next project!

JR
So I don't know if you've heard, but Descent into Avernus and Eberron: Rising from the Last War are coming for D&D. I keep finding details for those. Aside from that, there are a few new RPGs on my desk right now that you can expect to see sometime next week. I've been reading through Free from the Yoke and The Engine of Life, which both use the Legacy: Life Among the Ruins system. Trying to wrap my head around new systems means finding suckers to playtest stuff with so I can get a good grasp of it. Fortunately, I have a dedicated group that doesn't mind being guinea pigs.
Everyone else is talking about those Age of Sigmar bone-men, and I hope we get some in the office so I can put them together and show Adam that skeletons > ghosts any day of the week. Ghosts don't even have bones. They don't live inside you. Check and mate.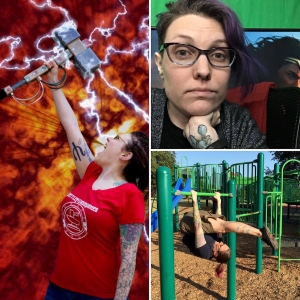 Mars
In the world of pop culture – I saw Ready or Not over the weekend. The movie is a smart, subversive horror that has some great jokes and some great (and hilariously gross) kills. It's a fun ride that effortlessly weaves slasher, occult, and black comedy. It's got some ace performances, too – I'm looking forward to seeing Samara Weaving (who plays the bride) in more projects. I recommend it for folks that enjoyed Cabin in the Woods, Evil Dead, and Tucker and Dale vs. Evil.
Horror fans have some titles coming up in the next couple of weeks. The director's cut of Midsommer is in theaters this weekend – check to see if it's showing at a theater near you. And mark your calendars –  It Chapter 2 and Satanic Panic (which looks totally campy) both hit theaters next Friday. I'm going to try to catch an early showing of It, so I may have a quick review next week.
As always – you can check out what I'm watching over on Letterboxd.

Abe
Hey guys Abe here! This week I'm still pouring over the NOVA news and trying to figure out what the Psychic Awakening is (my guess, Primaris Marines are getting replaced by a new three-eyed version of Marines). Speaking of dudes in power armor, I'm itching to get the rest of the Codex Supplements. I put my plans to finish up my "Movie Marine" army, with its ten Captains on hold when the new book came out, and I need to get my hands on the supplements to see which works best for the army I have planned. Gah! Waiting is always the hard part no?

Thomas
Let's see – let's build out a nice list of what I need to get done this weekend.  I have 2 Illustrations to do one is the Plastic Dudesmen for this week and the other is an illustration for a client's BloodBowl team. I have a few models to build to get ready for next week's commission work – some Kroot, Marines, and other nonsense.  Beyond those things, I need to come up with an army list for next Friday for you folks and then look at my article for Monday.  I am thinking about looking at what some of the Chaos stuff needs to get up to snuff with Marine options or a list of the sad Legend things that would go away for myself as well as my Ork buggies. If not either of those it could be something related to the NOVA stuff (I don't hate EMO Shrike) from a modeling perspective. Goat out!
~We will catch you on the backside groups and don't be a stranger, everybody!

Having as large a membership base as possible at launch is critical to the success of BoLS Prime and the entirety of BoLS. We sincerely hope you can join us today. It means a great deal to every member of our motley crew. Look for the first BoLS Prime post this Wednesday. We think you're going to like it!
If you have any further questions, please email us!