Let's talk about the Legendary Temur Khan of the White Scars, the man who could kill a Titan.
Among the staunch defenders of humanity in the 41st Millennium few groups are as a revered as the Space Marine captains.  To be a captain among Space Marines is not merely to be a peerless warrior, but to be a leader and an inspiration. Across the eons, many of humanities finest have born the mantle of Captain. Sicarius, Lysander, Kor'sarro, He'Stan, Tycho, Blackmane, Loken, Garro, these names ring out across the galaxy. On the tabletop Captains also play a significant role, as one of the common, and often deadly, leaders of Space Marine forces. In the past years, the Smash Captain build of Blood Angels captain has become a staple. At the start of this year, I introduced my alternative to the Smash Captain, a powerful Crimson Fist built. However, with a new Codex and new rules, I felt it was time to revisit the idea. I've found a single infantry/bike model that might have the highest damage output we've ever seen. I give you: Temur Khan.
The Legend of Temur Khan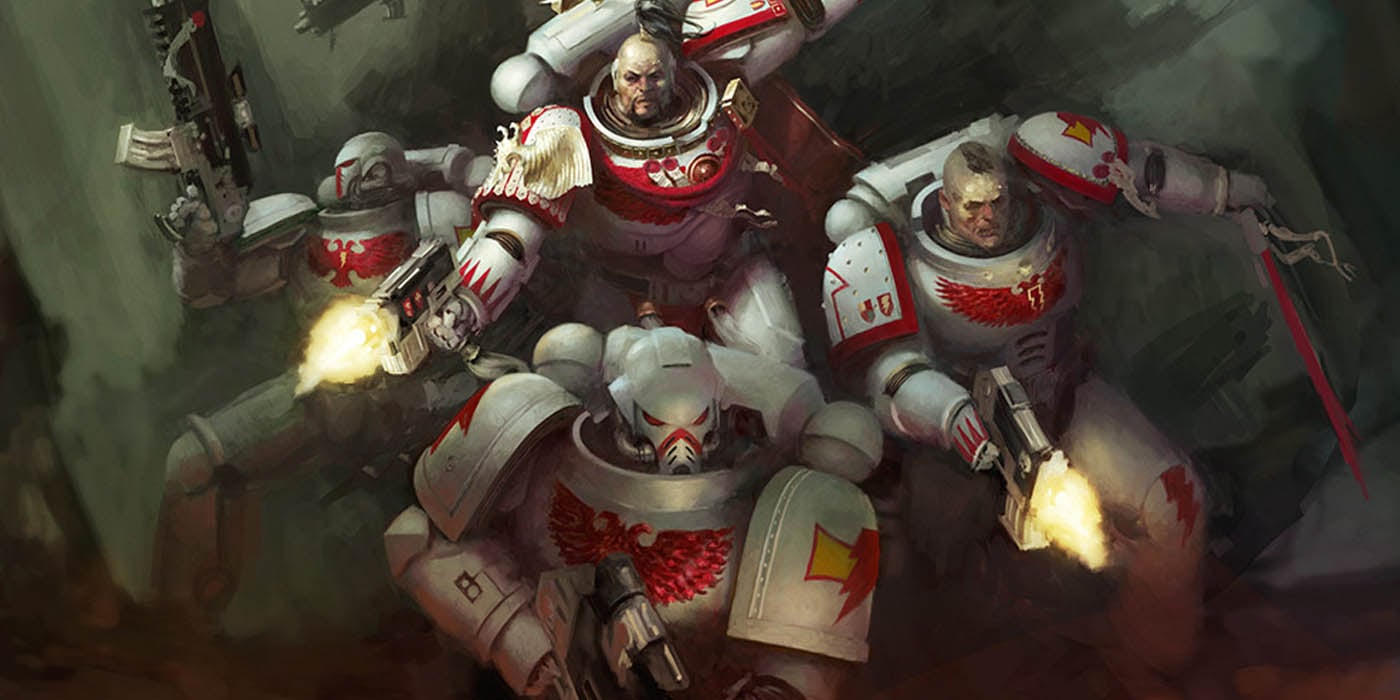 Like all White Scars, Temur Khan was a master hunter, delighting in the joy of the open steppes and the thrill of a hunt. He is said to have claimed that the best things in life are "the open steppe, a fleet horse, falcons at your wrist, and the wind in your hair" a sentiment most of his brothers would agree with. While most White Scars hunt the various monsters, beasts, and villains that plague humankind, Temur had another quarry in mind. He sought to hunt and slay the mechanical foes of the Imperium, the great war engines  the enemy would send against his brothers.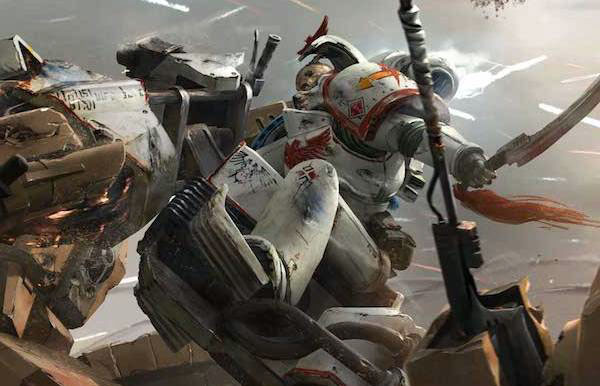 While still only a Scout in the 10th Company, Temur hunted and slew a deadly Chaos Hellbrute using a melta charge. While serving in the 8th Company, he hunted Eldar Wraithlords across the fields of Kar-Ul-Gil on a bike. In the 4th Battle of Hal's Sanctum, he was credited with killing three Chaos Defilers. His rise through the ranks was meteoric, and by 387.M41 he had risen to be Kahn of the 5th Company, the Stromwrath Brotherhood. Armed with a powerful relic Thunderhammer, he started to hunt a greater prey.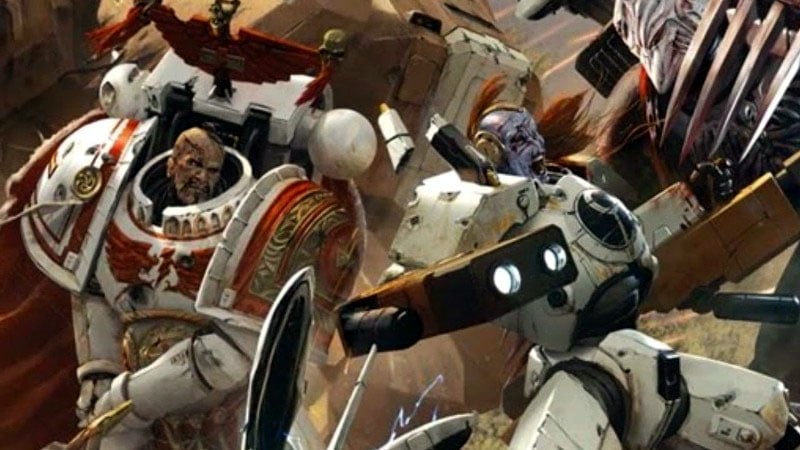 It was on the world of Felnorus in 788.M41 that Temur Khan first slew an enemy Knight. When the foe was first sighted, it was said he flew as swift and straight as his favorite hunting falcon. With powerful blows of his hammer, he broke the legs of the enemy knight before cracking open the head to deal with the treacherous pilot. Over the next few years Temur Khan, with the newly christened Knightbane, would go on to repeat the feat several times.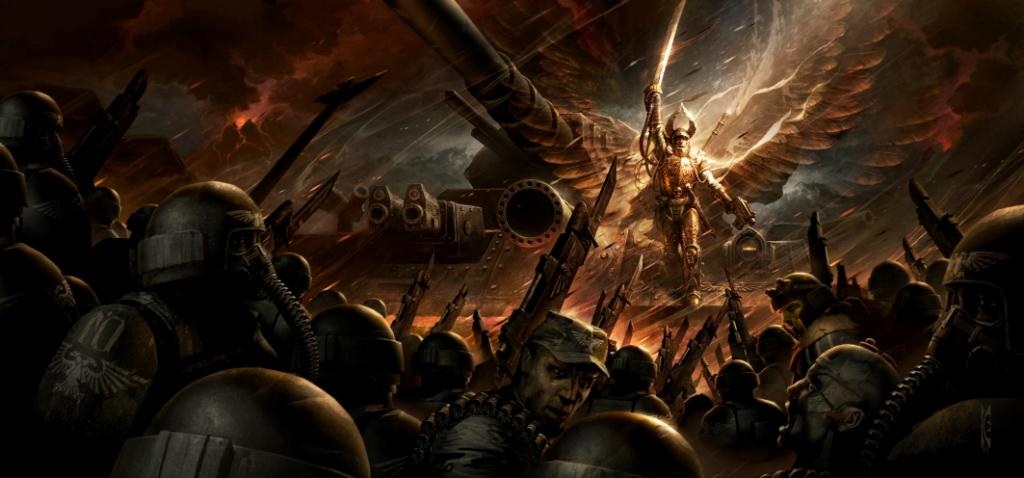 In 392.M41 Temur Khan was dispatched to lead the White Scars contingent supporting what would be known as the Macharian Crusade.  Like many of the great heroes, he would never return. For six years he lead his Brotherhood in daring raids and scout missions, earning fame and respect. It was in the final year of the war that he hunted his greatest prey. While supporting the 3rd army group in a hard-fought campaign, Temur Khan and a squad of bikers were on a scouting mission.
In the course of their mission they came across a terrifying sight, a renegade Warlord Titan on the move. The massive god-machine could decimate the 3rd if not stopped. Leaving his supporting squad to watch Temur Khan set off alone to slay the beast. Against a single rider its main weapons useless, and Temur was able to close with the Titan. No one knows exactly what happened next, but 14 minutes and 32 seconds after Temur started his charge the Titan suffered a critical reactor failure and disintegrated. Of Temur Khan, the Titanslayer there was no sign, only his smoking Knightbane was recovered. It is assumed he died in the doomed machine's reactor blast.
Fielding Temur Khan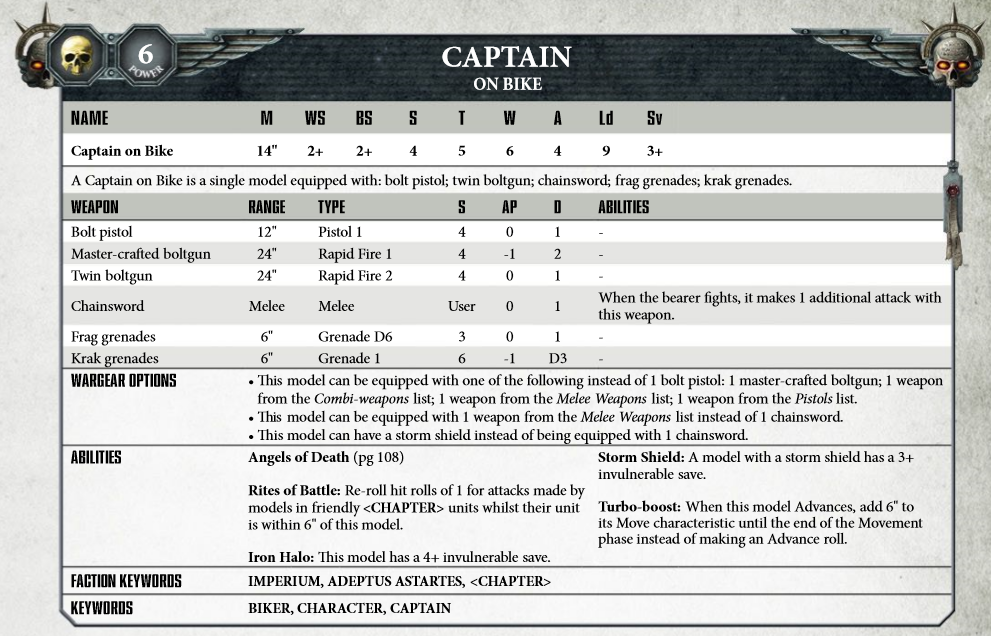 To field Temur Khan, the Captain who can kill a Titan, you have a couple of options. You want to start with a Space Marine Captain; any kind will work, though I think either a Captain on a bike or a Captain with a jump pack is the best option. In what should be a familiar load-out he is going to be equipped with a Thunderhammer and a Stormshield. He is, of course, of the White Scars Chapter. This brings him to either 138 or 143 points depending on which option. From here we can build him two ways, and the way you chose is going to be partially dependent on your local meta.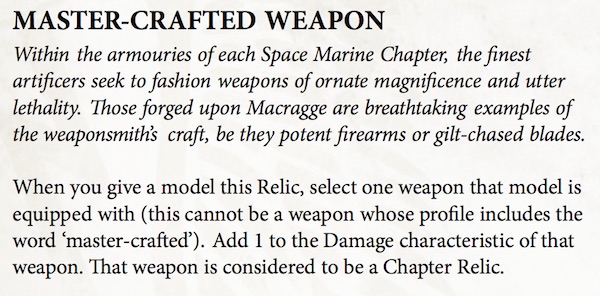 First things first we are going to give him the relic Master-Crafted Weapon, this will increase his Thunderhammer's damage to 4. Next, he is going to be our warlord, and we have the choice of two warlord traits. The first is Champion of Humanity from the core Space Marine Book. This gives him +1 attack when he is near an enemy character. It also gives him +1 to hit and wound vs. a character. Now here's the thing, in the competitive meta a LOT of knights are characters. Every lance gets one for free, and you've got stratagems to make more characters, you need this, so you give them warlord traits or relics.  That means this warlord trait works against knights.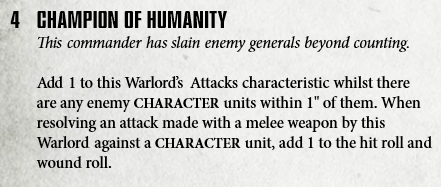 Your other option is the Hunter's Instincts warlord trait from the White Scars book, which gives you +1 to hit and wound vs. Monsters or Vehicle units. While this isn't as good, since no +1 attack, it does work vs. more things – so depending on your meta, you can pick either one. If you are going after a Titan this is your option. Next we spend one CP on the stratagem Tempered by Wisdom, this lets us pick a 2nd warlord trait, which will be Chogorian Storm, giving the warlord D3 extra attacks when he charges or makes a heroic intervention. We are also going to throw on Might of Heroes with a Libby for +1 attack, strength and toughness.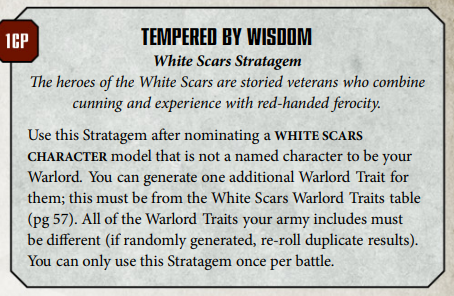 So let's do some math here. Against a character Knight, he starts with four attacks, gets an extra 1+d3 on the charge, gets +1 from MoH and +1 from Champion of Humanity. That gives him 8-10 attacks. With the +1 to hit he's hitting on 2+s with a re-roll. At S9 with +1 to wound he's wounding on 2+s if you happen to have an LT nearby, he can re-roll that as well. With D4 he's got a pretty solid chance of hitting with everything and wounding with all or maybe failing one wound. That's very likely 28-40 damage and one very dead Knight. Pop some stratagems, and he can do that again.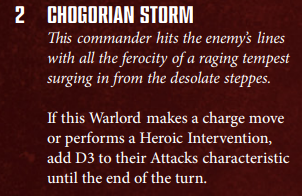 Now let's take it up a notch. Starting on turn 3, if you are in Assault Doctrine, his weapon goes up to D5. That means he could legitimately pump out 100 damage versus knights. But let's say you want to kill a Warlord Titan. A Warlord Titan is T16 and has 70 wounds. Going with Hunter's Instincts, we'd have 6+d3 attacks hitting on twos. AT S9 with a +1 to wound, we are wounding on 4+s. With our hammer doing D5 per hit, we only need to get 14 wounds through. Fighting twice, either through Honor the Chapter, or if killed through Only in Death Does Duty End, we get 14-18 attacks. We'd have to get lucky, and not even roll all 6s lucky, but it is possible for this one man-sized model to kill a Warlord Titan in one turn.

Final Thoughts

Overall I think this is pretty impressive; I'm not aware of other infantry or biker models that can pump out 100 damage in a turn. With some of the White Scars strats he's also super fast, and can reliably get into combat on turn one. He's also not particularly CP hungry. Making him only costs a single CP, and he can be run without the use of any. While fighting twice is expensive, realistically you won't use it much. A CP here and there and this guy can tear things up. And yeah, he can kill just about anything he wants.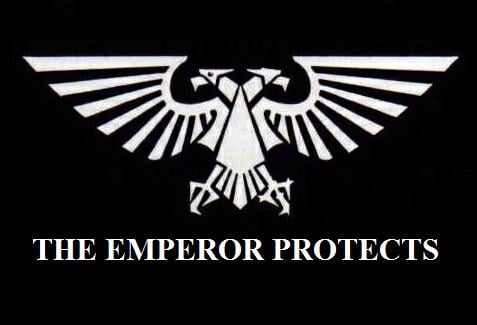 Let us know what you think of this build, down in the comments!