According to some leaked images of the new White Dwarf, the Dark Angels will be seeing some more Primaris, come September. Take a look.
This one's short but sweet, folks. Something Primaris this way comes, according to an image spotted on Facebook earlier today. It heralds a new batch of Primaris Dark Angels, but whether that means new rules for Primaris, upgrades for existing Primaris to make them more Dark Angel-y, or if the whole thing is a very oblique way of teasing Chaos Primaris Marines remains to be seen. Whatever the case, we've got a look at everything below.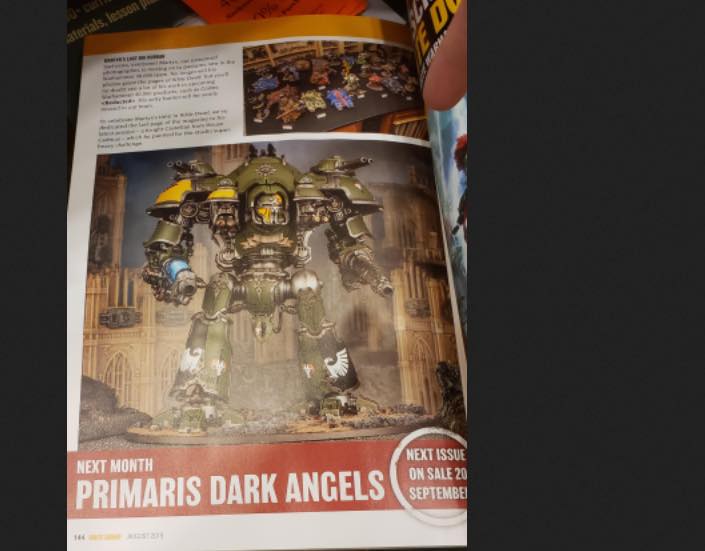 There it is folks. This news comes at a time when a few classic regular marines appear to be missing in action from the GW webstore: Space Marine Scouts with bolt pistols and combat blades, along with the Razorback and the humble Rhino, workhorse of 8th Edition, are currently nowhere to be found.
And as far as getting new Primaris rules–the Dark Angels are an interesting place to do this. This is a Chapter mired in tradition in a very unique way. More than the others Primaris and Dark Angels don't necessarily mix the same way–but with the Rubicon Primaris now paving the way for bold new models and upgraded versions of old favorite characters, are we going to see a Chapter that feels like it's two different ones? Or is it just making more materiel available for everyone's favorite cloak and sword wielding Chapter? That remains to be seen, but this next issue of White Dwarf is sure to be an interesting one.
Be sure and check back for more info as it drops. But in the meantime, what do you think this will look like for the Dark Angels? Bold new era or just another insert to be folded in amongst the rest of the Soup?