Come and see what delectable, devilish delights await dedicated adventurers in Avernus. Here's a literal look at what's on the menu in the Nine Hells.
That's right folks, we're back once more with Avernus spoilers. This time it's much more than a look at some small stat blocks–today we're taking a look at what's on the menu in Hell (before you ask, Uglúk, meat is back on the menu). And when we say menu, we mean that literally. In the latest Spoilers & Swag, we learn many things about Baldur's Gate: Descent into Avernus, including the existence of a fine dining restaurant/spa service, and the details of the menu (which your adventurers might find appetizing). You can watch the video, or read on for more info. But be warned, there are massive spoilers ahead.
Here's what we know–Avernus has its clutches on the city of Elturel (a name familiar to those who have fought the tyranny of dragons), having already schlorped it up due to a fiendish bargain. This same bargain seems to be entangling Baldur's Gate, and depending on how the adventure goes, the city might literally go to hell, possibly even in a handbasket. Avernus isn't as bad as you think though. Like most things these days, gentrification is everywhere, especially in Hell.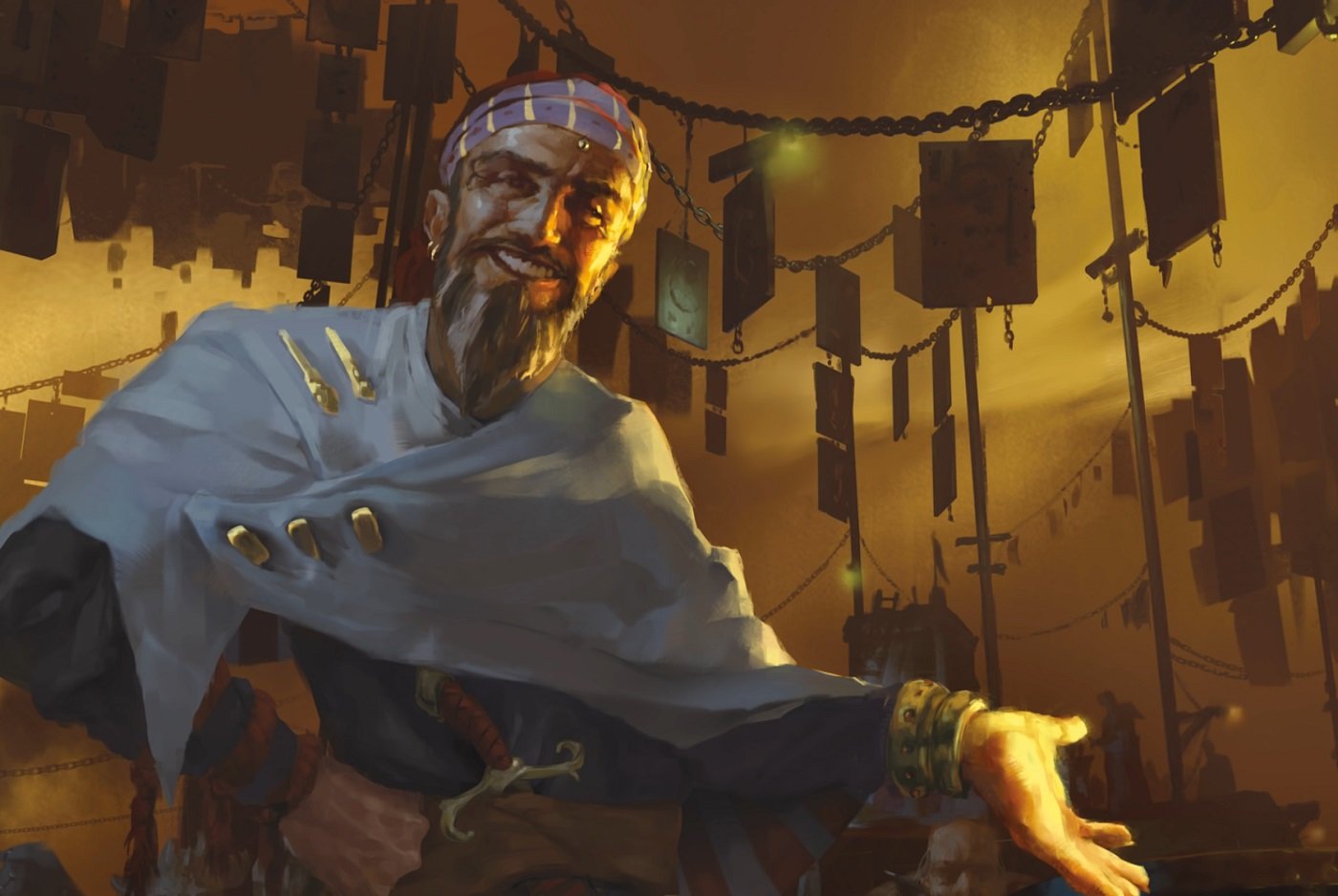 Folks who can afford it might come across the Wandering Emporium, an upscale marketplace featuring some of the finest shops, restaurants, and amenities that a posher clientele could want. Because of course there's a shopping mall in hell. It's run by Mahadi, featured above, who is a Rakshasa merchant that benefits from some dark deals forged with the Lords of the Nine, granting him exclusive rights to operate a marketplace on Avernus. In addition to being a landlord (and probably the worst kind of scum) Mahadi is the proprietor of the Infernal Rapture, which is a restaurant/spa that prides itself on provideing the best food and spa service in Avernus. For the low low price of a few soul coins, you can sample the only Infernal Cuisine that actually tastes good.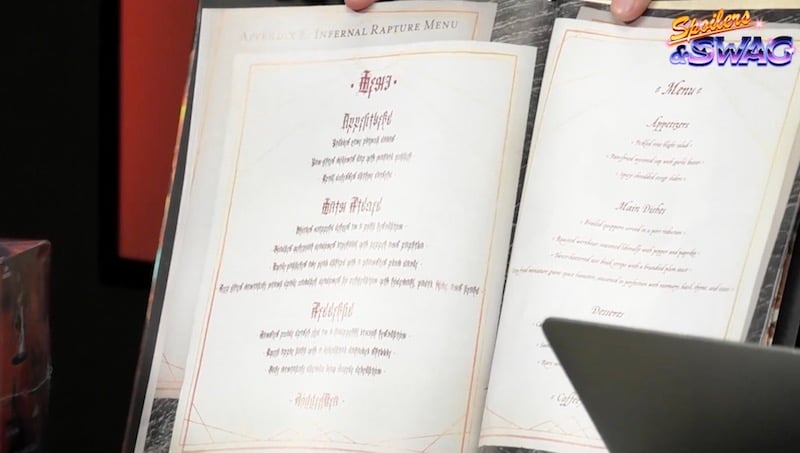 There's a picture of the menu, but if you can't read Infernal, then here's a rundown for you.
Appetizers
pickled vine blight salad
pan-fried myconid cap with garlic butter
spicy shredded stirge sliders
Main Dishes
boiled quippers served in a port reduction
roasted wereboar*, seasoned liberally with pepper and paprika
twice-battered axebeak strips with brandy plum sauce
deep-fried miniature giant space hamster, seasoned to perfection with rosemary, thyme, and tears
Desserts
candied phase spider eyes in a raspberry liquor reduction
sweet apple tart with a celestial caramel drizzle
rare miniature stench cow cheese selection
Note that the Infernal Department of Health warns against eating undercooked humanoid–and werecreatures revert to their true form, so if you eat a wereboar, you run the risk of being a cannibal, if not then you're definitely eating a sentient creature. Long pig indeed.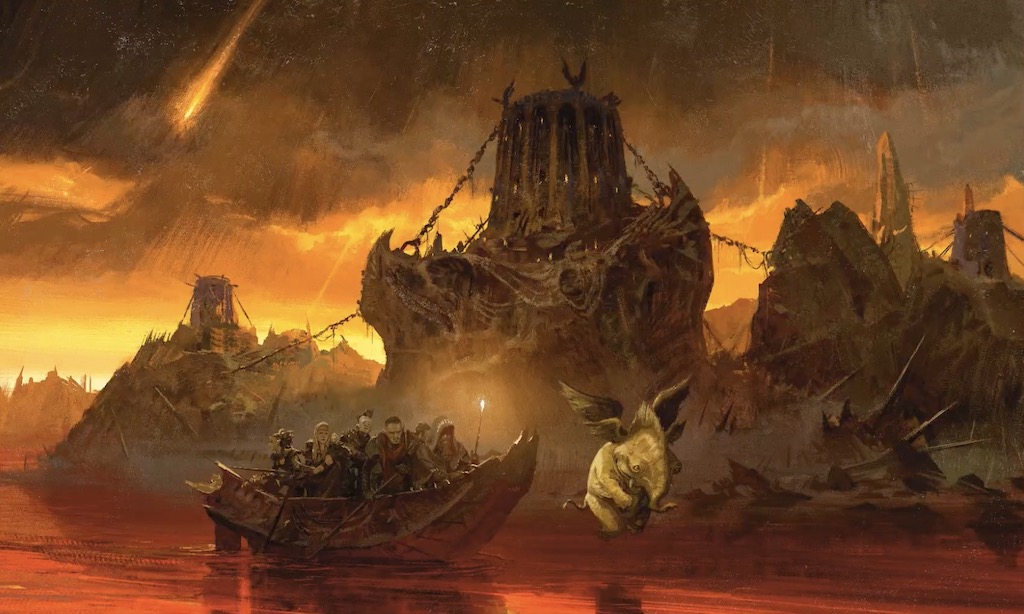 But not everything in Avernus is going to the Nine Hells in a Handbasket. There are some spots of good left in the world. As you can see above, there's Lulu, the Hollyphant, former companion to Zariel. She has been splashed by the river styx and is not in command of her full faculties–but she's still a genuinely good creature in Avernus and might be convinced to help parties, if they can convince her that Zariel might be redeemed.
And this takes us to the big story/spoiler right here. We learn that, depending on how things go, a party might possibly redeem Zariel, the fallen angel who defied the Celestial Council to wage war on the demons–smiting Yeenoghu and eventually becoming the ruler of Avernus. However, in so doing she lost her holy sword:
Here's a closer, detailed look: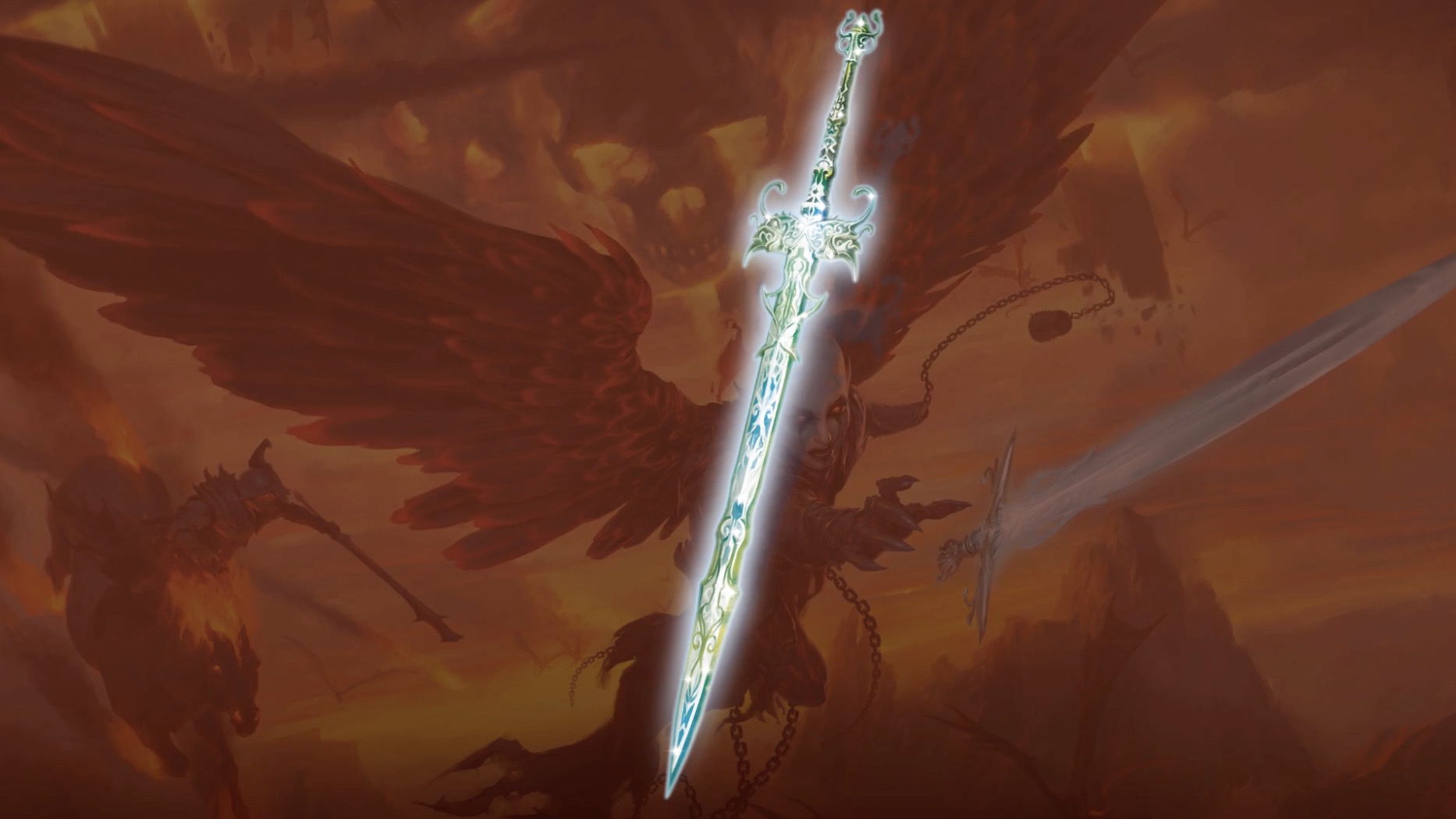 As you might expect, one of the ways you can attempt to redeem Zariel is by reuniting her with her holy sword and her Hollyphant.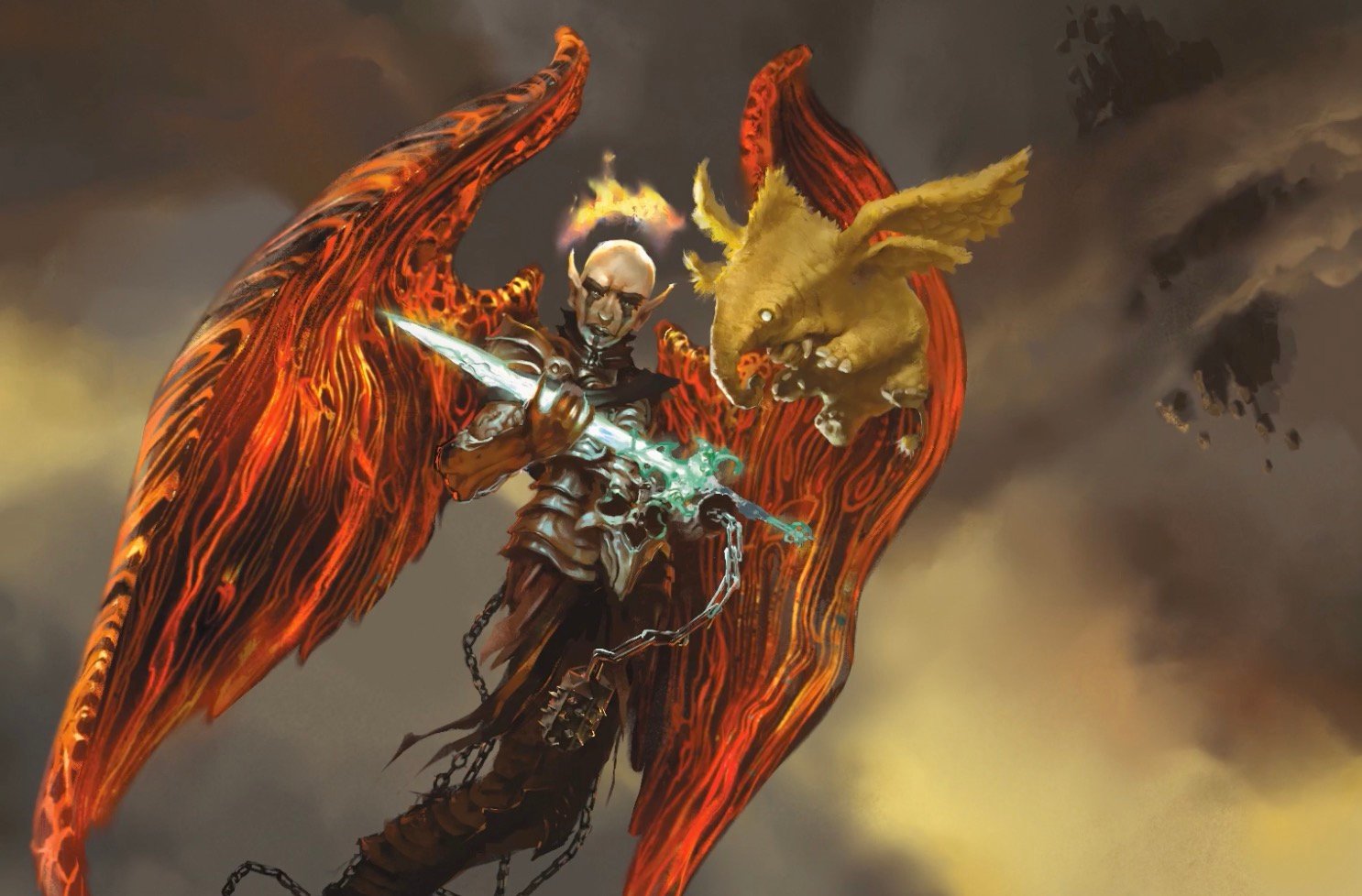 But that possibility is slim. Things either have to go "very, very good or very, very bad" in order to get the ending. In the meantime, you can see that Zariel, the central figure of this story, is wielding the massive maw she stole from a demon lord of frost giants who has also come to the shores of Avernus and is NONE TOO HAPPY ABOUT IT.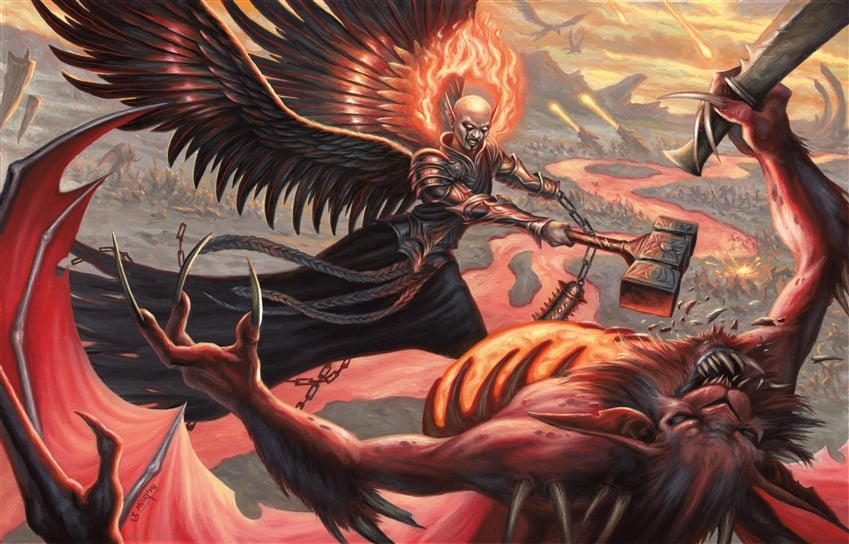 Finally we come to the Abyssal Chickens and their mysterious origins. Designed by Chris Perkins, these chickens are demon-chickens who, in spite their abyssal nature, are spawned in Avernus. This is because along the banks of the river styx lie "spawning trees" which are covered in podlike sacs that dangle down and are occasionally corrupted by the demonic effluvia flowing down the river. When this happens, an abyssal chicken might spawn instead, confused about its whereabouts.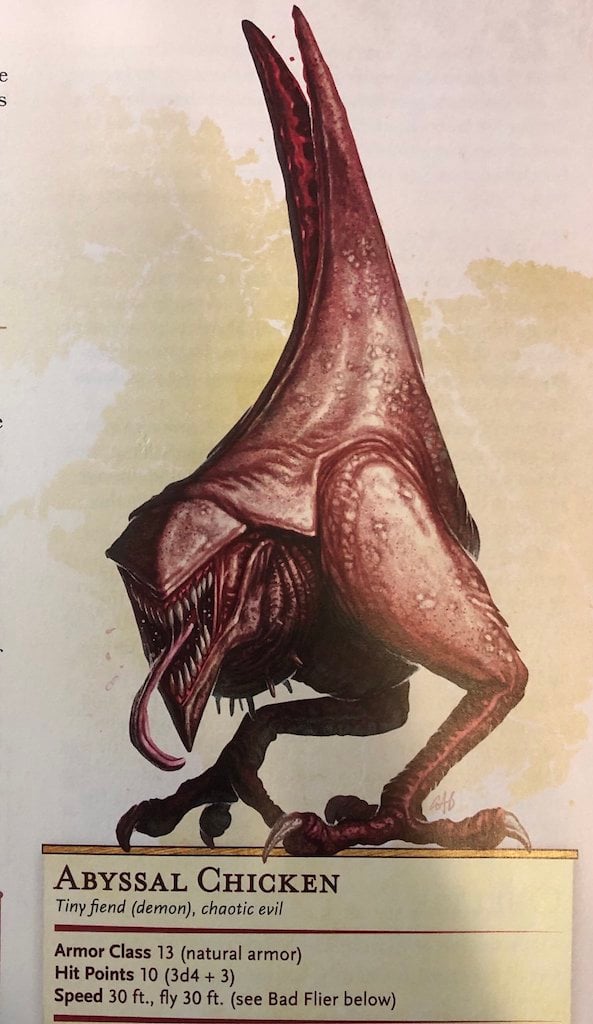 And that's the news from Avernus. The adventure is due out in about two weeks, so check back for more info and a review. But in the meantime…
Happy Adventuring!