He's fought in Mexico, Japan, Canada, and the states; and formed alliances with the Insane Clown Posse and the Misfits. And that's just the start.
Ian Richard Hodgkinson got his start wrestling with International Wrestling in Montreal, and was trained with Abdullah the Butcher. He spent several years after that in Mexico City and Japan, cutting his teeth with Consejo Mundial de Lucha Libre and Wrestle Association R. He is known in the US mostly for his years with the WCW in the late '90s – where he made a name on TV as Vampiro.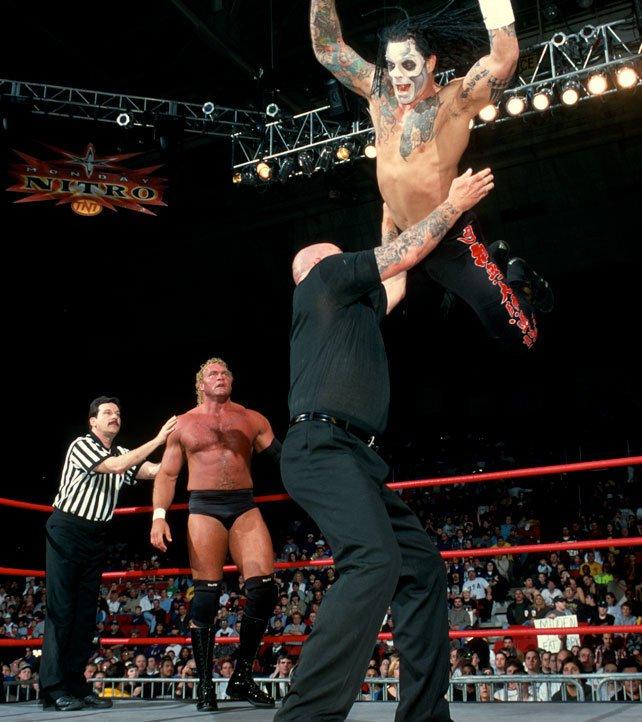 This new doc digs in to his story and what the life of a pro-wrestler is really like – injuries, addiction, and punk rock. Take a look…
From the official synopsis…
NAIL IN THE COFFIN explores Hodgkinson's history, highlighting his job running Lucha Libre AAA in Mexico and Lucha Underground in Los Angeles, while balancing being a father to his daughter who lives in his hometown of Thunder Bay, Canada. Unlike many professional wrestling documentaries before, director Michael Paszt has constructed a fascinating and heartfelt look at a wrestler who has overcome and still continues to overcome psychical injuries, sexual abuse, and drug addiction. Not to mention the wild stories of working for Milli Vanilli, or wrestling alongside the punk rock band The Misfits. Vampiro's stories are multi-faceted and completely enthralling.
It premiers at Fantastic Fest this weekend. A wide release date/method hasn't been announced just yet – I'm sure it'll get a distribution deal soon.