We're taking a look at what to do when your opponent rushes your side of the city via the Underground Network ability. This is a powerful opening move that is sure to catch you off guard at least once.
The Sun Industries Building has one of the most powerful building abilities in the game. In case you aren't familiar, check out the card. We're specifically talking about the Underground Network ability.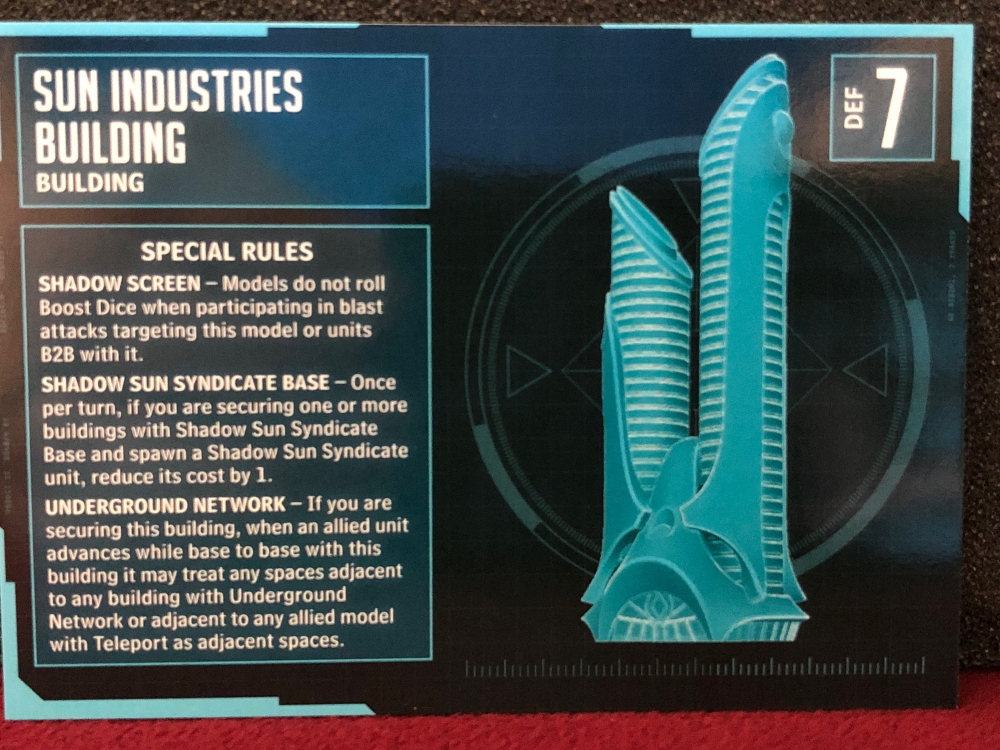 So what exactly does this first turn rush look like? In this scenario we're taking a look at the 'worst case' scenario. You are a Protectors player going 2nd against a Destroyers player with multiple Sun Industries Buildings.
The reason I'm calling this worst case is that Destroyers have some great units to be aggressive with(Crawler and Squix) and as a Protectors player you don't have access to the Task Master, whose Telekinesis is a great way to move those pesky aggressive units away from your buildings.
The Opening Move
Enough talk, let's take a look at this first turn.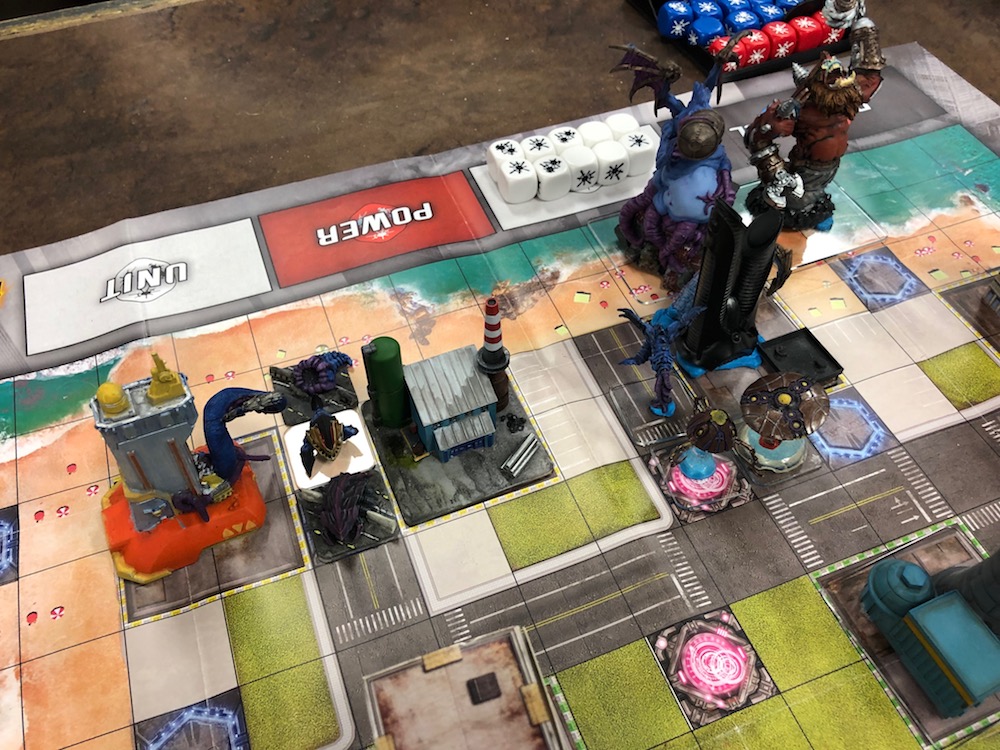 Destroyers First Unit Turn – Destroyer Side
So what's going on here? Everything looks pretty normal in this picture.
Destroyers spawned 5 units normally
Push spawned 2 units on the spawn point near the Sun Industries Building(these units want to reach annoying spots on the other side of the board)
During Movement Phase used the Saucer to Transport in the Power Pod
Once the Sun Industries Building was secured, sent a Crawler and Squix through the Underground Network to the other side of the board.
Used remaining units to secure two buildings.
This results in this…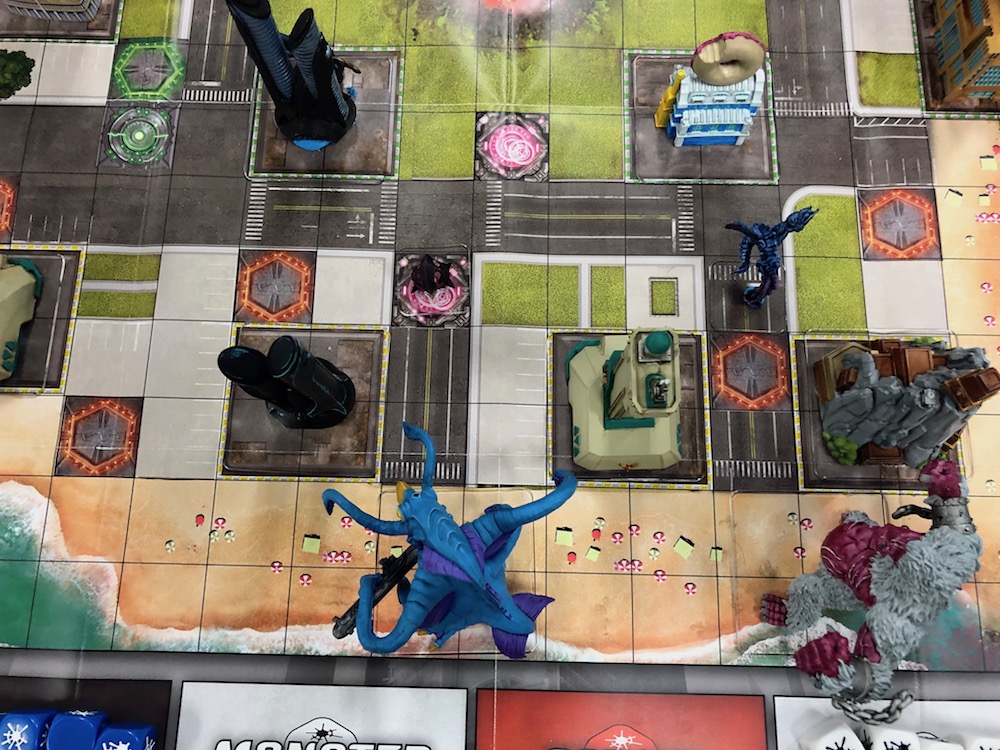 Destroyers First Unit Turn – Your Side
A Crawler on your Power spot and an annoying Squix preventing you from easily securing those 2 buildings! Some important things to note.
This Destroyers setup generates 5 Power Dice on their side of the board. So even if you deal with the units on your side, they are still getting a healthy amount of Power Dice.
The Squix on their side of the board next to the Power Pod is important. That Power Pod is responsible for generating 3 Power dice, 1 for the building and 2 for the Power zone. Any units you send back through the Underground Network are likely going to be disrupted by the Squix if you try to attack it.
What To Do?
Now is the hard part, how do you respond on your first turn of the game? The first thing to do is accept that your opening turn won't be business as usual. Here are 3 possible options, ordered in what I consider to be worst to best.
Option 1 – Kill the Aggressive Units
This is most people's first reaction in this situation. Kill the enemy units and reclaim your side of the city!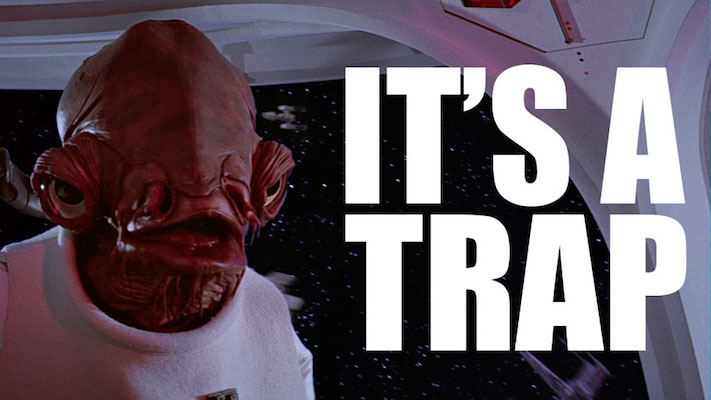 The Crawler is DEF 4 and has cover, meaning to reliably kill it you'll probably need a combined attack on it. The Squix is only DEF 2 but also has cover and Disruption. To kill these units you'll have to forgo spawning some units to save Action dice for attacks. If you decide to avoid the Cover and use a melee attacks, the Squix will be removing dice thanks to Disruption and the Crawler explodes and destroys all adjacent units when it dies!
So the best case scenario is you've spent 2 – 4 Action dice to clear some units out. Already a win for the Destroyers player. If you happen to miss your attacks, which is very possible, things start looking really bad. You're down units(because you needed Action dice to attack) and probably not securing some important buildings.
Bottom line – Spending Action dice to kill these units on your first turn just isn't worth it(plus it does nothing to disrupt the enemy). Let your Monsters kill them next turn.
Option 2 – Spawn and Soft Disrupt
Soft disruption isn't an official game term, but players sometimes use it to describe when a unit stands next to a building  – preventing the enemy from being able to secure it. In this example the Destroyers player is soft disrupting the buildings on your side of the board.
This option involves ignoring the aggressive enemy units and doing the following
Spend all your dice spawning units(no attacks)
Secure the Sun Industries Building on your side of the board
Secure as many Power Zones as possible
Send 2 units through the Underground Network to soft disrupt the enemy
In this scenario the end result is this on the enemy side of the board.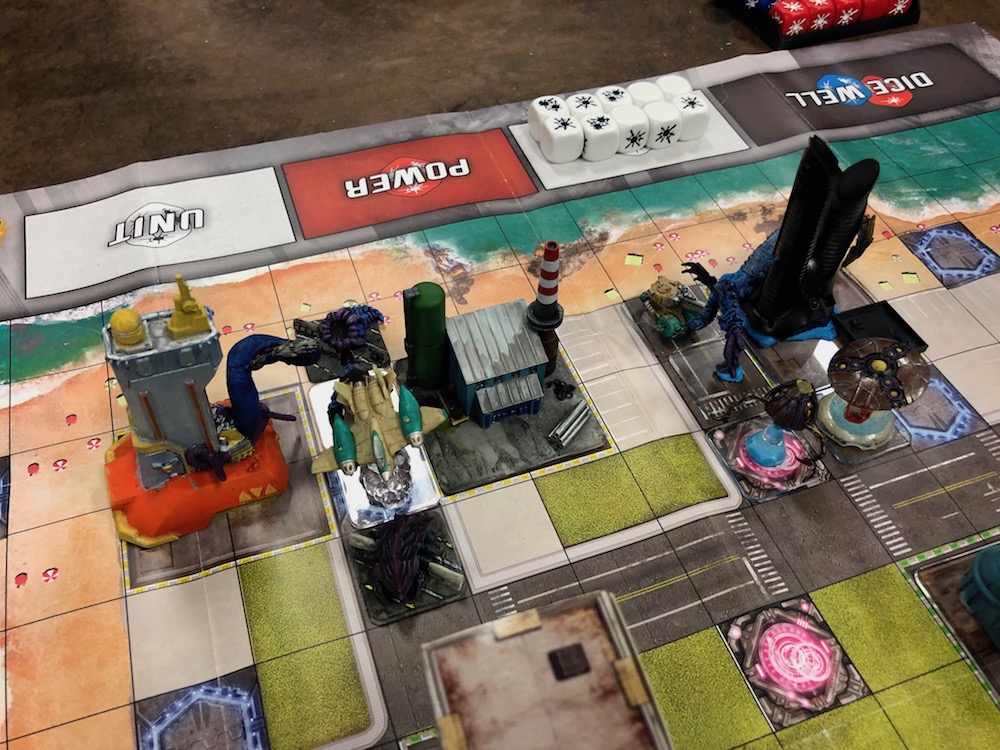 We have a G-Tank and Strike Fighter contesting buildings. Not pictured is that back on our side of the board we have 3 Power Zones and a Sun Industries building secured.
In this case the Destroyers player only powers up for 3 red dice, 2 for the Power pod and 1 for the zone on our side. This isn't a horrible position, the Destroyers player is forced to keep one Monster back to kill your contesting units. However once your units are dead…the Destroyers player still has their power base intact. They aren't forced into taking a unit turn to respawn anything.
Plus their second Monster is usually free to go up and harass any units holding the midline Power Zones. A well placed Swat that takes out 2 of your units likely means than on your next turn you won't power up for much. In this scenario the Protectors player has created a slight speed bump, but is still going to feel behind in a lot of cases.
Bottom line – Decent, but we can do better.
Option 3 – Fight Fire with Fire!
Similar to option 2, except this time we're going after that Power Pod! In this scenario we happen to be playing King Kondo, so we'll be using Assault Apes as he gives them extra boost dice on Brawls. If your opponent is using the Squix technique to protect their Power Pod you'll need something like the extra boost dice from Kondo to make this possible.
Use 8 Action dice to spawn units, we're saving 2 of them for attacks
Secure the Sun Industries Building on your side of the board
Secure as many Power Zones as possible
Ignore the aggressive enemy units, save those for your Monster turn
Send 2 Assault Apes(or your preferred unit) to the enemy side of the board
It should look something like this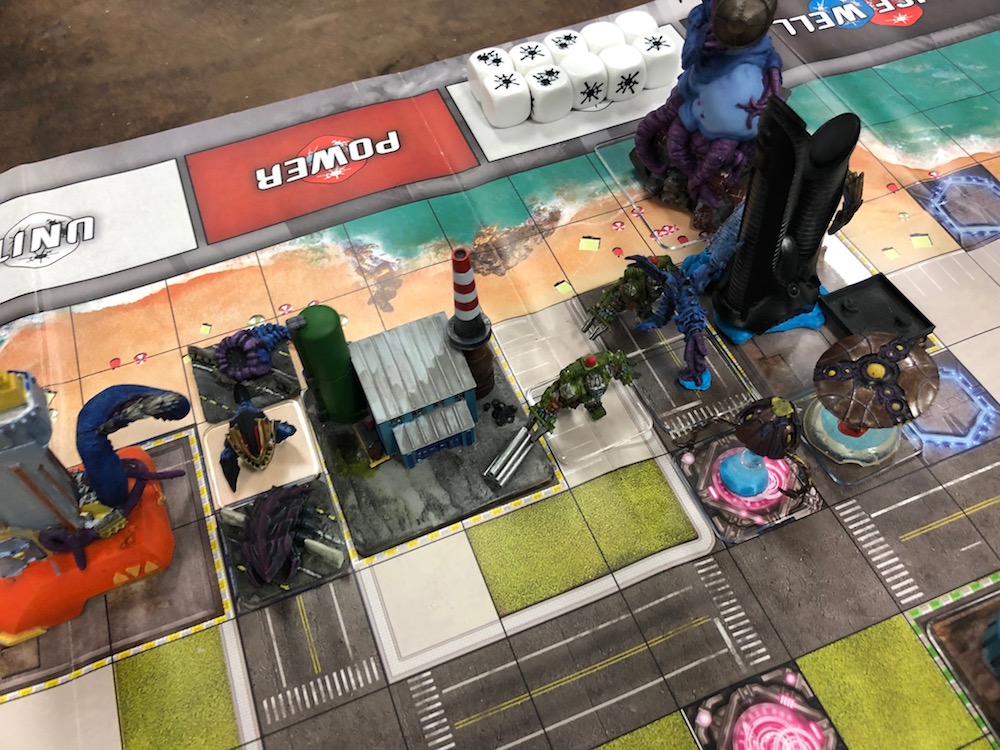 Even if we miss our attacks, the Assault Apes are at least soft disrupting 2 buildings
Assault Apes have Fling on their Brawl attack, so in this case we're attacking the Squix and then Flinging it into the Power Pod. With 2 Action dice and 2 Boost dice that gives us an 85% chance to hit the Squix. Kondo's ability which effectively cancels out the disruption is key here. Without that you would want to target other units while avoiding disruption.
The end result of this is a dead Squix and more importantly a dead Power Pod. Now even when their Monsters kill your Assault Apes, they will still need to take a unit turn to rebuild their power base. This puts both players relatively even, as both sides are without an ideal power base setup. It's now more or less a 'regular game' compared to the other options still leaving the Protectors player feeling behind.
Bottom line – This gets both players back to a pretty even game state. Both players are lacking a solid power base and need to decide for themselves how to balance their upcoming Monster/Units turns.
Wrap Up
Situations like this show just how strategic and in depth a game of Monsterpocalypse can be. There isn't a clear correct answer for every case, you'll need to decide which option is correct based on the Monsters and Units you brought in your list. I hope you enjoyed this overview and it got you thinking about ways to deal with this powerful opening move.
Do you have a better option for this scenario? Let us know!