The Privateer Press Staff Showdown this week revealed a new Protectors and Destroyers Monster. Let's take a look!
Monsterpocalypse players were graced with not one, but two Monster rules this week! Let's start with the newest member of the Empire of the Apes, White Dajan.
A small disclaimer – The card images are taken from the streaming video and aren't the best quality. They are good enough to see all the rules, but f you are having trouble reading any of the text, head over to Monster Room (a fan-made MonPoc site) to read them.
White Dajan

Demolisher will earn you extra Power Dice for destroying buildings, and with Wrecking Crew all your Ape units will also get you extra Power Dice. Protectors already love their Repair Trucks, and this opens up a nice strategy of destroying an Incombustible building for 3 Power dice, then bringing it back with a Repair action so you still secure it.
Fling on the Brawl is very handy, especially when you fling an enemy model into a building and get 4 Power dice in return thanks to Demolisher.

In Hyper form White Dajan starts moving fast and jumping between buildings, picking up an extra SPD and High Mobility. Treacherous Territory is a new rule causing rough terrain for enemies within 2 spaces, this will make it harder for melee units like Chompers and Carnidons to get in position.
In addition to Fling, White Dajan's Brawl attack also gains Beat Back. This is always a nice rule to have, allowing you to push an enemy who thought they were safe into a dangerous spot.
Ulgoth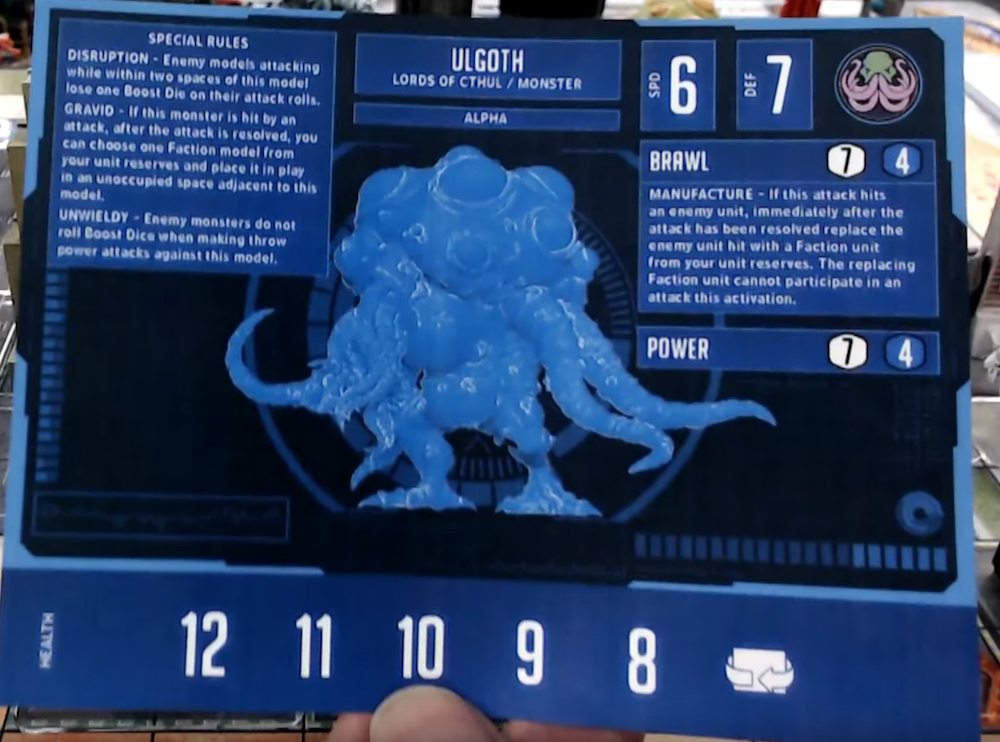 The third Monster for the Lords of Cthul, this terraforming monster starts with with a low SPD of 6 and DEF of 7. Don't despair though, with 12 life and the Gravid ability allowing you to create a unit every time they are hit, Ulgoth isn't going down easy. A good strategy for dealing with low DEF Monsters is usually attacking them with units, however, Disruption is going to remove a Blue dice from each model with 2 spaces. If a unit combined attack loses even 1 or 2 Boost dice that can start to easily swing the math in Ulgoth's favor.
Manufacture adds another layer of unit creation and Unwieldy is one of my favorite defense abilities. Throws are arguably the most common Power attack, so removing all enemy Boost dice is going to come up every game.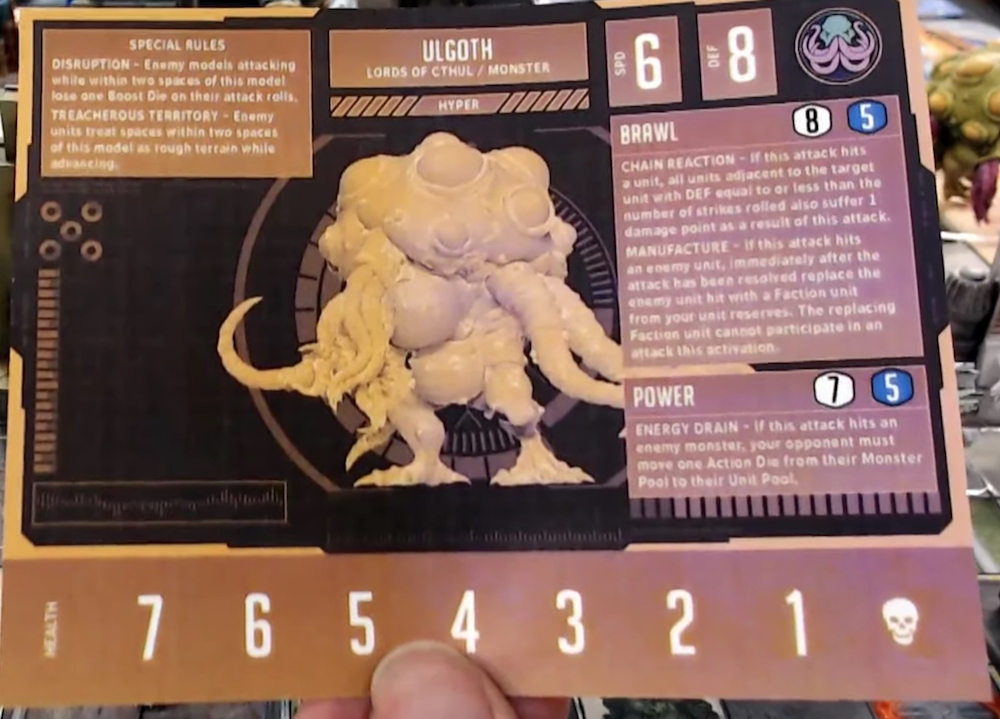 Ulgoth also brings the Treacherous Territory rule and keeps Disruption in Hyper form. If they weren't already staying away due to Disruption, this ensures that no enemy unit will want to be within 2 spaces of Ulgoth. The Brawl attack picks up the Chain Reaction rule in addition to Manufacture, which lets you destroy a group of units and then pop out a unit of your own. Remember that Manufacture only works on the unit hit, not the units destroyed as a result of Chain Reaction.
Energy Drain is a new rule and moves an Action die from the enemy Monster Pool to Unit Pool. This might sound small, but it's a huge deal. It's a very common strategy to leave 1 or 2 Action dice in your Monster Pool to threaten that extra Monster activation. Being able to remove that key Action die from your opponent is very nice.
Check out this beautiful model!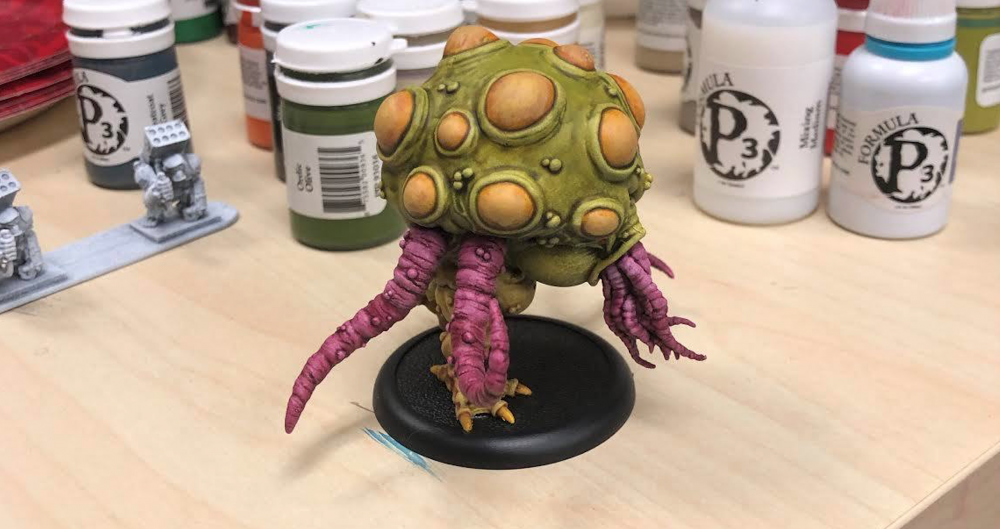 Ulgoth being painted up for the Privateer Press stream
Wrap Up
Both of these Monsters seem very solid and will definitely see a lot of time on the table. I can't wait to get my hands on them!
Which do you like more? White Dajan or Ulgoth?