Come check out this week's batch of Kickstarter highlights!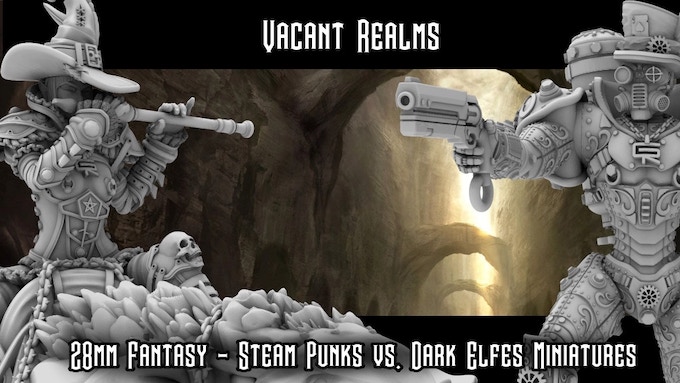 From miniature designer Tom at HeresyLab: Over the past decade I have directly assessed multiple miniature companies achieve success with their projects. I have both broad and lengthy experience in the miniature industry. My previous work has covered all aspects of miniature production from design to manufacturing, and ranges from working with metal to resin and also plastic materials. Now I am creating my own line of high quality figures and am asking for your help to meet my goals. 
In the past 18 months we have designed over 100 models for our range, and delivered over 60,000 miniatures to our backers and customers, facing some rough circumstances and unexpected issues. Vacant Realms will begin with 18 figures for 2 factions and expand to add more figures, add-on, and freebies based on funding. If a picture is worth a thousand words than these images should speak for themselves.
Pledges range from $8 for a single resin model to $67 for 10 models. STL files also available.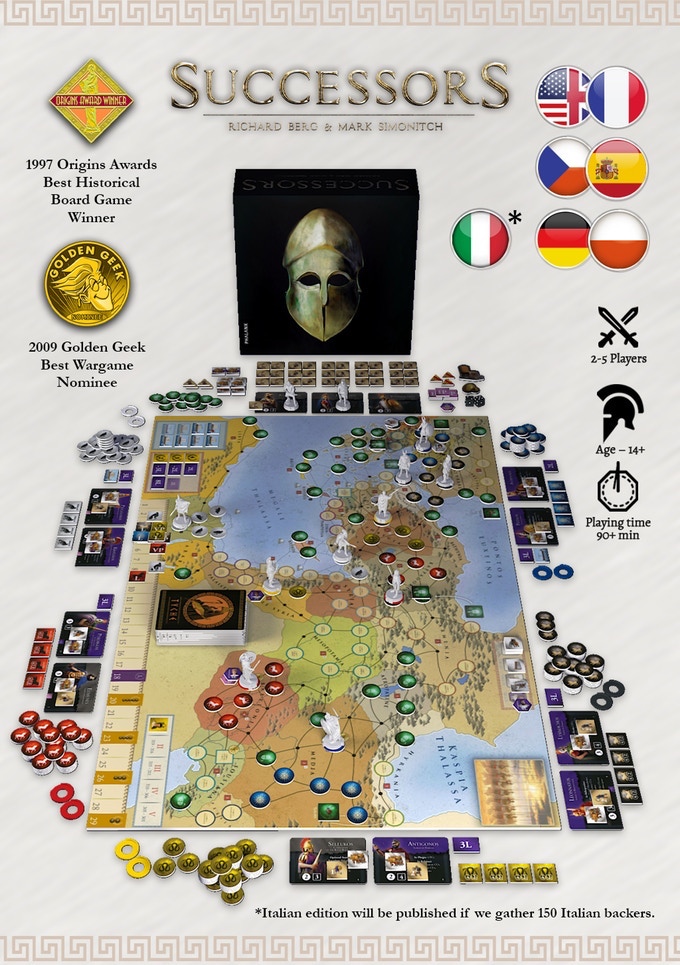 Successors is one of the best multiplayer strategy games ever published (previous editions by Avalon Hill in 1997 and GMT Games in 2008). Designed by the legendary Richard H. Berg, Mark Simonitch, and John B. Firer, Successors brings you the  best of this kind of game: tense and ruthless gameplay in a world of ever-changing alliances. 
The development team at PHALANX has given this game a careful, meticulous update. It is now more accessible and easier to play. It contains gorgeous miniatures. It has received new, stunning art. It is even better than it used to be.
Join us to publish the Fourth Edition of this splendid game together!
You can pick up the core game with all stretch goals for $81.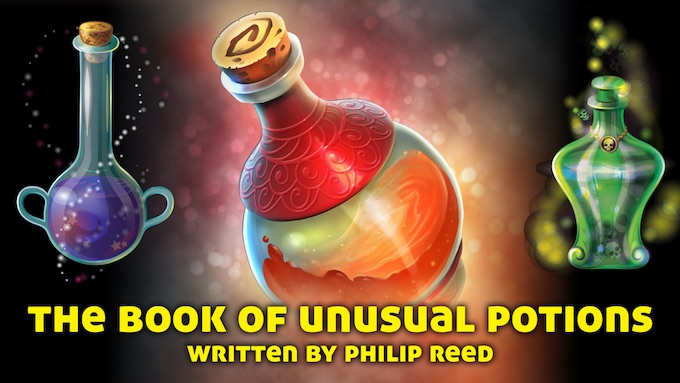 Alongside scrolls, magic potions are one of those ubiquitous magic items that many of us don't give a second thought. Potions can heal, boost character attributes, and generally serve as a quick fix and a tool to overcome in-game complications and obstacles. This is a dedicated tome in which I try to give potions more twists, turns, and strangeness than in my earlier projects, an attempt at making these potions as entertaining in terms of flavor as they are in-game bonuses.
You will find the staples of the magic potion world within these pages – Potion of Strength, Potion of Healing, love potions, etc. – but each will bring with it something other than the usual "you heal X points of damage instantly" sort of language often assigned to these classic potions.
And in addition to those routine, boring potions that we all know (and rely on in the dungeon), I've also stepped outside of the 10'x10' room in search of more unusual potions. It is these works that I think you'll find more inspiring and rewarding when deciding "exactly which potion should the party find once they unlock that chest?"
You can snag a physical copy of the book for $10 and there are other add ons available.
Designed by Jonathan Gilmour (Dinosaur Island, Dead of Winter, Wasteland Express, Kids on Bikes, etc) & Brian Lewis (Dinosaur Island, Dinosaur Island Totally Liquid), and developed by Justin Blaske (Mint Works, Mint Delivery) & Mel Primus (Penny Lane), Mint Cooperative is a refreshingly light cooperative game for 1 to 4 players with easy-to-learn rules and exciting strategic gameplay, all in about 15-30 minutes.  
Its compact size makes it easy to put in your pocket and take anywhere. Coupling that with its approachable rules, Mint Cooperative is a great tool for introducing new players to the genre of cooperative gaming.
A single copy is only $10.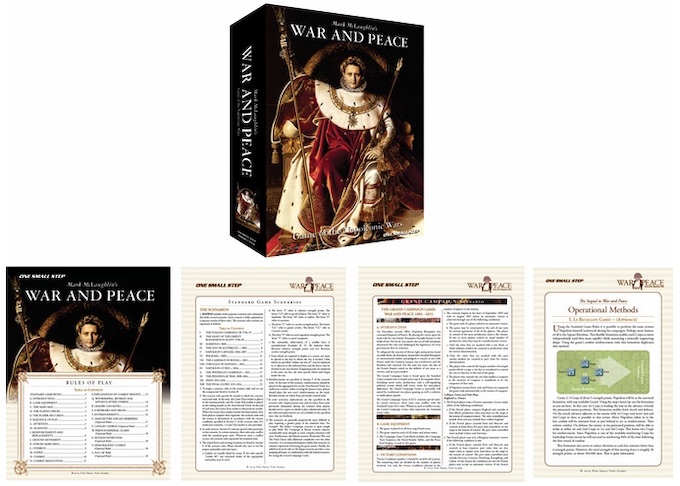 Mark  McLaughlin's classic game on Napoleonic conquest is here, revitalized and enhanced with completely updated graphics and  production, all new campaigns covering all of Napoleon's career, and a completely revamped rule book that incorporates all  known errata, and the best official  variants and optional rules along with a few  new surprises. War and Peace will be given the deluxe treatment in this re-issue.   
The Rule book is 20 pages of fully illustrated instructions to play the game. It is replete with examples of play, detailed explanations, and optional rules. Want to check it out? Download it right here.
The game is $89 – pledge levels for multiple copies are available.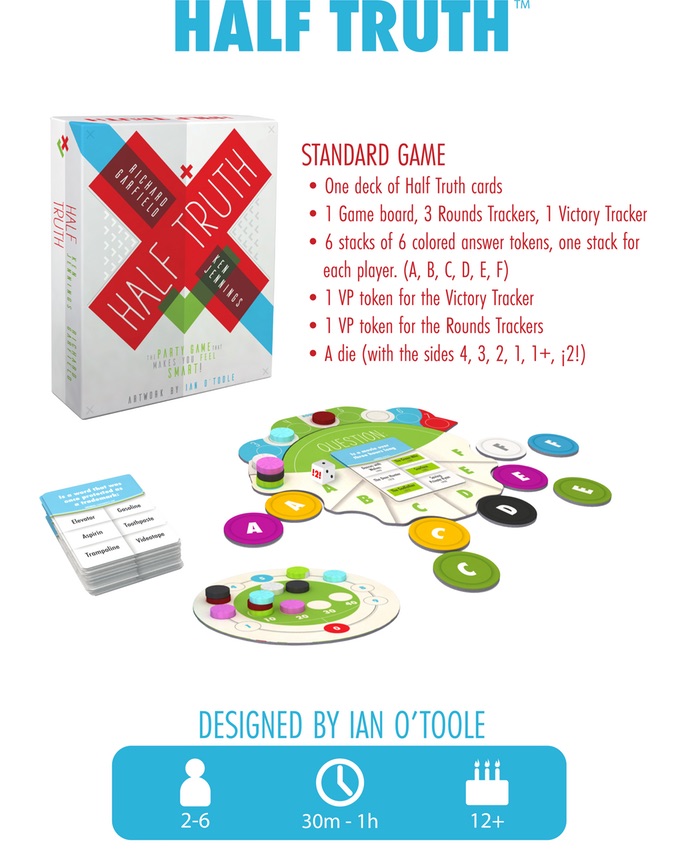 Half Truth is a party game for all ages and people, created by legendary game designer Richard Garfield and 74-time Jeopardy winner Ken Jennings. With art by well-known artist Ian O'Toole, the game comes with 500 trivia question cards and each card has a category on it, like "Animals with blue tongues." There are six possible answers, three right and three wrong, and players have to place bets on answers they believe are correct. Players are usually surprised by how well they do. We're all smarter than we think. 
You can pick up the game for $30 and there are add ons available.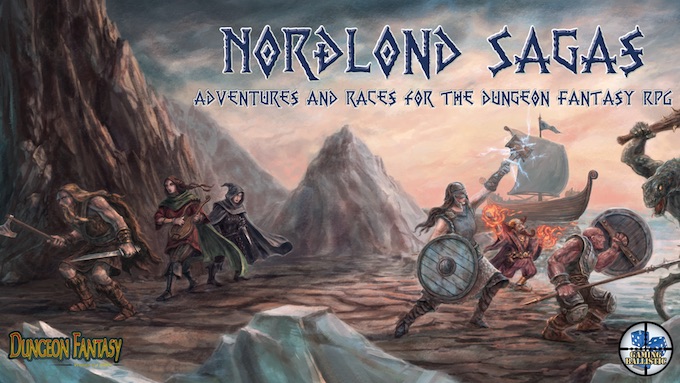 The Dungeon Fantasy Roleplaying Game is Powered by GURPS. This setting expansion and adventure scenario details the towns of Midgard and Jarngarðr, and provides a looming threat worthy of a party of seasoned delvers. Targeted at four to six delvers of 300 points or more. Written by Kyle Norton (Dungeons on Automatic).
The Ruins of Rosgarth are occupied again, this much is certain. But mining caravans and logging expeditions are being threatened by growing hordes of undead, as well as surging ranks of dragonkin. Wizards and clerics alike are muttering uneasily as they feel magic itself in a state of unrest. The Aesir whisper in the dreams of heroes. Journey into the wilds north of Audreyn's Wall to Rosgarth Ruins. Investigate the source of the danger . . . and defeat it if you can. 
A softcover printed copy is $60 – that comes with PDFs of supplements.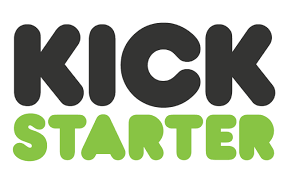 ~Which Of These Campaigns Caught Your Attention?