Industrial wasteland, historical knights, forest adventures, and new Power Rangers minis. Come check out this week's batch of Kickstarter highlights!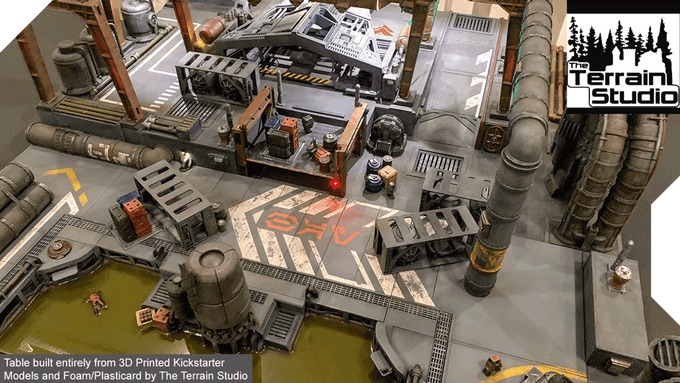 Cochin Industrial District is the filthy, industrialized, ship building sector of any backwater science fiction planet. Industrial droids and metal workers labor tirelessly, de-constructing and building new ships and components for their overlords. These districts are a key part of any state's war apparatus and must be kept safe.
Now you can build your own Cochin Industrial district by backing this Kickstarter. You can pledge for digital STL files to print at home on your own 3D printer, pledge to have Imperial Terrain print them and ship them to you, or both options together.
Pledges start at $40 for a full STL file bundle, $60 for a starter physical bundle, and go up from there.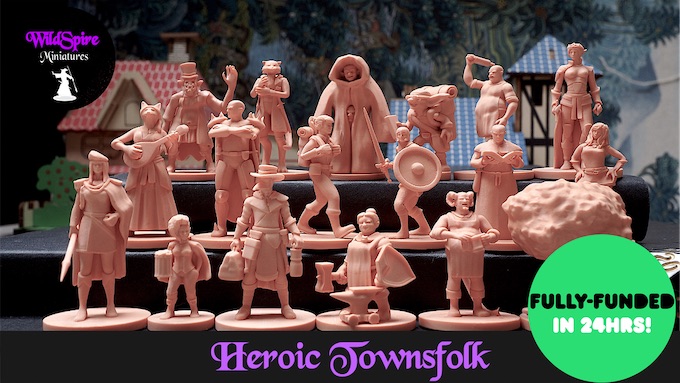 I created WildSpire Miniatures as the vehicle for this dream of bringing truly unique miniatures to the community.  No miniature I produce will be just filler on a map or decoration, but will exist to spark curiosity, intrigue and richer story-telling. Many of these Heroic Townsfolk characters are unique characters and can be played as both player-characters or non-player characters.  
The term "Heroic"  sets these apart from generic townsfolk.  Heroic Townsfolk are worthy of building deep storylines around and many can be played as player-characters or non-player characters (NPC). They can become the heroes (or villains), too. Either way, they are able to help carry stories. Diverse races, genders and occupations that are not the normal "filler" peasants too often seen around town.
You can pick up the core set of 18 minis made of eco-friendly plastic for $25.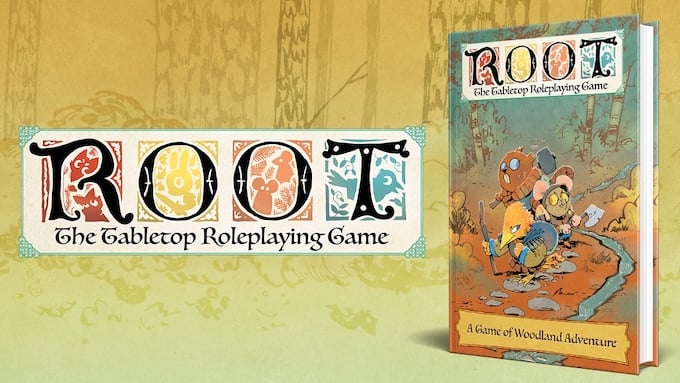 Root: The Tabletop Roleplaying Game is a game of woodland creatures fighting for money, justice, and freedom from powers far greater than them. Based on the Root: A Game of Woodland Might & Right board game and officially licensed by Leder Games, Root: The TTRPG brings the tales of the Woodland to your RPG table!
In Root, you play vagabonds, outcasts from the normal society of the woodlands who have come to live in the spaces between, whether that's in the forests themselves or on the fringes of society. You are competent and skilled—you have to be to survive as vagabonds—and you aren't tied down to any particular place or faction. You might be a badger arbiter, serving many sides in resolving conflicts and defending their interests. You might be a cat scoundrel, sliding on your mask before you sneak out into the darkness to cause mischief and mayhem. You might be a wolf ranger, at home in the wilds and the untamed places of the woodland. 
You can snag a a hardcover of the core rulebook for $40.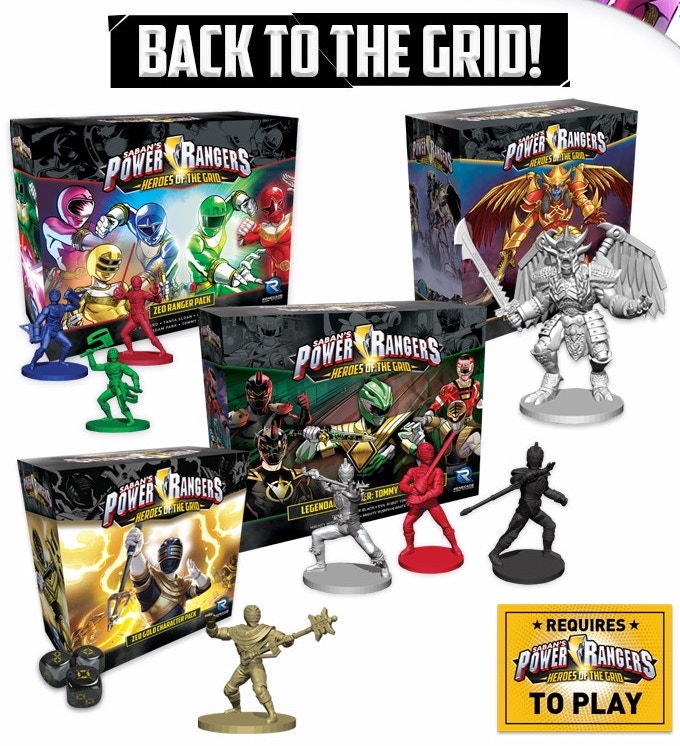 Welcome back to the grid! Power Rangers: Heroes of the Grid is a cooperative board game  for 1-5 players that challenges your team of Power Rangers, each with your own unique combat deck, to work together and fight off the incoming horde. Backers helped bring this game to life through Kickstarter in 2018 and now we're back with new heroes, challenging villains, and more opportunities for you to save Angel Grove! 
Packs of minis start at $40.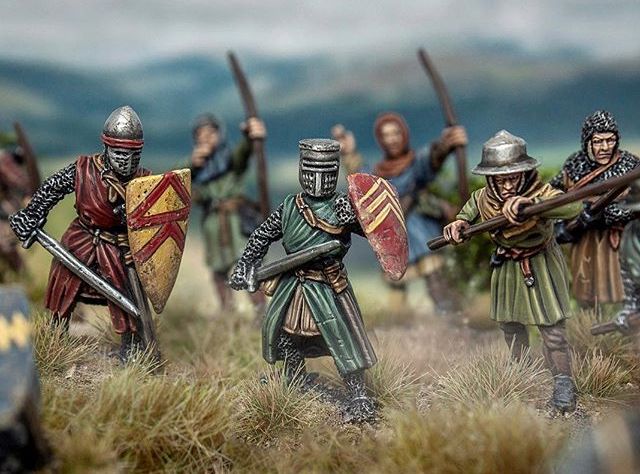 For many years, Andy Hobday – of Footsore Miniatures & Games – has had a great passion for the often overlooked periods of British history. One of these passions is The Barons' War – an English civil war in the early 13th-Century between rebellious barons (and their French allies) against King John. 
These miniatures can be used for games set during The Barons' War, and not only that, they'll work for both sides of the conflict! Additionally, they'll work well for games that take you Crusading in the Middle East, particularly the Fourth, Fifth and Sixth Crusades (and a few years/decades either side). Like many of the Footsore ranges, The Barons' War range will be packed to work well for games like Saga and Lion Rampant. Of course, should the range be very popular, Andy hasn't ruled out releasing a ruleset of his own.
Packs of white metal minis start at $8.75 and you can pick up all of the packs for $174.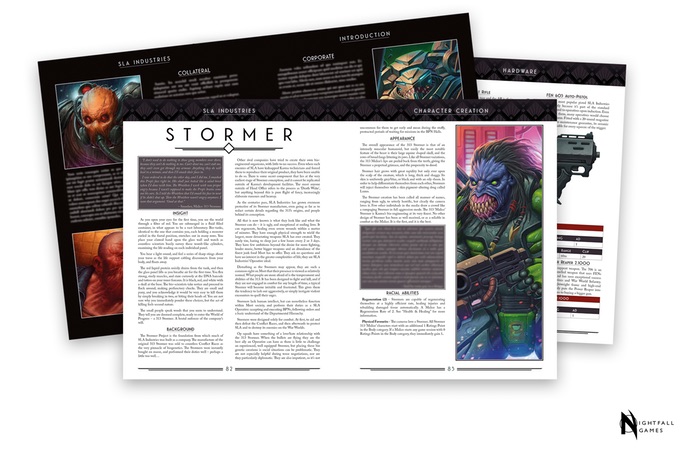 SLA Industries (pronounced "Slay Industries") is an award-winning pen-and-paper role-playing game that was first published in Scotland in 1993. The game is a horror noir science-fiction setting set in a dystopian reality in which the majority of the known universe is either owned or indirectly controlled by the eponymous corporation SLA Industries. The game incorporates themes from the cyberpunk, gothic horror and conspiracy genres, and has always been praised on the quality of writing and art. SLA Industries is considered one of the first and best examples of the Splatterpunk genre in RPGs.
SLA Industries 2nd Edition features an entirely new d10-based rules system, built from the ground up and designed to offer a more streamlined and cinematic gaming experience than the old system, while remaining true to the setting. Ratings Points are a new mechanic for 2nd Ed, earned from face time in front of the camera, or through bravery, extreme success and spectacular failure. These points enable players to perform cinematic feats that defy the norm and impress audiences, and when things don't quite work out, there's the new Luck mechanism that allows players to alter or re-roll dice results. Both Ratings Points and Luck are a finite resource, however, and should not be used frivolously.   
You can pick up a hardback core rulebook for $44.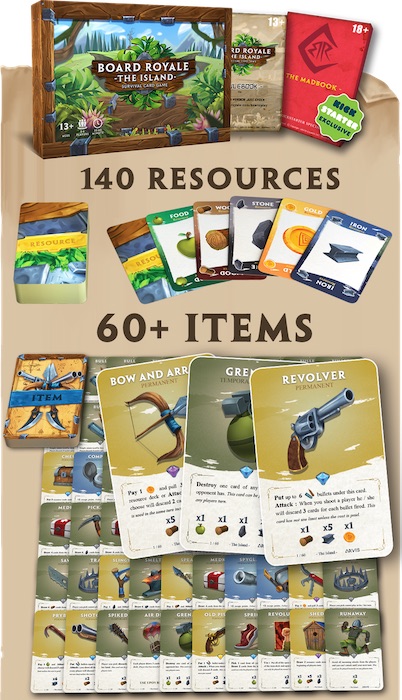 Board Royale is 13+ Ages, 3-6 Players and 30-60 Minute gameplay. [It] is a survival card game that combines Battle Royale mechanics with the social dynamics of board games. You will gather resources, craft items and use them against your friends to eliminate them and be the last survivor. When it comes to your own survival, you need to think out of the box, make deals and collaborations, lobby against each other, betray your friends to survive! The game has many different mechanics that can be combined with each other. It contains resource and risk management. It can be a game that puts friendships to the test 🙂
The base game is $25 and comes with all stretch goals.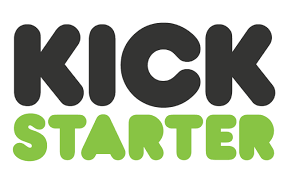 ~Which Of These Campaigns Caught Your Attention?