There are two new expansions for Talisman: Origins out right now that open wide both Pandora's Box and the place steampunk has been hiding since 2004.
Talisman: Origins, if you missed it, was a digital release that brought one of the best Warhammer board games, Talisman, to the digiverse this may. A fantastic adaptation, the game not only provided a whole world to explore, but it also introduced new characters, origins, and treasures that have kept fans happy since May. Two new expansions bring a host of other options to the game, there's the Clockwork Kingdom, which adds an Artificer, clockwork monsters, and item crafting; and Pandora's Box, which is a whole new story for Talisman, in which monsters from the nether realm start invading.
via Asmodee Digital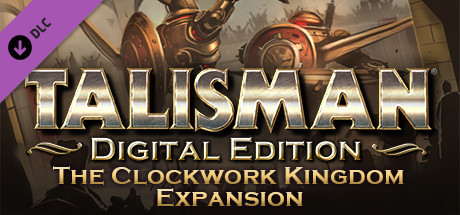 Innovation strikes the land of Talisman! Large clockwork towers, flying carriages and magical automation's appear in a frenzy. The rulers of the land are no longer Kings and Princes. Instead Inventors and Merchant Lords lead Talisman into a bold new age of invention.
Discover this new era of Talisman where Inventions lead the way. Craft new weapons and gear to help you claim victory and reach the Crown of Command!
Please note that this digital-only expansion is not included in the Talisman: Digital Edition season pass.
Discover a new NPC!
A mysterious moving shop now travels the outer region of Talisman. Known as Cog, this travelling store moves one space clockwise every round. If you're lucky enough to encounter Cog, you'll be rewarded by receiving 1 Material Card for free. You may then purchase additional material cards at the cost of 1 gold per material card already taken.
Create amazing inventions
Gone are the days of wishing you could create that perfect sword. Using 3 cards from the Material Deck you're able to invent and create hundreds of new creations. You can earn new Materials by encountering Cog, defeating certain Enemies, or encountering various new Adventure Cards. Once you have 3 Materials you may combine them into your brand-new invention.
What will you create? What combinations of Materials will you try? The inventing is down to you!
The Clockwork Kingdom Expansion adds:
41 New Adventure Cards
8 New Spells
30 New Material Cards
3 New Characters
2 New Alternative Endings
This add-on for Talisman: Origins adds a whole new book to the game, containing 5 exciting chapters to play through. You'll face the many terrible and nefarious evils that are trying to invade the world of Talisman from the maddening Nether Realm. Experience a brand new story set in the world of Talisman, expanding on the lore of this mysterious and dangerous artefact.
Originally sealed by the same Great Wizard who created the Crown of Command, Pandora's Box keeps the most dangerous creatures contained… until now!
Featuring some of the toughest creatures ever to set foot in the world of Talisman, only the mightiest warriors can hope to persevere against these horrific foes. But for those willing to push through the challenge, the greatest rewards await.
Will you be able to resist the pull of forbidden knowledge and power that whispers to you from within Pandora's Box?
5 chapters of brand-new story content
5-10 hours of new content
New challenges to overcome
New achievements to unlock