The Neverborne are an ever growing threat on Earth – their leader, Anton de Wils, has spies and conspirators operating in all facets of human society. He rules from the shadows with the help of Binh Nguyen and Kirai Ankoku and an army of captured and enslaved ghosts, but his network is getting harder to keep secret.
Binh Nguyen and Kirai Ankoku – the Court of Two – control ethereal spirits as soldiers that are a daunting force on the battlefield. Meet the latest addition that gains power the longer you can keep them on the battlefield.
The Gwisin are an unit for the Court of Two in the Other Side, contained in the upcoming Starter Box and sold separately so players can add more to their ghostly Company if they so desire.
Unlike most units in The Other Side, the Gwisin can essentially act independently of one another, allowing themselves to spread out across the table. This becomes particularly handy when paired with their Revenge Ability, which allows them to strike back at an opponent if a nearby friendly Fireteam suffers a Hit. But because they are single model Fireteams, they'll need to rely on the Court of Two's Ghostly Ability, provided by their Envoy/Allegiance card, allowing them to discard a Crow from their hand to avoid being damaged. The Gwisin also become more powerful the longer they stay on the table, as their Magical Melee Attack, Ethereal Viscera, grows stronger based on the Turn.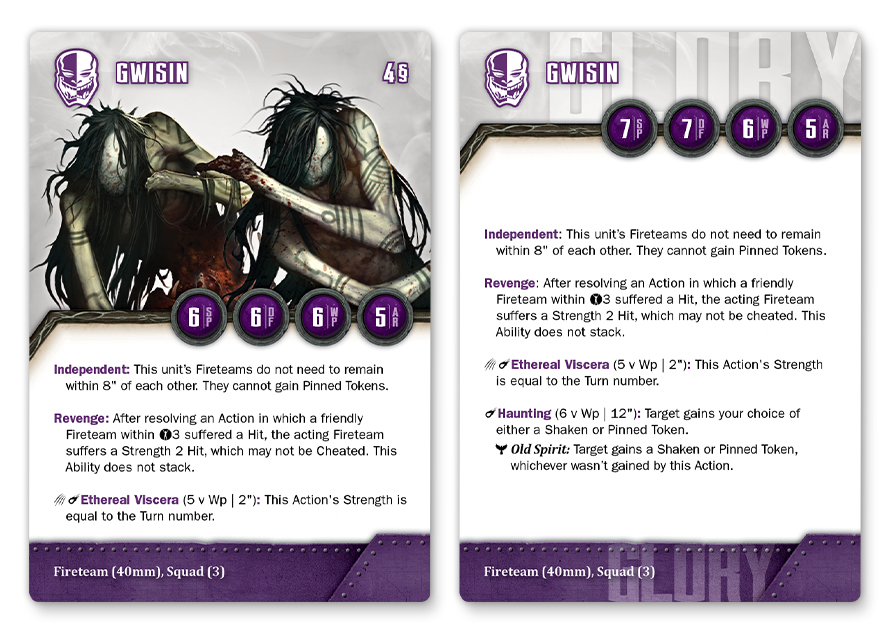 If you feel a cold breeze out of the blue, or feel something gently brush against your skin but nothing seems to be there when you take a look, or you hear an object in the distance fall without rhyme or reason, consider taking a picture or grabbing a mirror. Below is a render of the Gwisin; if you see these spirits in your Polaroid or in the reflection, we consider going for a light jog and possibly never coming back.