Any game that rewards letting one player keep the other from participating has a SERIOUS problem. Welcome to today's Grimdark.
In case you haven't been paying attention, the meta has been shifting under our feet in the last three months. Warhammer 40K is going through one of those tectonic shifts where after a long time of stability, everything get jumbled around quickly. What happened?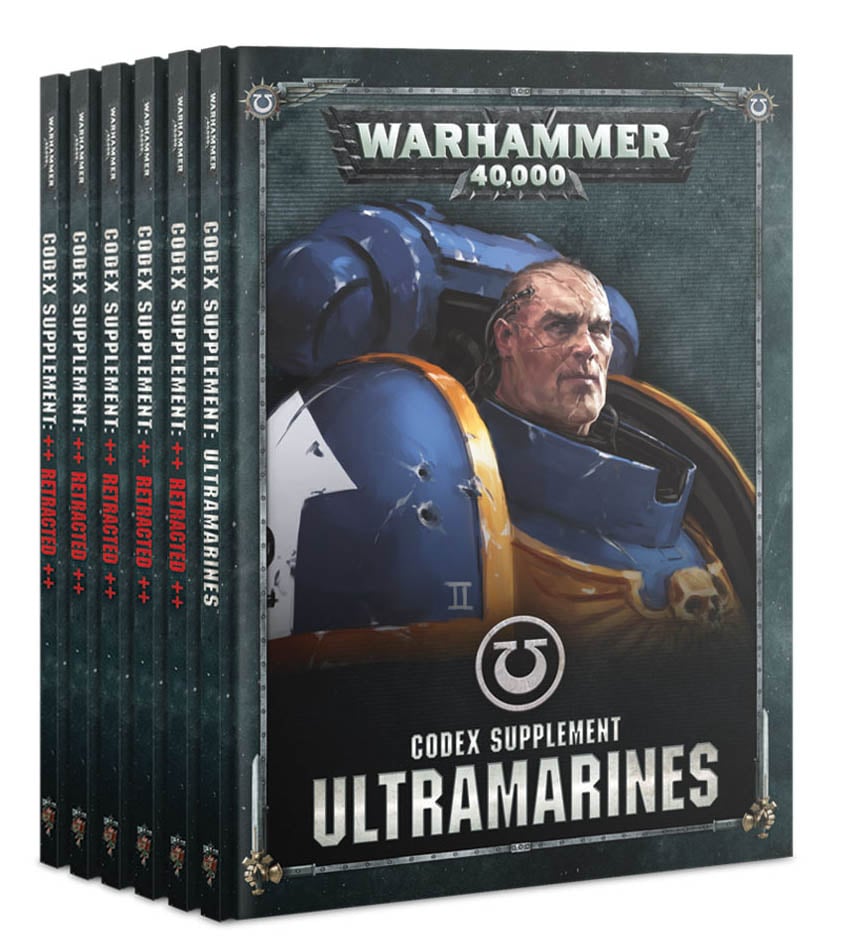 7 Space marine Codexes happened
In 3 short months we have seen the old superstars of Imperial Knights, Chaos, and Aeldari swept away in a tidal-wave of new uber-Marines.  After suffering under the tyranny of our previous overlords for over a year – not many are shedding a tear for the meteroric downfall of the previous meta-masters.
But this time something serious is amiss.  The new meta's power lists aren't about the standard overpowered/undercosted units like we normally see. Instead we are seeing lists that I am labelling as "Denial Lists".  These Denial Lists don't win in the traditional method of moving around, outshooting you, or even just playing tricks with objectives. These lists work by effectively denying the opposing player the ability to engage in the game.
Here's some Basics requirements:

Lethality
First of all any of these lists are incredibly lethal. They have to be able to cripple an enemy army quickly and once they get ahead, they stay ahead. 8th Edition has been all about offense, but the latest power lists can REALLY dish out high numbers of wounds in a single turn against high toughness, high armor opponents.

Offensive Denial Lists
These lists offer offense that has little to no options to the opposing player. Examples are things like units that can deepstrike and get within firing or assault range the same turn. Units like Assault Centurions, or Eliminators who can kill units out of line of sight with absolute safety inside of distant buildings. Add in Thunderfire Cannons and such for further denial fun. Lists composed of these can inflict severe damage with no ability of the other other player to defend themselves – they just have to sit and take it.

Defensive Denial Lists
On the other end of things are the mechanics that allow players to just ignore what an offensive army can go. Things like stacked auras and invulnerables, combined with healing or repair abilities allow a handful of lists to ignore and ward off incoming fire. Some races like Tau have access to massed  "bodyguard units" that can absorb normally effective damage.

A Recipe for No Fun
The danger here of course is that folks love to play a challenging game, to work on cool lists, and try to improve. BUT, no one likes to play a game where it doesn't matter what you do. If your decisions don't matter to whether you won or lose – why the heck are you even playing? Lists and unit mechanics that don't allow for opposing players to get a vote on what happens are corrosive to any game. Sure some players will pipe up and say "git gud", but do we really want the entire community to chase a handful of totally busted lists to even get a change to win? Is that what we all signed up for? Note that some of these denial lists are so lethal, that even against each other, it's just a matter of who gets off the first round of shooting. The more common and dangerous reaction is for players to get disheartened and move onto to other activities.
Asking players to spend hundreds of dollars to collect, hobby up, and play – only to find out they lose regardless of what tabletop choices they made is a recipe for disaster in any playerbase.
We've Been Here Before
Every now and then 40K's meta ends up in a rough spot like this.  Nob Bikers, Leafblower, massed Necron Night Scythes, Space Wolves doggie tricks, and others have all unbalanced the game for a period until GW stepped in and got the game back on the tracks. I'm hoping that this will be the case this time and we won't have denial lists dominate for too many months.
~My fingers are crossed that this may be a transition period towards the end of one edition and the dawn of something new. It better be.