The Ossiarch Bonereapers have got a mean piece of Terrain to take along with 3 Endless Spells – join us as we take a closer look at all of them!
It's a new army and GW hasn't pulled any punches with the new Ossiarch Bonereapers. They are going full bore with the miniatures range and that includes the new Bone-tithe Nexus as well as a trio of Endless Spells:
Nexus of Death
The Bone-tithe Nexus is a pretty fantastic new army specific Terrain kit. Not only is it large and imposing on the tabletop, it's actually got some pretty nice bonus rules, too. One of the best parts about those rules is that it costs Ossiarch Bonereapers players ZERO points to include in their lists. I'm taking one every time now.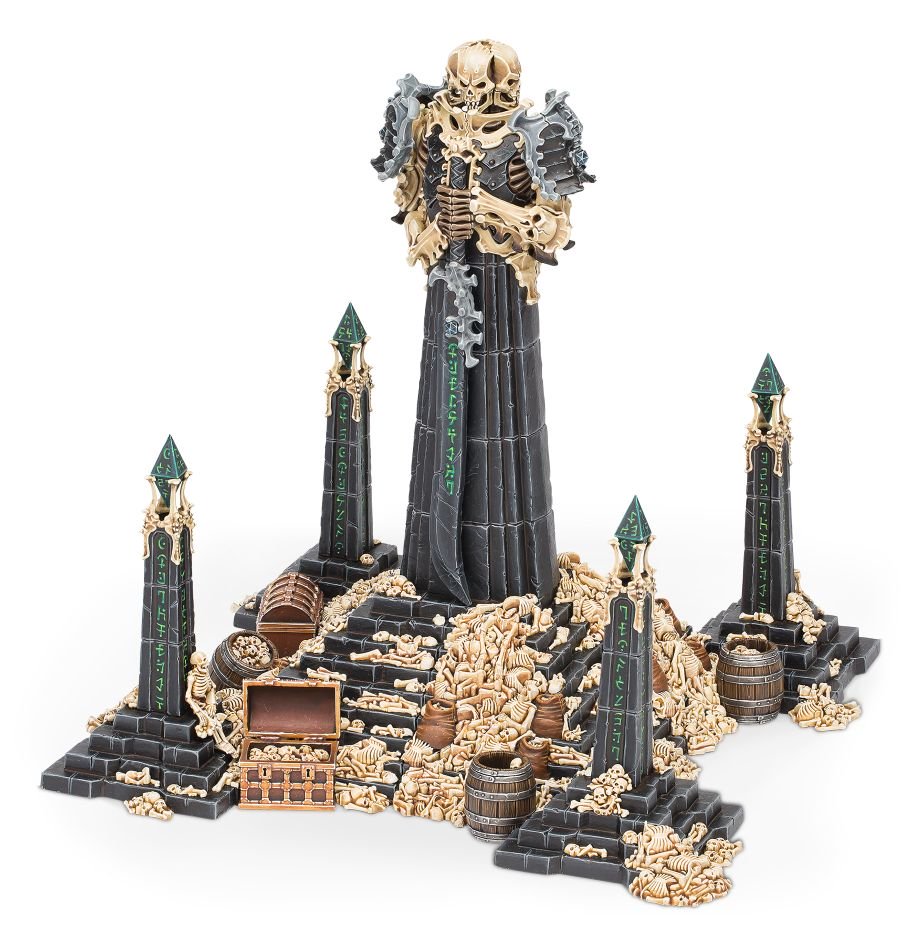 I really like the simplicity of this kit as well. It's actually two of the same sprues that you can build to create the monument of bones you see before you. You might be able to tell, but it IS actually just the same two bottom sections repeated twice. Same with the obelisks and even the center statue! Sneaky and creepy – but effective. It's also got a pretty big footprint and that should make utilizing it's punishments in game pretty easy.
Trio of Soul-Linked Endless Spells
The Endless Spells of the Ossiarch Bonereapers are another nice addition to the army. Also, because the running theme of the Bonereapers is "we do everything in the game slightly different, mechanically, but with similar results" their Endless Spells works slightly differently…but you get the same types of results. The big change with them is that they are all Soul-Linked.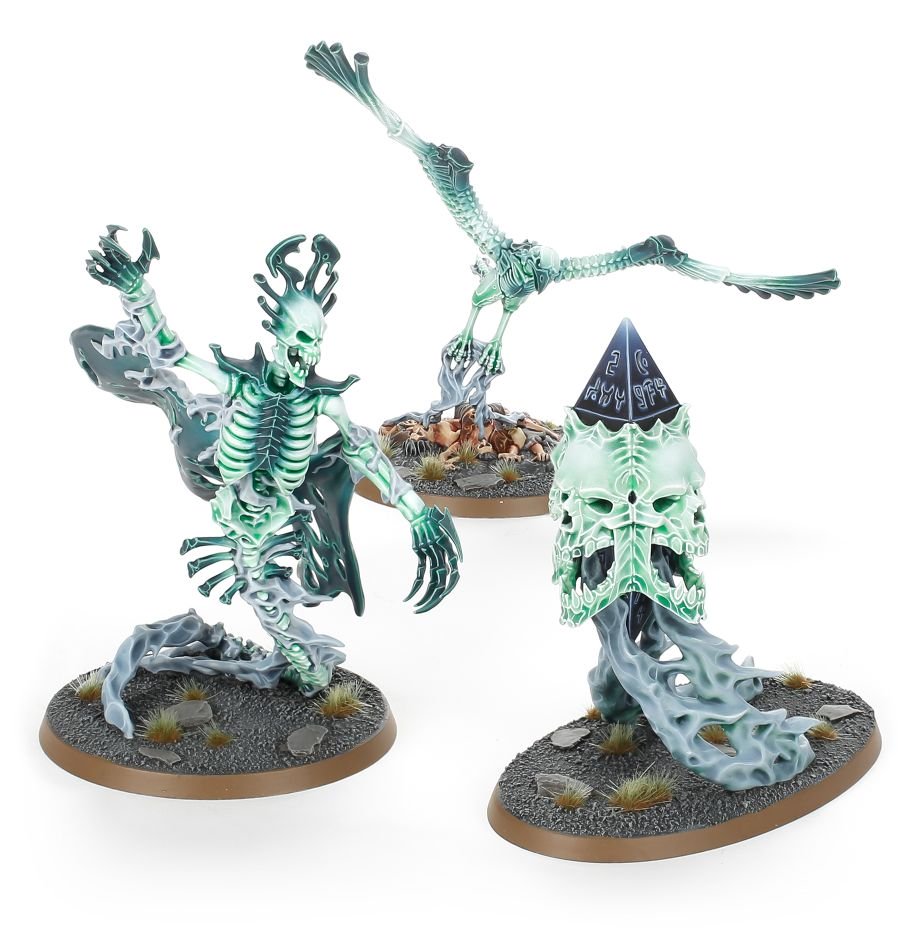 Soul-Linked just means that the Wizard who casts these Spells retains "control" of them even though they are predatory spells. Where you would normally pass the duties of moving them over to the other player, if your wizard cast them, you continue to move them and control them which is kind of neat. There is a trade off however: your wizard takes a -1 to spell casting and unbinding while soul-linked. Oh, and you can't cast more than 1 soul-linked spell from the same caster. And one other thing, if the caster is killed, the spell is unbound (dispelled).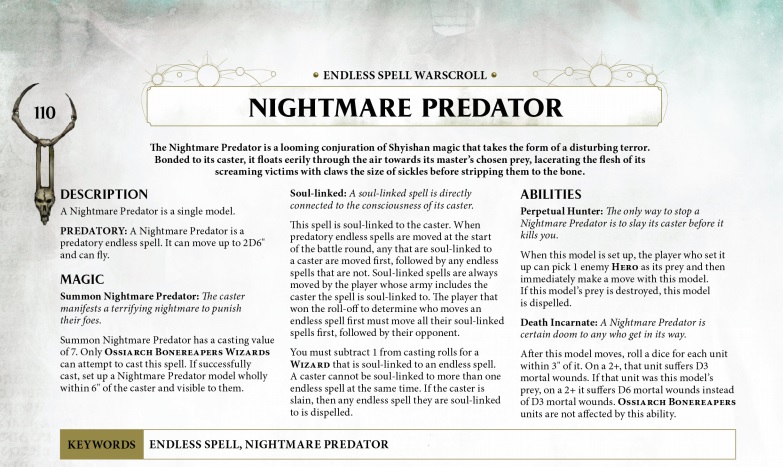 A funny side note, the instructions in the box mis-labeled the Endless Spells (I think). The Nightmare Predator is supposed to be the big scary spectral skeleton with the claws and the Soulstealer Carrion is supposed to be the bird spell. Carrion means "decaying flesh of dead animals" and is typically associate with scavenging birds (like Crows). In fact there is an entire class of birds that are carrion birds as opposed to birds of prey. Anyhow, the point is I'm pretty sure that it's just a simple printing error in the titles of the instructions but not really a big deal.
Both of these kits are nice to have if you're planning on starting an Ossiarch Bonereaper army. The Endless Spells are all useful and the Nexus seems like a no-brainer to take. If nothing else, it causes a free mortal wound on a 2+ and it doesn't cost you any points…what's not to like? Both kits are up for pre-order now and will be available in stores this weekend!