The Ogors and the new Ossiarch Bonereapers are squaring off in the upcoming Feast of Bones Battlebox – But what will it cost?
I may have mentioned this before, but I'm excited about the new Ossiarch Bonereapers. So when GW announced a new battlebox coming to pre-order this weekend, I'm VERY interested. But, like you, I'm also wondering what the price point will be. Now, Based on previous boxes I'd toss out a number like $160. That was the price of Looncurse. And it was the price of Carrion Empires as well – both of which were released earlier this year! So, if that pattern hold strong then $160 would totally fit. Is that right? I don't know for sure! But let's take a look at the contents and see if we're on the right track.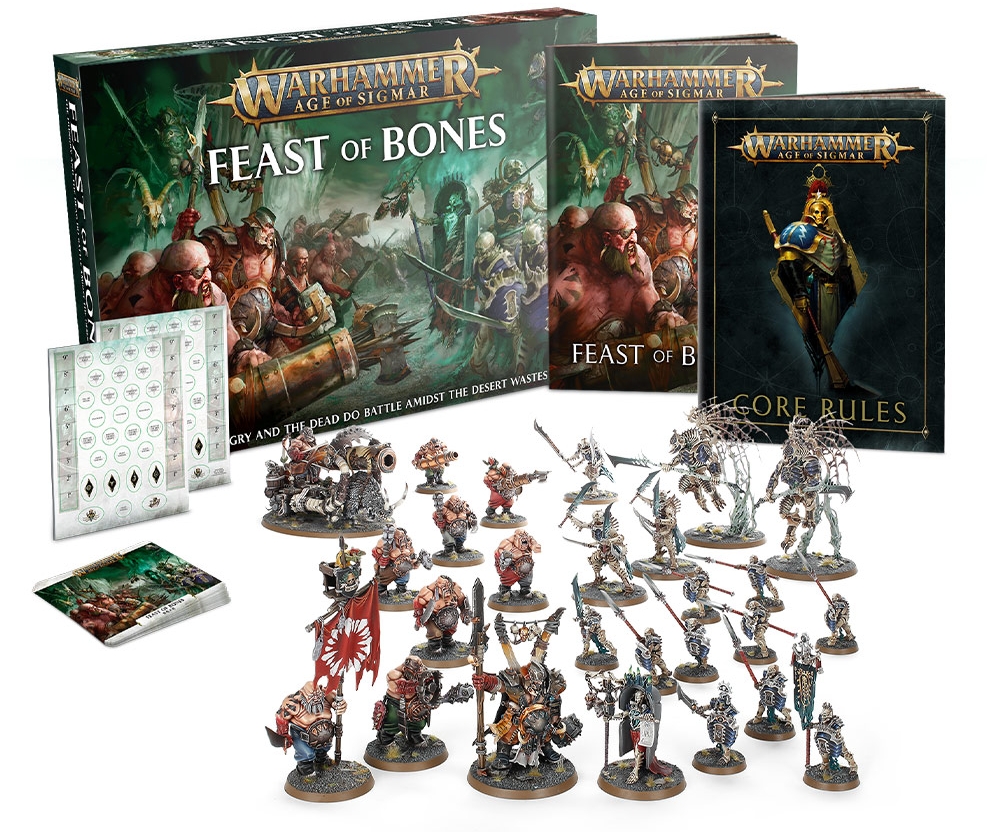 Now this gets a little weird. There are quite a few options that aren't even out yet so we will have to guess at those prices. And even the things that are currently available are packaged differently. But we're going to do the best we can. So let's check out these two sets of forces.
Ogor Forces
Two (2) Leadbelchers – $20 (based on 1/2 the price of the Leadbelcher's box)
New Tyrant – $40* (based on the current price of a Tyrant – but c'mon, it's probably going to be even more)
MSRP Total: $135 (estimated)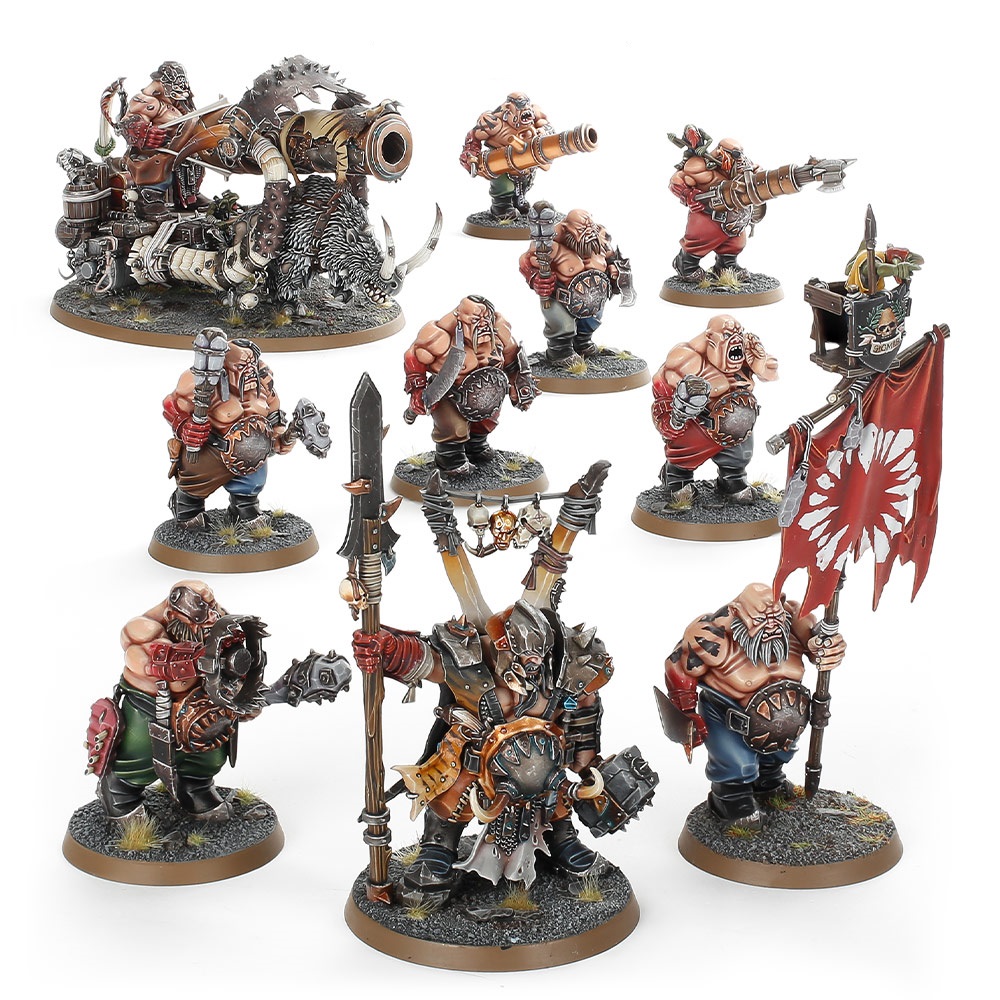 Ossiarch Bonereaper Forces
Ten (10) Mortek Guard – $45 (based on comparable units of 10 Death)
Three (3) Necroplis Stalkers $50 (based on comparable units of 3 in Death)
Vokmortian, Master of the Bone-tithe – $35 (based on comparable hero models in Death)
MSRP Total: $190 (estimated)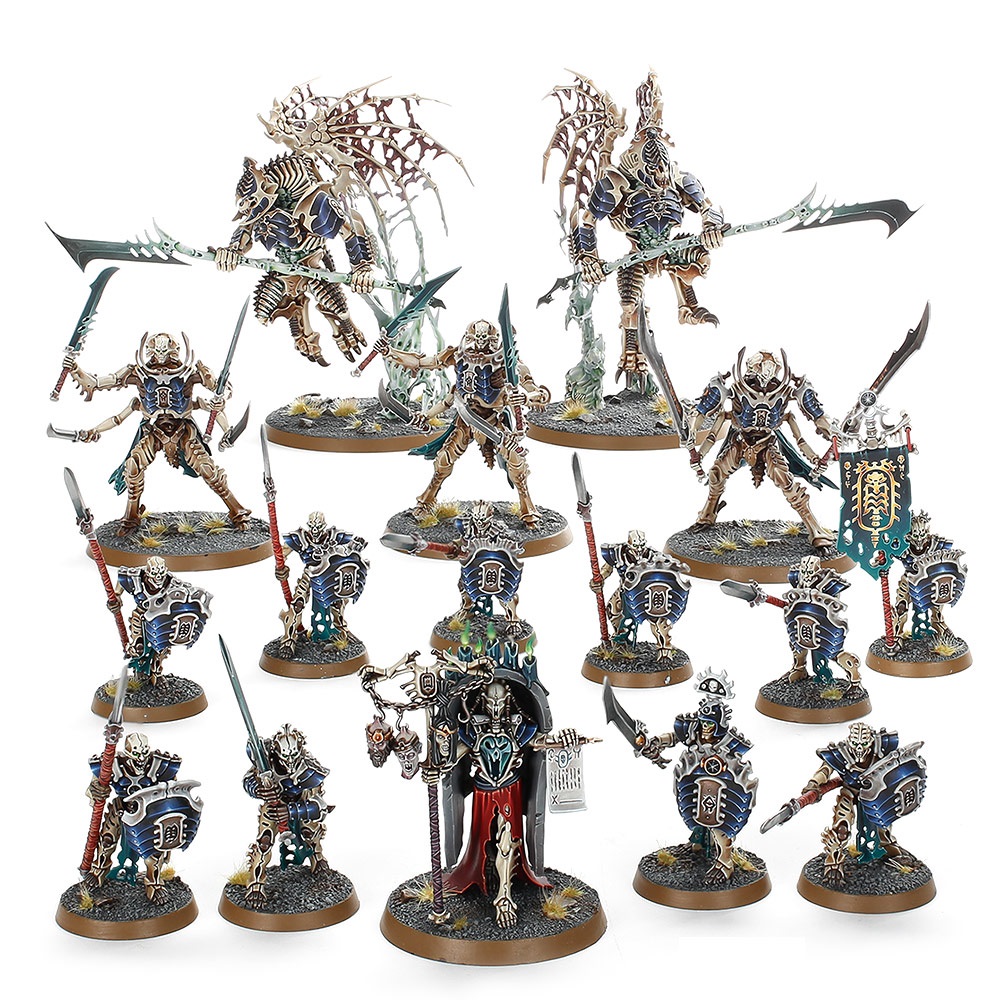 Boxed MSRP (estimated): $325
That's a pretty big jump down to $160, right? But remember – Looncurse had $240 worth of models in the box while Carrion Empire had closer to $312! And let's also not forget that these boxes tend to be limited runs anyhow. It's also worth noting that Looncurse had the newer Gloomspite models and 1 new Sylvaneth model in the box while Carrion Empire had a lot of older models.
Now, while we don't know how GW determines their pricing, from a business sense, it's "cheaper" for them to package the older models that might have been sitting on shelves or warehouses for a while. The Ogor's miniatures have been out for a while and this boxed set might be a way for GW to "dump" those older models out of their existing inventory and "save" some money or make some quick cash.
Will the boxed set be $160? That's still my guess. But even if the price is closer to $180 or even $200, it would still be a deal. I even think my estimates are actually on the low side for some of the models, and if that's true, that the box would have even more savings as well. If you're looking to get started with either of these armies, splitting this box with a buddy seems like a no-brainer at $160 or $200. And if this is a limited run, it's an even better reason to jump on this boxed set.
We should learn the actual pricing of this box as we get closer to the pre-order, but for now, my guess is still $160. What do you think?
Anyone want to take some stabs at the pricing of the upcoming Feast of Bones boxed set? Anyone going to get in on that pre-order?
Update: The Reports are coming in from Retailers – Feast of Bones is $195.