Orruk Warclans have officially hit the shelves in all their green, angry glory, so here's my three favorite Orruk Warclans, and tactics for using them on the battlefield.
As someone with an on again, off again love of Ironjawz, I was excited at the prospect of combining the brutish fist of the Ironjawz with the tribal ferocity of the Bonesplitterz. Destruction players are spoiled for choice for what to field.

Ironsunz
The most kunnin' of the Orruk Warclans, the Ironsunz embody the more tactical side of the Orruk Warclans. They are master ambushers, as likely to draw an enemy into a crude trap as to charge headlong into them. On the tabletop, they represent their heightened intelligence with command traits, abilities, and artefacts that focus more on redirection and reversal than brute force, an uncommon sight for Orruks. Their army wide ability makes all attacks, ranged or melee, that target and Ironsunz unit in the first battle round suffer a -1 to hit, representing the lethal planning the army has done before hand to outmaneuver or dupe their foes.

The command ability they gain can also foul your opponent's combat phase and make them engage in more fights than they want, or draw themselves dangerously out of position. You can use it at the end of the enemy charge phase, and it allows an unengaged Ironsunz unit within 12" of the enemy and wholly within 18" of a friendly hero to attempt to charge. If you line up your units properly you can throw a unit farther downfield than your opponent expects or capitalize on an enemy that charged one of your bait units to lock them into a combat they don't want to be in. And to make sure that you can start the battle fairly immediately, the Ironsunz command trait gives you an extra command point during the first battle round, so you can pull off that maneuver right away and not worry about running out of points. When you finally do get into combat of course, you'll want to keep your precious Megaboss alive, and the artefact will help with that, imposing a -1 penalty to the Rend of any weapons that target the bearer.

Drakkfoot
Nighthaunt got you down, or ward and feel no pain saves making you want to pull your topknot off? Wish there was a better way? Then look no further than the Drakkfoot clan of Bonesplitterz, whose self confidence is so intense that it can actually make ghosts forget they're ghosts. The Strength of Purpose ability shared by all Drakkfoot Orruks lets them ignore not only the Ethereal ability, but also ignore all abilities that negate wounds. So the Death saves or the arcane protection of the Phoenix Guard are no match for the righteous zeal of the Drakkfoot warriors.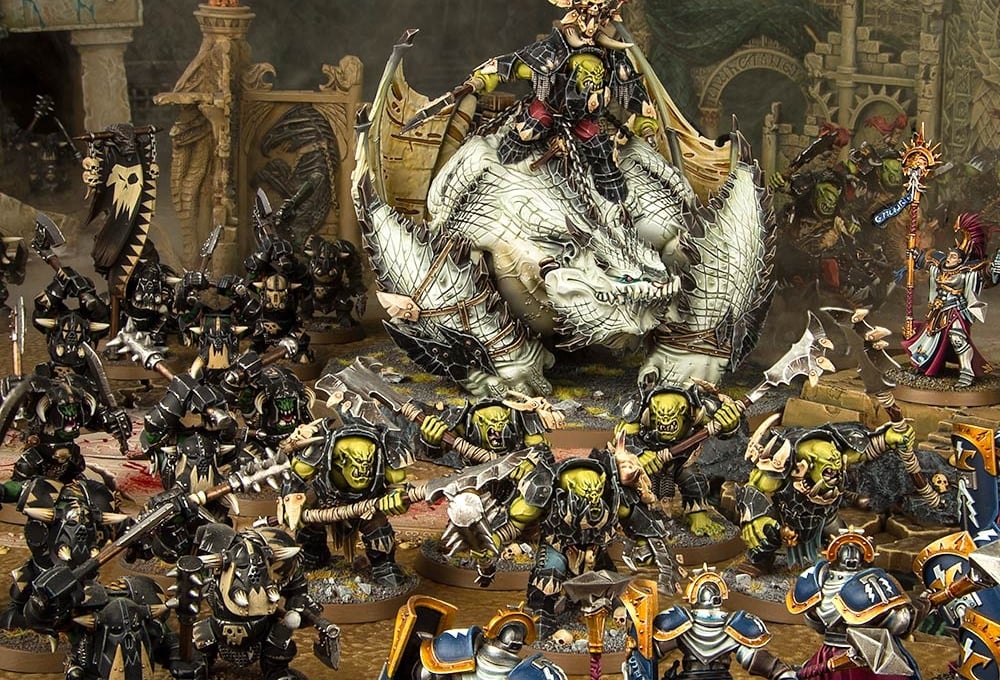 They also receive a command ability that allows any Drakkfoot unit of 10 or more models within 18" of a Prophet or Warrdokk to unbind an enemy spell, getting +1 to the attempt if they have at least 20 models. Piling on the magical potency of the clan is their command trait, or more accurately their lack thereof. Drakkfoot generals do not get a command trait, but rather every wizard gets to replace Arcane Bolt with the much stronger Fireball spell. The spell has a range of 18" and casts on a 5+, and should it go off, it deals 1 mortal wound to a single model, d3 mortal wounds to a unit of 2-9 models, or d6 mortal wounds to a unit of 10 or more. This can be great at softening up units for a Boar charge, or for plinking an extra wound off enemy heroes.
The artifact the clan provides allows one of your heroes to return attacks on their enemies, returning a mortal wound to a model within 1" whenever they succeed on a Warpaint save. This could potentially do the last bit of damage to an enemy hero and might prevent a lower wound hero from getting tangled up, allowing you to pick your fights.

Bloodtoofs
When it comes to hyper aggressive green tides, not much matches the ferocity of the Bloodtoofs. All Ironjawz get to add +1 to their charge rolls just for being angry Orruks, but Bloodtoofs also get +1 to run and an ADDITIONAL +1 to charge. This makes Bloodtoof Boarboyz and Mawcrushas particularly deadly, especially if you also take the battalion that allows your Boarboyz to take an extra move. Their command ability also represents their almost Khornate lust for battle by allowing any unit that fought in the combat phase that is no longer engaged and within 24" of a hero to make an additional normal move, though they cannot run. This is especially powerful if you went second in the battle round, as you can send your units downfield and then be in perfect range for another +2 charge should you win the roll-off for the next turn.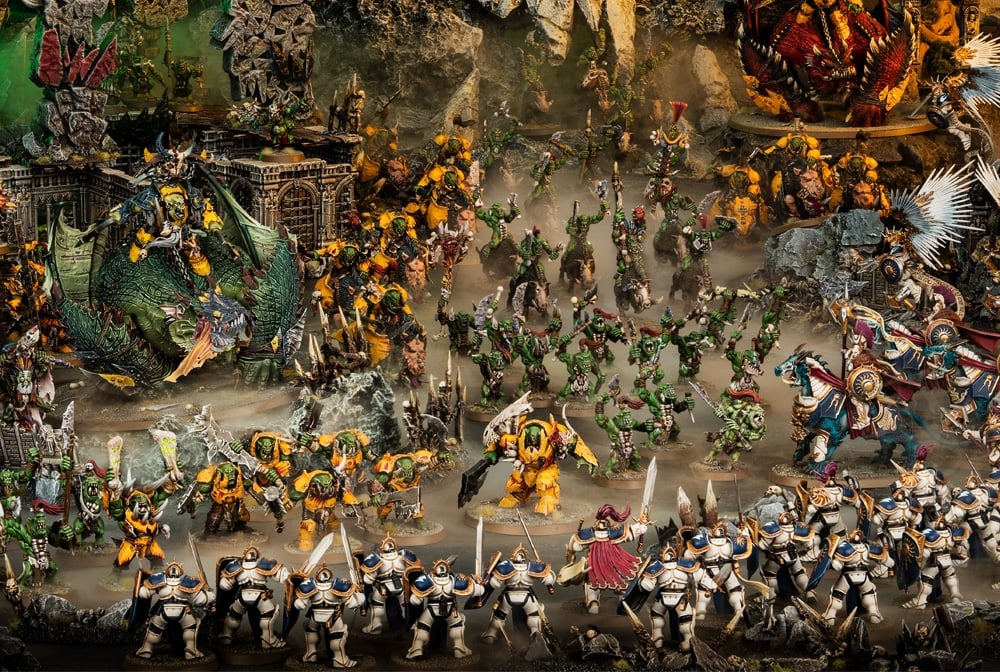 Their command trait is a little situational as it requires a Realmgate, but considering that new AoS terrain rules allow one in almost any game, there's no reason why this shouldn't always apply (you might just want to bring one with you to casual games). Should there happen to be a Realmgate on the field, your general gets to add an additional +2 to his roll when he calls a Waaagh! And finally, just to absolutely make sure that you can get into combat asap, the Bloodtoof artefact the Quickduff Amulet allows the wielder to, once per battle, cast the Great Green Hand of Gork spell. Should he choose to do so, the spell is autocast and cannot be unbound, meaning that when you decide to yeet your boyz across the battlefield, there's nothing your opponent can do about it. The only think dictating your carnage is how you choose to unleash your army.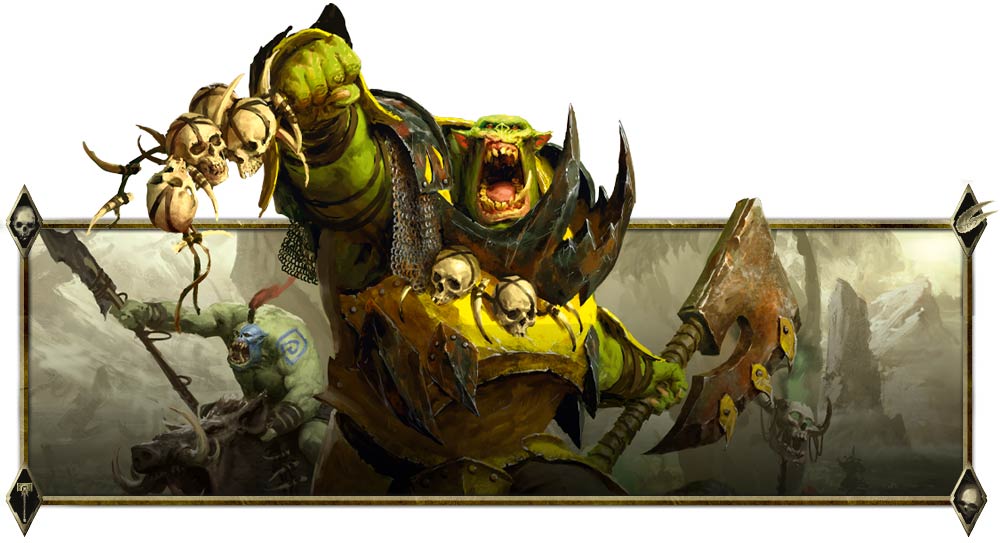 What are your favorite warclans?