Games Workshop is showcasing a few of the new rules about the Ossiarch Bonereapers. Death has a new elite army and they are here to collect what they are owed.
The Ossiarch Bonereapers are coming to gather their bone tithe and if you don't pay-up, they are more than willing to grind you to dust on the tabletop. They are boasting some new rules that are going to allow shrewd generals to really take advantage of them in games. Let's take a look at some of their new abilities!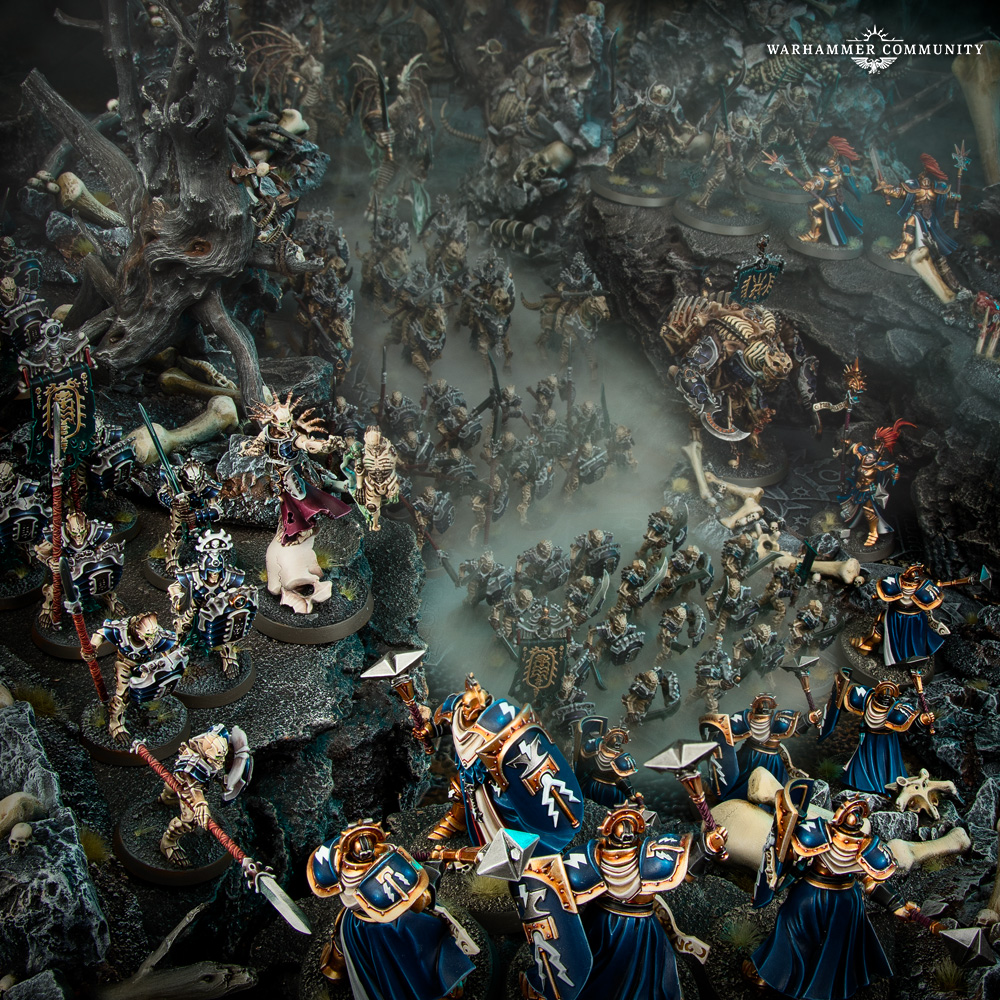 Relentless Discipline of Death
One of the things that makes this army unique is that they have a different style of Command Points. They don't generate Command Points like standard armies – they have Relentless Discipline Points which is "a system unique to their army that represents their unparalleled use of strategy and tactics. " Here's a bit more on how they work:
Rather than generate command points, Ossiarch Bonereapers forces generate a bounty of relentless discipline points, with bonuses for Heroes, warscroll battalions and of course, using Katakros himself. Units also have a chance to generate relentless discipline points on a 6 – after all, even the least of the Ossiarch Bonereapers is a warrior with thousands of lifetimes of battlefield experience under their belt.

Relentless discipline points are used like command points, but only for command abilities found on Ossiarch Bonereapers warscrolls. Representing the tactical diversity of the Ossiarch Legions, many units have their own command abilities in the same manner Heroes do. Kavalos Deathriders, for example, can form up to make deadly charges capable of scything through units before blows have been struck.

From what we can tell, these abilities are still called Command Abilities – they just use the Relentless Discipline Points instead. What I'm more curious about is if you'll have access to the "generic" command abilities from the BRB or the GHB. Then again, you won't need them for Battleshock Tests. Why? Because the army has two army wide special rules that make the Ossiarch Bonereapers extremely tough to kill.

Yep. The entire army is immune to Battleshock Tests. All those leadership tricks to make them run…they just don't work. And secondly:

Deathless Warriors gives the units in the army a 6+ "Feel No Pain" save if they meet one of three conditions:
If they have the Hekatos Keyword
If they are wholly within 6″ of a Mortek Hekatos
If they are wholly within 12″ of a friendly Ossiarch Bonereapers Hero
What are Mortek Hekatos? These Guys: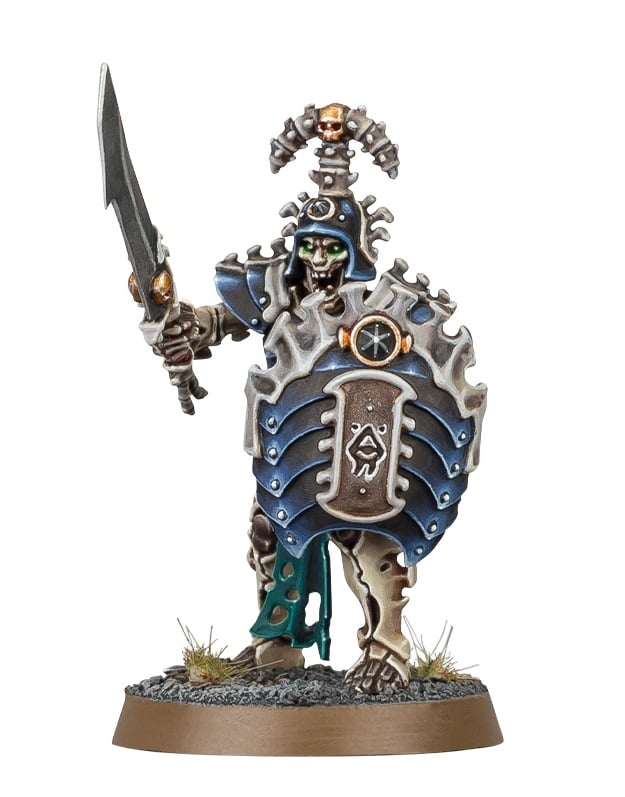 "The Hekatos are the lieutenants of the Ossiarch Bonereapers, and capable commanders in their own right."
I'm also pretty sure each unit of Mortek Guard come with one in the unit standard. Why do I think that? Well, check out their warscroll and look who's picture is on the right:

The Mortek Guard are the backbone of the army and if these guys are in every unit, well, you're going to be able to really pack in those saves. Plus they come with a 4+ armor save to start which is nothing to sneeze at! They also have the ability to get a re-roll on that as well:

Thanks to the seemingly abundant Relentless Discipline points, the Mortek Guard will be able to re-roll those saves, too. Also note that the ability references the Mortek Hekatos being included in the unit as well. AND one last thing, it says "re-roll save rolls" not re-roll failed save rolls. That means rending attacks don't "bypass" the re-roll because of the order of operations. Good on you GW!
What about their Elite units? Well, we already saw the Deathriders get a cool ability. But how about those Necropolis Stalkers?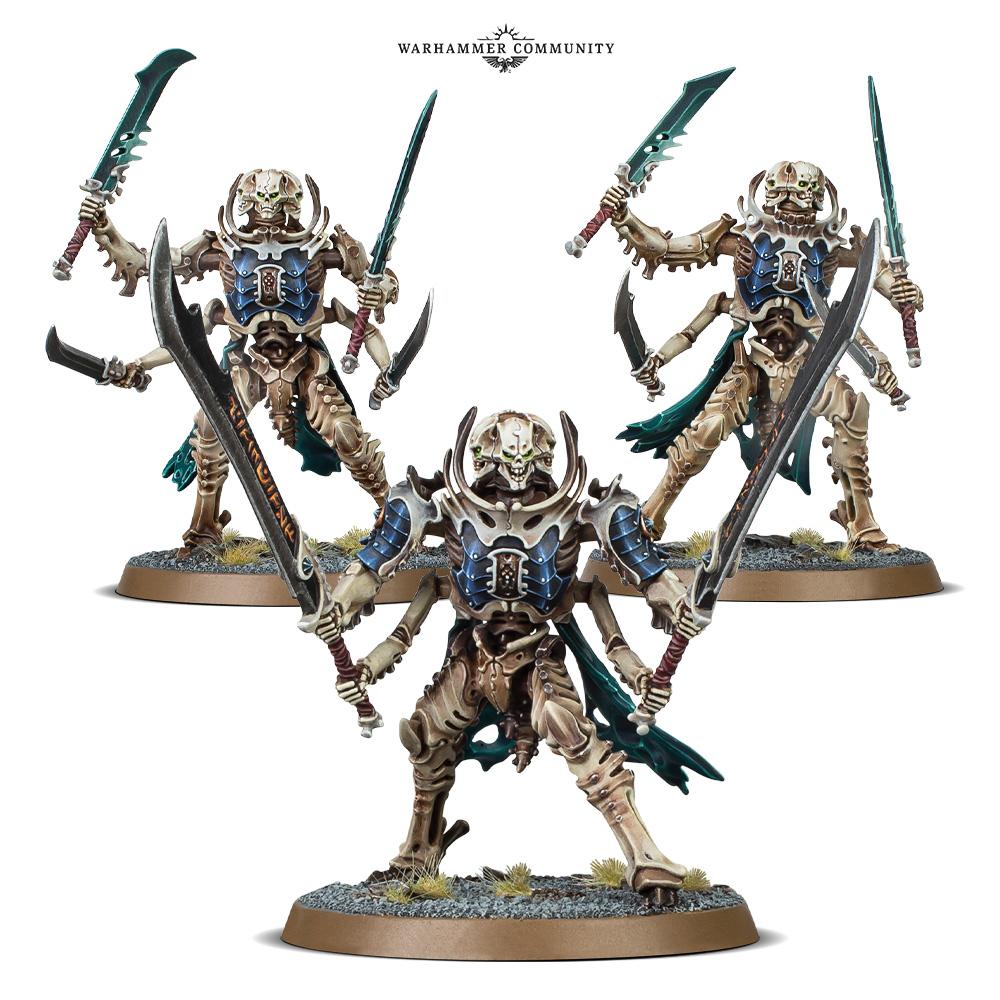 You remember – the Four-headed guys? Well they have a pretty mean stat line to start:

But on top of that, they have the ability to shift to an Aspect in the combat phase that allows them to become even better at the thing you need them to be better at:

Precision Aspect with the additional Rend and Damage sounds pretty spicy! I can't wait to try these guys out on the tabletop now.
Leaders of the Dead
As mentioned in previous articles, Nagash and Arkhan the Black can be included as part of the Ossiarch Bonereapers – and not just as allies, but as Commanders of their army. And while the Bonereapers aren't summonable, GW has clarified that "they can still be healed and restored to life by these sinister overlords of death." I wouldn't be surprised if GW used this opportunity to update their Warscroll and maybe shift some Keywords or abilities around as well.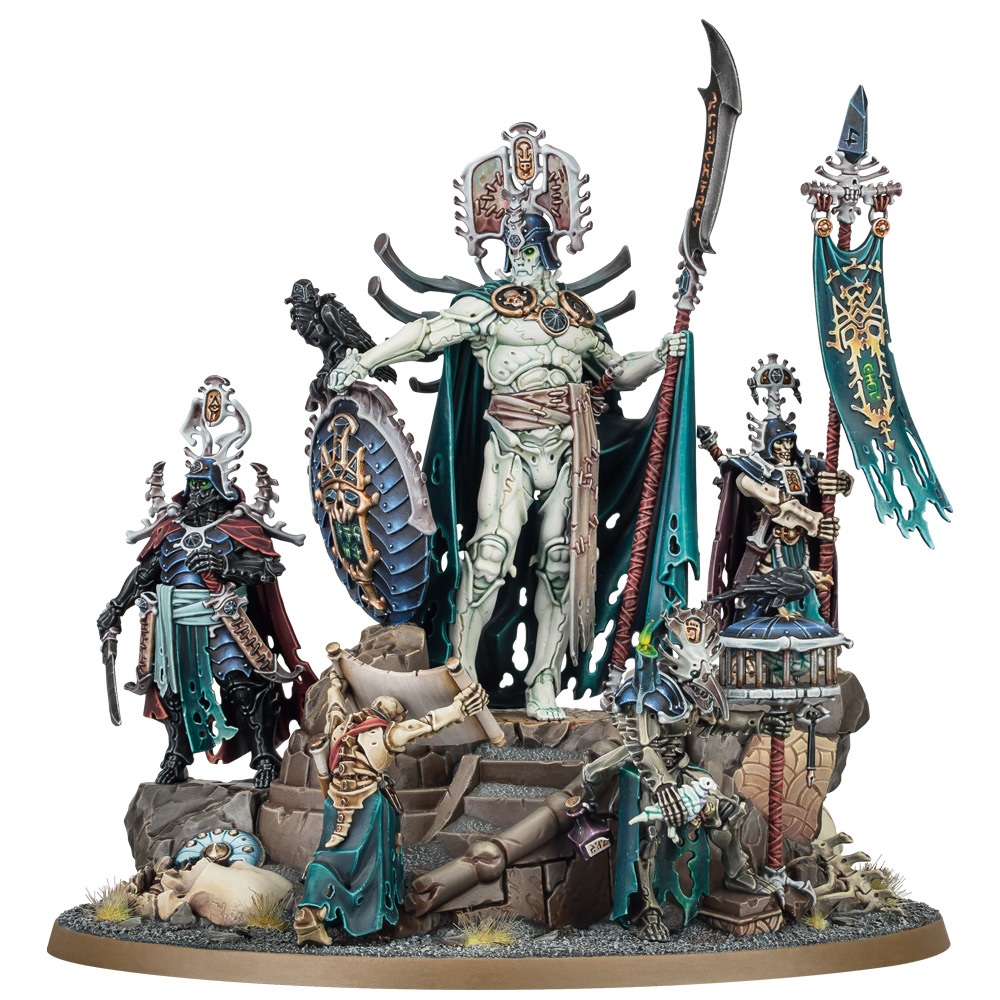 One last thing about Karakros – the rumors about him functioning like a "mini-boss" fight with with multiple stages to chew through is 100% accurate.
"Katakros himself changes as he takes wounds, starting as a contemptuous commander capable of drawing on the powers of several retainers and ending up as a brutal combatant in his own right. He's not so much a Hero as a mini-boss fight for your enemies!"
That's kind of cool! I just hope he doesn't get killed outright before the BIG guy gets to swing…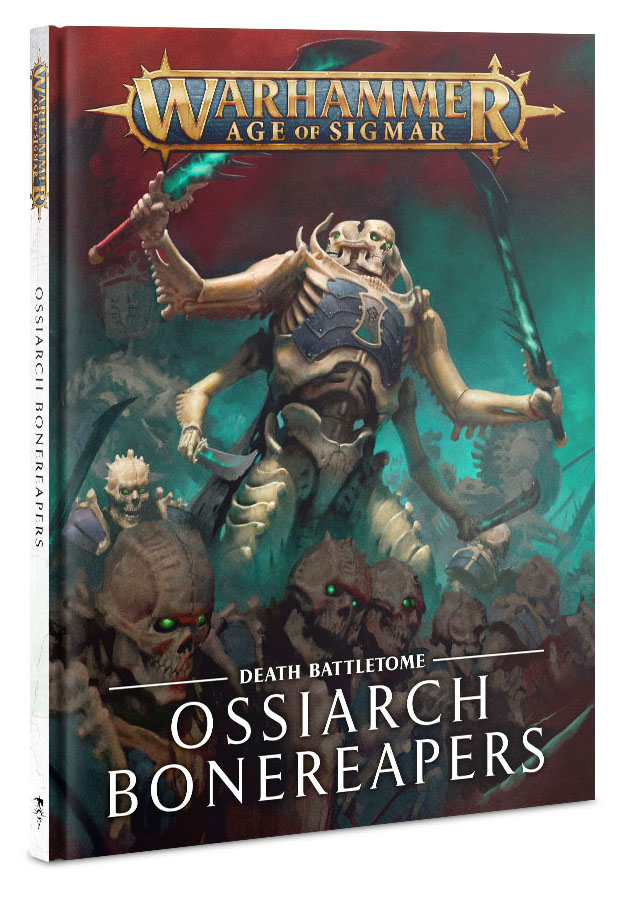 I cannot wait to get this army up and running. Time to stock up on some contrast paint and primer. It's going to be GO TIME in a few short weeks!
What do you think of the Ossiarch Bonereapers' rules?