Burn-kill your enemies quick-quick with a Plague Priest on Furnace, plague and pestilence are yours to command with this powerful hero.
When I first started Skaven back in 2008, I decided I would never play Clan Pestilens. I loved the Eshin ninja rats, the mad weaponry of Skryre, and the horrific menageries of Moulder, but the pox-ridden Plague rats just never did anything for me. Fast forward 11 years, and here I am writing a Hero Focus about the Plague Priest on Furnace, one of my favorite Skaven heroes. Funny how time and awesome rules can change one's mind.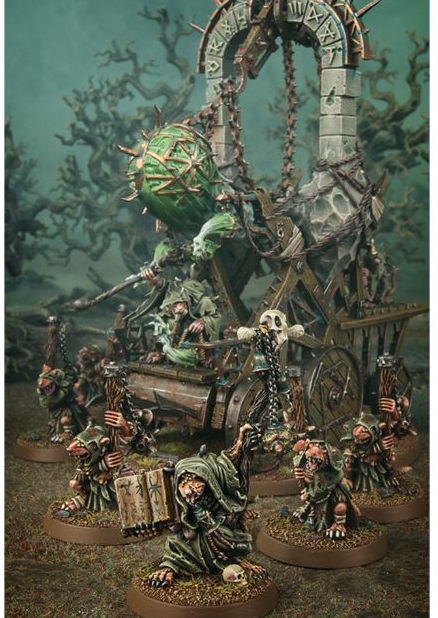 As expected of a massive war machine, the Plague furnace is pretty beefy. It has 13 wounds, the magic number for Skaven, and a 4+ save. This is pretty good on it's own, but the Furnace also has the blessings of the Skaven's verminous god, giving it a 5+ FnP save to ignore wounds and mortal wounds. As if all that wasn't enough, since the Plague Furnace isn't listed as a monster, enemies still suffer a -1 to shoot at it while it is within 3" of a friendly unit (which it always should be) and since it also has the Skaven universal rule Lead from the Back, this extends to melee as well.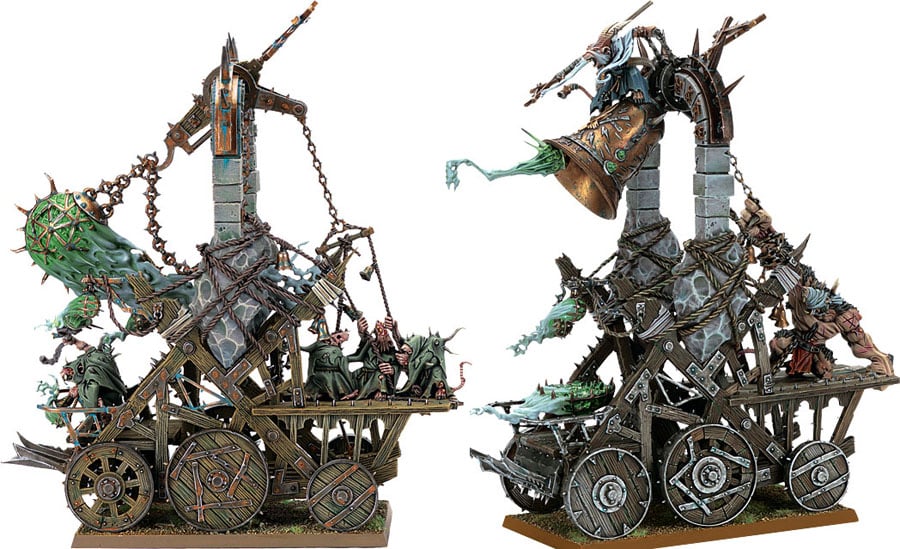 Like the Screaming Bell, the Plague Furnace must be pushed into battle, so keeping a big unit nearby is essential. It only moves 6", so it will be fairly easy to keep up with, and you'll definitely want to keep a large unit close anyway to take advantage of all the furnace's buffs. In combat, the Priest and his holy death altar bring a whole lot of pain. Chief among these is the massive Great Plague Censer that swings over the priest's head and can be flung into enemy units like a wrecking ball.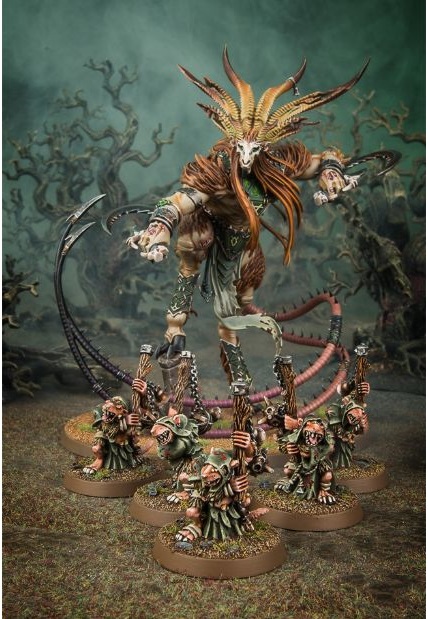 You don't roll an attack for this one, but rather pick an enemy within 3" and roll a d6. On a 2+, and assuming the Furnace is at full strength, the chosen unit suffers d3+4 mortal wounds, deteriorating as the Furnace takes damage. The priest can also smack his foes with his Warpstone-tipped Staff, giving him one attack that hits on a 4+, wounds on a 3+, and deals d3 damage with a rend of -1. This isn't much by itself, but the Priest brings a ton of other tricks with him as well. His Plague Monk attendants can attack with their Foetid Blades, giving them 6 attacks that hit and wound on a 4+ and deal 1 damage, so nothing phenomenal but there's a saying about throwing mud at a wall.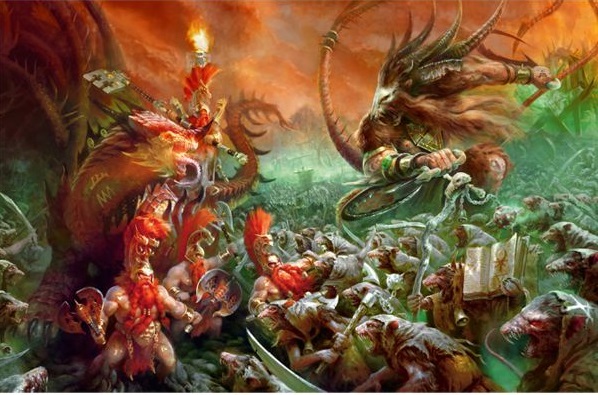 Finally, the Furnace itself can ram into enemies with its Rusty Spikes, getting d6 (or 2d6 on a charge) attacks that start hitting on a 2+ at full strength and deteriorate, wound on a 3+, and do 1 damage with a rend of -1. And after all that violence is finished, at the end of combat, the noxious fumes wafting out of the censer can damage the enemy. For EVERY unit within 3", friend or foe, roll a d6 and deal a mortal wound on a 4+ or d3 mortal wounds on a 6+.
This could backfire rather spectacularly but a) that's kind of the Skaven way and b) it has no effect on Pestilens units, so if Plague Monks are pushing this guy into battle (and frankly they should be) you've got nothing to worry about.
The Plague furnace is a spectacular support piece, and can go a long way in buffing the unit that pushes it into combat. First and foremost, being an Altar of the Horned Rat means that all Skaven units wholly within 13" are entirely immune to battleshock. In a low Bravery army like Skaven, this ability is KEY, and will keep your plague rats in the fight long after they reasonably should be.
Second, you have the Noxious Prayers, two abilities to buff up nearby units. You can only use one per turn, so make sure you choose wisely. Both are successful on a 3+, though on a 1 the Furnace does suffer a mortal wound, but it wouldn't be Skaven without a little risk.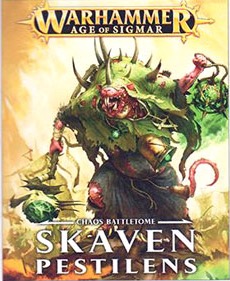 The first, Filth-Filth, allows the target unit to re-roll wound rolls for all attacks until your next hero phase. This is a great way to be doubly sure that your monks secure the kill, since they only wound on a 4+, or helping the stronger Censer Bearers delete whatever you point them at. The second, and imho better, prayer is Rabid-Rabid, which adds one to the attacks of all weapons wielded by the target unit. This is absolutely insane on a unit of Plague monks, who could conceivably get 7 attacks EACH if kitted correctly. In a unit of 30, that is a devastating tidal wave of attacks, and combined with the various other rules that Plague monks get, this will turn a mid-tier unit into a death star very quickly.
If you're feeling particularly devious, you can also equip your Priest with the Liber Bubonicus. This will allow him to not only use the more aggressive Plague Prayers from the footslogging priest, but will allow him to use BOTH in the same turn! (Of note: this ruling is a bit in contention, so take it with a grain of warpstone, but RAW this is how it works, and it's insane). This will add some extra punch to an already punchy model, and could possible turn the tide in some important engagements.
What do you think of the Plague Furnace?