Living Spells are an enduring side effect of the powerful magical cataclysm that ended the Last War–these sentient spells are deadly. See for yourself.
Eberron is a world recovering from catastrophe. Wether that's the catastrophe of the industrialization of magic or the devastating war is up to you to determine in your games. But Living Spells are a haunting reminder of the devastation that was unleashed on what is now called the Mournland at the end of the Last War. These are an allegory for the unintended consequences of war and how even the best intentioned technological advancements can spiral out of control in ways you never intended.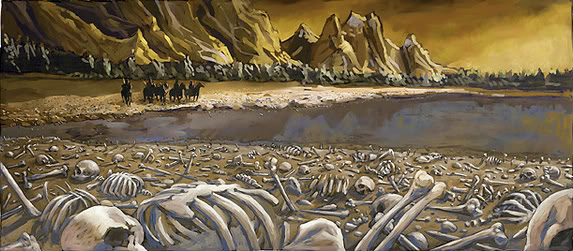 The blast that created the Mournland is basically an atomic bomb being detonated, and just like the atom bomb ushered a new era of the world in and had consequences that reach well beyond the radiation that's most commonly associated with it, Living Spells are an unintended consequence. These are spells that have become sentient, as their casters have lost control over what they expected to happen. A fireball might continue detonating, roaming the land devastating what it comes into contact with. Or a Lightning Bolt, arcing rapaciously.
If only someone would unleash a living Cure Wounds spell. But enough contemplation about what they represent, let's take a look at the spells themselves, in a page taken straight out of Eberron: Rising from the Last War, chapter 6: Friends and Foes.
via Wizards of the Coast
Here's a burning hands spell come to life, along with the flavor text that gives us the Living Spells' background:
Of all the anomalies that emerged from the magical cataclysm that created the Mournland, the appearance of living spells might be the most mysterious. In some unknown fashion, the magical energy unleashed during the Last War caused spell effects to take on sentience. A living spell appears much like a normal spell effect, except that its magical energy endures indefinitely.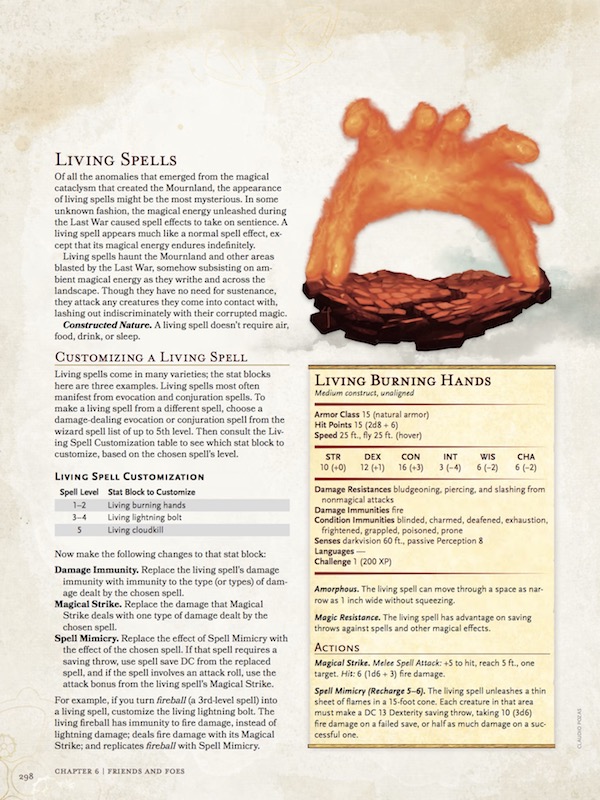 As you can see, the different spells take on a life of their own and interpret the spell they're inspired by in unusual ways. There's the magical strike, which deals some fire damage, and it can briefly mimic the spell that gave it life. The same goes for more powerful spells like Lightning Bolt or Cloudkill: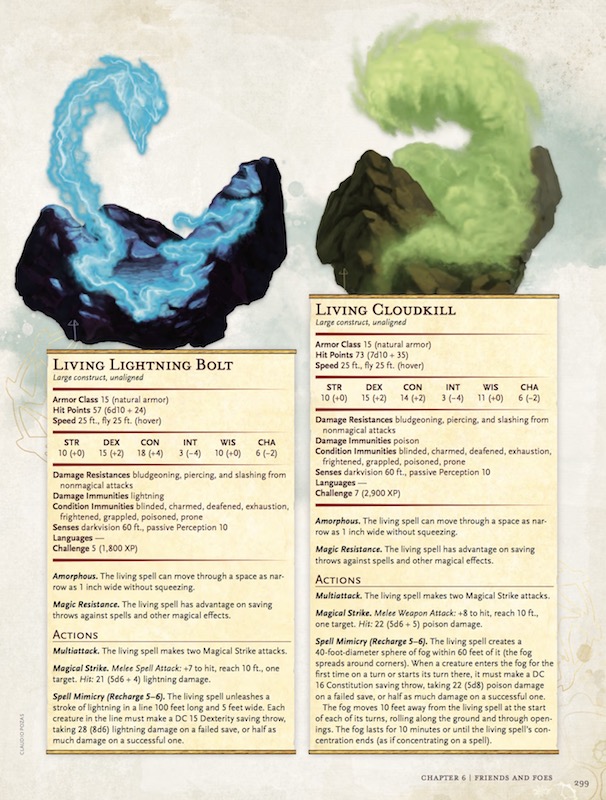 And they get deadlier as you go. 10 foot reach and a pile of energy damage on something that can fly up out of melee range is already difficult to deal with. Add to that the recharging spells that give you an unpredictable edge, and these spells can dish out some surprisingly powerful hits on a lucky turn.
If this is the caliber of monster we can expect to see in the Rising from the Last War, we're excited to see what else lies in store.
Happy Adventuring!