Come join us as we take a look at the peculiar history of one of D&D's weirdest enduring monster, finding a niche from 1st through 5th Ed: the Iron Cobra.
Flip open any edition of D&D and you'll find a list of classic monsters that feel like a part of the very tapestry of the game's existence. Orcs, goblins, bugbears, bulettes. The list goes on–and yet other monsters have also endured, enjoying an existence just out of view, but no less a part of the game. Today we're looking at one such monster. These have featured in every edition, and it's pretty easy to see why: drawing inspiration from the strange mechanical contraptions of pulp fantasy and hunter killers out of Dune, the Iron Cobra sounds as much like a wrestling move as it does a monster.
But these magical constructs have been a part of the game since 1981, when they were introduced to the world in the Fiend Folio where they are credited to Phil Masters, who went on to write for GURPS and Ars Magica. But even for first edition, the Iron Cobra was a strange entry. With a lavish background and a set of powers that made them formidable foes, these unassuming constructs represent a powerful threat to adventurers who activate them.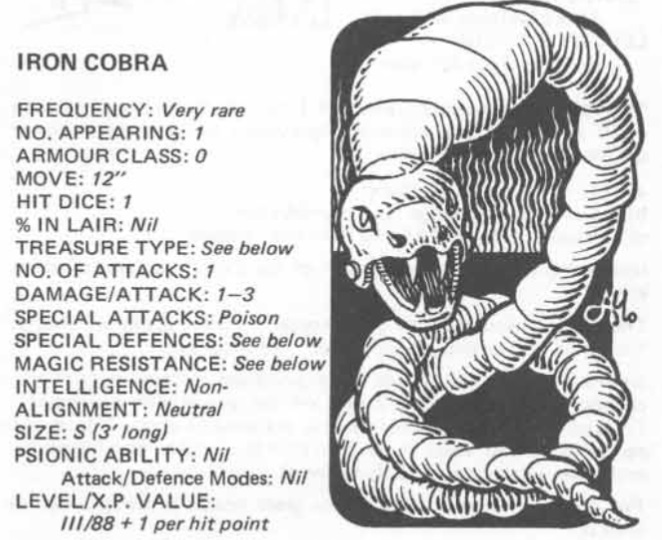 But interestingly enough, much of their threat comes from their surprising resilience. They only have a single hit die, but nonmagical weapons only deal half damage, they're immune to many common spells, and they are quiet as the grave and nigh-undetectable when they want to be. These automatons, created by either a powerful magic-user or minor deity, can hide as an 8th level thief, move in utter silence to strike from behind, nd they can inflict a deadly poison that the victim saves at -2.
It resists spells as a 12th level magic user, and can be set to track down and destroy any creature whose name is known, provided that person is within one mile. It tracks targets unerringly via their psychic vibrations, and cannot be thrown off the scent, except via a mind blank spell. But here we get the sense of these strange mechanical assassins that deliver poison or paralysis drugs and can be controlled by command words.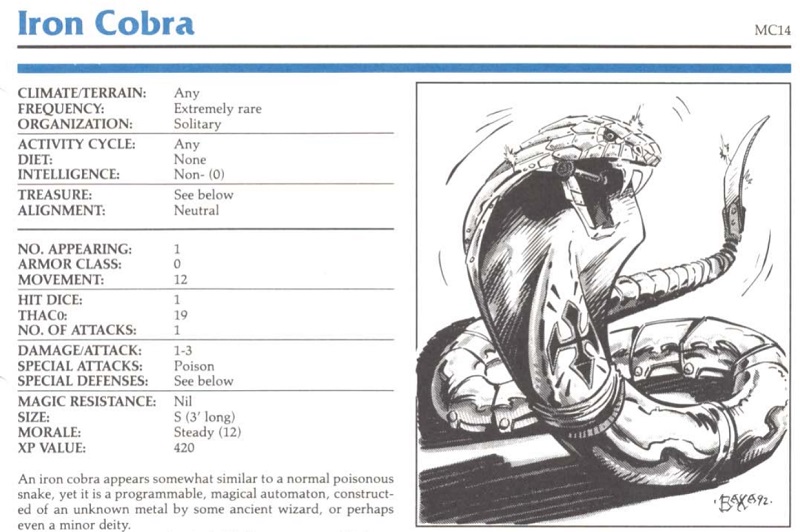 2nd Edition Iron Cobras look much more like their namesnake, with the hood of the cobra much more visible. You can see they also get a knife tail upgrade, and receive a great deal more detail in their lore and attacks. As is common with many monsters, the only big change is a codification of some of the abilities mentioned as asides–the poison can be replaced with other things, including sleep drugs with no hit dice limits, hypnotic poison, or what have you. And it regenerates its toxic cargo on its own after 24 hours.
2nd Edition Cobras also benefit from computers being a little more prevalent. They can be "programmed" which means they can be set to follow simple commands, including the aforementioned track and kill someone, attack, hide, come home, and so on. And amusingly, this is also the first place we see a classic 80s sci-fi trope in play: the ol' lightning striking electronics making it go haywire–an iron cobra struck by lightning might have its programming scrambled, and we all know how that ends…
Third edition Iron Cobras reappear once again in the Fiend Folio, becoming something of a tradition now.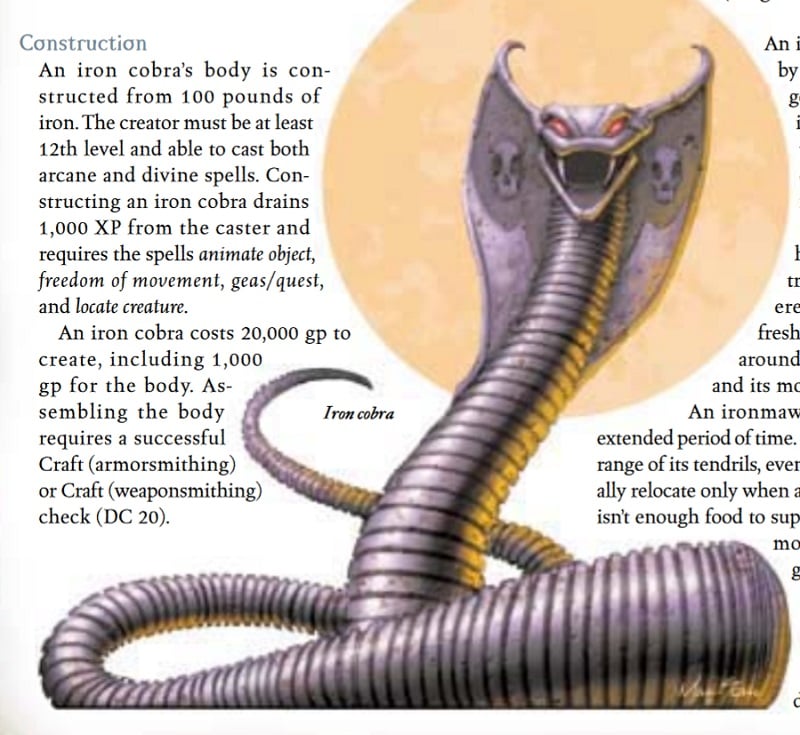 And while their artwork continues to evolve, this edition's Iron Cobra loses some of that relentless killing construct feel. It's bite and poison are much more restricted, and though it technically now causes more damage, weighing in at CR 2 and dealing only 1d6+1 damage (plus poison that damages str) it does less damage to a party overall.
Still, 3rd Edition does provide rules for creating your own, and suggests that you can swap out the poison for any type, as long as it's injected via injury, which makes for a fun request to your beleaguered DM.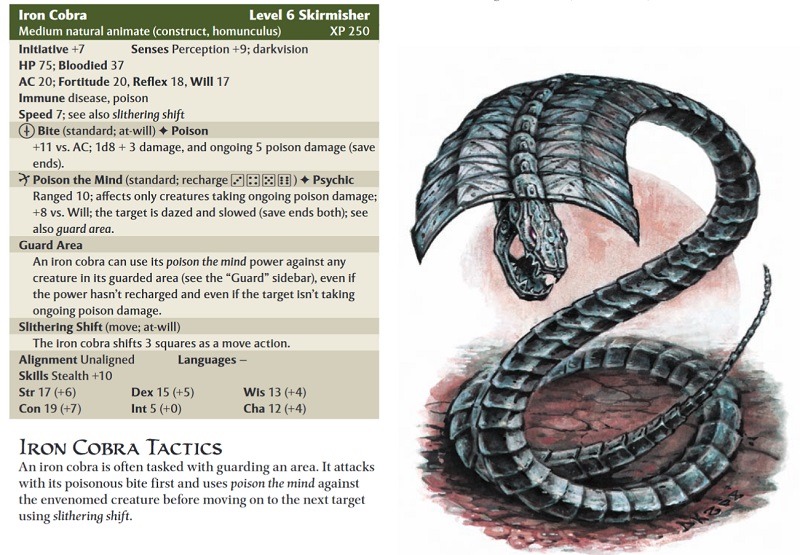 4th Edition Iron Cobras appear in the Monster Manual, breaking out of the cycle for once. As you can see, they have a significantly different role (and rules) in 4th Edition. It's included as part of the Homunculus entry, which means it can designate a special area as its 'guarded area' which lets it use some of its powers much more often.
And what powers it has. It can deal ongoing poison damage, inflict dazed AND slowed on a creature that's suffering from poison, and can shift three squares as a move action. It's a much more capable combatant, and gives DMs some interesting options when attacking.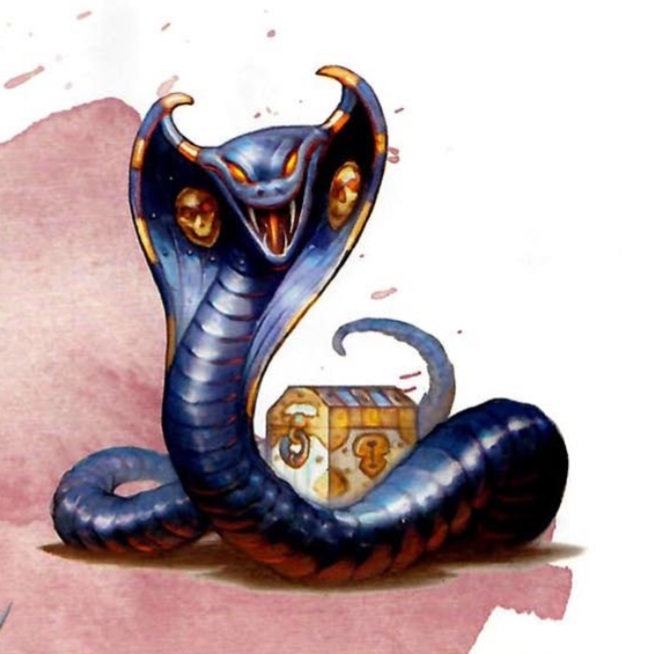 Finally the 5th Edition Iron Cobra takes the monster in a fantastic direction. It has all the same stuff you've come to know and love from an Iron Cobra: the magic resistance, the poisonous bite, the stealthiness and assassination games, and new for 5th Edition, the Iron Cobra (and other constructs) are given some powerful quirks and flaws in the form of the two new character trait tables: Clockwork Enhancements (seen below,) which add extra effects to the contstruct–with things like extra sensors or a Sturdy Frame, meaning it's very likely to become something greater than you could ever imagine.
Especially once you realize the other table is all about Clockwork Malfunctions, and includes flawed targeting, leaking lubricant, or my personal favorite: Imprinting Loop: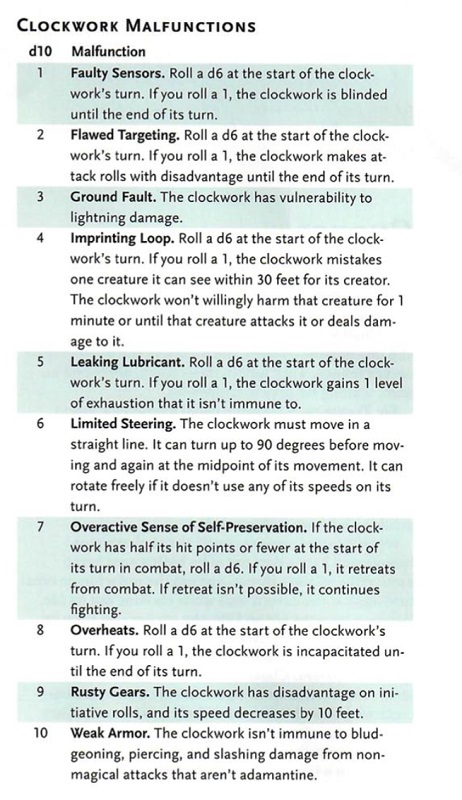 Roll 1 d6 at the start of the clockwork's turn. If you roll a 1, the clockwork mistakes one creature it can see within 30 feet for its creator, and will not willingly harm the creature designated as its "creator" for at least a minute.
---
Whatever edition you're playing, the Iron Cobra has got you covered.