In a big move from the publishing and RPG worlds, Andrews McMeel Publishing has teamed up with DriveThruRPG to make your RPGS mobile.
Go to any conference about disruption and you'll learn two things: every business is out there to make the world a better place, and the future is mobile, local, and social. Which, if usage statistics are to be believed, then yeah, more people access the internet primarily from their phones than from computers. Depending on what data you view, mobile traffic accounts for 53-67 percent of all traffic online, and it's only growing up. Mobile usage has more than tripled in the last six years.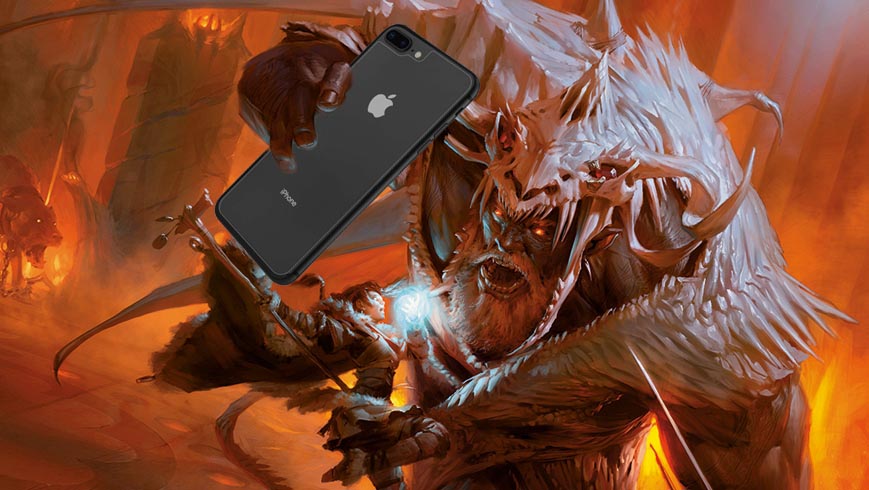 This has a lot to do with how accessible smart phones and tablets and other devices are. And as we move into the future, it feels like the RPG publishing industry is catching the wave. According to a recent announcement, DriveThruRPG has partnered with Andrews McMeel Publishing–who are responsible for the print versions of most of the weird comics you enjoy online–to develop a new, mobile format for .PDFs that will launch through DriveThruRPG, aimed at making it easier to access your favorite rules and settings from your smartphone.
via DriveThruRPG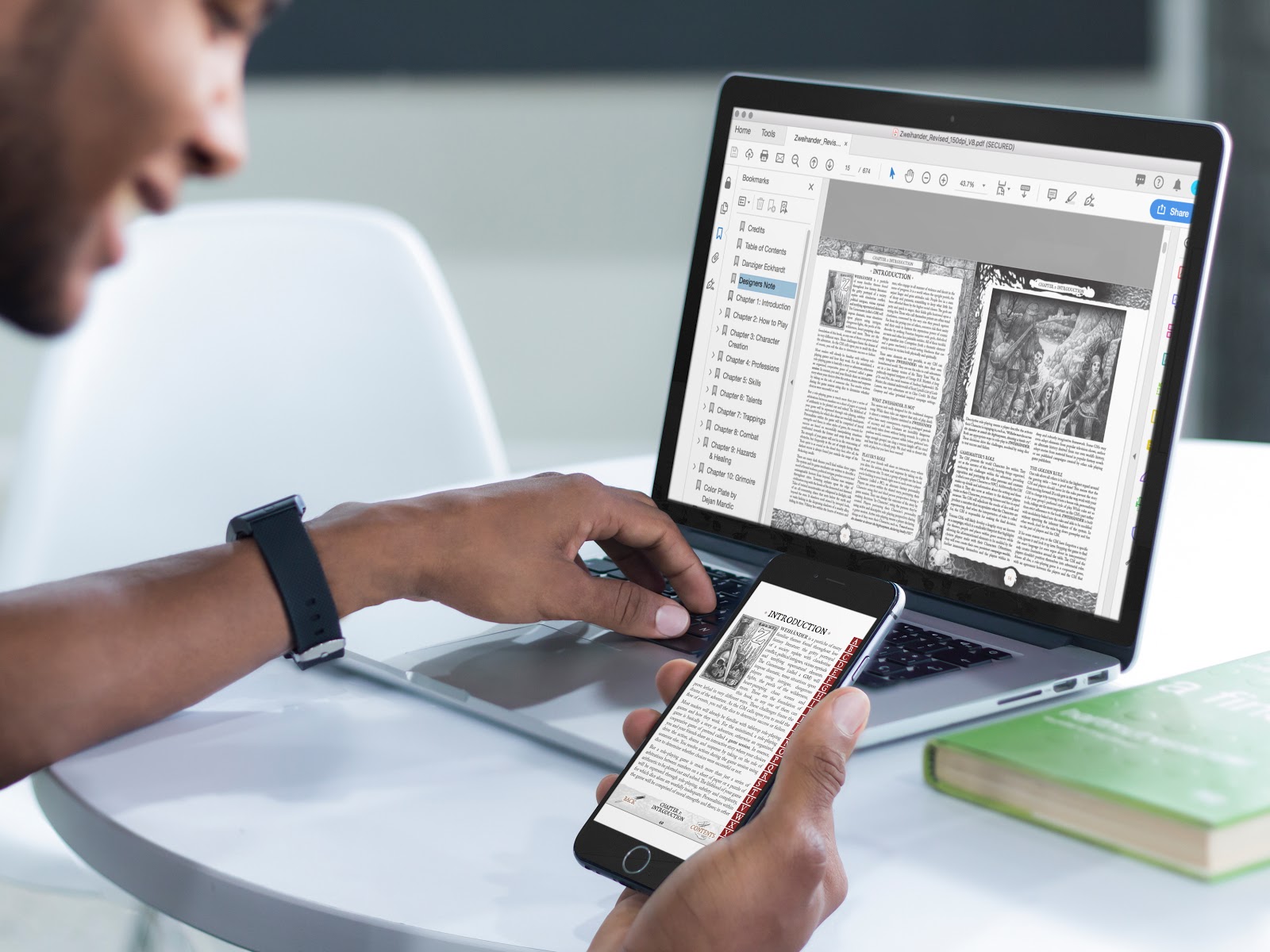 Gamers increasingly use digital PDFs of RPG products, which work well for desktop computers but make for a poor experience on phones and tablets because they do not address common user experience and accessibility challenges. This new format solves these issues by utilizing an optimized, mobile-first design.

Designed with both Android and Apple users in mind and optimized for older and newer devices, Phone PDF maintains mobile swipe functionality and includes useful features like global navigation, a history tool, interactive index and hyperlinked content throughout.
Now digging through some of the marketing speak there are two big takeaways from this announcement: these are being designed for ease-of-use on mobile devices, a challenge that some ebook readers are stepping up to as well. It seems like the big focus is on making sure it's easy to look up rules, probably aimed at character creation/management as well as making it easier for the GM to look up monsters, and the like.
At the same time, this is a big move by a traditional publisher into the RPG industry. If this partnership is a success, will it make the RPG industry more accessible? Convenience and accessibility to help encourage growth. This could be a huge boon as RPGs enjoy their surging popularity and brush with the mainstream.
At any rate, the first PDF to use this format is available for free right now–Zweihander, the grim and perilous retroclone that emulates old school Warhammer Fantasy Roleplay of the 1st and 2nd Edition variety. But get it in the new format while you can, once midnight rolls around, it turns into a pumpkin that costs you $19.99
ZWEIHANDER GRIM & PERILOUS RPG PHONE PDF: Tabletop role-playing game books are converted from print books into a Digital PDF, and then distributed on DriveThruRPG. This digital format typically references the same layout as the print book with hyperlinking, resulting in an 8.5 inch by 11 inch Digital PDF. While Digital PDFs display well on laptops, they don't suit the most common devices used around a game table – tablets and phones.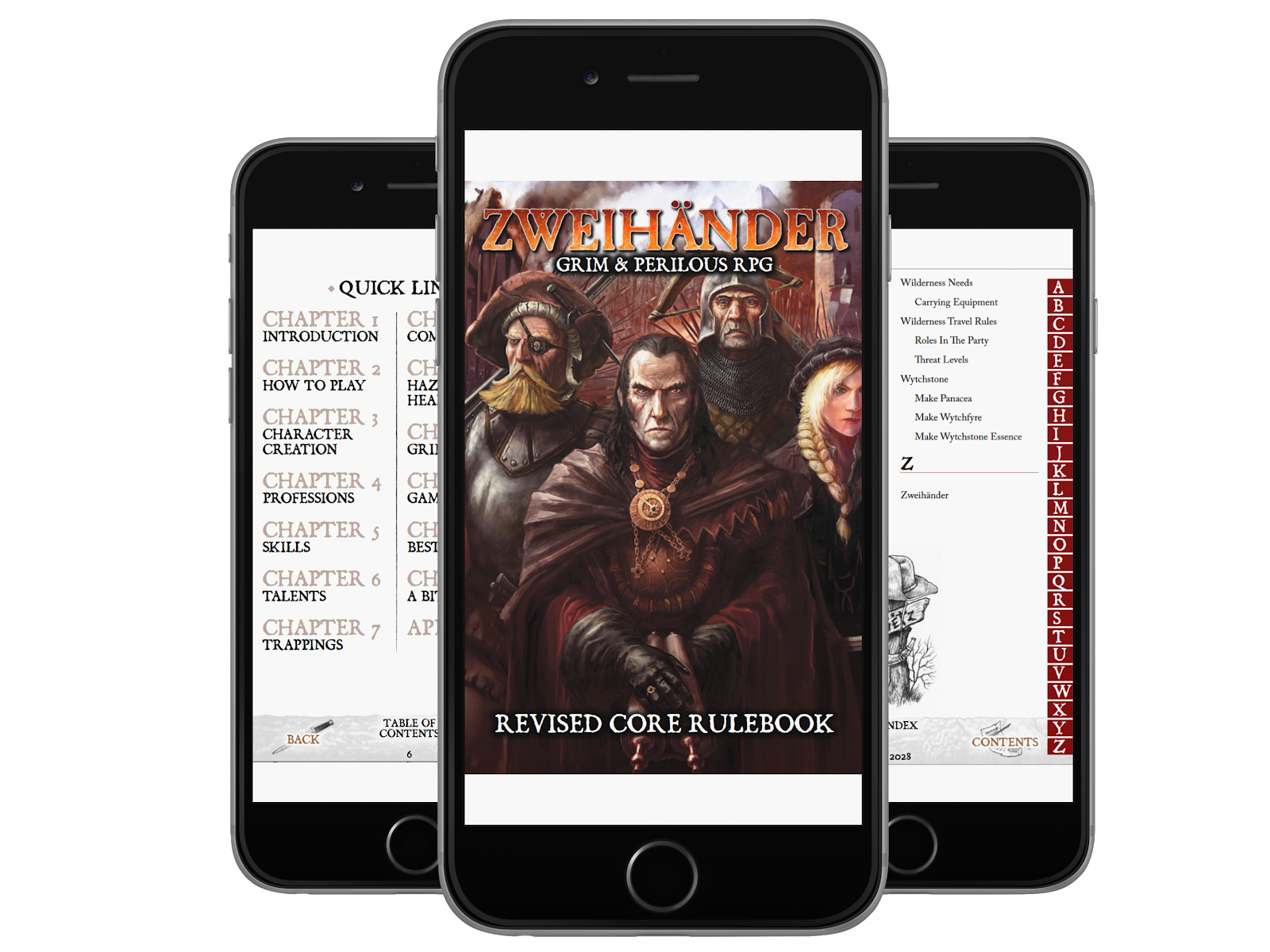 INTRODUCING THE PHONE PDF: Working with DriveThruRPG, Andrews McMeel Publishing is proud to announce a new format for digital tabletop role-playing games – Phone PDFs. Revolutionizing the way tabletop role-playing gamers use PDFs at the game table, this new format is optimized for the mobile user. Phone PDF side-steps the frustration of pinch, pan and zoom of traditional Digital PDFs on mobile devices by utilizing a mobile-first design. The Phone PDF is an excellent resource for users who prefer their mobile device at the game table, don't have the book on-hand to look up an important game rule or are on the go.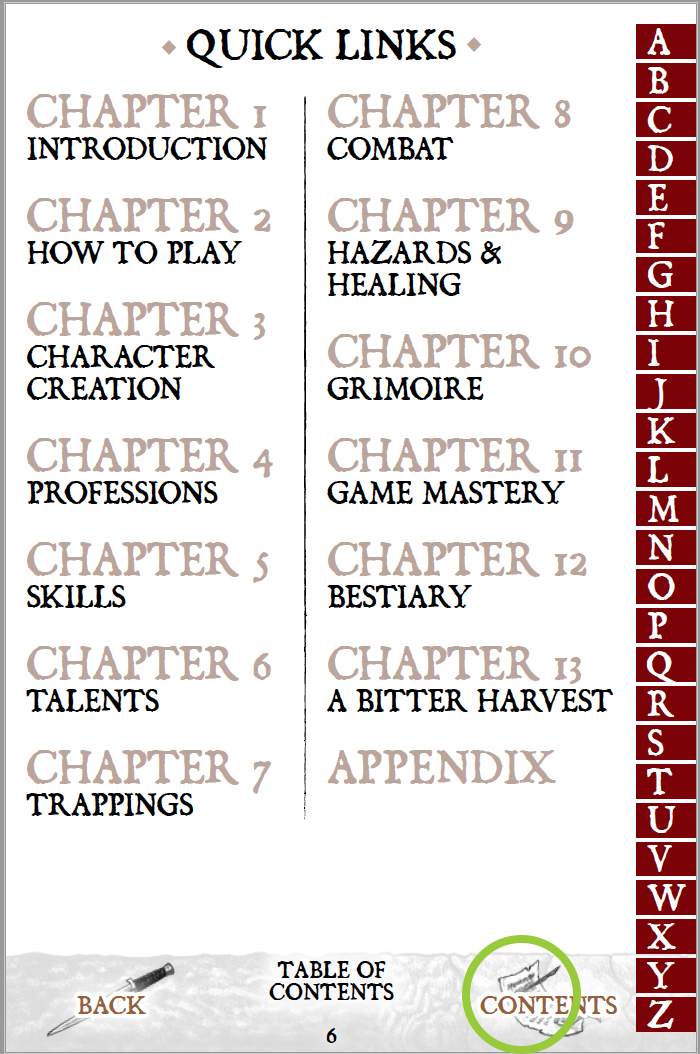 MOBILE FIRST DESIGN: Our Phone PDF utilizes a mobile-first UX. This makes for a more pleasant user experience. Our Phone PDF includes a navigation footer. This tool persists across the entire experience, allowing you to quickly access the table of contents (ToC). By clicking on contents, it will take you to quick links: a standard ToC you'd normally see in a print book or Digital PDF. Every quick link takes a user deeper into the Phone PDF, revealing all of the headers and hyperlinked content within.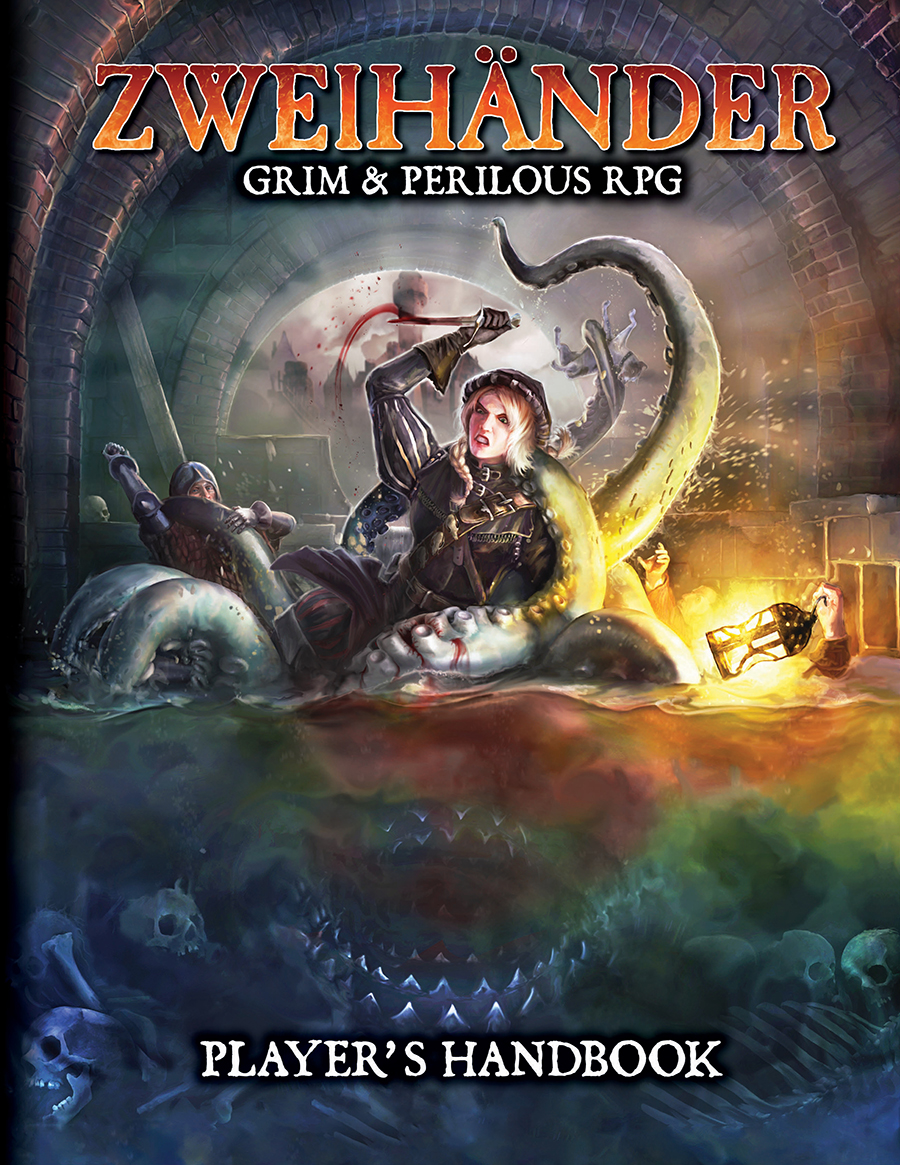 WELCOME TO GRIM & PERILOUS GAMING Winner of the ENnie gold Best Game and Product of the Year at Gen Con 2018, featured on Forbes, ranked one of the best-selling fantasy tabletop role-playing games at DriveThruRPG and having moved over 90,000 copies worldwide, ZWEIHÄNDER Grim & Perilous RPG is a bloodier, grimmer and grittier version of classical tabletop role-playing games. This revised PDF edition is published in celebration with Andrews McMeel Publishing, and features a refreshed layout, new artwork, rules clarifications, color plates by Dejan Mandic and errata. ZWEIHÄNDER Grim & Perilous RPG is a game where your characters will:

Live in a gritty, 'realistic' fantasy world
Make morally grey decisions & enact vicious reprisals
Uncover insidious plots & political intrigue
Take part in heart-pumping chase scenes
Venture into the wilderness & survive its perils
Desperately fight in clandestine & open field combat
Defend themselves from injuries, madness & mutations
Encounter sanity-blasting creatures & their minions

Using thePowered By ZWEIHÄNDER d100 game engine, you will create grim characters, write perilous adventures and build your own low fantasy & dark fantasy campaigns. These rules are a perfect fit for Renaissance and medieval-styled adventures, too. You can also use this book to create your own homebrewed worlds, whether inspired by the works of Andrzej Sapkowski's The Witcher, George R.R. Martin's Game of Thrones, Glen Cook's Black Company, Myke Cole's The Armored Saint, Robert E. Howard's Solomon Kane, Scott Lynch's Gentleman Bastardseries or other 'grimdark'-inspired media. This all-in-one game includes most of what you need to play: a character creation guide, game mastery rules and a bestiary brimming with creatures both fair & foul. All that's left are a few friends, pencils and a handful of dice. ZWEIHÄNDER Grim & Perilous RPG awaits, and the fate of your grim & perilous tale hangs in the balance!
Happy Adventuring!