You were too late to stop the ritual – but you've still got time to deal with the consequences before the world completely ends. Check out this preview for Arkham Horror: Final Hour!
An Ancient One and it's minions have succeeded in bringing doom to the world…or so they think! There is one last chance for you to stop the catastrophe from destroying everything you hold dear. In Arkham Horror: Final Hour, you've got 8 rounds to reserves the ritual and it's up to your wits (and some luck) to do it! Today, we're taking a closer look at the Action Phase for the Investigators to see how they might shut down this threat from beyond.

"The first half of each round is the Action Phase, during which your investigators run across Miskatonic University, fight monsters, and investigate clues while enemies attempt to attack and overrun the campus. "
On the investigator's turn, players will have the opportunity to resolve 4 (and only 4) action cards each round – regardless of how many players are actually in the game. This keeps things pretty tense no matter how many investigators are involved. It also means that cooperation is going to be necessary for you all to succeed.
Action Cards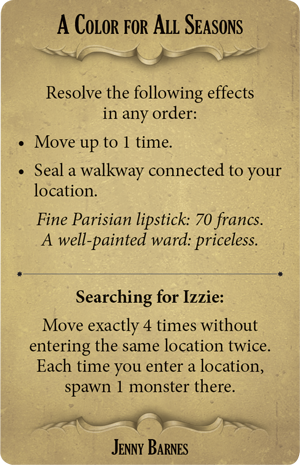 Each action card is divided into two parts: the top effect which always produces positive effects, perhaps allowing you to fight monsters or protect a campus location by sealing a walkway leading to it, and the bottom effect which usually allows you to investigate and discover helpful items and information that will help you win the game later, but also leaves the monsters free to roam about the campus and attack your allies.
When you are playing, you'll draw the top card of your Action Deck, read it, and then place it face down. Then each player will choose a card from their Priority Hand. These Priority Cards are numbered 1-30 and they help determine the order in which the actions are resolved. If you need to complete your action with a high priority, play a lower numbered card. If you're not too concerned about your action, you might choose a higher number card.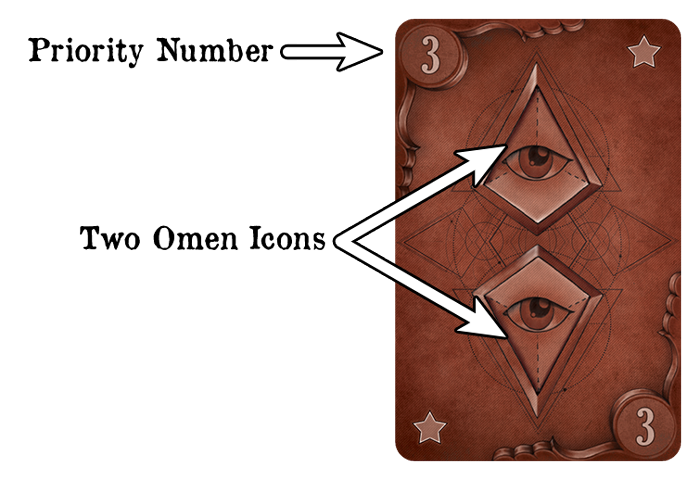 Here's the catch – the two lowest numbers will resolve the TOP part of their action cards while the two higher numbered cards will resolve the bottom action. And for fun, you cannot communicate with your team during the Priority card step. I hope you trust your team…

The Priority cards also have those "Omen Icons" – these icons are typically found on lower and higher value cards. They can punish your investigators during the Ancient One Phase – the more Omen cards are out there, the more powerful your adversary can become. Are you will to risk making them more powerful for the certainty of going first/last?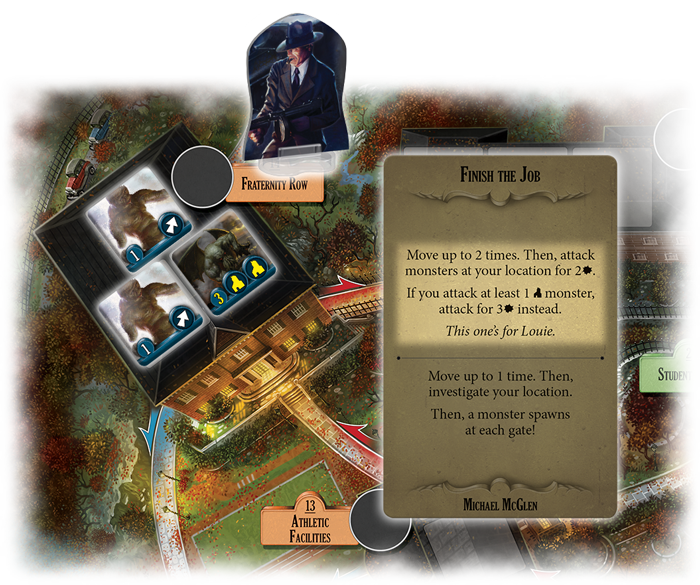 The two most basic actions (besides the self-explanatory 'Move' Action) are Fighting and Investigating. Fighting helps you keep the monster population down and manageable. Investigating is what you'll do to find clues around campus. It's going to take a mix of both for success. Why? Well with too many monsters, you'll be overrun and be unable to stay alive long enough to stop the ritual. But without clues, you'll have no idea how to actually STOP the ritual, even if you've killed every enemy on the board!
"To fight a monster, you distribute the number of hits indicated on your action card among the monsters in the specified location. If a monster is assigned hits equal to or exceeding the health indicated on its token, it is destroyed. And if you're very lucky, you may find an action card with an effect that instructs you to destroy a monster outright. When this happens, the monster is destroyed regardless of its health. But be sure that when you wish to take on one or more of these malicious enemies that you can stand up to and defeat them within a single encounter, for if a monster is not assigned enough hits to be destroyed, it retains its full health and you are still left in its warpath. "
So remember – if you can't finish a monster outright, it might be better to avoid it…otherwise you're hoping that someone else teams-up with you to take the monster down.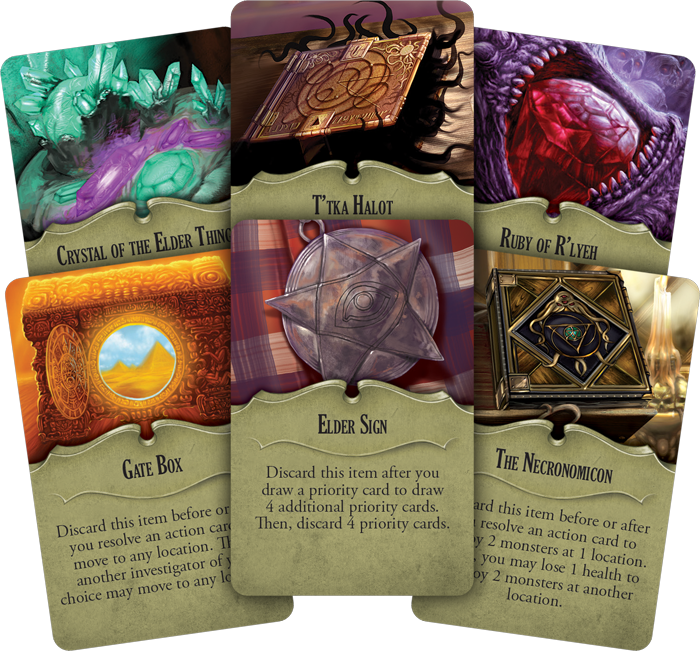 "To investigate a location, if there is a clue token in the location, you simply flip the token faceup and resolve its effect. If the clue turns out to be an item, you discard the token and draw the top card of the item deck, placing it faceup next to your action deck."
These items can be extremely useful for completing your mission. But there are clues are are perhaps even more important – key ritual icons. These icons are used to determine which other matching icons you'll need to keep to successfully stop the ritual. For more of a primer on how that step works, check out FFG's article HERE.
One other Action your Investigators might take is the 'Seal' action.
"When you seal a walkway, you place a seal token with the gold side faceup on that walkway. While a walkway cannot have more than one seal token, it prevents the location from being infested by destroying any monster that runs into it. Once this happens, the seal token is weakened and flipped to its gray side. If its gray side is already faceup when a monster makes impact, it is destroyed along with the monster."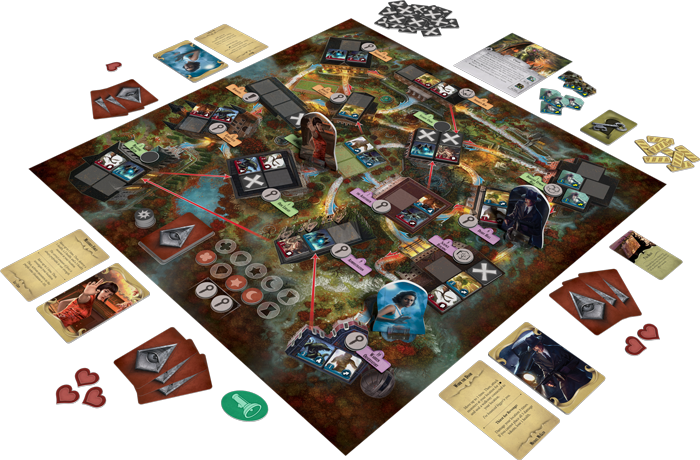 The city of Arkham needs you! Are you ready for Arkham Horror: Final Hour? Now available for Pre-order from FFG!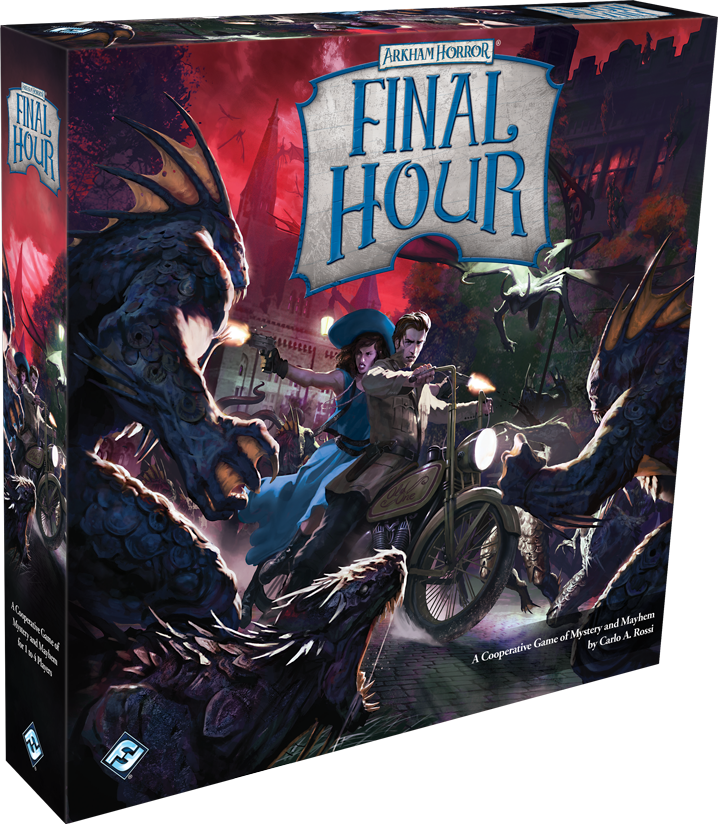 How long is the game? About an hour…