Goatboy here again and after the badass Space Marines release I got to thinking – how would I – if I was the overall rules master for GW – fix the sad Chaos Space Marines book.
With CSMs returning in Psychic Awakening 2, let't talk about the sad state of the spikey marines. Of course – I could just make them all amazing but that isn't a fix.  It is just creating a new problem (cough cough – Iron Hands/Salamanders).  So instead of just pumping them full of game breaking rules – let's think of some ways to make them unique and fun to play with and against.  I like the idea of pushing an army to all Chaos Space Marines in order to gain some rules so will build this out with that in mind.

CSM Spikey Doctrines
I won't copy directly the Space Marines ways as while I like the Doctrine system – I think I have a better idea to make it nice and Chaos Space Marine like.  Will start at the top – a general set of rules for all the spikey armor bros out there.  I thought of an interesting idea that wouldn't just be Doctrines 2.0 – instead let's utilize some fluffy ideas to generate decent rules.  I thought of a fun way to do this is to make a restriction into something powerful.  Let's first say – if your army is lead by a Chaos Lord you gain the following rule – the ability to declare a Declaration of Hate.  These would be like the Doctrines except instead of being able to shift them turn to turn – you declare how you army wants to work and that is the bonus it will get.  It will activate some extra rules/stratagems as well as match up specifically to certain Legions as well.  Here are some ideas I had.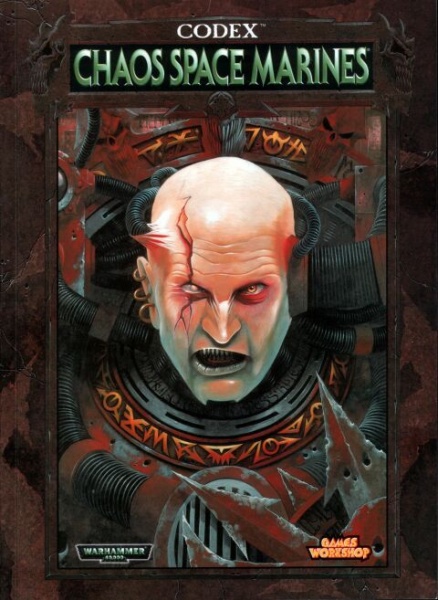 Declaration of Hate – First to the Fight.
All Hereticus Adeptus units in the army gain +1 to advance and charge rolls.
Declaration of Hate – Blood for the Blood God!
All Khorne Units (Those aligned with Khorne) on an unmodified roll of 6 to hit may immediately make another attack.  These additional attacks do not gain another hit on an unmodified roll of a 6.
Declaration of Hate – Blessed is our Father's Gifts.
All Nurgle Units (Those aligned with Nurgle) gain a 6+ Feel No Pain.  If they have an additional rule that grants the something similar add a +1 to that roll.
Declaration of Hate – Grind the Fools to Dust!
All Hereticus Adeptus units in the army gain +1 to hit with any Heavy Weapons.
Declaration of Hate – Embrace the Pain!
All Slaanesh Units (Those aligned with Slaanesh) gain the ability to advance and  Charge.  If they already have this rule they gain +1 Attack on top of any other extra attacks gained.
Declaration of Hate – Open your Third Eye!
All Tzeentch Units (Those aligned with Tzeentch) gain +1 to any psychic casting/deny the witch.
You can see where my thoughts are for these.  These would be things you declared before battle and lasting the entire game.  I am sure we could have some Chaos Characters having the ability to declare two or even  change during the game (Abbadon).  These would give the feeling of changing your army game to game and allow the armies to generate other rules and combinations based off how you declared your fighting style.  You could see some Stratagems like – if you declare Blood for the Blood God you might get a cheaper fight twice option – or some kind of thing like Rain of Blood.  These types of things could really make for a much more interesting game as you can customize your army and not feel like their are just an evil copy of Space Marines.

Onto the Legions
From there I would still think each book should get the major update of all options gaining the Legion's abilities.  I think they are one of the last armies beyond the older Space Marine "Chapters" left who don't gain all their rules.  I don't think having Chaos Daemon Engines getting the rules would break the game.  Beyond some things that would most likely get tweaked (Alpha Legion) it would be pretty awesome to see some of those Daemon Engines gain some cool rules.  I also think Daemon Engines would just be able to move and fire – use some rule like Machine Spirt or call it Daemonic Machine Spirit.  Let's look at some ways we could amp up a few Legions with an extra rule and some kind of Declaration of Hate match up.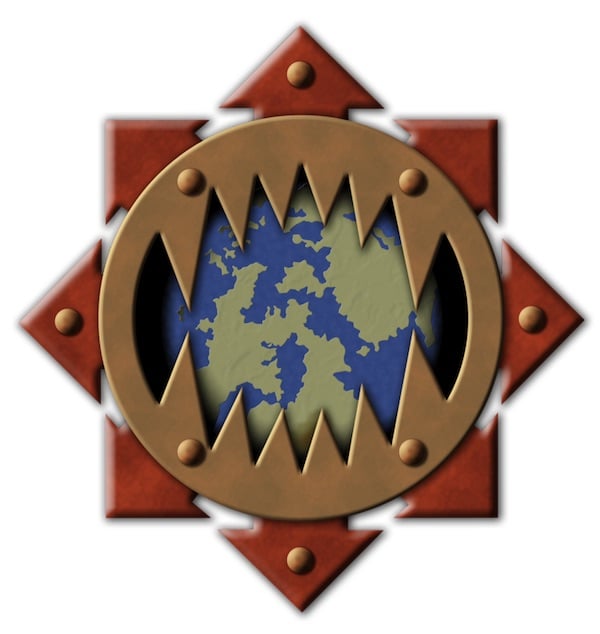 Legion: World Eaters
What do they want to do? Get into the fight as fast as they can.  They don't want to shoot would rather kill the enemy in brutal close combat.  Current rule is just +1 to attacks if they completed a charge.  It fits the army – but we should just amp them up.
New Legion Traits
All World Eaters units must be Mark of Khorne.  All World Eater Legion units gain +1 to their attack profile and if they completed a Charge gain +1 to their wound rolls for that phase.  If Declaration of Hate – Blood for the Blood God! is declared then all units gain the ability of any modified roll of a 6 to hit also generates an automation Wound.
The idea here is if they get into combat they will kill you.  They should obliterate whoever they hit and continue to wrecking ball throw things as best as they can.  They only truly activate when they start to charge so it really pushes you to always be charging, engaging, and doing the good Khorne work of chopping off heads.
Legion: Renegade Legions
The Renegade legions are really designed to be like the Successor chapters of Chaos Space Marines.  They shouldn't be nearly as devoted as some of the older legions and thus some of their rules should represent that.  I would say they couldn't use a Specific God Marked Declaration of Hate and most likely some Stratagem limitations.  But I do think they should all gain the ability to Advance and Charge with their current Legion specific rule set.  The Red Corsairs would need something else to add on top of it.  It might be that they can change they can Declare another Declaration during the game due to the nature of them being a lot more "controlled" versus some of the other god marked Renegade Chapters.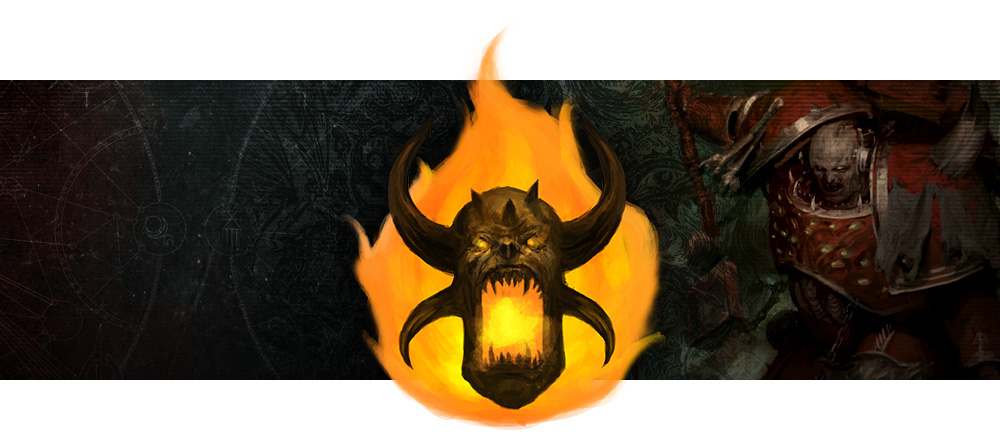 Legion: Word Bearers
Man these guys were always shown to be the ultimate bad guy – but do not work on the table top.  So my thought would be to keep the whole Summoning thing – but mix in the ability to take a Patrol of all One Marked Daemons and that batch of daemons gain the Hereticus Adeptus Keyword as well as Legion Word Bearers.  This would let you build a really unique army that interacted together and would be interesting on the table top.  It would also let them be unique in how they work – which could make for a really cool, fluffy, and maybe good army.  Throw in a few Stratagems that work for them and their Daemon Friends and we got something to cook with.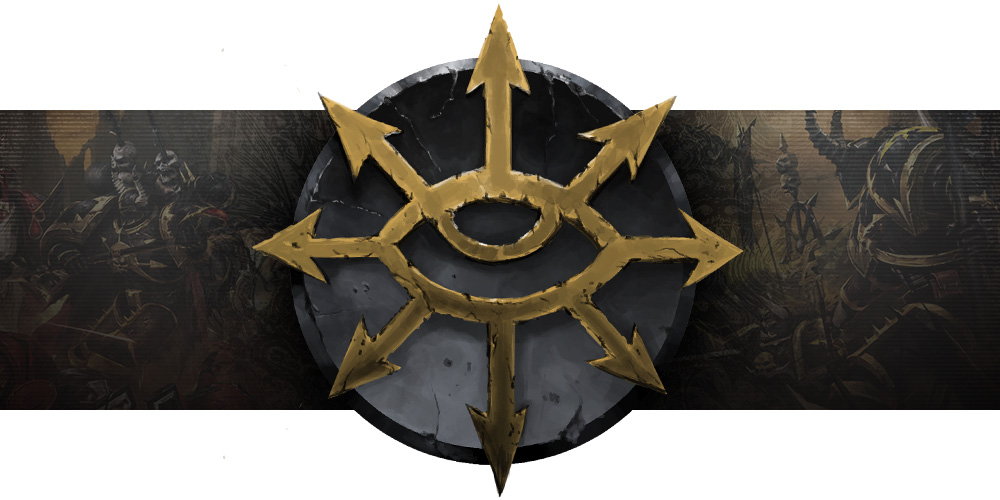 I won't go into every one as it would be neat to see what everyone else thinks of.  A few small tweaks, some rules to make play the army between games interesting, and just small power jumps would help make this army sing in a way that is different and unique from their loyalest stick in the mud brothers.
~Do you think my thoughts are too good for Chaos Space Marines?  Would this be too much for the game right now?