Howdy folks, come take a look at some of our favorite fan art and RPG minis on social media. Here's what the community is working on!

Let's start things off right with this amazing Tiefling by Rachel Denton for an all-Tiefling game:
We're going live with our all Tiefling game Final Rights over on the @wearenerdsmith channel! Mercy has just discovered her devil ancestor and that they want to devour all of their descendants so there's that…#dnd #dnd5e #tieflinghttps://t.co/EUhza7WFb5 pic.twitter.com/XCIzG4btbr

— Rachel Denton ? (@Tallinier) October 8, 2019
Here's the full version: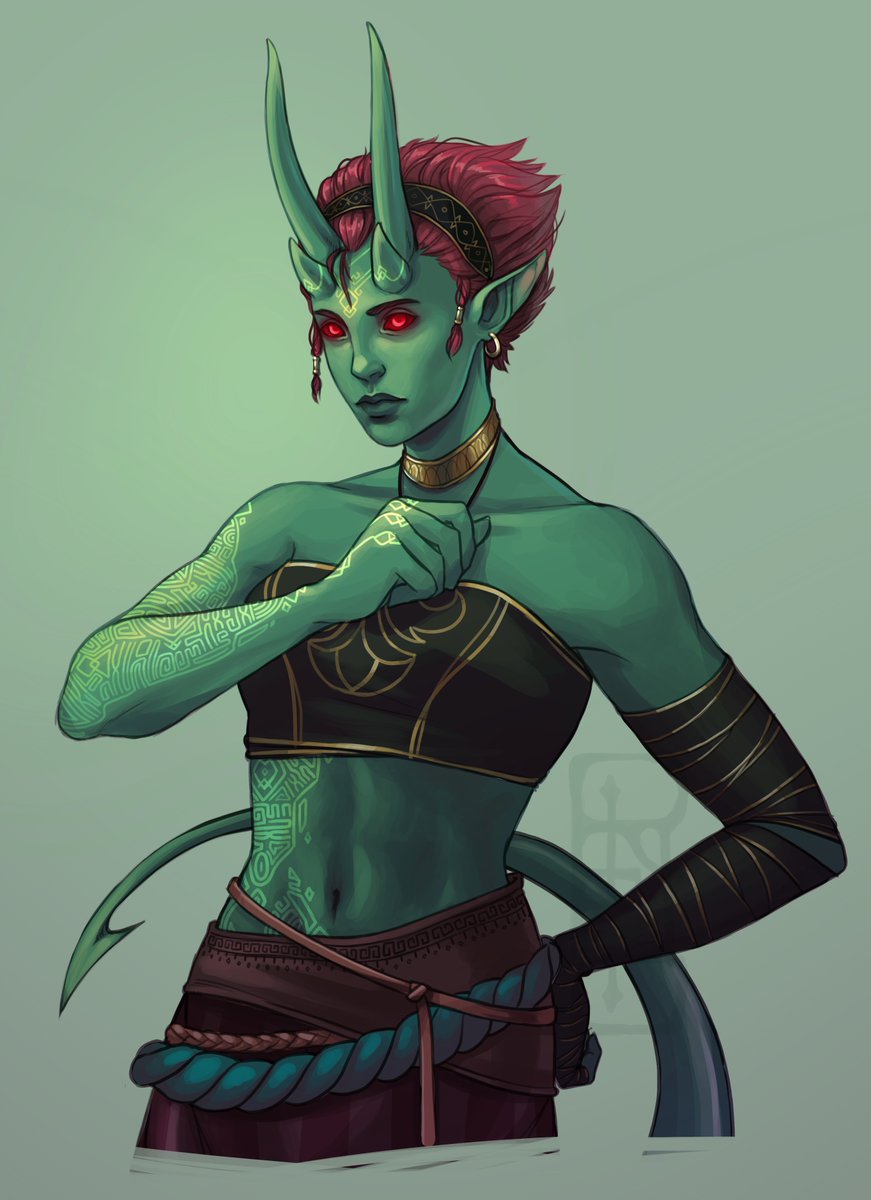 Now let's shake things up with a little bit of pixel art, reminding you to make sure you have the right kind of book-ends on your shelf, because your spellbook might go walkabout otherwise…
Day 4 – Spell book #octobit #pixelart #ドット絵#dnd #dungeonsanddragons #animation #spellbook pic.twitter.com/l5bGD2dXdS

— Javier Guerrero ? (@Xavier_Gd) October 10, 2019
While we're looking at inanimate objects, here's a gorgeous painting that shows a more realistic interpretation of D&D:
Very happy to show you the nerdiest painting I've ever done! Please look at it! Thank you ❤️

I'm always open for #commissions ?‍♀️? DM or email [email protected] #DungeonsAndDragons #DnD #D20 #Beholder #DnD5e #miniatures pic.twitter.com/lEXwbHq6CA

— LadyLoth [Commissions: Open] (@LadyLothArt) October 9, 2019
Halloween is around the corner, and that means sometimes things are dark, like in this piece by Dromas_Ardeola:
⚠️TW: gore, body horror ⚠️

love me some dark!Caduceus >:) #criticalrolefanart pic.twitter.com/gjhKW2aW4g

— бананчик, идите в жж (@dromas_ardeola) October 10, 2019
Sometimes they're broody:
Hot boy ?#Criticalrole #criticalrolefanart pic.twitter.com/eCRpM5ODB0

— ?CaioOoOoOoH Santos ? (@BlackSalander) October 10, 2019
But some of these pieces can be a little bit batty:
#inktoberday3 : A Caleb-Bat, in keeping with the tone of my spooky #Inktober theme. Oh, and bread!#criticalrolefanart #critrolefanart #calebwidowgast #ilovebread pic.twitter.com/ST91WaNuC7

— Valcalo (@Valcalo_Tweets) October 4, 2019
Sorry about that last one folks. By way of an apology, here is one of the absolute best Tabaxi pictures I've ever seen:
i don't think i ever showed Fiz here…
she's a bard/barbarian (a bardbarian) tabaxi, a very good girl…#DnD pic.twitter.com/Mn4StMKNVh

— ? boodews ? @ D&D (@baydews) October 10, 2019
And here's a half-orc who's just having a good time at sunset:
Just a fun little half-orc cutie. #dnd pic.twitter.com/fdgYik7ul5

— dani hartel (@DaniHartel) October 10, 2019
It's the weekend, so stay smart folks…but not too smart or you'll attract attention from this very good boy:
"I is for Intellect Devourer" It was always weird to me that these brain-dogs always had thick paws jutting out of their infected brains. So I threw in some dendrite feet and a wagging brain-stem tail instead. #inktober #Inktoberday9 #DnD pic.twitter.com/c0wa1QMsKU

— JessJackdaw (@JessicaBurnsArt) October 9, 2019
Look at it's wagging little brain-stem tail. Who's a smart little devourer?
If you saw something you liked, be sure to follow the artist on Instagram, Twitter, or Facebook. Want to share what you're working on? Drop it in the comments – we'd love to see what you're creating.