Howdy folks, come take a look at some of our favorite fan art and RPG minis on social media. Here's what the community is working on!

Let's start things off right with this Tiefling, glamming it up in style:
Octave Chord. Tiefling College of Glamour bard pic.twitter.com/pq8Avohe5h

— Maria Michelle (@NerdyTurtly) October 17, 2019
Meanwhile, this fantastic Kenku portrait is for the birds in the best way:
Birb commission done. Handsome lad. ? Also, I've just discovered the smudge brushes in photoshop. .
.
.#artcommission #kenku #dndart #dnd #dnd5e #pathfinder #humblewood #fanart #characterart #rennaissance #portraitzeichnung #portraitpractice #portraitcommission #painterly #… pic.twitter.com/K2tJ3z1Dwo

— Henriette Boldt (@henridoesart) October 17, 2019
Onyx Ragdoll has another take on Tieflings, check out this hornless variant:
A new tiefling lady sketch. #DnD pic.twitter.com/xKvachZlRg

— OnyxRagdoll (@Hybbat) October 11, 2019
You can still sense the devilish influence though.
Meanwhile Alchemical Gems is over here making dice that we all wish we could have at the table. Showing off some handmade spooy dice:
Just unmolded these Halloween singles! They'll be available in my next sale (which might be this weekend).#dice #dnd #handmadedice #polyhedraldice #resindice #spookydice #ttrpg pic.twitter.com/7QWdncLQic

— Alchemical Gems (@AlchemicalGems) October 16, 2019
And some handmade glittery dice:
I thought of a crazy idea…GLITTER NUMBERS! I think they look good. How do you all feel about this new style?#dice #dnd #handmadedice #glitter #polyhedraldice #resindice #ttrpg pic.twitter.com/qGMccX4Nel

— Alchemical Gems (@AlchemicalGems) October 15, 2019
Both designs would look lovely on anyone's tabletop. Meanwhile, on Critical Role, the party recently hit level 10 and is looking stylish:
#Beau's design update looking SO SHARP with her new threads she could clean-cut a brick! #Criticalrolefanart #CriticalRole #CriticalRoleArt #DnD pic.twitter.com/FtfjLVxQbk

— Jessica Nguyen ?️‍? (@Jessketchin) October 15, 2019
Here's the full version: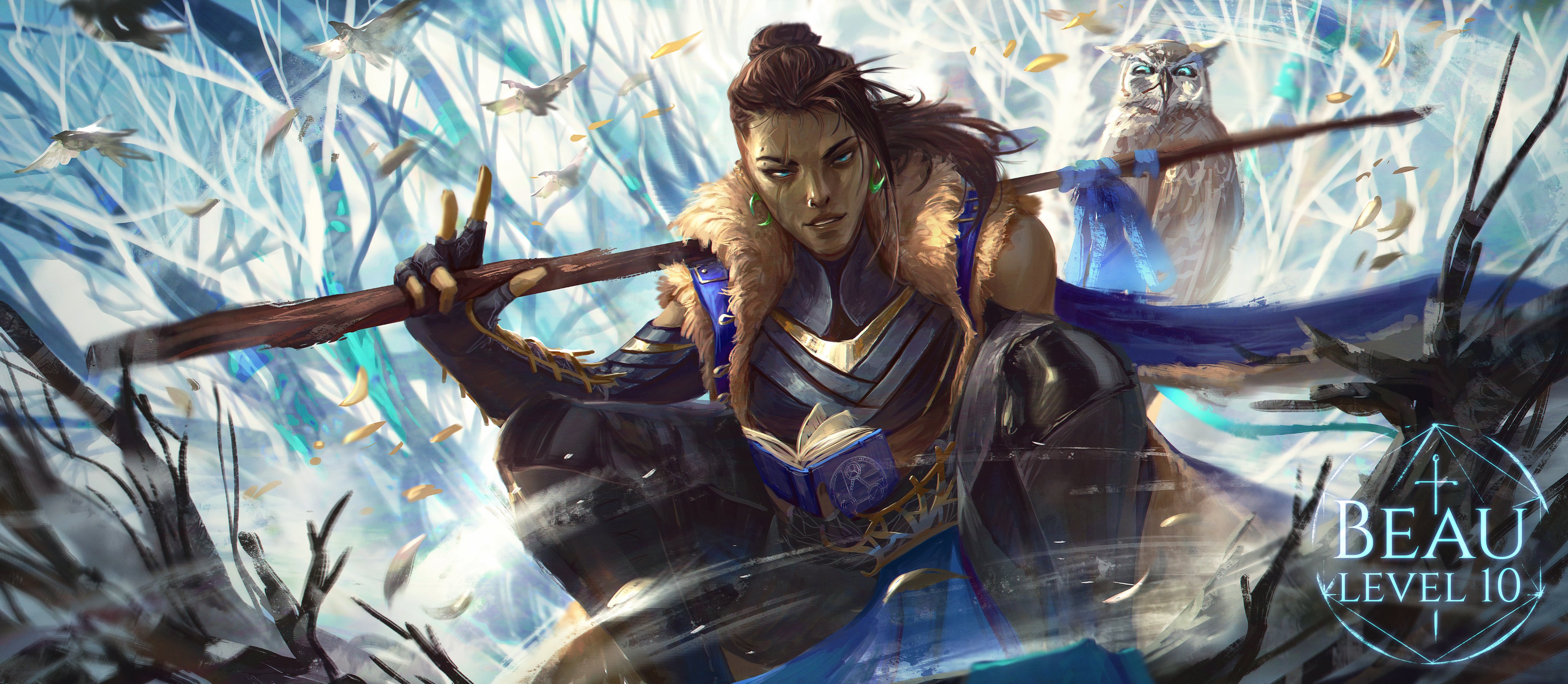 Professor Thaddeus looks on, approvingly. Artist Naif_DC has been making some stellar commissions:
Elara, my Sea Elf Druid.

This stunning art commission reminds me there is strength in stillness.

Breathe. Clear your mind. Now cast that kickass spell.

Artist: @naif_dc #DnD #SupportArt pic.twitter.com/dmIpwjys7k

— ?Amber, Queen of Dragons? (@Farore_DnD) October 17, 2019
Here's another slice of Critical Role perfection:
I spent an excessive amount of effort trying to get the freckles right ?? #PubDraw #critrolefanart pic.twitter.com/TOXHl6hMPS

— Smleeish (@smartiesmlee) October 17, 2019
Here's a half-elf ready to dispense some light and wisdom, and is probably one of the most dapper characters you'll ever see
Doubling down on doing #TTRPG #art for a living is making commission overviews and using your own characters as examples – This shiny child is a high elf Cleric ready to bash some light into your skull with their flanged mace??#DnD #DnDcharacter #dndart pic.twitter.com/4GsPLy47xp

— Lee – @FACTS – ✨table C83✨ (@spacemonsterart) October 17, 2019
Speaking of dapper characters, here's a very fine looking Kobold:
Made a #Kobold buddy! #DnD #dndart pic.twitter.com/s45ahTNGVy

— ?ℂ? ☁ᴄᴏᴍᴍɪssɪᴏɴs ᴏᴘᴇɴ☁ (@MotherCrowArt) October 14, 2019
Everyone needs a friend, after all. Like these two, whose friendship looks legendary.
✨Couldn't help drawing Arien and Adhele being fancy✨#illustration #dnd5e #DnDcharacter #dndart #fantasy #drawings #art #fantasyart #Rogue pic.twitter.com/LQXEWP9bUK

— ??Carliii.art?COMMISSIONS OPEN? (@itscarliart) October 15, 2019
Finally, here's a sendoff for all your Dragon needs:
D&D blue dragonborn pirate monk named Maelstrom #dnd #dragon #dragonborn #pirate #art pic.twitter.com/gbP0WCWxCR

— PrinceFluph (@PrinceFluph) October 14, 2019
Have a great weekend folks!
If you saw something you liked, be sure to follow the artist on Instagram, Twitter, or Facebook. Want to share what you're working on? Drop it in the comments – we'd love to see what you're creating.