The Adepta Sororitas are almost here, but before they do, their sanctified servitors that are as cute and cuddly as they are helpful get the spotlight.
There are only two Battle Sister Bulletins left, which should tell you a little something about how close we are to the release of the Adepta Sororitas. Today's is all about previewing the new Cherubs, these sanctified servitors who are specifically vat-grown living computers that get weirder and weirder the more you learn about them. Let's take a look and get mildly horrified.
via Lexicanum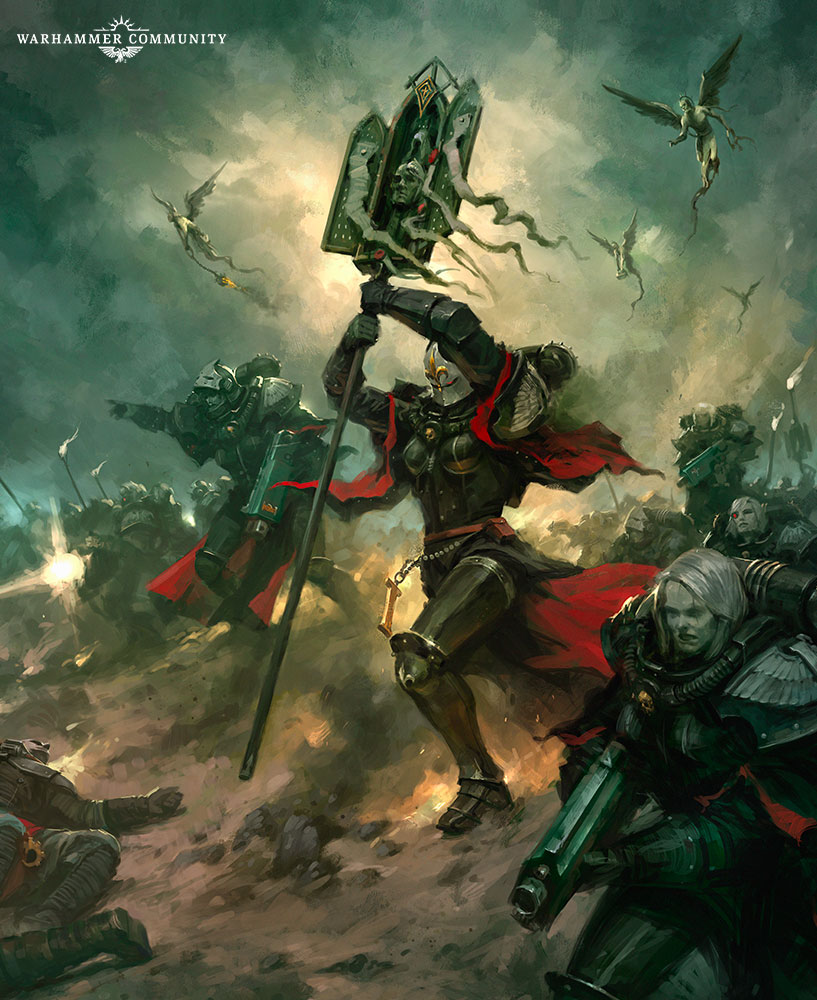 Alright let's talk Cherubs. These sanctified servitors are little winged creatures that might look human, but they are actually made of… biological material. So basically they're grown from Soylent.
The Cherubim (sg. cherub, pl. cherubim or cherubs) are a unique form of construct created by the Adeptus Mechanicus for the Imperium. In appearance they are small angelic children, with the intentional effect of symbolizing purity. Although cherubim are specially-built for many purposes, some psychic Inquisitors utilize them as familiars.
A Cherub was essentially a type of servitor which was shaped into small baby sized angelic being with wings. They were noted for their more independent thinking and were created through vats where they were breathed life by the tech-priests. This was a noted difficult task as various components were required to create such a being which included making a viable skeletal structure, circulatory system, internal organs and more importantly that spark that makes them intelligent. Though the more complex task was the creation of a nervous system for the resultant creature.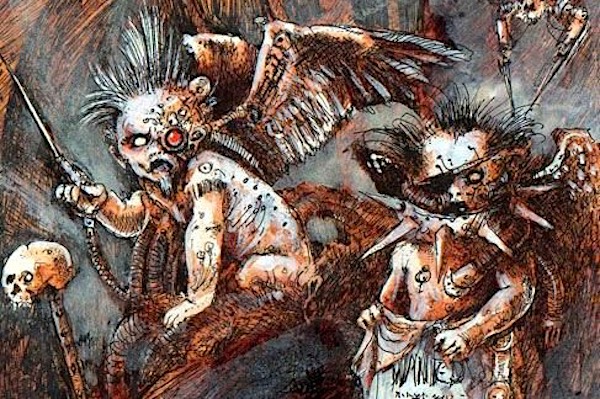 These servitors have the most complex neural systems due to the complex mannerisms displayed by the Cherubim. The ranks of the Cherubim were not mass produced but tailor made for their masters make each unique. Sometimes cherubs are also grown in a vat from purely biological components. The technology used in this process is unknown.
So we don't know what they're made of, they have wings–but don't need them, as they're all loaded down with anti-grav devices. And as you'll see, thanks to these previews from Warhammer Community, some of them have the jowls and monocles of a turn-of-the-century robber baron.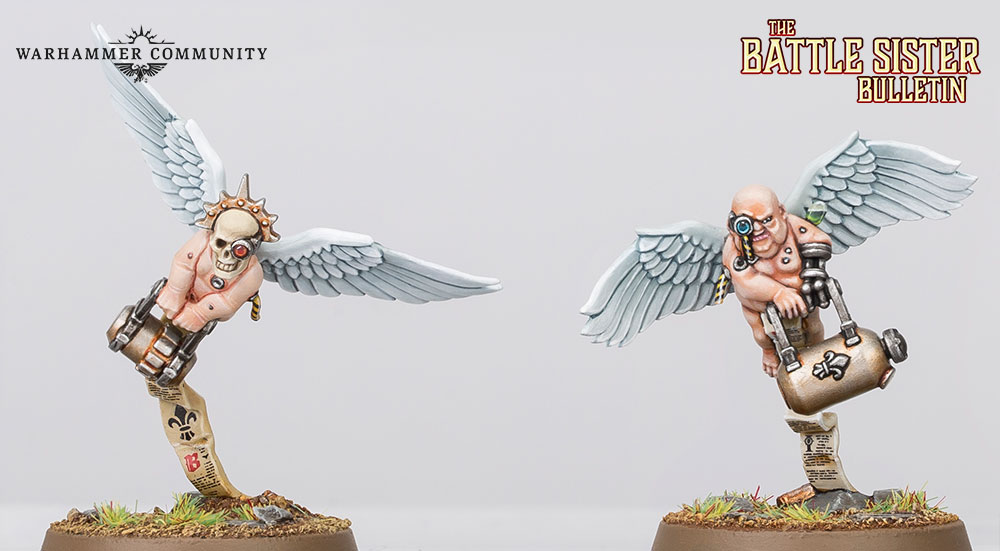 There is no way the one on the right hasn't foreclosed on an orphanage to build a railroad, and probably wants to destroy House Atreides.
This one has keys and a strange vial of liquid, and it looks like it unlocks tat chest in there, maybe opening up secret relic or unleashing Ark of the Covenant style special effects on your enemies.
Some of these little baby creatures are here to help you with your paperwork, or reminding you that sanctity is mandatory, which they doubtless broadcast through their vox-masks while holding up iconography.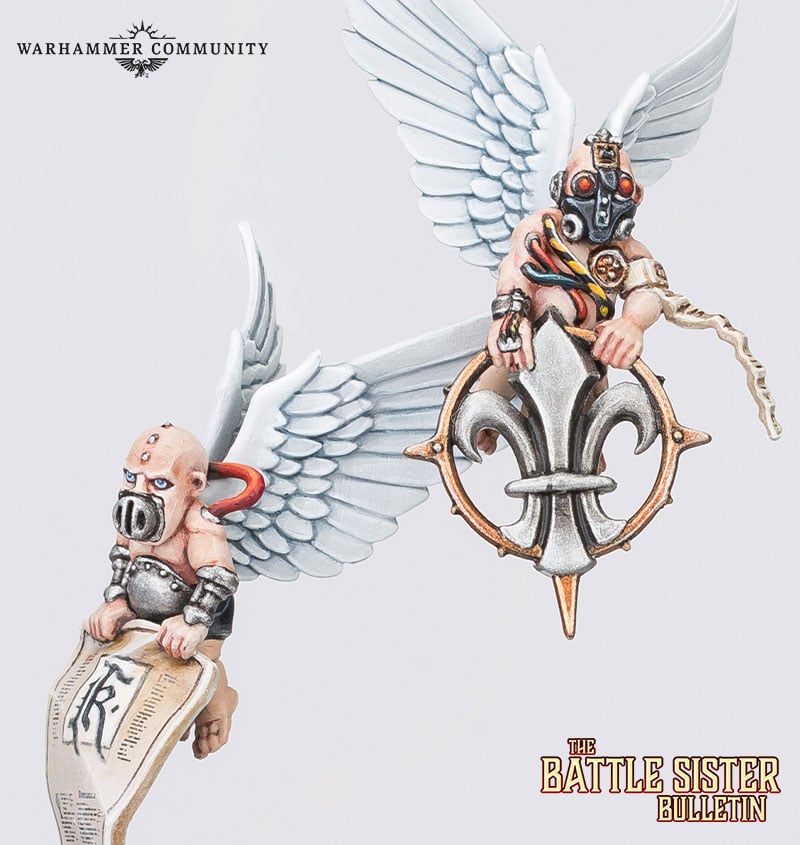 Also some of them have other functions that look like they're maybe meant to interface with other machines? Instead of having legs?
And then there's this one who's just basically a faction emblem waiting to happen.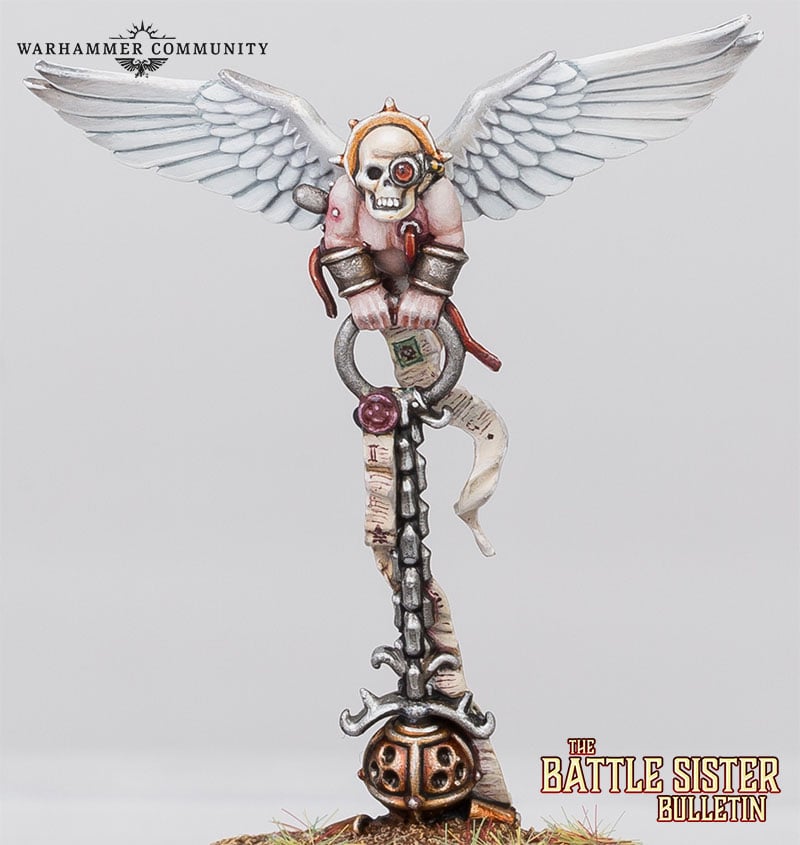 Anyway, I have looked at enough creepy babies for a lifetime, so let me turn it over to you.
What do you think of the new Cherubs? Let us know in the comments!