Let's talk about how to get the most out of your new Raven Guard – and cut some big bad Knights down to size.
Marines, long relegated to bottom tier army status, look to be making a big come back. They've got a new Codex, new units, and four new power Codex Supplements – with more on the way. All the Codex Supplements promise to bring something cool to the table. Today let's take a look at the Raven Guard supplement. Despite being later to the game than the first batch of supplements, the Warriors of Deliverance can still bring the pain. So let's take a look at what makes them so good.
A New Take On An Old Hero

The new, improved Raven Guard get only a single unique unit, less than the White Scars, and far less than the Ultramarines. What they do get is a Primarisized and promoted Kayvaan Shrike that's pretty decent. Shrike has gotten significantly better with his upgrade. Along with the normal +1 attack and wound of a Primaris model, he also added 2 inches of movement. On top of that, he gains a ranged weapon, which is pretty decent all things considered. It can target characters and does D2. It also does mortal wounds on a 6+ to wound. While it's only s4, bear in mind that most of the time when targeting a character he'll have a +1 to wound, helping those mortal wounds go off.  The Raven's Talons changed from d3 damage to a flat 2, which I also like.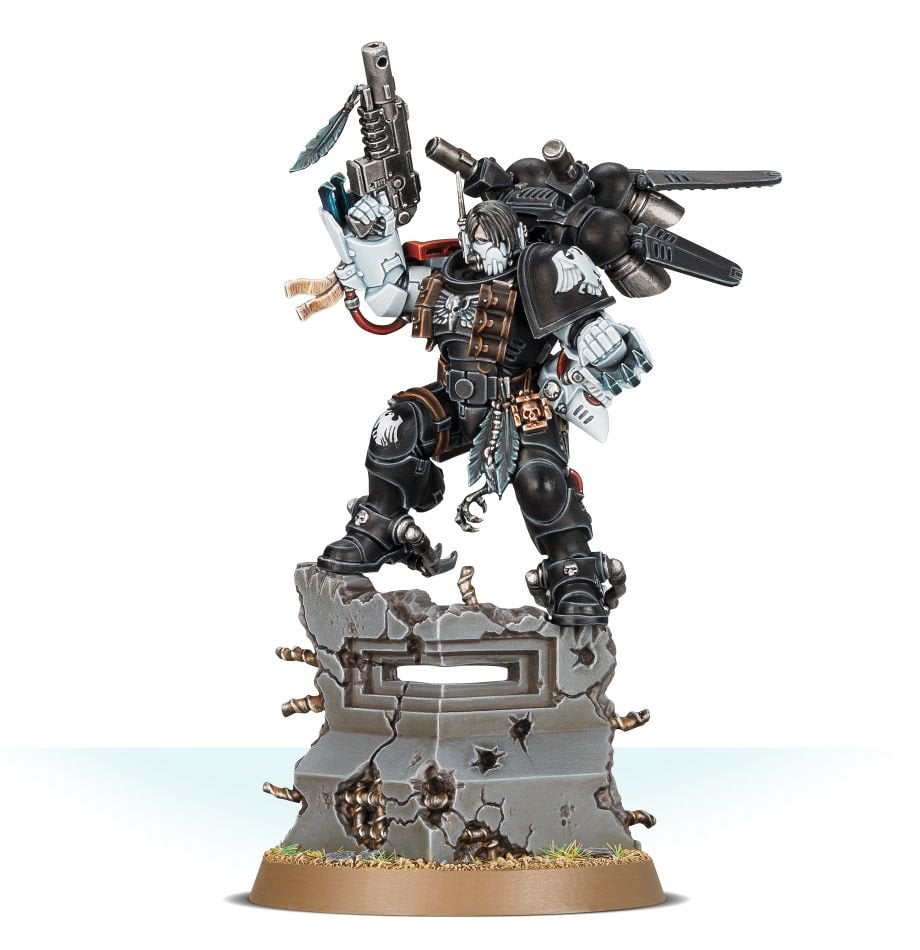 Other than that he's kept his old rules, though he now lets Phobos unit re-roll charges as well as Jump Pack units. He is, of course, the Chapter Master now, so gets that rule as well as a pretty meh rule to maybe do a mortal wound on the charge. All-in-all, he's a lot better than he was and a pretty decent (and unique) Primaris hero. I wouldn't say I'd take him with every list, but he absolutely has a place.
Surgical Strikes
Here we have the Raven Guard unique ability, and while it may only seem OK at first glance, it is what makes them a viscous anti-Knights army. Adding +1 to hit and wound vs. character units is nice of course, but in your average game has a limited effect. Most of the time it's going to either be limited to close combat or only a few units with sniper weapons can take advantage of it. Eliminators, for instance, are bigggg fans.
However, one thing that is commonly overlooked is that most of the really scary Knights end up being characters. While Knights don't start off with the character keyword, they've got several ways to gain it, and need to gain it to be given things like Warlord traits and relics to really help them punch up. Often their Character keyword has little battlefield effect, though good players will remember to heroically intervene with them. Raven Guard change that. Suddenly you can give your WHOLE ARMY a +1 to hit and wound vs. the really scary knights. That's a real pain for the big guys. This isn't a rule that will dominate every game, but boy will it affect certain games.
Tricky Warlord Traits 
Raven Guard get some really great Warlord traits, manly focused on close combat and tricks. Shadowmaster lets you ignore overwatch, simple, but always good. Master of Ambush is a crazy one, allowing you to effectively Deep Strike a unit turn 1, with a character (move over Blood Angels). Swift and Deadly gives you a whole aura of advance and charge, also great. Master of Vigilance lets you deal some mortal wounds in melee with unmodified 6s – to me is the dud of the lot. Feigned Flight enables you to fall back and charge, and fall back over stuff, while Master of the Ravenspire lets your redeploy mid-game. Most of these, unlike say White Scars, don't directly make you more deadly, but they give you a whole bag of crazy tricks to work with.
Relics From the Vaults 
Raven Guard get an excellent bunch of Relics to pull from. The Armour of Shadows is a pretty great, making any unmodified hit roll of a 1, 2 or 3 miss; this is great for fighting those WS 2+ enemies. Oppressor's End is, of all things, a relic combat knife and a big boost to the lackluster Phobos Captain's ability to fight in combat.  Overall, I think the most useful is the Shard of Isstvan. This relic, also available to successor chapters, gives out two generically useful buffs. While an extra attack is always good, the auto pass morale aura is likely even better. I think we'll see this one showing up a bunch.
Key Stratagems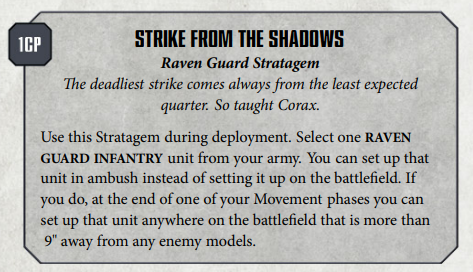 The Emo Marines have a lot of great Stratagems at their disposal, here are a few of the ones that stand out to me:
Strike From the Shadows: 1 CP to deep strike any infantry unit, even one that couldn't normally deep strike, remains a solid ability. I've heard lots of people talking about using this with Assault Centurions from a successor chapter with the extra range trait to allow for deep striking and then tons of flamers.
Infiltrators: This lets an infantry unit move before the game starts. Again very powerful as it could let you get off those turn one charges.
Stranglehold: This one is a little more situational. Its 2CP on the first turn to maybe make your enemies stratagems cost more cp. Normally not great, but if you run into someone who's plan revolves around heavy turn one CP spending it could make a difference.
Lay Low The Tyrants: While it doesn't work on vehicles, an extra +1 to wound characters or units made up of models with 4+ wounds is pretty solid. This is an anti-Nid stratagem if I've ever seen one.
Masters of Darkness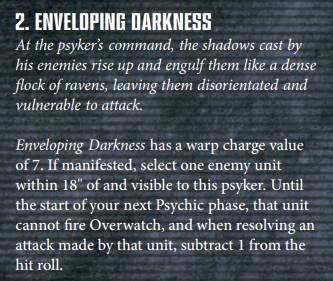 The Umbramancy Discipline is the weakest part of the Raven Guard. The two direct damage spells, the Abyss and the Darkness Within, are fairly lackluster and just don't do enough. Umbral Form and Spectral Blade just buff the caster, and that's normally not what I'm looking for with Space Marine spells, (though admittedly a Libby with Spectral Blade can do some good damage to a knight). That leaves two good spells. Enveloping Darkness is a really solid de-buff spell, preventing a unit from overwatch fire and giving them a -1 to hit. This is a great way to nerf a key enemy unit, such as a knight. Shadowstep is also pretty nice, letting you teleport a friendly character across the table, which can def come in handy.
While their powers are not game-breaking, they do help round out the Raven Guard and help make them just a little bit better at killing knights.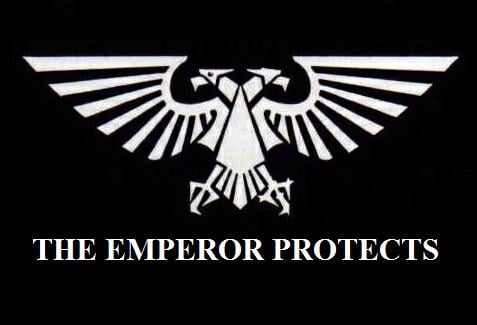 Let us know what you think about the new Raven Guard, down in the comments!