Age of Sigmar: New Dominion Of Sigmar Terrain Kits Unboxed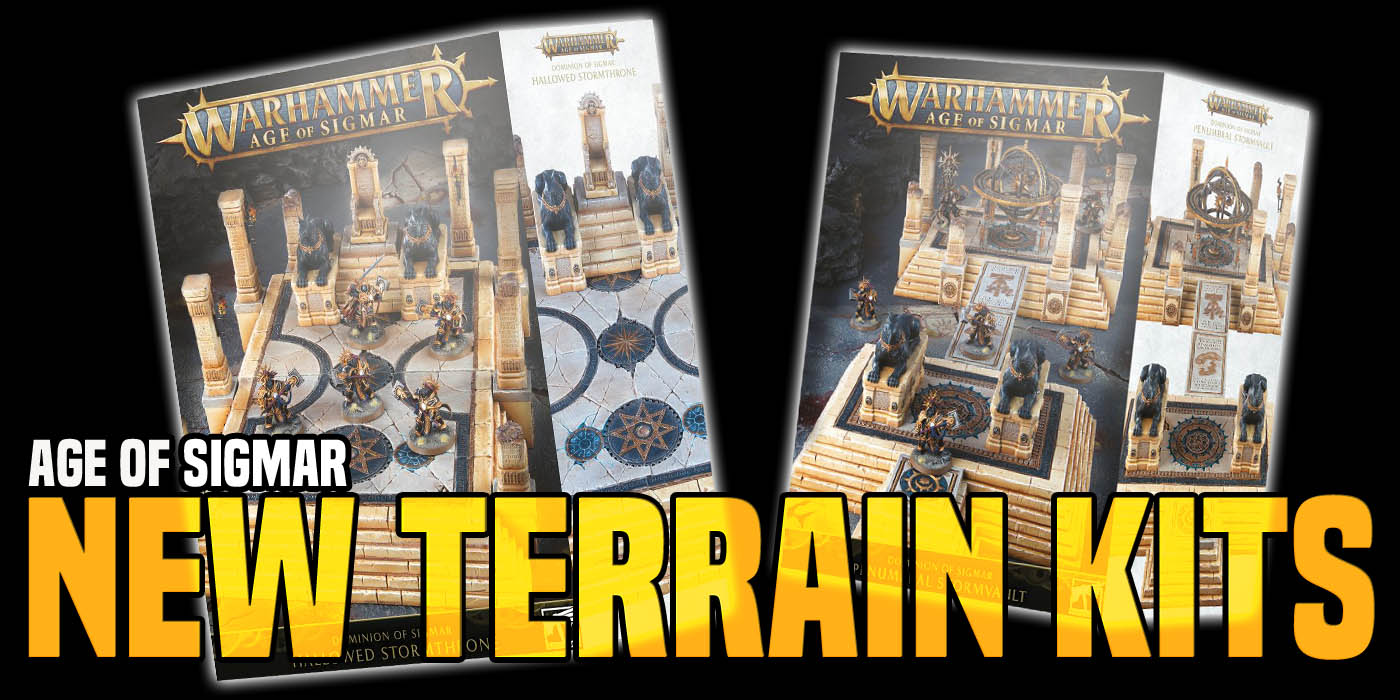 The Dominion of Sigmar has two new Terrain Kits to help you expand your Terrain collection!
Games Workshop has released two more Dominion of Sigmar Terrain Kits – the Hallowed Stormthrone and the Penumbral Stormvault:
Storms For The Stormthrone!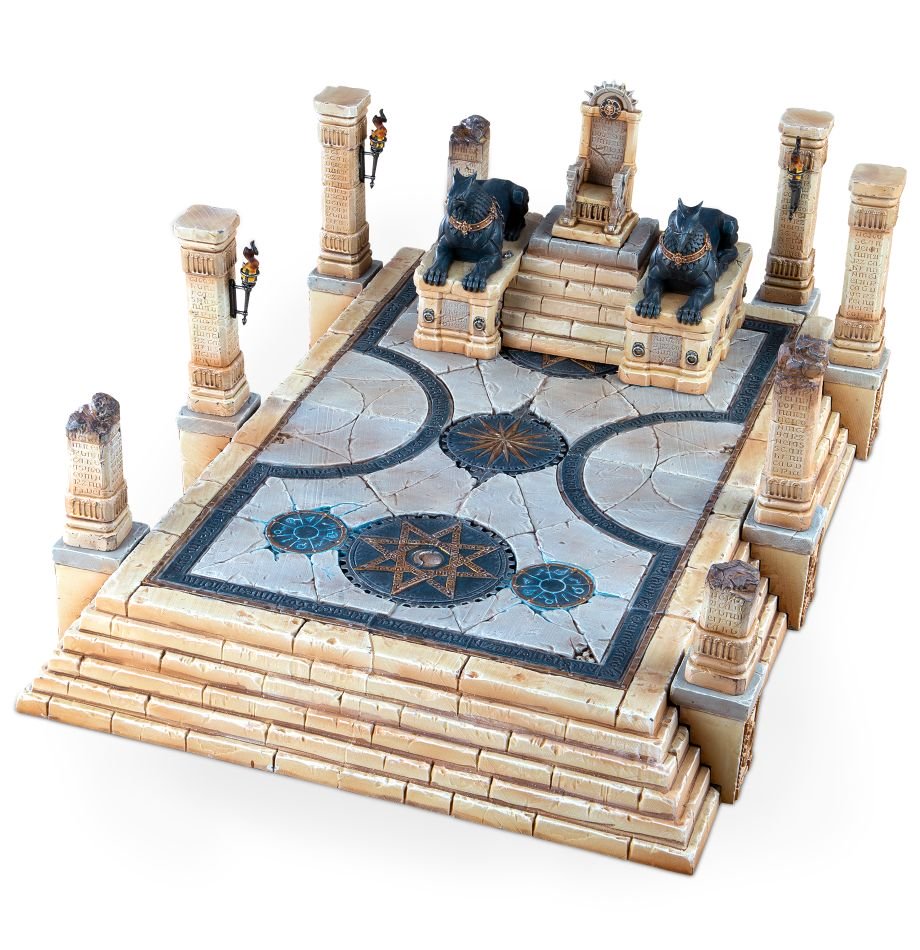 In case you missed these kits the first time around, the Dominion of Sigmar sets are a highly modular set of terrain pieces for your games of AoS. They all have rules you can use in your games but perhaps more importantly, they are ideal for their "playability" in AoS. What I mean by that is they are very functional within the current terrain rules of Age of Sigmar – your models can clearly fit on the tops of these pieces and it's very clear what is "in" and what is "out" with these kits. Plus they are tall enough to block some Line of Sight to smaller models but not to larger models. On top of all that – they fit thematically within the Mortal Realms.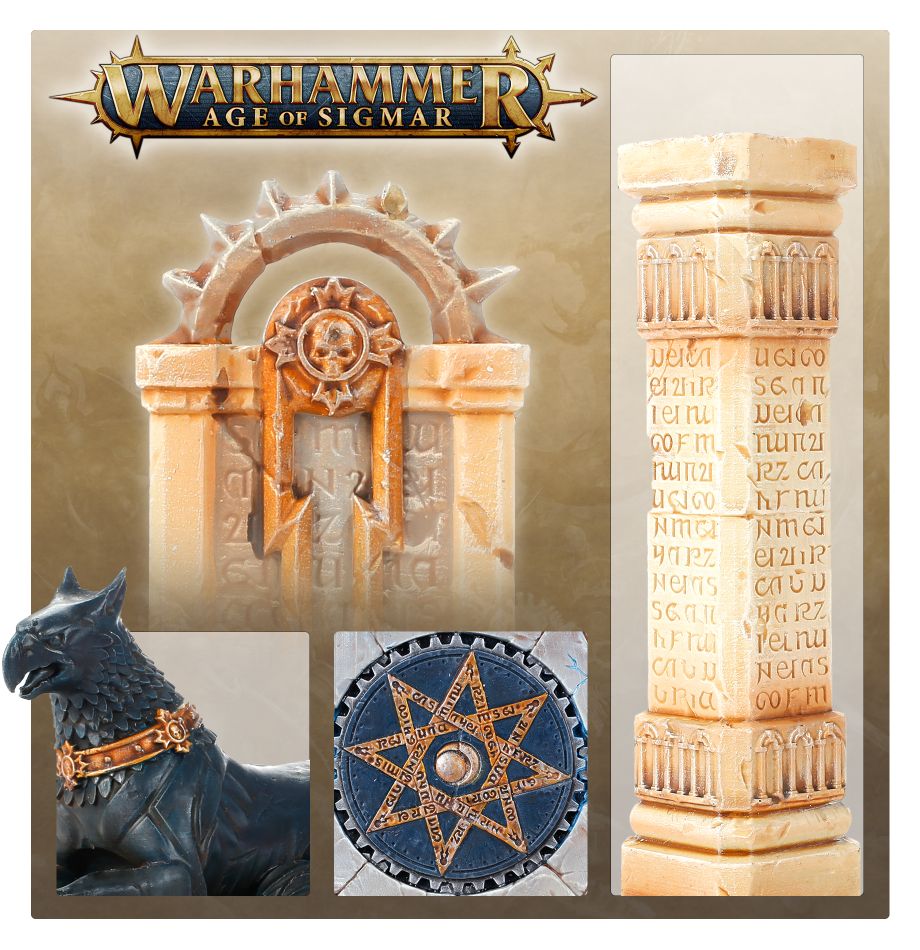 These kits are wonderfully detailed also. If you're looking for a hobby project you can go crazy with painting these kits have you covered. At the same time, if you are looking to get these painted quickly, A basecoat and drybrush will get you some nice results as well. We've knocked out quite a few of these pieces for our studio set here at BoLS and the results are great!
So what's in the Stormthrone Kit? You get two of the large "temple half" foundations, a sprue for the columns, a sprue for the demigryphs, and sprue for the stormthrone. Again, it's a super simple set that is highly modular.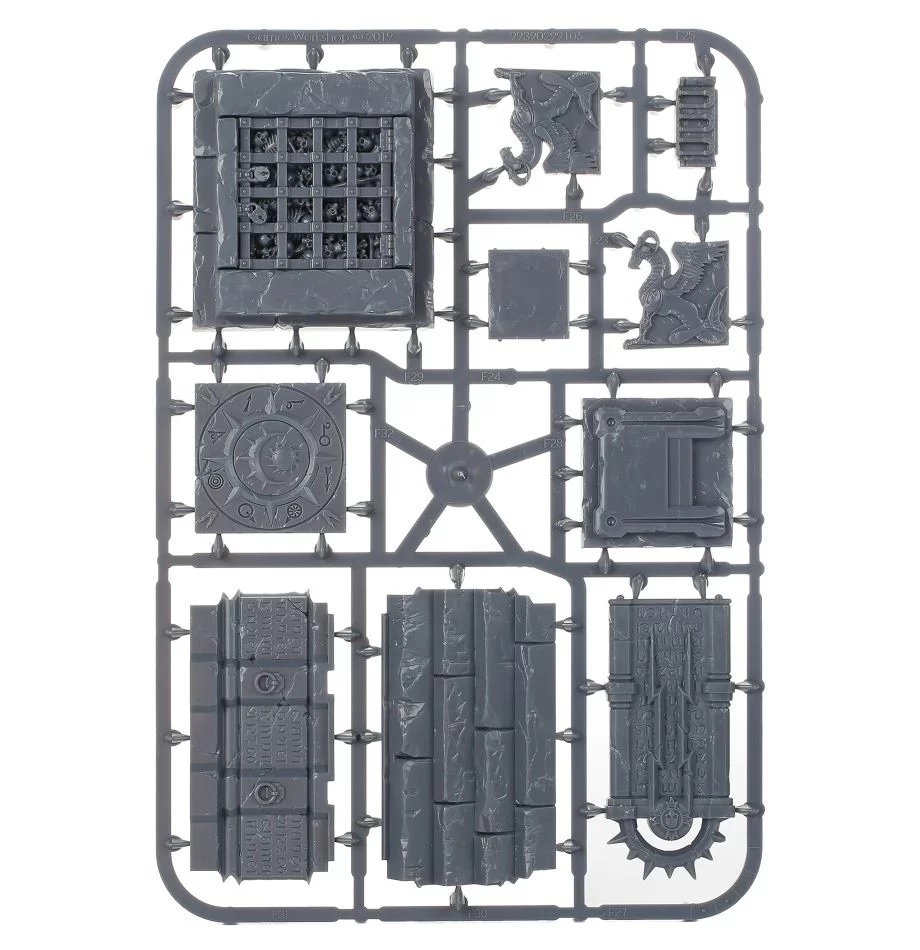 Penumbral Stormvault Time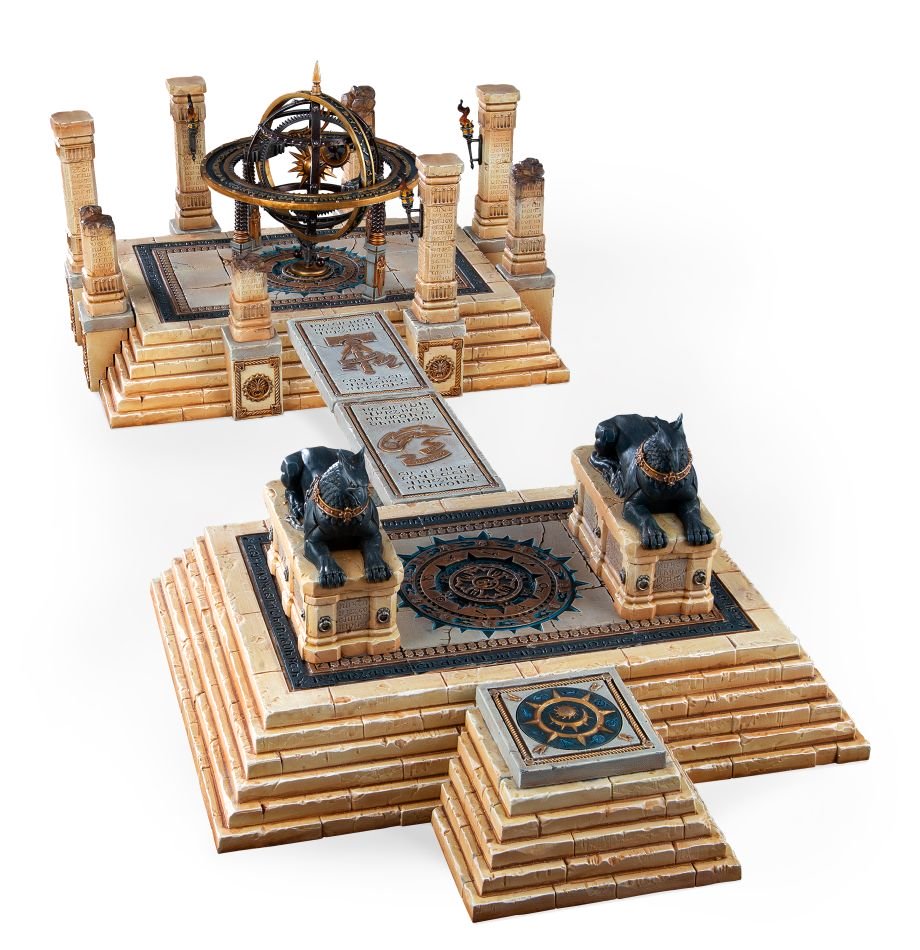 The Penumbral Stormvault  is more of the same. It's actually a very similar load-out to the Enduring Stormvault with a swap of sprues. This one includes a Penumbral Engine as well as the rest of the terrain features. Here's a picture of the other kit for comparison: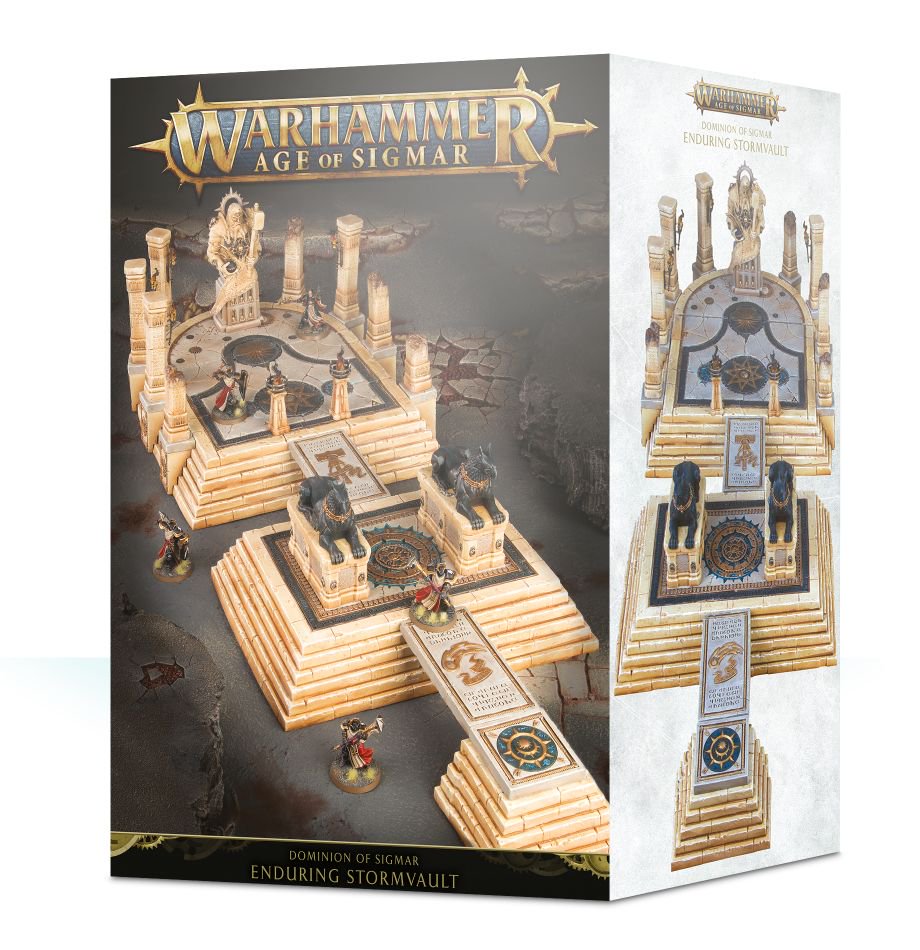 Subscribe to our newsletter!
Get Tabletop, RPG & Pop Culture news delivered directly to your inbox.
It's pretty close and that is one of the advantages of this terrain set and a testament to how modular it all is. And if you're looking for a completely different Hobby project, you can always uses these kits to build your own Fortress of Sigmar (or at least the walls).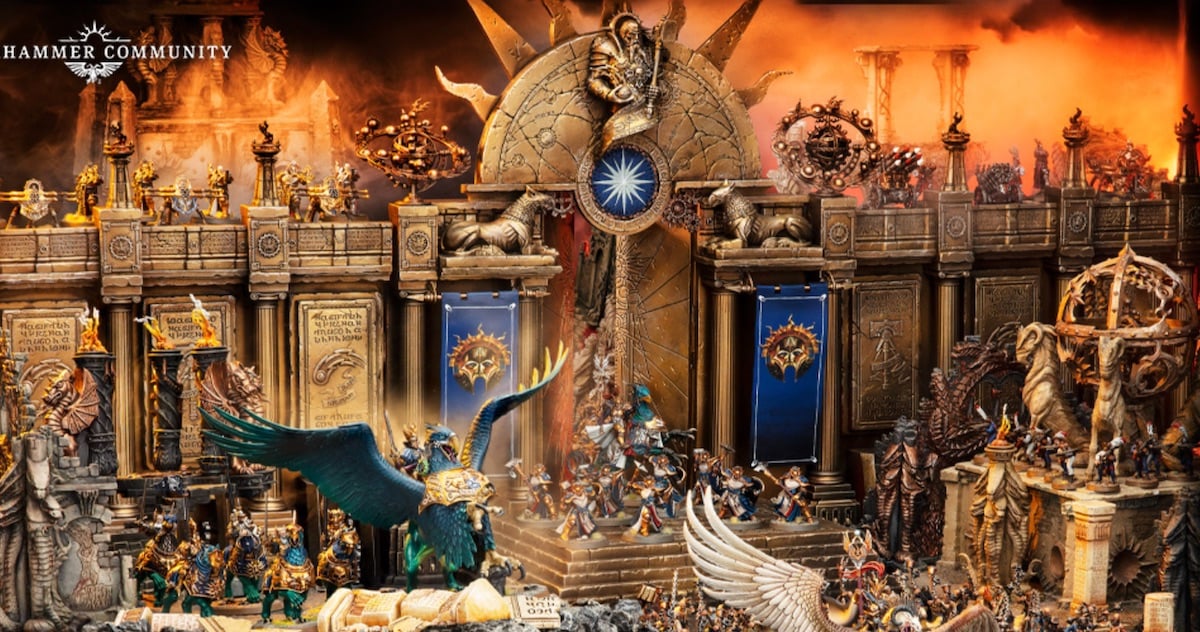 How? We did a hobby breakdown which you can read here – many of the bits used to build this wall are included in these kits. For a hobby challenge try to rebuild these walls.
If you're looking to spruce up your table with some great AoS Terrain you can't go wrong with either of these kits. The Dominion of Sigmar Terrain is functional and looks good on the tabletop – there isn't much else to say other than go check them out.
Both the Penumbral Stormvault and the Hallowed Stormthrone will be available for pre-order this weekend!