Critical Role Fans Divided After Amazon Announcement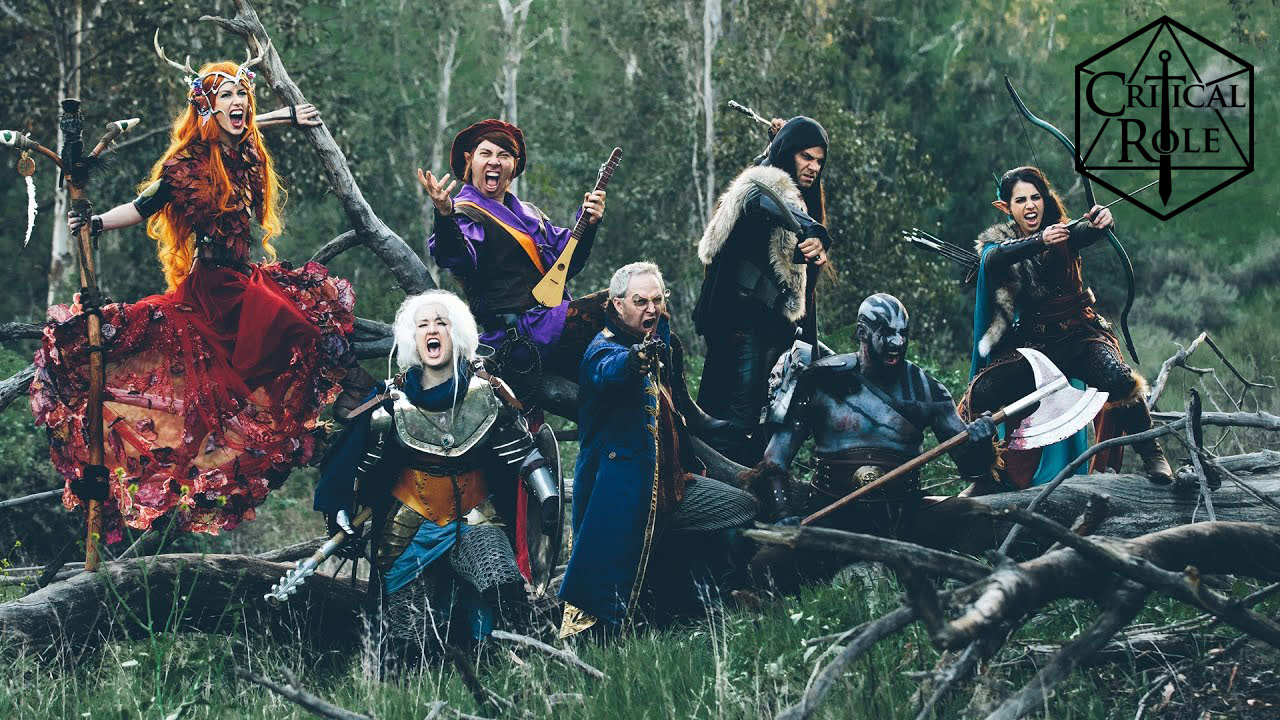 Has Critical Role finally hit the big time, or finally sold out? Fans and creators are divided on the issue in the days following the big announcement.
Just two days ago the news broke that Amazon Prime Video had partnered with Critical Role to develop two 12-episode seasons of their successfully Kickstarted animated special, Critical Role: The Legend of Vox Machina. Critical Role's multimillion dollar Kickstarter campaign was an incredible outpouring by their dedicated fanbase, which started some important conversations about roleplaying and streaming and who benefits most from the relationship, especially considering the "just a bunch of friends streaming their game" managed to raise about 1/5th of the TTRPG's yearly business all their own.
Now that the Amazon deal has been announced, the community seems to be coming to terms with the growth. The image of a bunch of gamers seems to change when you realize that the show is represented by the same talent agency that represents Robert Downey Jr., Kate Winslet, and Steven Spielberg. And this latest deal, while huge, also comes with controversy among the fandom. As before, with the Wendy's backlash, a big part of this seems to come from the ideals that the show promotes. Tolerance and inclusivity are a part of the Critters' creed: Don't Forget to Love Each Other.
Many Critters point out the moral quandary of partnering with Amazon, a company with billions of dollars a history of accidentally bear macing its employees, wondering how the cast and community can reconcile the same spirit of fair treatment that saw Critical Role donate their sponsorship from Wendy's to an organization that benefits Farm Workers.
https://twitter.com/manyeyedmonster/status/1191892676200689664
Fans of the show acknowledge that their feelings–and indeed, the issue itself–is complicated:
https://twitter.com/MatthewWForeman/status/1191816339415060480
You are not the only one. I love that group so much, but between the Wendy's fiasco and now this? Really started having doubts about how they're running the company.

— ArchiSCREAMes (@Archimedes75) November 6, 2019

Subscribe to our newsletter!

Get Tabletop, RPG & Pop Culture news delivered directly to your inbox.
And it's not just people bitter at seeing Critical Role's success raising these points, it's often hardcore fans, who face backlash themselves for being critical of the show.
https://twitter.com/ohadelaide/status/1191859876357644293
It's funny because I honestly would not care and would probably not say a thing had they not structured themselves and said they want to do better by people multiple times. *THEY* set their standards, so I'm holding them accountable to them when they don't deliver.

— Adelaide Gardner (@ohadelaide) November 5, 2019
That's not to say everyone is critical of the news. Many fans are celebrating.
https://twitter.com/ThrockPlays/status/1191804842517450757
And Twitter isn't the only place seeing the fans voicing criticism and facing backlash of their own. The Critical Role subreddit is full of discussion:

Again, ethics are at the heart of this, and if you're wondering why so many people seem concerned with that, it's the idea of ownership of the show. Critical Role owes much to its fanbase, and many came to see them as representing more than just friends playing a game. The show, through its community and merchandise and reach has become more than just a show. It's a home for many, and the idea of that home not representing the very best they can hope for is complicated. It raises a number of questions, and famously, people love questioning their entertainment and coming to terms with the unethical practices by people in power.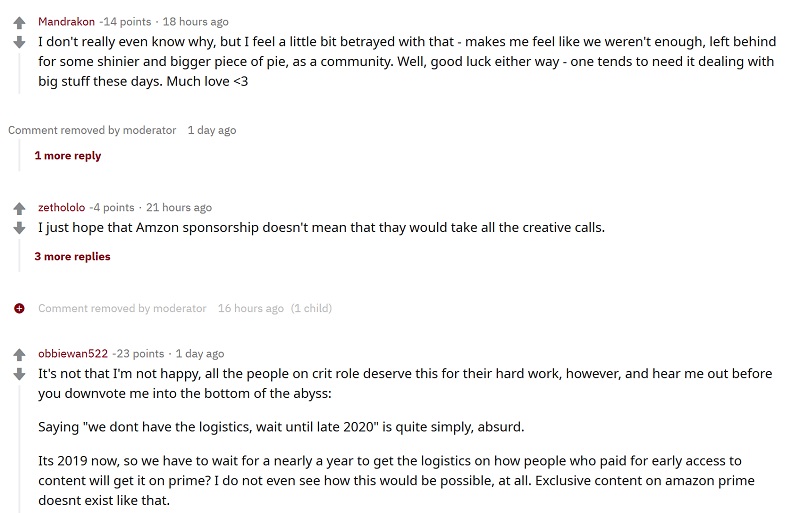 The reality is probably more complex. James Introcaso, host of the Tabletop Babble Podcast, among other things, offers up some insight into the complexity of the deal:
A huge number of amazing TV projects fall through all the time because the network and the production company making the show cannot agree on any number of items. It was not as simple as CR knocking on a network's door and having all their asks met.

— James Introcaso (@JamesIntrocaso) November 6, 2019
Again all feelings are valid, and even with these details in mind you might say, "I still wish they hadn't gone this direction." I totally understand. You may also say, "Wow! I am so happy this show will reach way more people and get season 2 now." I understand that as well.

— James Introcaso (@JamesIntrocaso) November 6, 2019
Whatever the case, most of the fans seem to be celebrating at the moment. The show has already had a huge impact on D&D–it's one of the stronger points of entry to the game for a lot of people, and you can see how much the meta-commentary of how people play has changed in the last four years. People talk about "the Mercer Effect" when DMing and feeling like their own games fall short. And that's only going to grow as the show gets a wider reach.
I've been wanting to make an animated show based on fantasy role playing games since I was 1st level. I'm overjoyed for @TitmouseInc to join the @CriticalRole adventuring party to slay this beast alongside the mighty Amazon army! https://t.co/LDy5oBLA8a

— chris prynoski (@chrisprynoski) November 5, 2019
Which is why many of the people who love the show are voicing their concerns now. The show is growing and changing, and it's worth being critical of something–you can hold multiple opinions at once (even if you do suffer a little cognitive dissonance). They want to see the show be the best it can.
What that looks like is anyone's guess. But if the creators of the show and the fans have proven anything it's that they'll find a way forward.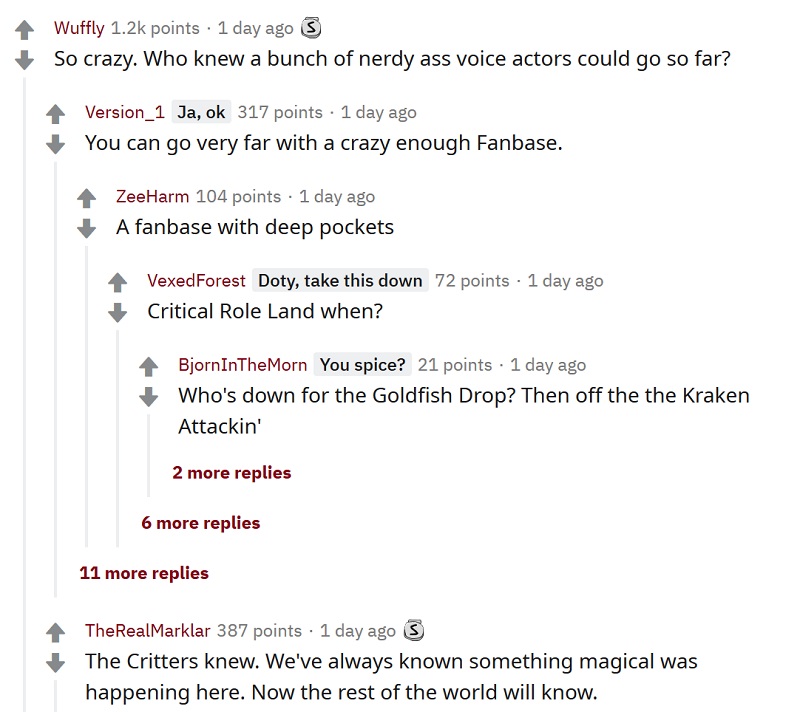 It feels like the next big campaign is only just beginning.
Happy Adventuring!