D&D: Build The Infernal Machine Of Lum The Mad And Help Kids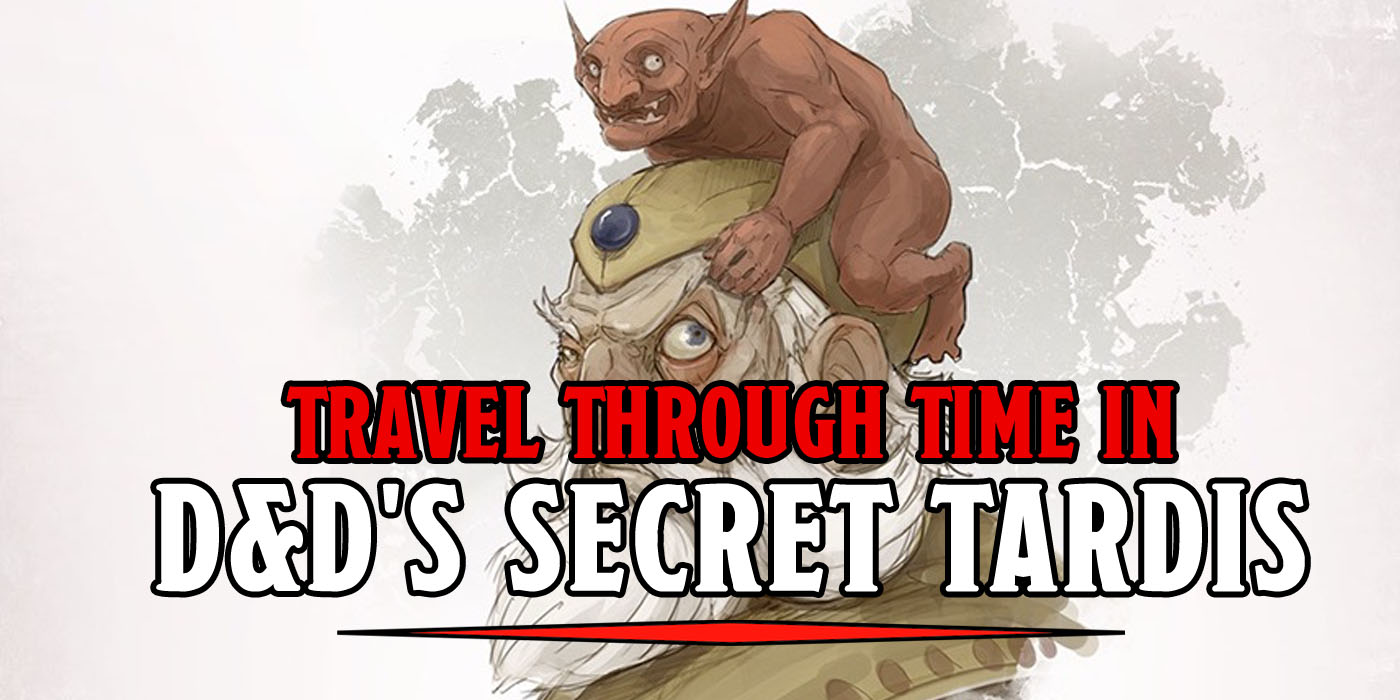 Spelljammer returns, sort of, with a new adventure that takes players to the Barrier Peaks in search of an ancient artifact to claim a planar craft.
This isn't exactly Spelljammer Confirmed–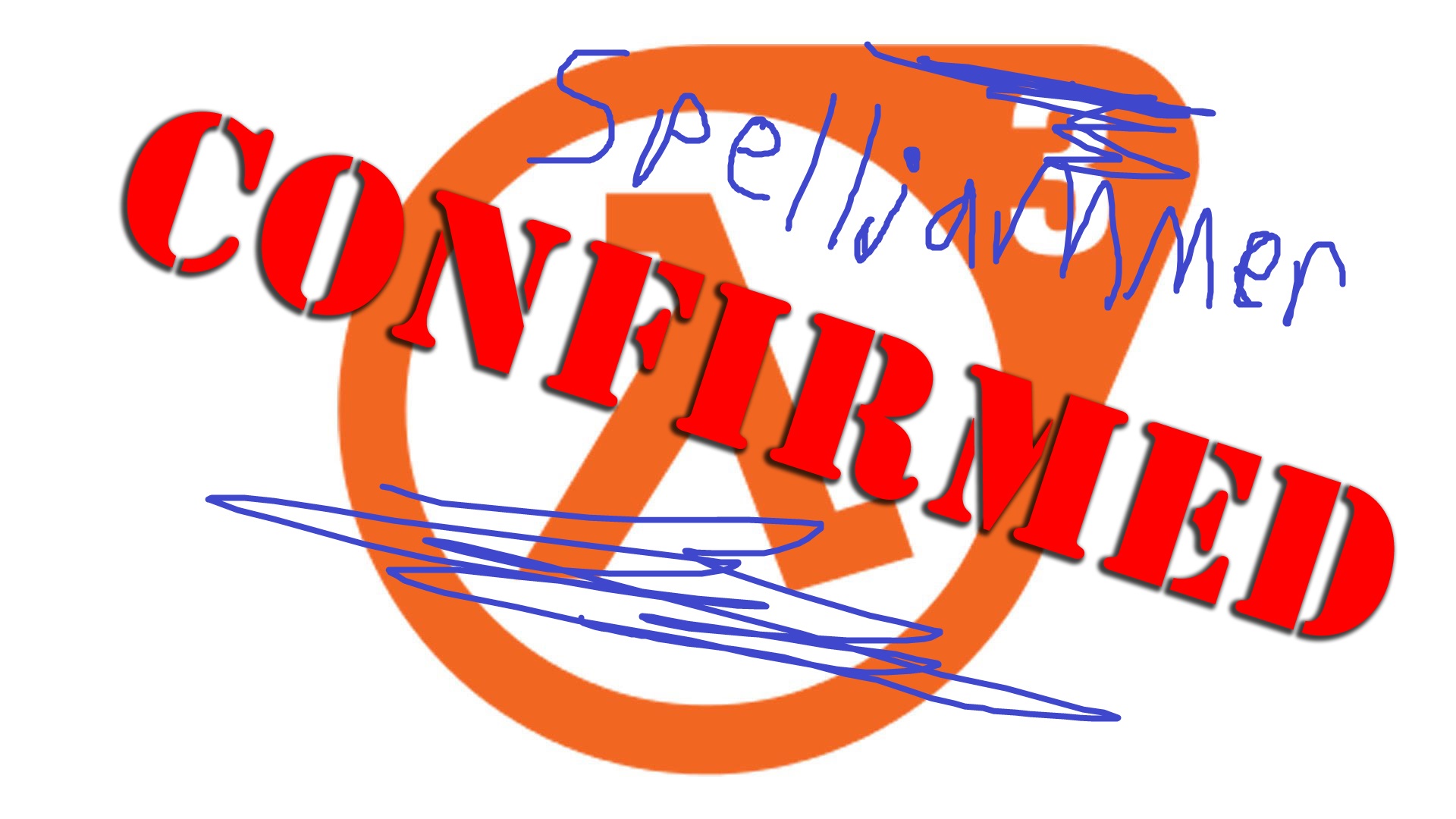 –what did I JUST SAY?! But this new adventure, released to benefit Extra Life and the Children's Miracle Network, like the Dungeon of the Mad Mage before it, features a Spelljammer–as one of the central objects of the plot. Technically it's just a "planar craft of unknown origin" but Wizards of the Coast have low-key been amping up the idea of spelljammers in their last few releases. In Dungeon of the Mad Mage we had a mind flayer space pirate, in Mordenkainen's Tome of Foes we had the spacefaring Giff, and now in Infernal Machine Rebuild we have players racing across time to recover components to build the Infernal Machine of Lum the Mad. What is the Infernal Machine of Lum the Mad? I'm glad you asked.
Eons ago, a planar craft of unknown origin crashed within the Barrier Peaks. The scholar Kwalish would later find this craft, converting it into his laboratory and studying its technology to fuel his own experiments. However, Kwalish was not the first explorer to do so.

Easlier experdisions also chanced upon the crash site, and although most parties perished while delving through the craft, a few managed to recover rare objects never conceived by even the greatest minds of this world. Many of these objects were subsequently lost over time–and most resulted in the deaths of their owners along the way.

Among the moost important of these relics was the planar craft's central command console.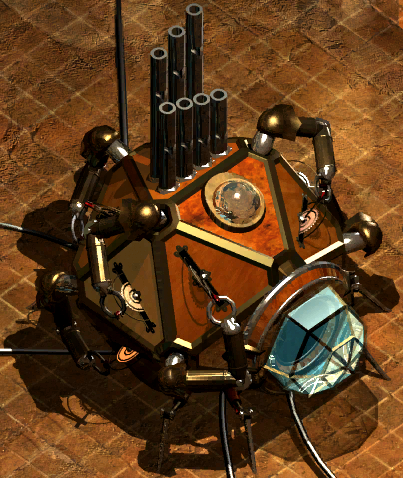 And that, friends, is the Infernal Machine of Lum the Mad. It's basically a fantasy TARDIS, and fittingly, the key components needed to rebuild it are scattered through famous locales in D&D history. You'll venture to a Tomb of Horrors still under construction and the Temple of Moloch (aka the temple on the cover of the 1st Edition PHB), where you'll witness D&D history being made and also steal parts of a fantasy time machine. You'll either love this idea or you won't, but if you, like me, are cool and handsome and into sci-fi and fantasy crashing headlong into each other, you'll want to check out Infernal Machine Rebuild and do some good for children in need while you're at it.
via Wizards of the Coast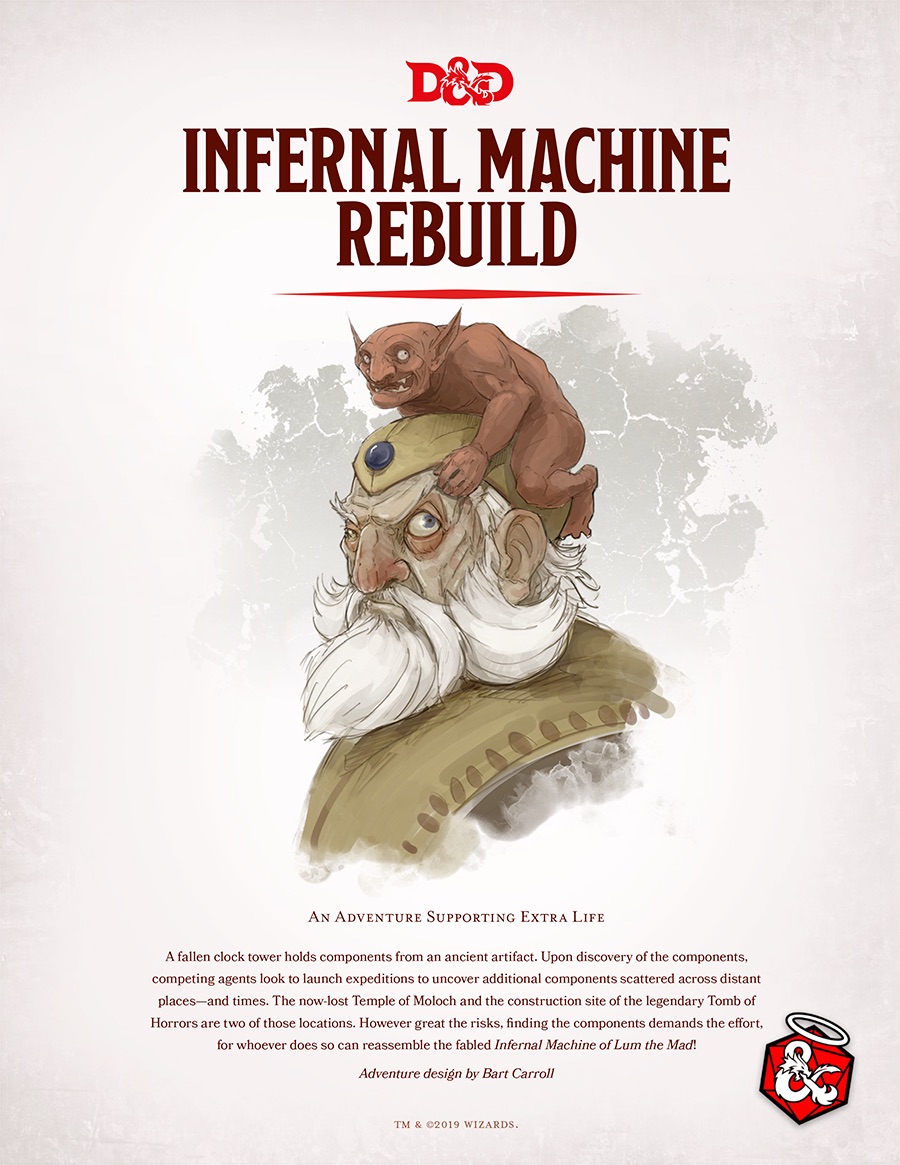 A fallen clock tower holds components from an ancient artifact. Upon discovery of the components, competing agents look to launch expeditions to uncover additional components scattered across distant places—and times. The now-lost Temple of Moloch and the construction site of the legendary Tomb of Horrors are two of those locations. However great the risks, finding the components demands the effort, for whoever does so can reassemble the fabled Infernal Machine of Lum the Mad!

Subscribe to our newsletter!

Get Tabletop, RPG & Pop Culture news delivered directly to your inbox.

For characters 5th-10th level.

This adventure explores two dungeon locations and includes new monsters, magic items, plus new artifact powers submitted by the player community!

Further featuring new art, maps (from Claudio Pozas), cartoon (from Jason Thompson), even an Adventurers League cert for a new trinket—and all monies that Wizards of the Coast receives from sales of this PDF are donated to Extra Life.

Your purchase of this adventure goes to a truly great cause!

About Extra Life:

Extra Life unites thousands of gamers around the world to play games in support of their local Children's Miracle Network Hospital. Since its inception in 2008, Extra Life has raised more than $30 million for sick and injured kids. Sign up today and dedicate a day of play for kids in your community!
Happy Adventuring!