Games Workshop New Releases & Pre-Order: Faith & Fury, Sisters of Battle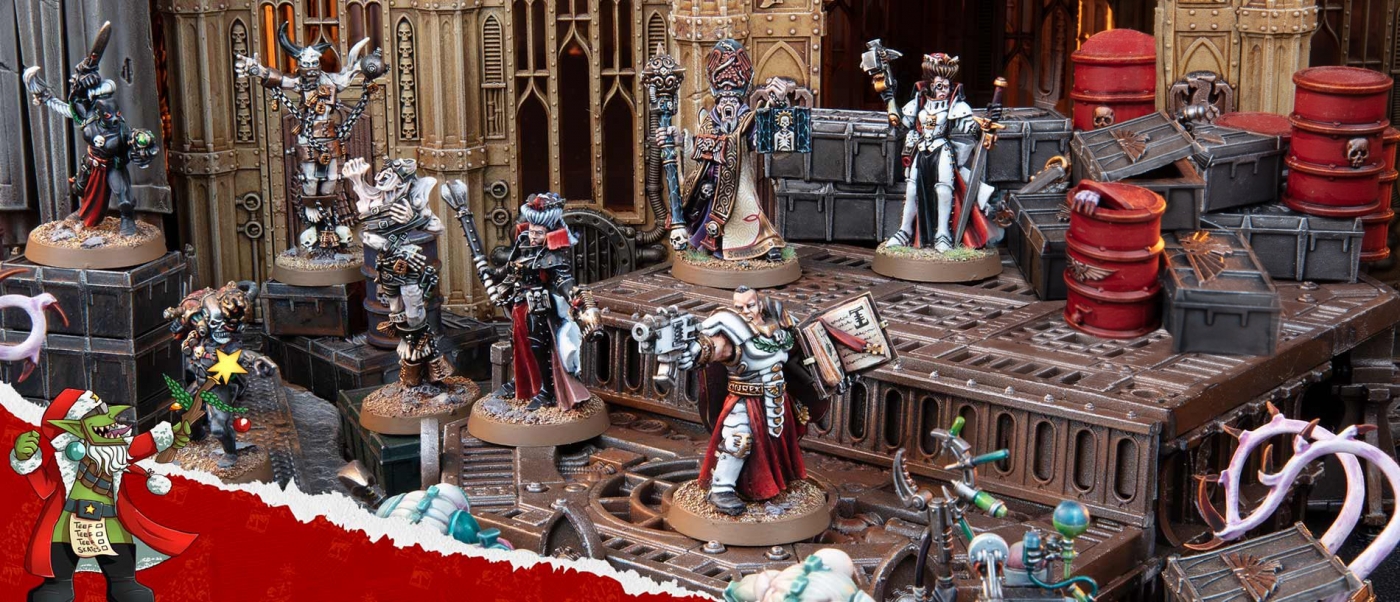 It's the second week of the same pre-orders from Games Workshop.
Reminder: The Sisters of Battle Box might be sold out online, but you might be able to get a copy from your FLGS! Check with them to be sure. Also check out the Made-To-Order Inquisitor Collection.
via Games Workshop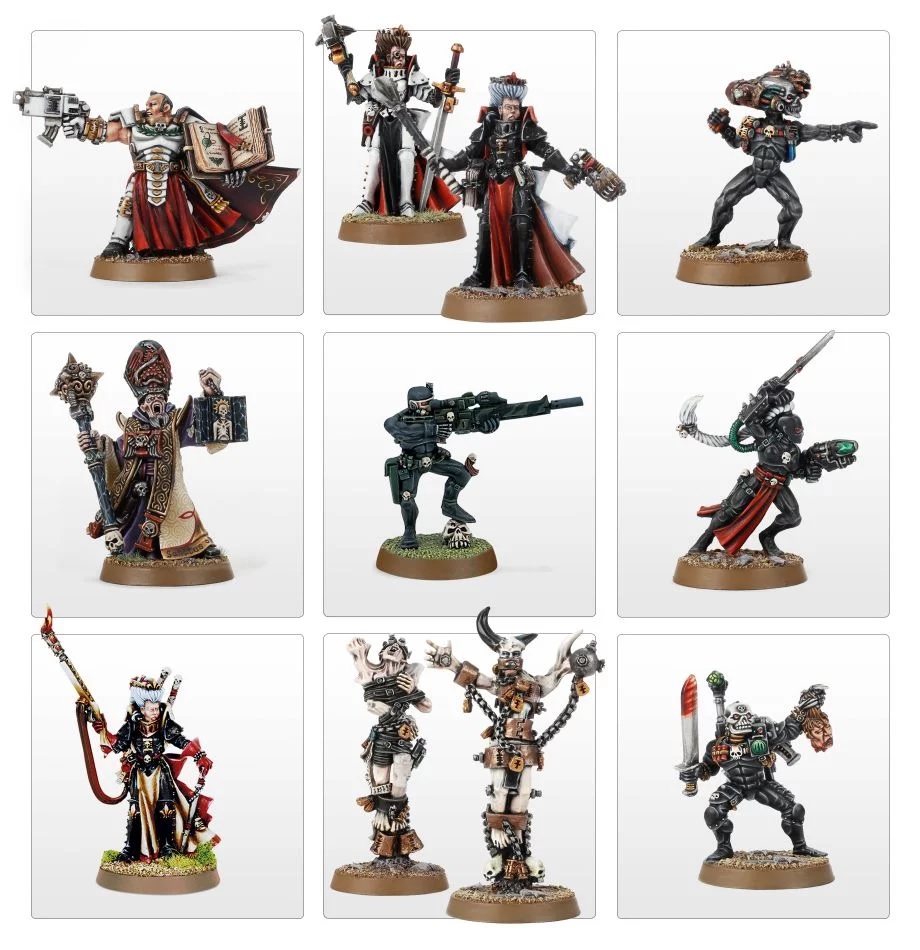 Each and every Inquisitor wields almost unimaginable power, able to requisition powerful assassins and other high-value assets to their aid. When they combine forces, they can change the very fate in the entire galaxy… An Assassin Execution Force, comprised of members from the four major temples of the Officio Assassinorum, is deployed in the most extreme circumstances when failure is simply not an option.
This bundle includes all the Made to Order Inquisitor and Assassin models, including Arch-confessor Kyrinov and two unique Daemonhosts. Inquisitors are privileged with an unprecedented level of autonomy and this carries over into their personal appearance. Assassins, for their part, are independent operatives with their own equipment and wargear, which means no two need look the same despite some defining similarities. These venerable classics have loads of character and unique details that will delight collectors and avid painters alike.
Contents:
1x Imperial Confessor Kyrinov – metal
1x Daemonhunter Inquisitor with Grimoire – metal
1x Witch Hunter Inquisitor with Inferno Pistol – metal
1x Witch Hunter Inquisitor with Plasma Pistol – metal
1x Witch Hunter Inquisitor with Power Sword – metal
1x Callidus Assassin – resin
1x Culexus Assassin – metal
1x Eversor Assassin – metal
1x Vindicare with Exitus Rifle – resin
2x Daemonhosts with unique sculpts – metal
Each of these models is supplied with a 25mm round base.
These model are available on a Made to Order basis for just one week. Order today so you don't miss out.
Rules to for using Inquisitors and Daemonhosts in your games of Warhammer 40,000 can be found in the November 2019 issue of White Dwarf Magazine. Rules for Assassins can be found in the March 2019 issue.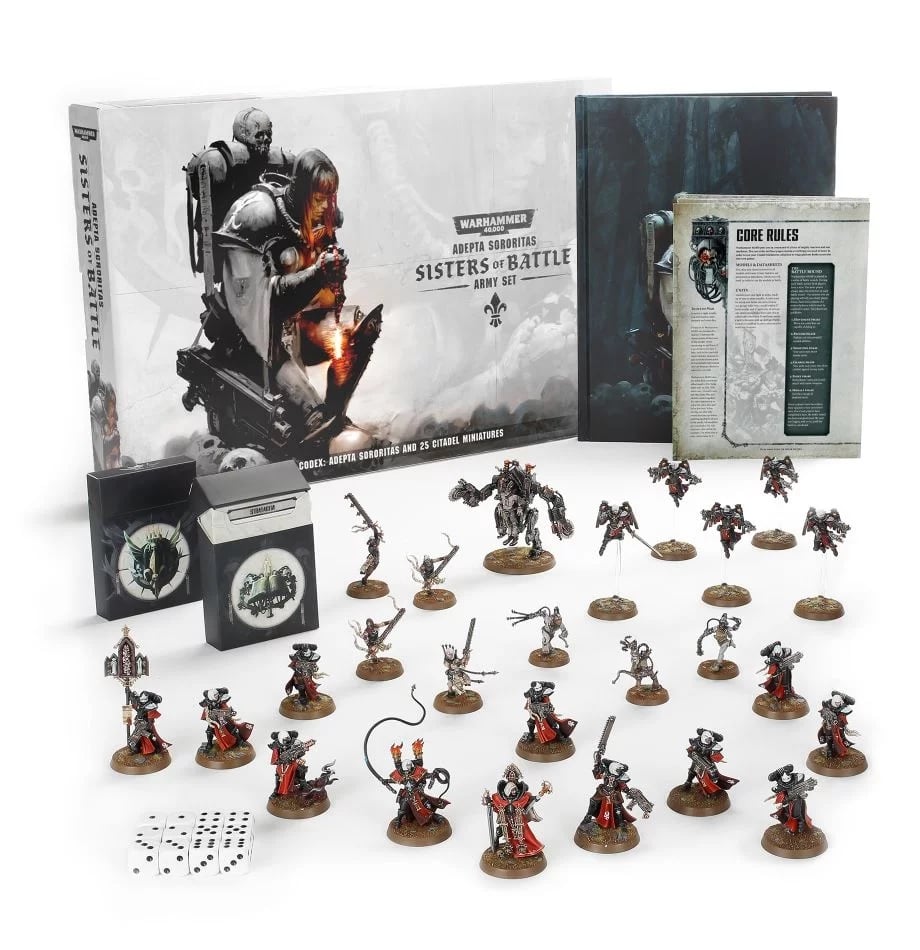 The Adepta Sororitas are the military wing of the Ecclesiarchy. Known by many as the Sisters of Battle, they are an army of pious and highly skilled warriors who purge heretics and enemies alike with their 'holy trinity' of bolter, flamer and melta.
Subscribe to our newsletter!
Get Tabletop, RPG & Pop Culture news delivered directly to your inbox.
This Sisters of Battle Army Set provides you with everything you'll need to start an Adepta Sororitas collection and field it on the battlefield. In addition to a 25-model Sisters of Battle army led by a Canoness, you'll receive a copy of Codex: Adepta Sororitas, as well as a handy datacards set and Warhammer 40,000 Core Rules booklet. Finally, there is a set of Miracle Dice, designed for when you're performing Acts of Faith in the game!
The codex included in the set comes with exclusive cover art and is the first opportunity to get the fully updated Adepta Sororitas rules and background – including datasheets and bestiaries for other units that aren't included in the Army Set, such as Immolators, Exorcists and Retributors.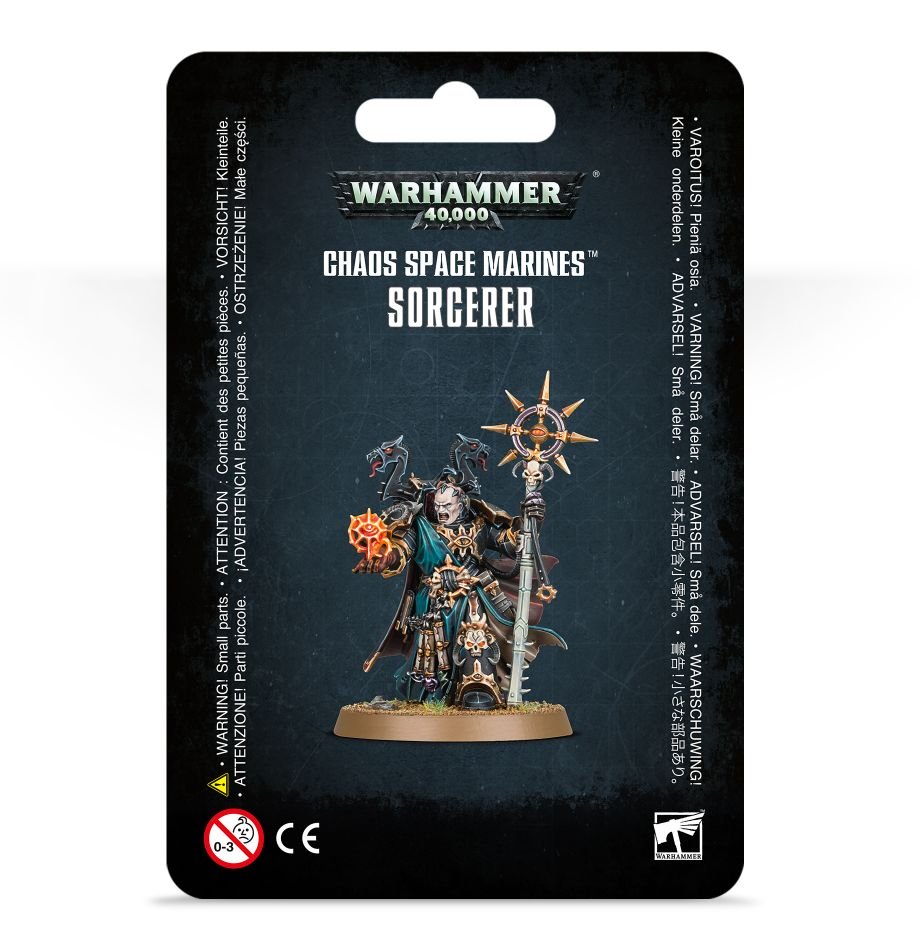 Sorcerers of Chaos shape the destiny of the galaxy with forbidden rituals and unspeakable pacts. They channel the soul-blasting energies of the warp into potent hexes and blasts of flame, as they mould the material universe with little more than a hate-filled curse.
This plastic kit is comprised of 9 components and builds one Chaos Space Marines Sorcerer armed with a force stave. The model comes supplied with a Citadel 40mm Round Base.
The rules for this model can be found in Codex: Chaos Space Marines, Codex: Thousand Sons and Codex: Death Guard.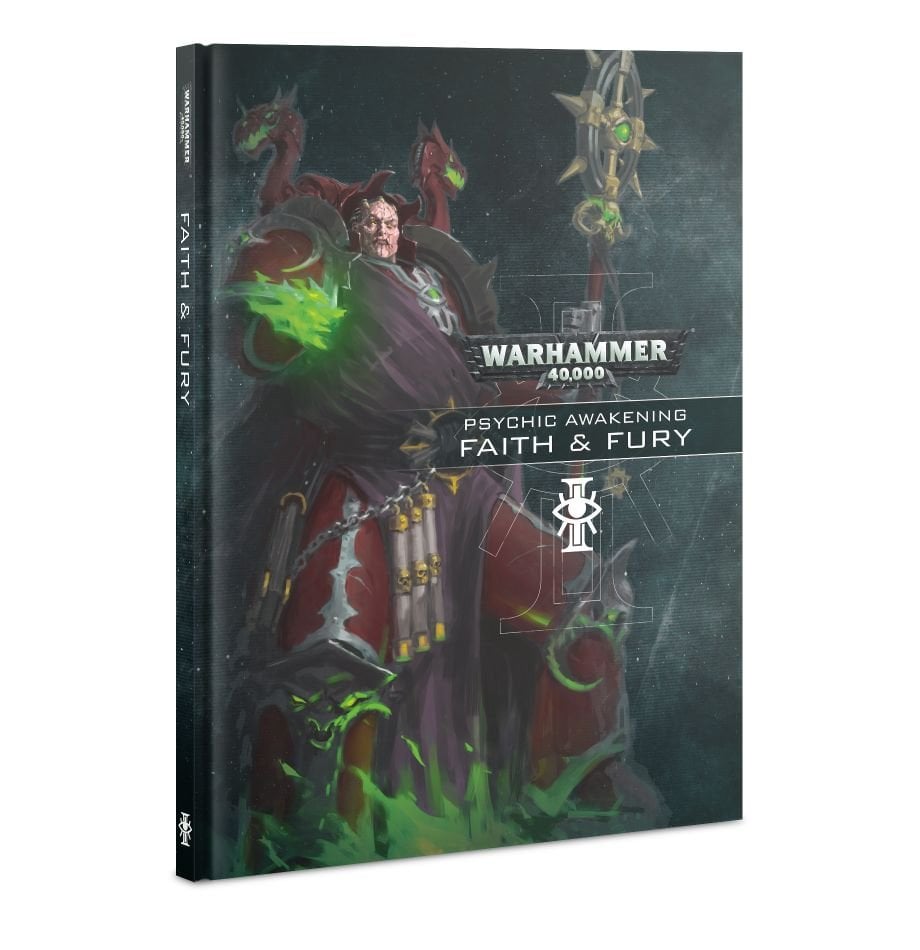 Book 2 of the Psychic Awakening Series
The epic Psychic Awakening series continues with Faith & Fury. This campaign book features a host of new rules for both the Adeptus Astartes and Heretic Astartes alike – as well as codex expansion's worth of rules for the mighty Black Templars Chapter! The campaign book also tells a sweeping narrative recounting the tapestry of heroism and villainy woven around the world of the Talledus System.
Inside this 96-page book, you'll find:
– Exciting background that describes how the time of the Great Rift found the Imperium reeling, assailed on a million fronts by the surging forces of Chaos. The Indomitus Crusade ventured deeper into occupied territory only to discover that the predations of the Great Enemy had intensified. The story then focuses on Talledus sub-sector – how the taint of Chaos had begun to take root there, lurking unnoticed for many years before the Great Rift enabled the Word Bearer fleets to make warp transit to the heart of the sub-sector.
– Missions that allow you to recreate some of the most pivotal battles during the conflict, and war zones that let you bring your battles to some of the most distinctive sites that were fought over.
– Expanded army rules for the Black Templars, including Warlord Traits, Stratagems, relics, Tactical Objectives and even a name generator for the legendary crusaders of Dorn!
– Expanded army rules for the Adeptus Astartes, including Chapter-specific Litanies of Battle as well as upgrades to Chaplains, Techmarines, Librarians, Apothecaries, Ancients, and Company Champions, providing more in-depth rules for these Chapter heroes.
– Expanded army rules for the Heretic Astartes, including Malicious Volleys, Daemon weapons, new Warlord Traits, Stratagems, relics, Tactical Objectives and name generators for each of the following Chaos Space Marine Legions: Word Bearers, Night Lords, Alpha Legion, Iron Warriors, Emperor's Children, and World Eaters.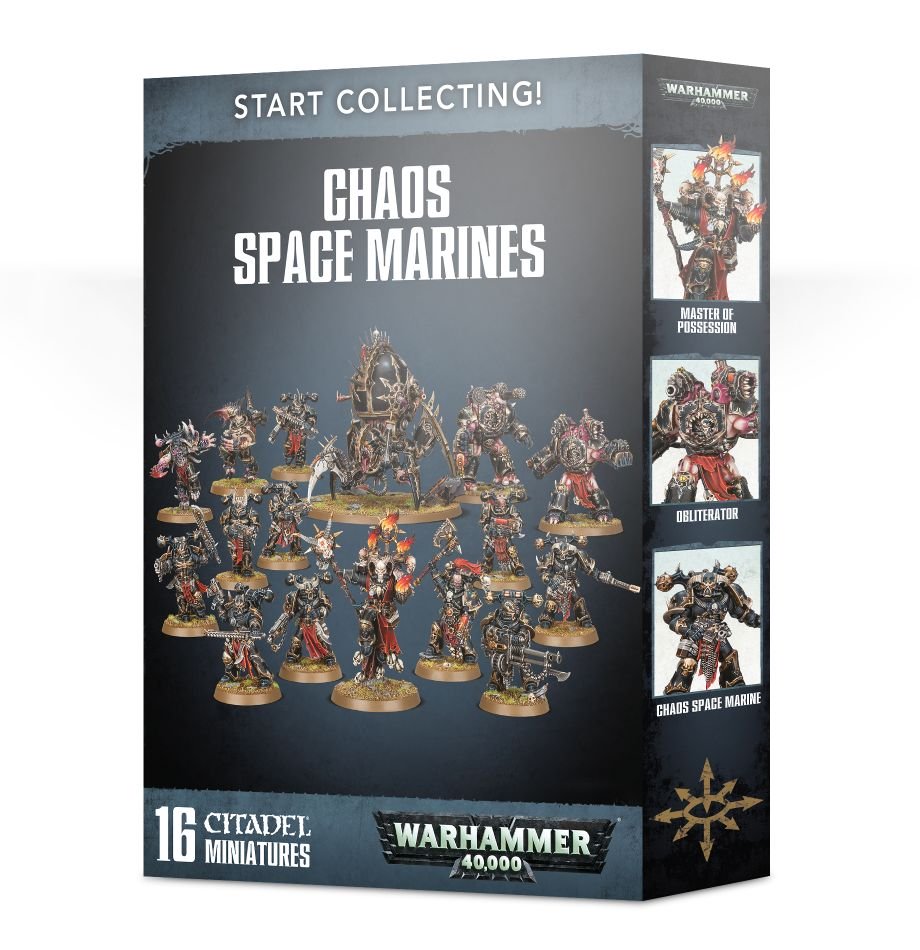 Master the fell warriors of the Daemonkin – warp-tainted Chaos Space Marines infused with daemonic power – and unleash their fury on the battlefield with this Start Collecting! set.
The set includes the following multipart plastic kits:
– 1x Master of Possession (supplied with a Citadel 40mm Round Base)
– 1x Venomcrawler (supplied with a Citadel 100mm Round Base)
– 2x Obliterators (each supplied with a Citadel 50mm Round Base)
– 2x Greater Possessed (each supplied with a Citadel 40mm Round Base)
– 1x Chaos Space Marines unit (10 miniatures, each supplied with a Citadel 32mm Round Base)
The rules for these models can be found in Codex: Chaos Space Marines.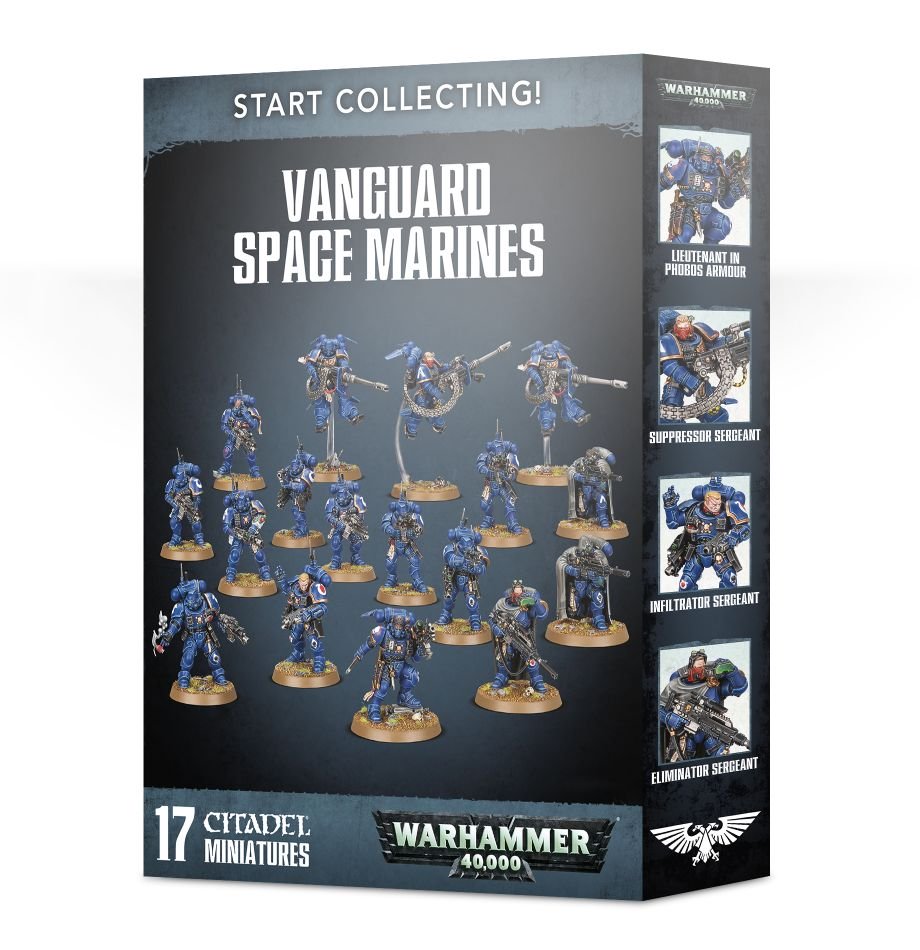 Lead the elite, clandestine warriors of the Primaris Space Marines Vanguard into battle with this Start Collecting! set.
The set includes the following multipart plastic kits:
– 1x Lieutenant in Phobos Armour (supplied with a Citadel 40mm Round Base)
– 3x Suppressors (each supplied with a Citadel 40mm Round Base and a Citadel Flying Stem)
– 3x Eliminators (each supplied with a Citadel 40mm Round Base)
– 10x Infiltrators (each supplied with a Citadel 32mm Round Base)
The rules for these models can be found in Codex: Space Marines.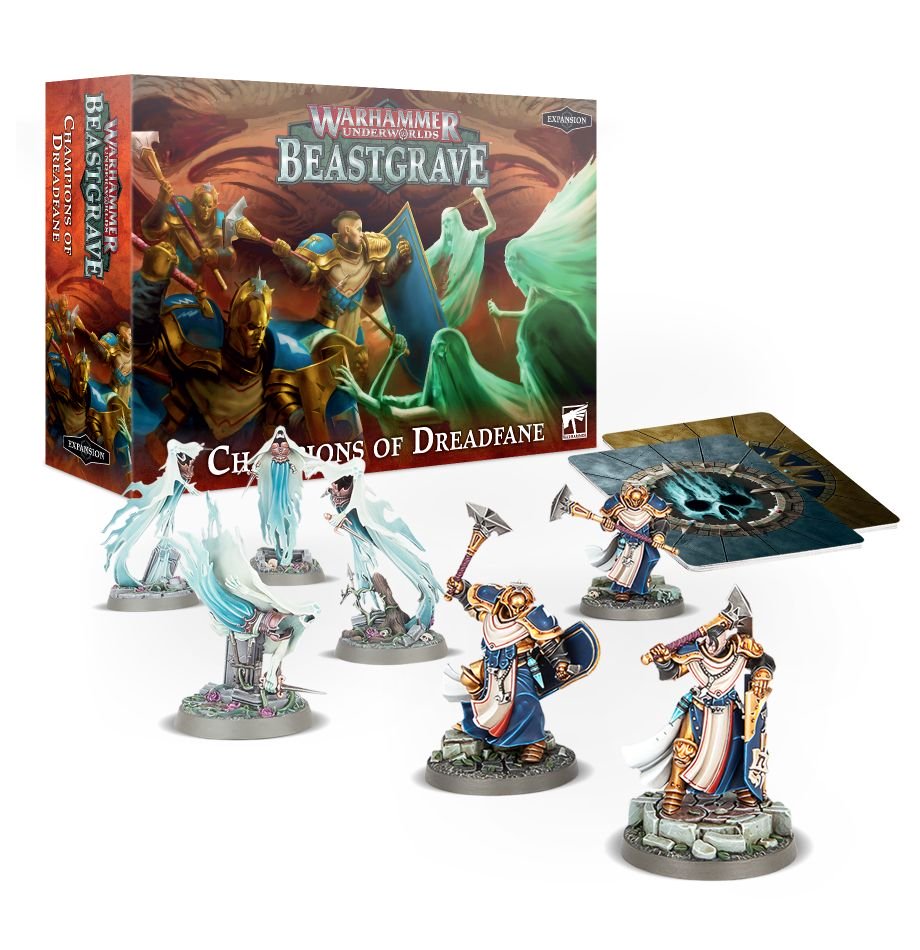 Two deadly warbands arrive in Warhammer Underworlds Beastgrave with one epic expansion! Champions of Dreadfane gives you the opportunity to add the spectral ghasts of Lady Harrow's Mournflight and Ironsouls Condemnors, previously only available in the Warhammer Underworlds: Dreadfane set.
Lady Harrow's Mournflight are a fast-moving, aggressive warband, capable of bypassing fighters and lethal terrain alike with ease and dealing devastating damage. If you're looking for a fast, flexible and ferocious warband, this is the one for you!
Ironsoul's Condemnors are durable, hard-hitting and highly elite, equally comfortable defending objectives and crushing enemies up-close. In Warhammer Underworlds, they're a nigh-unstoppable wall of sigmarite – if you're looking for a small warband that packs a punch, grab them for yourself.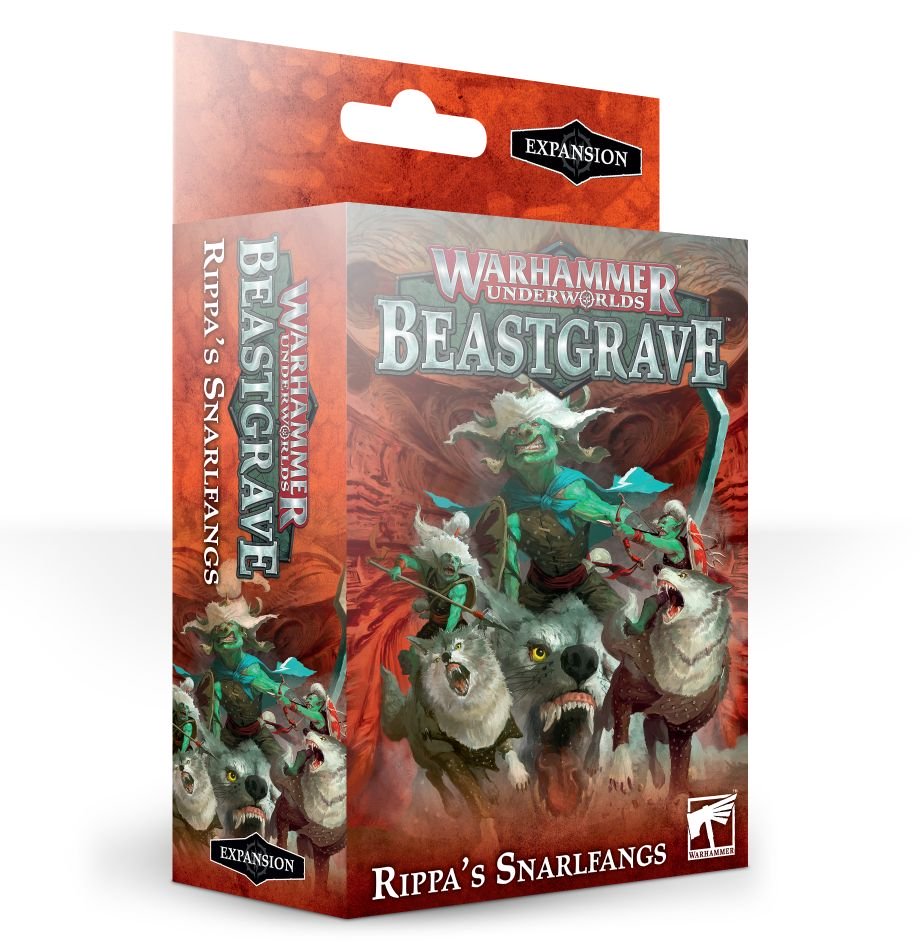 Rippa has led his grumbling and mutinous companions to Beastgrave in pursuit of the magnificently shiny choppa he sees every night in his dreams. With that blade in his hand, surely Rippa could ride back to his tribe and claim rulership over the headless corpses of all his old rivals.
This warband expansion set allows you to add Rippa's Snarlfangs to your games of Warhammer Underworlds. A set of push fit models in coloured plastic allows you to get your warband built and ready for gaming in mere minutes, while fighter cards let you keep track of them in game. You'll be able to harness the unique tactics of Rippa's Snarlfangs with 32 warband specific cards, including objectives, upgrades and ploys. Meanwhile, 28 Universal cards give you new options for customising your deck, whichever warband you play.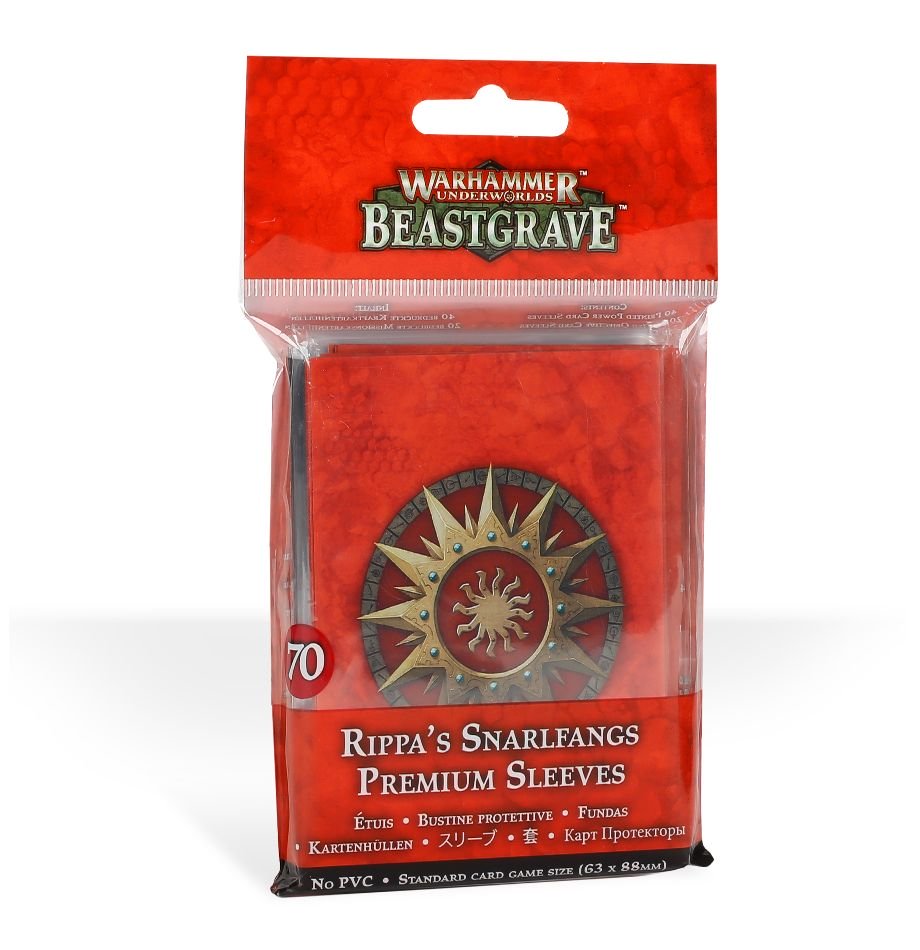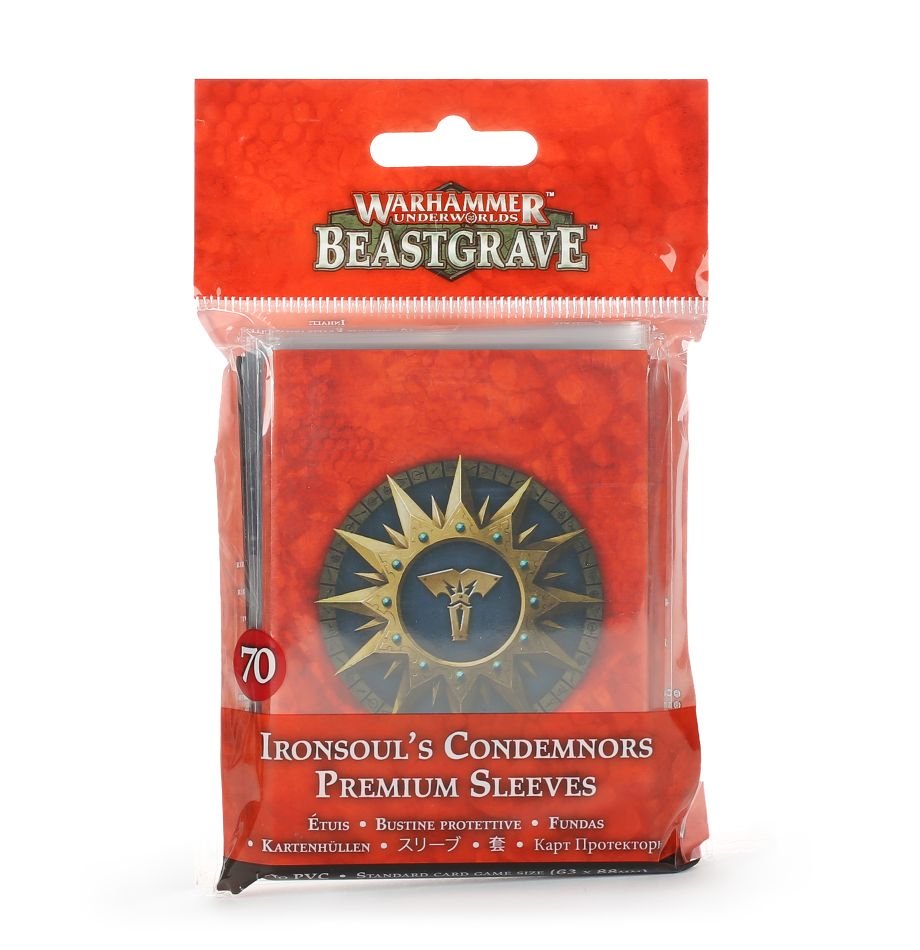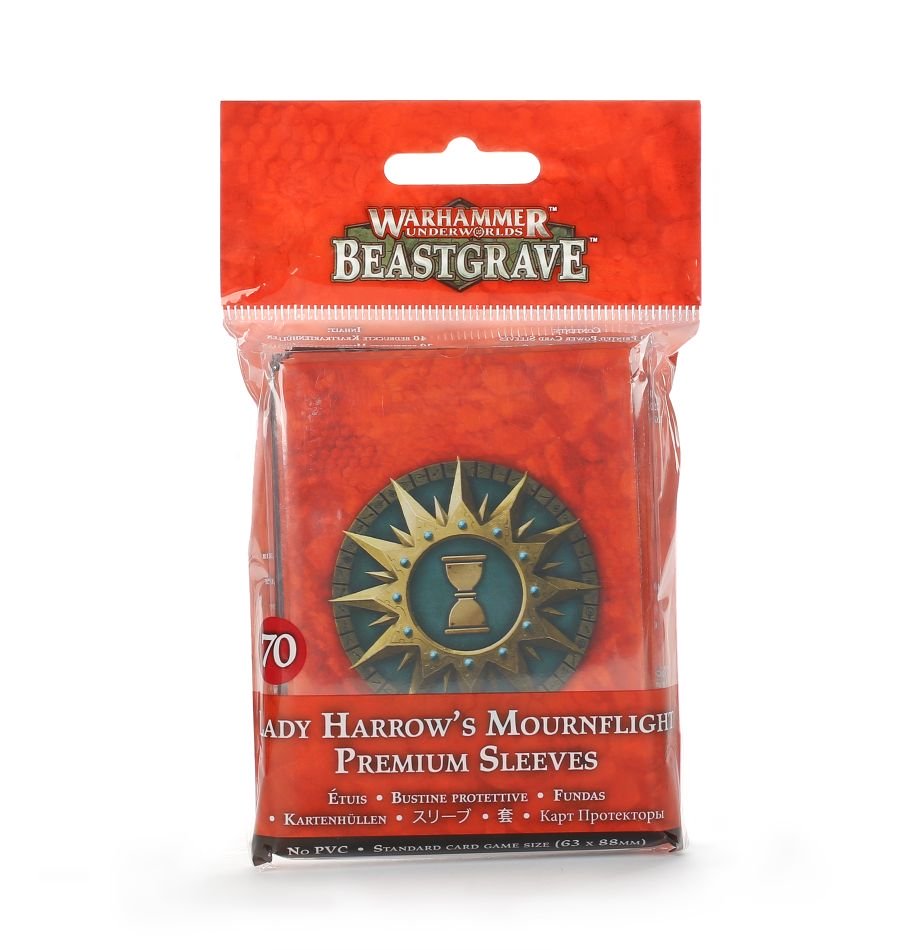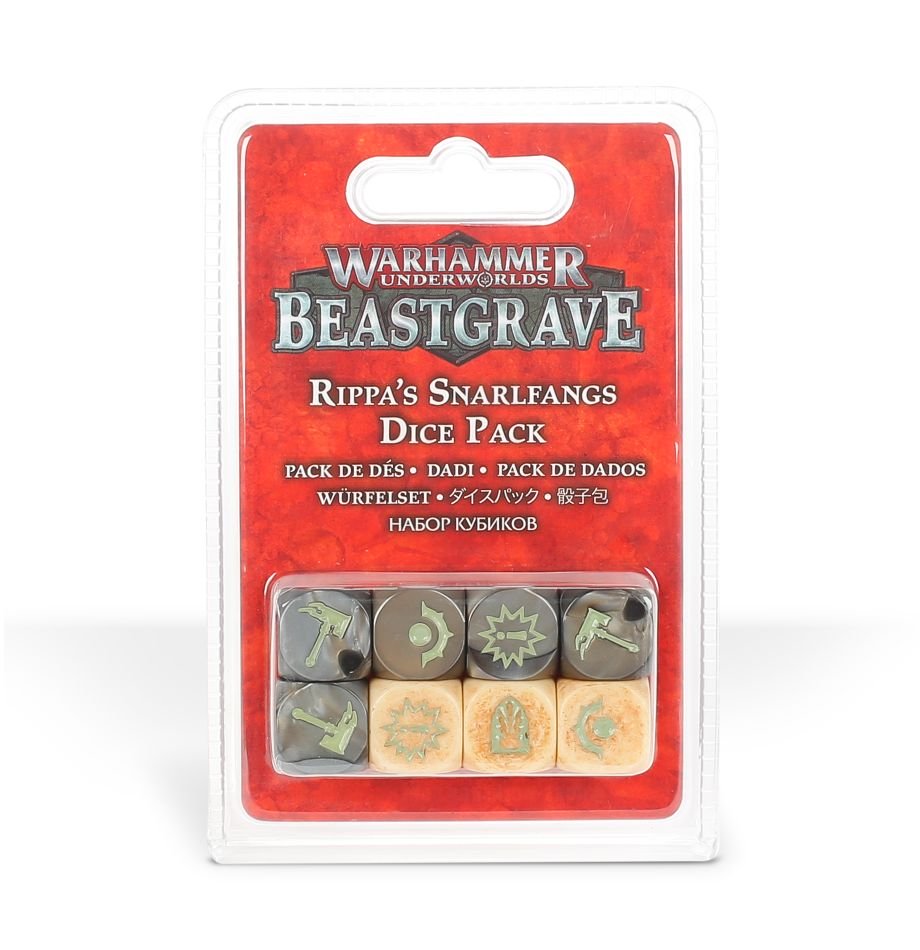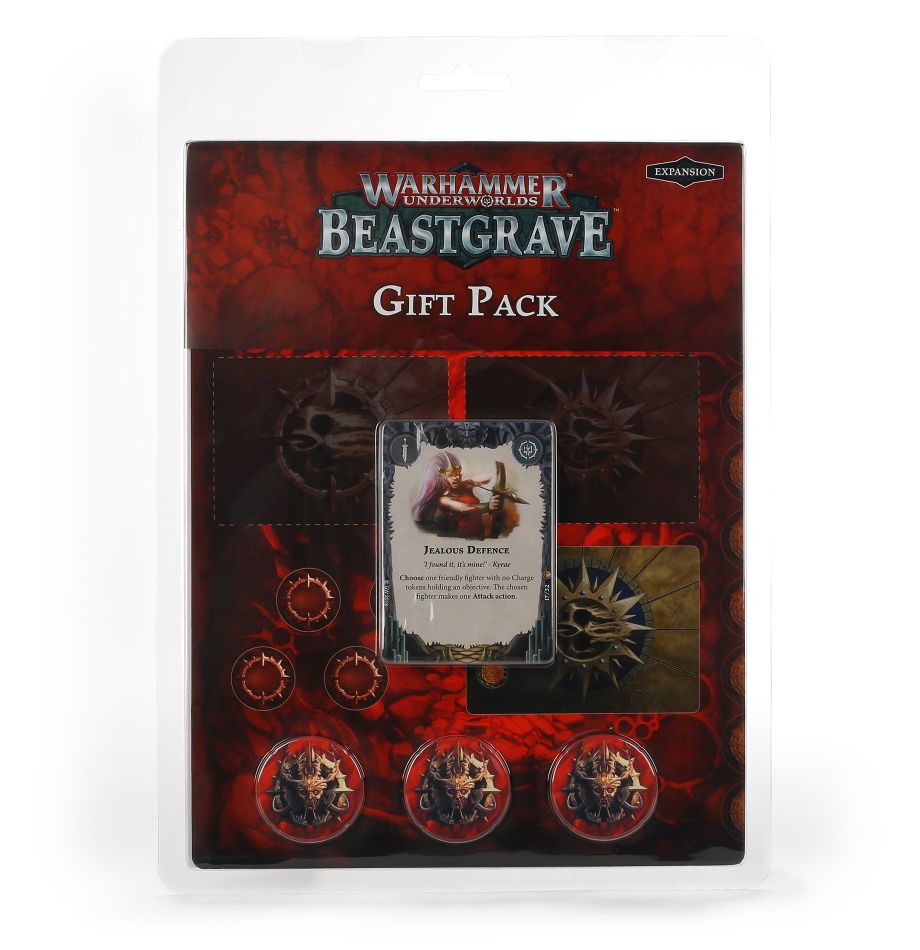 Looking for the perfect present for the Warhammer Underworlds player in your life? Just want to give your own decks a boost? The Warhammer Underworlds: Beastgrave Gift Pack is for you – a deluxe set jam-packed with goodies.
Enhance any deck with a vast host of universal cards, back in print for the first time since Warhammer Underworlds: Shadespire, with brand-new themed art and card borders and usable in any format. With 10 gambits, 10 upgrades and 12 objectives, you'll be spoiled for choice when constructing your decks.
A printed card dashboard, meanwhile, makes tracking your games simple – just place each of your decks and discard piles in the slots to check your cards at a glance. Use the dashboard to track activations and rounds, and spend less time trying to remember whose turn it is and more time working out deadly strategies! The set includes 3 round tokens for use with the above.
Please note – you'll need a copy of the Warhammer Underworlds: Beastgrave Core Set to use the contents of this pack.
~Have At It Folks!