Goatboy's 40k: VERSUS – Lord of Skulls vs Chaos Knight Despoiler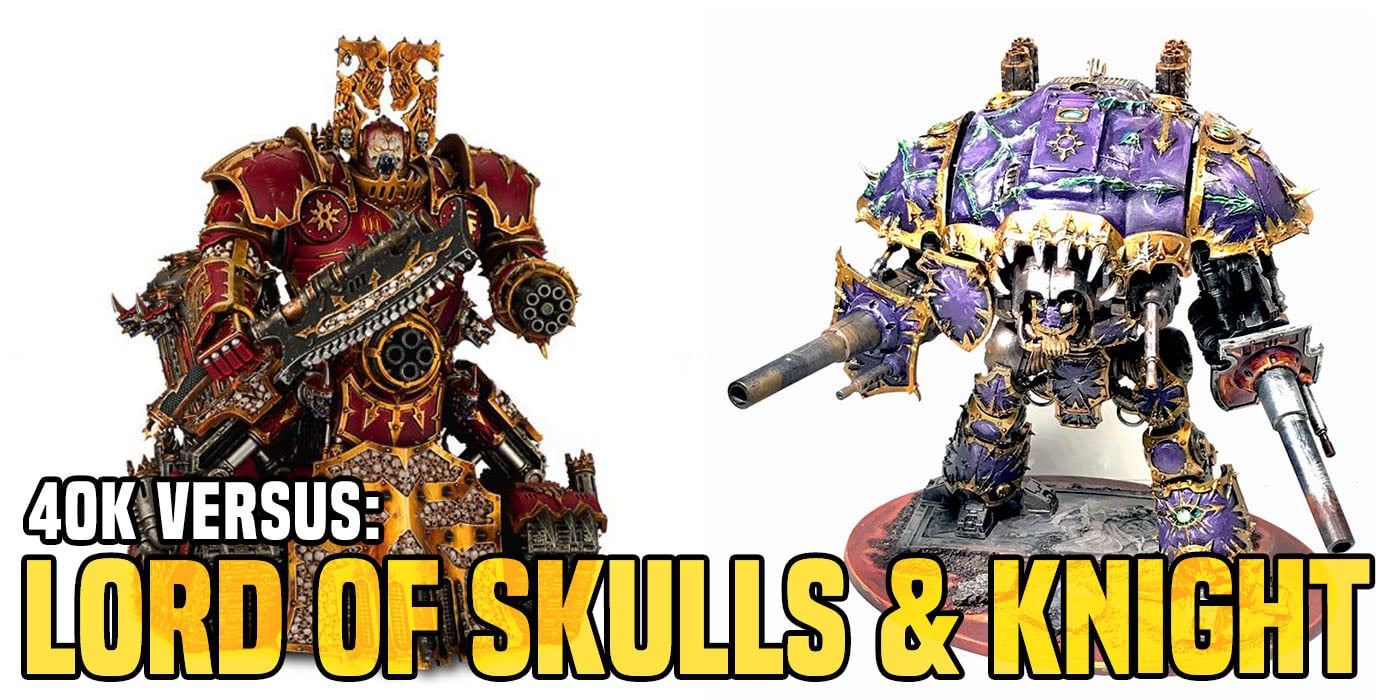 Goatboy here and today I want to talk about why the Lord of Skulls got good after Chapter Approved. I mean REALLY Good!
How Good?
I think it got so good that its worth me driving an hour and a half down to San Antonio to pick one up and buy another off of a buddies friend from Kansas.  In fact – I plan on bringing 3 of these giant jerks to LVO to see if I can win more games than I lose in a month.  With that – let's do a little bit of stare and compare:
Lord of Skulls

VS

Double Thermal Cannon Knight Despoiler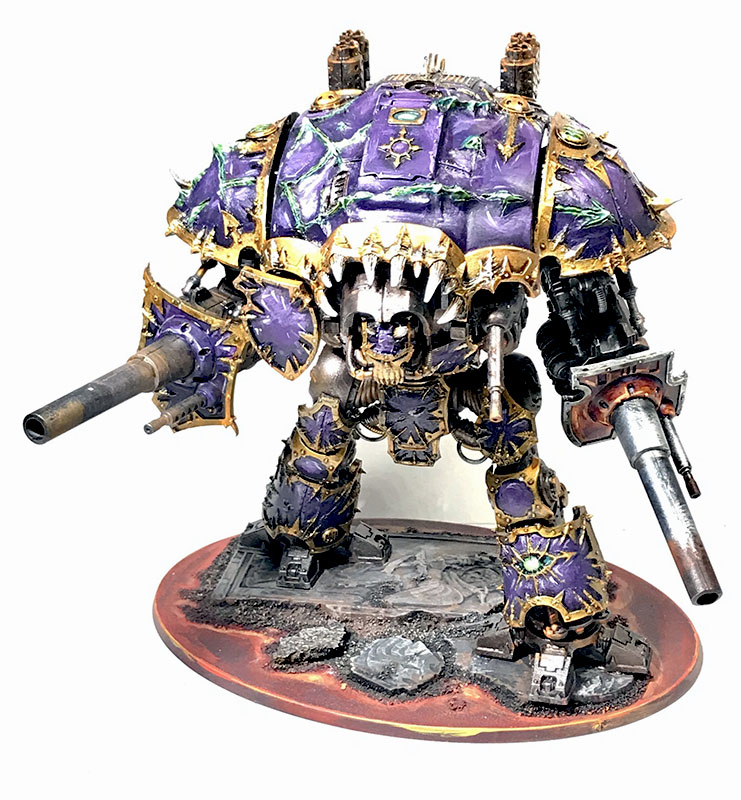 Points
Points wise – the current go to Lord of Skulls sits at 430 points with a 12 shot gatling gun and a d6 shot super Autocannon style thing.  The Double  Thermal Chaos Knight sites at 397 points for 2d6 Lascannon Melta shots with a 3 shot little gun.  Overall the Thermal Cannon Chaos Knight wins on the point front.
Dakka
Weapon Load out/Rate of Fire/Ballistic Skill – The Lord of Skulls benefits from some specific auras (more to come about that) and has a higher rate of default firepower versus the Chaos Knight.  The Thermal Knight has a higher strength gun that could do more damage – but without any true benefit to ballistic skill it is still not hitting nearly as well.  This looks to be the Lord of Skulls winning point beyond some specific match ups where the melta option can be devastating.
Winner – Lord of Skulls
Melee
Close combat potential – The Lord of Skulls never loses his giant Axe of Khorne and with his ability to gain more attacks via spells, hateful assault, and just getting hurt in combat he does do a lot more close combat damage.  He doesn't get to leave combat but thankfully he can still shoot when he is based by infantry so at least he can get stuck in and start punching.  The Chaos Knight has tiny feet ability mixed with the Iconoclasts extra attack and extra AP of damage.  The Chaos Knight gets weaker while the Lord of Skulls get madder and just loses some points of strength as he goes down.  This puts the Lord of Skulls as the winner just based on always punching up as he gets hurt.
Winner – Lord of Skulls
Bonus Stuff
Extra Rules – The Lord of Skulls is a Chaos Space Marine which means all the benefits you get by hating on the Emperor is right there.  Reroll auras, Psychic powers, and even Stratagems affect this bad boy.  Heck the Daemonforge strat is straight nuts on this guy as you can reroll to hit and reroll the damage.  The old favorite bad boy – the Lord Discordant – gives so much to the Lord of Skulls that it becomes crazy to see a 2+ hitting giant tank of doom.  The Chaos Knight has some amazing relics (which the Lord of Skulls can't get) as well as Warlord Traits and other Dreadblade Pacts.  They also have some pretty good Stratagems as well.  I think the benefit of having true Psychic spells mixed with some Aura abilities off of Key characters means the Lord of Skulls wins out barely at the end.
Winner – Lord of Skulls
Subscribe to our newsletter!
Get Tabletop, RPG & Pop Culture news delivered directly to your inbox.
Defensive Ability
The Lord of Skulls has a big fat 28 wounds which can be an issue for armies to get there.  Mixed with his Daemonic 5+ inv save and you start to survive the smash Captain coming in hot.  The Lord of Skulls being a Daemonic engine means it can't gain a +1 to their save as well as have a chance to heal things a bit is pretty powerful.  The Chaos Knight does get a 4+ inv save relic as well as some other 4+ inv save options as needed.  He also can have a model with a 5+ inv save in close combat as well as some other forms of protection such as ignoring wound rolls of a 1-3 and gaining wounds back after killing some models.  I think the ability to have Auras, psychics, and strats just makes the Lord of Skulls better in general.
Winner – Lord of Skulls

Speed
The Chaos Knight is much faster than this guy as you can get them to advance and charge with a Strat and have a whole lot of pluses to move.  The Lord of Skulls does get Warptime which is good – but if you are running others it gets harder to utilize. Mix that in with wanting to shoot and you don't really want to use an advance and charge strat on a big model with this much damage potential.  It also means your caster has to be fairly close to push them forward so it gets harder to work.
Winner – Chaos Knight

Model Availability
The Chaos Knight wins this hands down as it is very hard to get 3 Lord of Skulls due to the nature of this big goofy kit.  I had one when 8th started and most of the time I saw it sitting on the shelf at a store.  Suddenly they started to go away and now with CA dropping them like 200 points it becomes an issue getting them.  Thankfully I found my other 2 but for those wanting to try a pure Chaos Space Marine army that runs 3 Chaos like Knights – it gets hard to find them.
Winner – Chaos Knight
Overall I think the Lord of Skulls is the winner due to damage potential but you shouldn't expect to see them.  They are just a pain to get – especially with the new rules will see coming out for fully painted and cohesive looking forces.  This isn't going to be a borrow hammer army for sure.
SKULLS FOR THE SKULL THRONE!