Miniatures Showcase: Sword and Brush 2019 – Part 3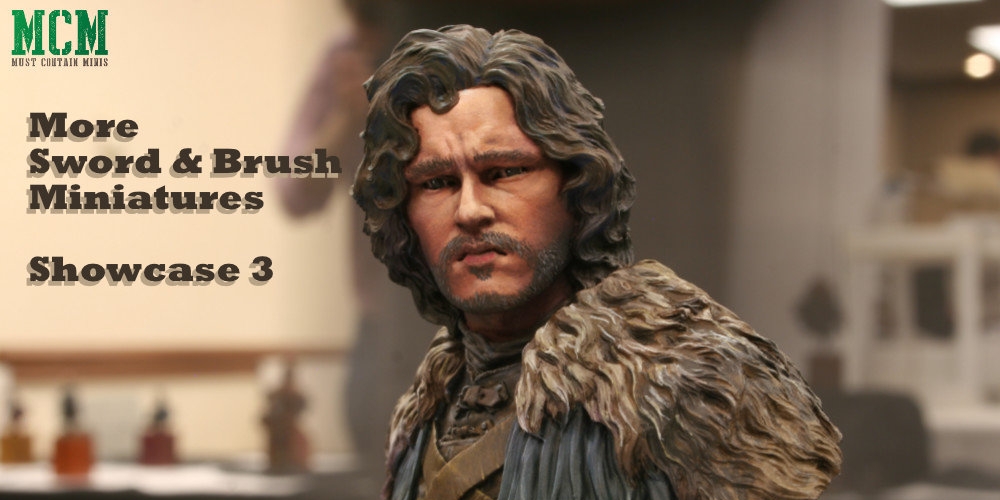 Today's post continues my showcase of the Painting Competition Miniatures at Sword and Brush 2019. This time, we are looking at five more well painted miniatures and busts. Let's take a closer look!
The Dragon Huntress
Here we have a Dragon Huntress Miniature by Black Sun Miniatures. It is 75mm in scale and looks amazing. The painter, Ramy Tawil did a really good job on this mini.
For more on this miniature and an interview with the painter, check out my original article.
Harald Hardrada
Kyle Maitland painted up this really good looking bust of Harald Hardrada by RP Miniatures. Harald Hardrada was the last Viking King.
For more about this model and an interview with the painter, check out my original article.
Hannibal Barca
Nutsplanet makes this good looking bust of Hannibal Barca.
Chris Slye painted up this miniature, and I have an interview with him for those interested.
The Night's Watch
Here we have a bust called the Night's Watch by Nutsplanet. To me, it looks like Jon Snow.
For more on this model and an interview with it's painter, Dai Viet Nguyen, check out my story on MCM.
The Mother of Dragons
This bust is yet another with resemblance to a Game of Thrones character. Here we have the Mother of Dragons. Check it out!
If you are interested in more of this model, I have a quick post about it and an interview with the painter.
Wrapping it up…
Hopefully you enjoyed this quick article showcasing 5 more miniatures / busts painted up for Sword and Brush 2019's painting competition. For more, I have an article round up post on my personal website. This article rounds up the links to all of my Sword and Brush articles to one single page.
Subscribe to our newsletter!
Get Tabletop, RPG & Pop Culture news delivered directly to your inbox.
Which of the images above is your favorite?
Thanks for reading and until next time, Happy Gaming Everyone!!!

Read more about great Indy and Historical games on my site!
Must Contain Minis is my personal Website. If you like this post, be sure to check out my site. You can also follow me on Social Media. I am very active on Facebook and share posts of a wide variety. I upload my best pictures to Instagram and am fairly active on Twitter.
My aim is to promote gaming with companies outside of those that already dominate the gaming market. You can find a wide variety of games there from Indy to Historical.