Osprey Games: Oathmark Goblin Rider Preview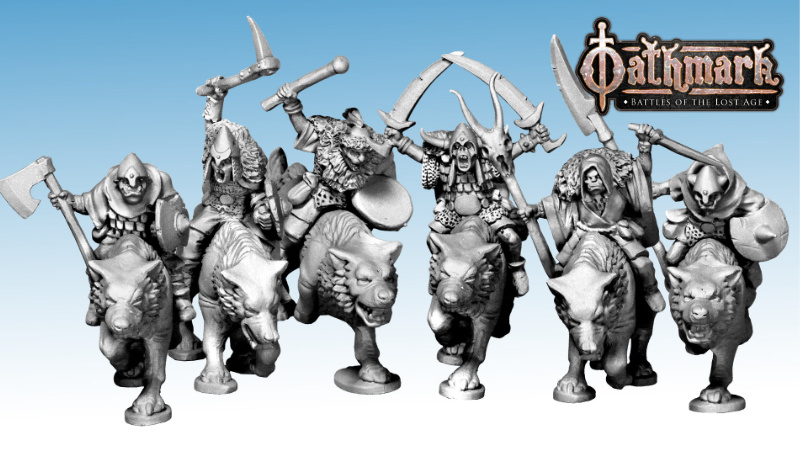 In this post, we quickly show off some preview images of some upcoming Goblin Riders for Osprey's game Oathmark. For those that don't know, this is set to be a game of mass combat written by the same author as Frostgrave. I am really looking forward to its release.
There are a number of companies that I watch for continuous updates from. One of those happens to be North Star Military Figures. They produce the miniature lines for many of Osprey Games' titles including Frostgrave.
Now, Oathmark has been a little delayed from its initial release date, but it looks to be on schedule for April 2020. In the meantime, there is ample opportunity to buy your forces before the games release. The Goblin Riders in this post should be released for late January 2020. Their scale is 28mm and I am sure that the models would be good in Oathmark or as proxies for other games.
The plastic Oathmark Goblin Rider box set looks like it will come with 15 models for your army. North Star also has metal characters that ride plastic wolves coming out for champion models.
Please note that all of the images in this post come from the Oathmark Facebook Page. 
Now, let's get on to those pictures.
The Models…
Overall, these are some interesting looking models. Of course, we also happened to find some Sprue pictures to share.
The Sprues
The plastic models come on sprues as pictured below (likely 15 miniatures to a box).
Wrapping it up…
So, what do you think of these cool new upcoming miniatures from North Star Military Figures and Osprey Games? These should be releasing in late January of 2020. If you like them, be sure to keep an eye out on North Star Military Figures.
Thanks for reading and until next time, Happy Gaming Everyone!!!

Read more about great Indy and Historical games on my site!
Subscribe to our newsletter!
Get Tabletop, RPG & Pop Culture news delivered directly to your inbox.
Must Contain Minis is my personal Website. If you like this post, be sure to check out my site. You can also follow me on Social Media. I am very active on Facebook and share posts of a wide variety. I upload my best pictures to Instagram and am fairly active on Twitter.
My aim is to promote gaming with companies outside of those that already dominate the gaming market. You can find a wide variety of games there from Indy to Historical.