Rangers of Shadow Deep Moves to Modiphius Early Next Year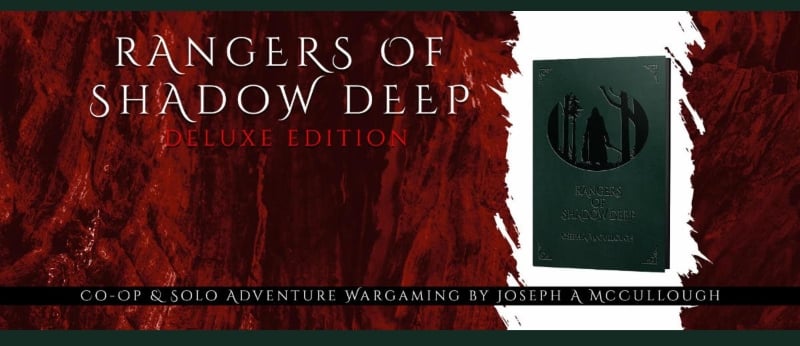 This week I found a surprise press release in my email from Modiphius for a new game! Rangers of Shadow Deep crosses genres in that it is a Miniatures Game with Role Playing elements that can be played Solo or in a Group. Either way, the game is cooperative.
For those that don't know of Modiphius, they are a company that publishes Role Playing and Miniatures Games like Fallout and Star Trek Adevntures. They happen to be one of the many companies that I follow. I figured that this news today is worth sharing. Modiphius is taking pre-orders for Rangers of Shadow Deep.
Please note that this post was published earlier on Must Contain Minis and the images within are from Modiphius and North Star Military Figures. 
Now, Joseph A. McCullough already released Rangers of Shadow Deep independently on DrivethruRPG along with some expansions. This new version by Modiphius promises to bring some of the expansion items into the core book. It also looks to update and add to the content.
You may recognize the name Joseph A. McCullough. He also wrote one of my favourite games, Frostgrave. In fact, Rangers of Shadow Deep builds on the rules of Frostgrave, but you are working with a lower level band of heroes working through a series of scenarios. Like Frostgrave, your character and companions develop as you go. I own the print copy from DrivethruRPG and I really hope to see the Modiphius version in the future.
Modiphius
Here and there you likely heard me talk about Modiphius or mention their products. Specifically, I have covered Acthung! Cthulhu Skirmish and Fallout the Miniatures game a little bit here on Must Contain Minis social feeds. Acthung! Cthulhu Skirmish is even still available for free on DrivethruRPG.
On top of these games, they publish an absolute ton of Role-Playing Games (RPGs) and a few board games and miniatures games too. They publish a cool looking Star Trek Game as well as an RPG for Conan, an RPG for Infinity and so many other titles. Them adding Rangers of Shadow Deep to their offerings just makes me take even more interest in the company.
Pre-Orders
As stated above, Modiphius is taking pre-orders for their Deluxe Edition of Rangers of Shadow Deep. It is set to ship in February. If you order through North Star Military Figures, they plan to include a free bonus miniature with your order. So very cool!
Wrapping it up…
Hopefully, you enjoyed this quick piece of news. Rangers of Shadow Deep is a pretty cool product by Joseph A. McCullough and I am looking forward to seeing what Modiphius does with the deluxe version.
If you want to learn more about the Deluxe Version, Modiphius published an interview with the author.
Thanks for reading and until next time, Happy Gaming Everyone!!!

Read more about great Indy and Historical games on my site!
Subscribe to our newsletter!
Get Tabletop, RPG & Pop Culture news delivered directly to your inbox.
Must Contain Minis is my personal Website. If you like this post, be sure to check out my site. You can also follow me on Social Media. I am very active on Facebook and share posts of a wide variety. I upload my best pictures to Instagram and am fairly active on Twitter.
My aim is to promote gaming with companies outside of those that already dominate the gaming market. You can find a wide variety of games there from Indy to Historical.