The Bell Tolls for Terry Jones

Terry Jones changed comedy forever with Monty Python, and brought new takes on history to the masses with his documentaries. He succumbed to frontotemporal dementia last week at age 77.
Like many of you, Monty Python and its members hold a special place. My dad introduced me to them via the movies on VHS and the PBS re-runs when I was a kid. I didn't understand the sophistication and subtly behind the goofiness, but I laughed my butt off at the parts of the sketches I did get. Terry Jones was a very large part of that.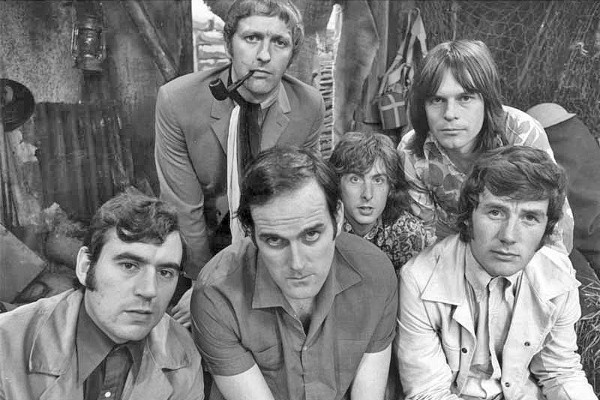 Fellow Python member Michael Palin and Terry Jones met at Oxford (Jones had a degree in English) and worked on several shows before meeting John Cleese, Graham Chapman, and Eric Idle – who would become Monty Python in 1969. Jones was the primary creator of the group's innovative approach to comedy, which still influences entertainment today. He also had a hand in directing Monty Python and the Holy Grail, Life of Brian, and The Meaning of Life.
He was known in the group for his gentle demeanor, sincerity, and understanding of the creative process. Life long friend Michael Palin spoke of him fondly…
"Terry was extremely good at making sure the camera didn't interfere with the jokes. He was very good at standing back and letting two or three people talk together, as a wide shot, so that it didn't interfere with them, or enforce his own take on things, by zooming in too close. He understood humor and how actors play comedy and how people are funny, of course, so he knew who to cast in particular roles, too, to get the most out of a piece."
Beyond his work with Monty Python Jones wrote books, contributed to screenplays (including Labyrinth), and he was a regular columnist for The Guardian and The Observer. He was a scholar of Chaucer and European history. His shows for the BBC challenged common views of the sophistication of the people in the Middle Ages and the societies conquered by Rome. His Medieval Lives series earned him an Emmy nomination.
Terry Jones' contributions to current culture are immense. He certainly made an impact on my life, and provided a ton of laughs and memories that I cherish. I'll give Cleese the closing here, who continued the dark humor tradition started at Graham Chapman's funeral…
Just heard about Terry J

It feels strange that a man of so many talents and such endless enthusiasm, should have faded so gently away…

Subscribe to our newsletter!

Get Tabletop, RPG & Pop Culture news delivered directly to your inbox.

Of his many achievements, for me the greatest gift he gave us all was his direction of 'Life of Brian'. Perfection

Two down, four to go

— John Cleese (@JohnCleese) January 22, 2020